FOR THE PERFECT ANGLESEY HOLIDAY

Restaurants, Cafes, Shops
and Much More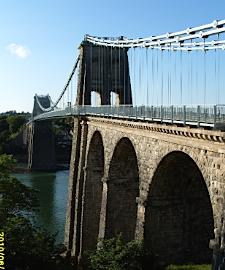 Where are we going to eat on Anglesey?
Where's the nearest shop?
Where's the nearest cash point?
Where's the nearest pharmacy?
Where's BEST and what's BEST VALUE
Another Fabulous Day and you're almost Too Tired to Think after a day's beach fun and exploring.
Wouldn't it be great if you knew where everything was before hand?
And just How Near It Is.
NOW, WOULDN'T THAT BE PERFECT?
---

Don't feel that you need to bring absolutely everything with you in the car when you come to Anglesey.
Think about your Carbon Footprint. Just bring yourself.
Everything you need for your visit you can buy here.
Not only do we have major supermarkets, we have plenty of country shops and post offices that will sell you everything, from groceries to ice-cream to stamps to snorkels.

LET ME SHOW YOU WHERE EVERYTHING IS.
I've made a list of all the nearest facilities to each beach on the Island: Where to eat, shop, get cash, ice-cream, park and much more...
---
Share Your Favourite Anglesey Restaurant
Where was your tastiest meal?

Share YOUR favourite with everyone by Clicking Here!
---
Do you have any questions you'd like to ask?
I would love to hear from you.
Maybe you have questions you want to ask in advance of your visit?
Maybe you have special advice - or even warnings.
Please feel free. ASK YOUR QUESTION BY CLICKING HERE.
---
One of the great joys of Dulas Beach and Dulas Bay is that they are removed from the general local facilities.
Short of the odd bush to discretely engage in desperate ablution, there is nothing here. Why, even the crows carry packed lunches.
You either need to bring everything with you or travel a few miles down the road to Moelfre and Benllech.

Please Click Here for MOELFRE Facilities

Please Click Here for BENLLECH Facilities

---
I must apologise most profusely because I really, really don't want to tell you about TRAETH YR ORA BEACH.
I don't want to tell you about it astonishing coastal beauty or its golden sandy beaches. It's my FAVOURITE BEACH. It's my SECRET BEACH and I'd like to keep it that way.
I have to be realistic though because you will eventually find it; however much I try to persuade you that it's four miles due north of Amlwch.
Oh well! You'll have to carry everything you need for a beach day. That'll put you off!
For shopping and eating you'll have to travel all the way to Benllech and Moelfre, which are at least ... forty miles due west of Anglesey.
Click Here to view the facilities in BENLLECH
Click Here to view the facilities in MOELFRE
---
Benllech is another of Anglesey's absolutely delightful holiday villages with all the facilities that you will need to make your stay perfect.
You can park your car for the week and just walk everywhere.
You can even walk along the Coastal Path to Moelre and Red Wharf Bay for delightful lunches and teas.

Please Click Here for BENLLECH Facilities

---
This beach offers a lovely package of location, beauty, water sports, fishing and the glorious Isle of Anglesey Coastal Path to pootle up and down along the gently undulating green coastline.
Apart from a good beach side little food and ice-cream stand you'll find little here. There is, however, the excellent Parciau Arms is nearby. Go to the Traeth Bychan page for directions.
There are plenty of shops, cafes, restaurants and much more a few miles away at Benllech and in Moelfre.
Click Here to view the facilities in BENLLECH
Click Here to view the facilities in MOELFRE
---
Moelfre has a very small bay with an aesthetically acceptable little pebble beach.
While the history and the beauty of the coastal scenery will satisfy your soul, this is a very small village. Consequently, the facilities are very appropriate if not very many.
What you can't find in Moelfre, you'll find a few miles down the road in Benllech.
Click Here to view the facilities in MOELFRE
Click Here to view the facilities in BENLLECH
---
This fabulous wide, golden beach offers you exactly what you want.
No. It gives you Exactly What YOU NEED. A perfect beach day in sunshine, a night's sea-fishing, or the WILDEST WIND SURFING
Anglesey's wonderful Coastal Path ambles gently down to the beach from low, shelved cliffs and green pastures.
Either, settle at Lligwy for the day or walk to Moelfre(to the South) or north to the magical TRAETH YR ORA BEACH in Dulas Bay.
Everything you need for your Soul plus snacks and ice-cream is here.
But to satisfy your tummy have a look at MOELFRE FACILITIES and BENLLECH FACILITIES.
---
This small sandy bay nestled between two headlands is incredibly popular on hot summer days. When you get here you'll find out exactly why.
Lovely soft sand falls away toward the sea from the protected bank of dunes. The dunes separate it from the prehistoric-looking car park.
In good weather it is another perfect Anglesey family beach.
In truth, apart from the fabulous ice-cream van selling teas and burgers you'll find little in the way of facilities. NO TOILET!!!
If you want a meal or to buy some groceries then you'll either have to hop on the bus for Rhosneigr, back in your car - you'll lose your parking space!
Maybe you'll choose to pootle for about three-quartes of an hour to Rhosneigr along the beach.
Whatever you do all that you need are either in Rhosneigr or Llanfaelog.
Click Here to view the facilities in RHOSNEIGR
---
Porth Nobla is an absolutely lovely beach on which to spend your day splashing in the surf, sunbathing, digging holes and building sandcastles.
It is removed from the hustle and bustle of Rhosneigr and if you're determined to spend the entire day on the beach, then you need to bring everything with you.
Remember to bring water to wash sand from kids' eyes and plenty of matches to light the barbie in freshening sea breezes.
There again, you can always have a nice day and then pootle into Rhosneigr village.
Here you'll find everything you need from general groceries, fruit & veg, fish and chips, cashpoints, cafes, restaurants, clothes shops and the excellent FUN SPORT surf shop.
Click Here to view the facilities in RHOSNEIGR
---
This lovely long and sandy Anglesey beach is located right on the village. Just follow the road through the Main Street and you'll find it.
You choose what you want to do here:
Sunbathe against the sand dunes,
Laze on the beach,
Go for a jog or enjoy a fine invigorating walk,
Surf in excellent long waves,
Kitesurf in peace away from the flash lads and lasses on Rhosneigr Main Beach.

Everything you need to make sure that your beach day is just perect is no more than a gentle amble back into the village.

Secure in this knowledge you, your family and your friends can just RELAX

Click Here to view the facilities in RHOSNEIGR






---
Anglesey is blessed with fine family beaches and plenty of places to practice and excel in your chosen water sport.
Simple to find. Just walk down the road from the post office in the village square.
Rhosneigr is like BENLLECH BEACH, completely directed to make sure each and every visitor has everything they need.
No more than a brief walk away.
Buy your ice-cream, groceries, windsurfing and kite-surfing lessons here. If you feel like a tramp then you've got Fat Face and Gekko.
Click Here to view the facilities in RHOSNEIGR
---
If you just want to escape from the noisy fun of Rhosneigr village beach then head here. It's just a walk away along the beach and allows you room to stretch out and sigh in delightful relief.
Crigyll Beach by the village leads to Cymyran Beach just around the corner.
Long, Long, LONG STRETCHES OF BEACH just there, waiting for you.
These are secluded beaches and it means that you will need to bring everything with you.
However, if there are no kids in attendance then you could always trot back into Rhosneigr village to enjoy its pleasant facilities.
For a look at what's available Please CLICK HERE.
---
Trearddur Bay is Anglesey's popular Mediterranean coast if the automotive bling is anyting to go by.
If it's not the varied beautiful beaches that brings people here, then it's got to be the surfing and the windsurfing.
There again, it could be the excellent fishing.
So why not add that magical something to your beach days or activities to add punctuation to your lovely Anglesey holiday.
You'll find that Trearddur Bay offers pretty good eating places.
However, it's best aspect is the fact that it is central for good eating and shopping:
Nearby in Fourmile Bridge you have The Anchorage then just a little tortuous route down to Rhoscolyn you've got the brilliant White Eagle Pub.
Valley is a mile further away and Holyhead a brief straight-line drive away.
For more information about Eating and Shopping in Trearddur Bay and the surrounding area PLEASE CLICK HERE
---
Being isolated lends Silver Bay a sense of freedom and space. So if you have a need for some solitude from the masses then this sandy beach is ideal for you.
It is a pretty and pleasant escape.
It really is worth all the effort to discover this Anglesey Gem.
This is an awkward beach to get to, so you'd beter make sure you have everything with you. You'll have to carry it a fair distance as well.
Imagine Silver Bay as part of the Trearddur Bay area when you want to do your shopping or eating out. All you want is no more than a very short drive away.
I believe that central to this area is the THE WHITE EAGLE in Rhoscolyn.
It has a fabulous reputation and is a brand new refurbishment of the old, equally excellent predecessor.
For more information about Eating and Shopping in Trearddur Bay and the surrounding area PLEASE CLICK HERE
---
If you've been having a look at my Silver Bay page then you'll have realised that apart from the excellent White Eagle Pub and the odd appearance of an ice-cream van, there is very little in the immediate area.
But worry not, less than two miles away in Valley and in Trearddur Bay and Holyhead all you require is at hand.
For more information about Eating and Shopping in Rhoscolyn and the surrounding area PLEASE CLICK HERE
---
First of all, you have the brilliantly located Wavecrest Cafe right over the beach.
Then, you have the renowned Lobster Pot Restaurant with its freshly caught lobsters running on idle in a tank at the back.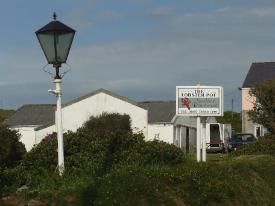 In a sense, the facilities are pretty limited in the immediate locality.
Quite a few years back you might have been able to do most of your shopping in Rhydwyn but, sadly, not these days. All is gone.
Most of the goodies you'll need for an excellent beach day are close at hand.
However, everything else you'll need is only a few miles away.
CLICK HERE for a view of shopping, petrol, cashpoint and more facilities in the Church Bay area of Anglesey.
---