CABLE BAY

Beach Fun, Silver Days and Sunsets
It's all part of our Great Plan to make sure you have a Wonderful Beach Day.
Cable Bay is a delightful small sandy beach nestling comfortably between two nurturing headlands and is very popular on hot Summer days.
Lovely soft sand falls away toward the sea from the protected bank of dunes.
The dunes separate the beach from the prehistoric car park that was beaten into a vague semblence by some camp Neanderthal's club.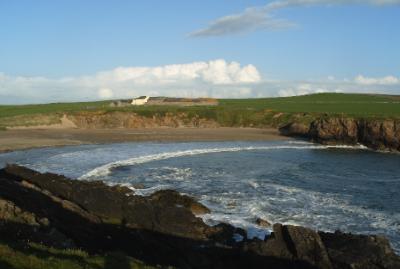 SQUEALS OF JOY
Even at low tide the water is close. But not so close that you miss out on a toddler's growing excitement and eagerness.
You already know that those moments rush too swiftly into the past, so stop at every decent puddle to splash about a bit.
Only allow wellies on a beach if 'It's-a-Phase'. And always bring a bottle of fresh water with you to wash out sand from kiddie-eyes. You'll thank me for that piece of advice.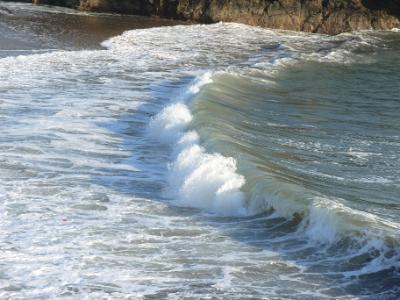 You can build major sand castles and write messages for your loved in the wet sand (Scroll Down For Technical Details And Instructions)
The water does not fall away suddenly so there is plenty of safe margin for splashing about and showing off to your partner.
Also, there's just enough seaweed to fling at each other or to give the dog something to chase.
---
"This really is a lovely sandy beach".
EVER HAD A WINTER PICNIC ON A BEACH?
When the sun is out Cable Bay is a perfect family beach. That goes for both Summer and the other season.
It's the north easterly winds over Anglesey that keep you indoors watching the 'Eastenders' omnibus.
Look at the picture of Cable Bay and you'll see that the beach is pretty well sheltered.
So ... Hot soup, tea, a barbecue? What about a three-course lunch? Put Jamie Oliver's recipes to an extreme test. Is it possible to make garlic bread over an open fire?
Gather your friends and family about you and, over a glass of wine, Plan, Plan, Plan.
Don't bring any Charlies or Charlottes with you who find a post-alcohol Winter dip suddenly appealing.
Remember. We call the local rag, 'The Daily Death'.
---
EXPLORATION
For the kids among you there are small rock pools on the right hand side of the beach below the path to the ancient burial chamber, Barclodiad y Gawres.
These pools are full of wonderfully cool beasties and curious-looking critters. Please don't torment them.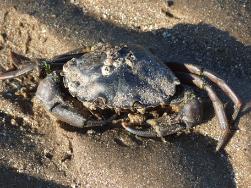 Explain what they are to the kids and then pour them back in among their thousand beasty buddies.
If you don't know the names, then make them up.
You're a parent or caregiver so you'll be used to being embarrassed by your wains.
Hey! Why not buy a Ladybird book and impress the kids. You won't get many chances for that.
---
ANGLESEY COASTAL PATH
Significantly, the Isle of Anglesey Coastal Path skirts all Anglesey beaches. The Coastal Path is our great gift to ourselves and to you.
Outside of lambing season it is accessible for about 98% of its length and thousands of people have walked the Coastal Path.
Either they walk in its entire length in one go, or they come back on weekends to complete portions of it.
My recommendation - for what it's worth - is to get hold of a bus timetable and decide where you're going to start from and where you're going to end up for the day. Then just wait for the bus to bring you back to your car.
For the local bus timetable for the Aberffraw-Rhosneigr area Please CLICK HERE
N.B. For the majority of the coastal walk the bus is a great asset and the bus stops easy to get to. In fact, most will stop right at the beach.
A smile and compliments about quality of driving and nobility of bearing should do the trick.
However, the northward Coastal Path from Sandy Beach to Cemlyn Bay will leave you with a decent hike back to a bus stop.
The same goes for Point Linus to Moelfre.
Plan your route properly and it's a fabulous coastal walk in store for you.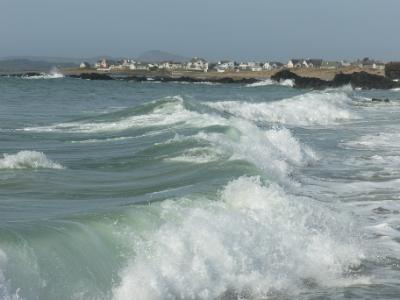 The journey from Cable Bay to Rhosneigr is a very satisfying walk in both Summer and Winter. It offers an ideal decent walk for blowing away dark Winter cobwebs and rejuvenating your soul.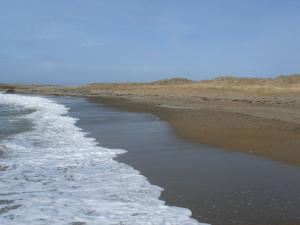 The windier and stormier the better for me.
By the end of the walk not even the most desperate of demons are left clinging to me.
If you choose to park your car in Cable Bay and walk to RHOSNEIGR and back then it is a satisfying two hour walk or trot.
Depending on the time that you take your walk there could be shops and restaurants open.
Even if they're not open it's still a healthy, invigorating walk to tire both doggies and kiddies of all ages.
---
ICE-CREAM DELIGHTS
At the car park ice cream van you'll discover tea, coffees, burgers, ice creams and Strawberry Mivvys available on gentle request.
Make your lovely day a contribution to a small local business and spoil yourself at the same time.
For the boys out there - and those of us who really should know better – the van is usually 'personned' by lovely young ladies.
So help them with their college fees and maybe earn a sweet smile in exchange.
---
SEA-FISHING
As I was told by my red-headed lobster fisherman friend from Aberffraw, "If you want sea-bass then you've got all the coast from Aberffraw all the way up to Cable Bay and beyond."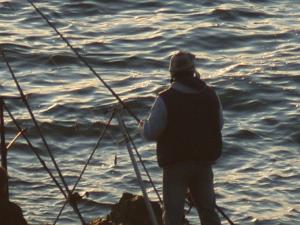 Mackerell season brings the crowds onto the ledges and each mark is hotly contested.
There's plenty of rocks and beaches to fish off both up and down the coast.
Many people fish both sides of Cable Bay from Ty Croes to Porth Nobla (click here for local fishing advice.
I'll be writing a page on Ty Croes in a short while, but in the meantime I'll tell you that there are Two ways to get to Ty Croes:
1. Follow the Anglesey Coastal Path at the bottom end of the Cable Bay carpark. It's about a half-mile or so to the old Ministry of Defence white sign. You'll see an old concrete hut on the top of the hill and the popular ledges below.
2. Drive toward Aberffraw and turn in toward the Anglesey Circuit - Trac Mon. Drive until you see the estate of houses on your right. Park on the concrete apron this side of them and follow a path behind the houses, through the old camp and onto the coastline. Choose your spot.
For more fishing tips on other Anglesey beaches then Please CLICK HERE
SAFETY WARNING
At high tide watch out for the sea swells. Keep an eagle eye for those big waves. If you're alone then you've had it!
---
SURFING AT CABLE BAY
This is a pretty good surfing beach and, though not utterly brilliant, the waves can be good and decent enough for the keen surfer and challenging enough for novices.
Surfing and body boarding conditions are generally best before or after high tide.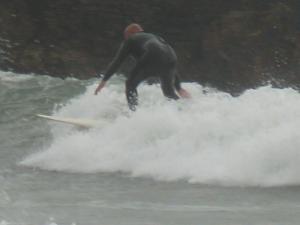 In Autumn and in Winter the wind and sea conditions conspire to present you with excellent conditions and challenges.
If you can deal with the cold.

I've surfed Cable Bay and Porth Nobla beach in February. With a steamer, of course, but the conditions were PERFECT.
I've once surfed perfect eight foot waves here. Mind you, I haven't come across such conditions for quite a while.
If it happens once then the odds of it happening again are not good.
However, if it does happen a second time then the odds of it happening a third time are very good.
So I wait. That's what I do.
I was there on August Bank Holiday 2008 and it was an excellent day for surfing and fun-boarding.
Waves were about four to five foot and pretty clean.
I also get the impression that this is one of those beaches where a bit of tension exists between surfers and kayakers.
If we aim to make sure each other has fun then maybe we'll all enjoy a clear run.
WINDSURFING AND KITE-SURFING
The bay is far too small for these activities. Better head for Rhosneigr Village Beach or Rhosneigr Broad Beach where there's plenty of room.
Rhosneigr Main Beach is the best in this area. However, you've also got Aberffraw to the south. Be aware though that you'll find it a bit of a hike to get to Aberffraw beach.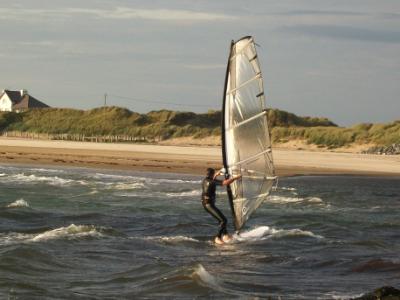 ---
BOAT LAUNCHING AND REGISTRATION
PLEASE, PLEASE, PLEASE. Let me know when you're going to launch your 250 Horsepower 20 foot speed boat off Cable Bay beach. Please!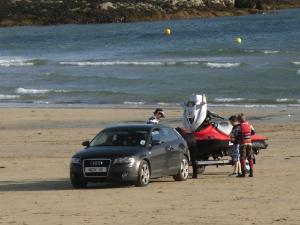 First of all, the back of the beach is protected sand dunes and there's a drop of about twenty feet.
Two narrow paths down to the beach will make it slightly awkward.
I've got a Contact Me link lower down so let me know.
I'll bring a picnic and my camera.
The County Council requires you to register powerboats over a certain horse power and also lists the required qualifications.
Please CLICK HERE for all the above information and about launching fees on other Anglesey beaches and slipways.
---
FACILITIES AT CABLE BAY
Don't feel that you need to bring absolutely everything with you in the car when you come to Anglesey.
Think about your Carbon Footprint. Just bring yourself. Everything you need for your visit you can buy on Anglesey.
Not only do we have big supermarkets we have plenty of country shops and post offices that will sell you everything, from stamps to snorkels.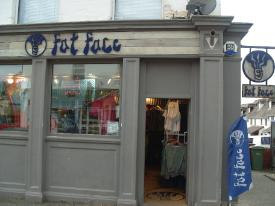 Facilities are very limited at Cable Bay. Other than the Neanderthal car park and the ice-cream van there are no facilities here.
You'll find more or less everything you need in Rhosneigr village.
So for more information about eating, shopping and MUCH MORE in the Rhosneigr area Please CLICK HERE
---
SAND WISHES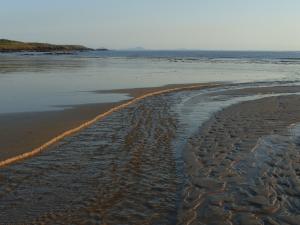 I am a great believer in the truth and stating what it is that you want from life.
Sometimes you need a little help - some divine intervention, perhaps.
I've learned that it pays to have more than one MODUS OPERANDI.
If one contingency doesn't work, then you have another to hand.
When I'm on the beach and a profound desire strikes me, then I pick-a-stick and write the thought or desire in the sand to allow the sea to carry it to the world to be brought back fulfilled.
This all works on the same general principle as Tibetan Prayer Flags. It's a theory under development, but it's got great potential.
I'm sure you'll agree that Cable Bay is an excellent beach for carrying out these profound experiments.
There again, you could always just tell the person.
In the meantime, while you're working yourself up to that CLICK HERE to learn the SAND WISHES theory. It's all very technical, yet simple
---
CONTACT ME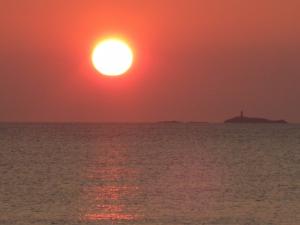 I would love to hear from you about your stay in the Cable Bay/Rhosneigr area or to answer any questions you may want to ask in preparation for your visit.
Please tell me what makes Anglesey a special place for you. There again, do you return to the same beach year after year? I'd love to know why?
Maybe you have special advice - or even warnings.
Please feel free to share by CLICKING HERE.
---
PETS ON THE BEACH
• No major prohibition on dogs, but please keep them on a leash - Unlike Crazy Fido here.
• Though not here at Cable Bay, there are Seasonal Prohibitions on dogs on certain Anglesey beaches.
• Always bring a doggie poo-bag with you because the little dears can't always help themselves.
Imagine specific matter oozing from between your tanning and sandy toes.
Imagine a worse scenario; it's your child.
• The main concern regarding dogs on Anglesey beaches is a health issue.
Doggie poo can blind for life.
FOR MORE INFORMATION ABOUT DOG RESTRICTIONS ON ANGLESEY BEACHES PLEASE CLICK HERE.
---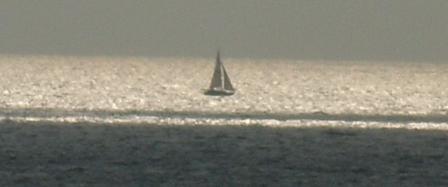 GETTING TO CABLE BAY
Simple Directions:
• Travel across Anglesey on the A55 Expressway.
• Halfway across the Island Take Junction 3 for Rhosneigr.
• Follow this road through Engedi (1/4 mile) then a few miles later you arrive in the small village of Llanfaelog.
• One of the first things you see in Llanfaelog is Bryn Coed Garage on the right (car sales not petrol) and then the village church on the left.
• Pass the church on your left and carry one through and out of the village for a distance of 1 mile and down a steep hill to the car park on your right overlooking the beach.

---
Return from Cable Bay to ANGLESEY WESTERN BEACHES