ANGLESEY WEBCAMS


An Insightful Looksee



Gentle Reader,
I have introduced this Anglesey webcams link on Anglesey-Hidden-Gem.com so that you can appreciate views of a few glorious Anglesey beaches and also check the traffic on the bridges.
I'll be honest with you, there's a good chance that you'll encounter traffic on the Britannia Bridge, so have a look at the traffic webcams below for both Bridges across the Menai Straits.

Important Advice
Please exercise patience with any and all cameras, as they tend to be quite capricious. They work. They don't work. Generally it's a fault with the camera or its host system.
You'll also find text traffic information on the BBC link pages that will probably help you.
You must, however, be advised that the BBC - for reasons of austerity driven reorganisation - has withdrawn some of its cameras. I am looking around for more.

UPDATED WEBCAMS

RED WHARF BAY SAILING CLUB-CAM


Britannia Bridge Traffic Webcam
Bangor Side

The Britannia Bridge can be a major traffic bottle-neck.
Don't worry too much about it because it's a diurnal problem – morning and going-home time. Just make sure that your journey arrives sometime between 10:00am and 3:00pm.
Even better, choose to use the Menai Suspension Bridge . That way you'll miss the Ferry Traffic to and from Holyhead Port and enjoy the fabulous view up and down the Menai Straits.
For Britannia Bridge Traffic Images Click Here
Skip Back to Contents
---

Menai Suspension Bridge Webcam
Bangor Side
There are inevitably traffic jams on the Bridges from the Mainland to Anglesey between 4:00 -5:00pm on weekdays as people head home from work.
Thomas Telford's suspension bridge is as busy as the Britannia Bridge so make sure to check out the webcam before you travel.
The good news, though, is that you can enjoy a view of the suspension bridge from a distance and the beautiful view of the Menai Straits as you crawl across during these times. In the distance to your right is Beaumaris. Ahhh ... Beaumaris.
For Menai Bridge Traffic Web Cam Image CLICK HERE
Skip Back to Contents
---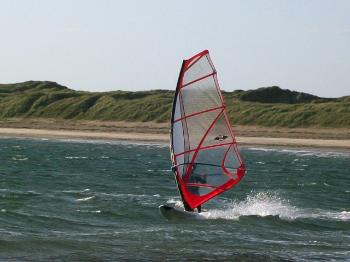 Rhosneigr Beach Webcam

This is one of three beach webcams on Anglesey. It is sited on the FUN SPORT windsurfing shop right on the Rhosneigr village beach.
For more information about Rhosneigr and links for other Rhosneigr beaches CLICK HERE.
Skip Back to Contents
---

Anglesey Red Squirrels

Sadly, SquirrelCam near Beaumaris Feeding Point is switched off at present.
I'm sure you'll have read my pages and news about the Anglesey Red Squirrel Project to reintroduce Red Squirrels to Anglesey.
Just in case you haven't then please Click Here for an Update.
Although there is no live camera, may I direct you to the Red Squirrels Trust Wales where there are some fabulous and engaging Youtube videos to watch.

For the Red Squirrel Video Link CLICK HERE

Skip Back to Contents
---

Lligwy Beach Webcam
on Anglesey's East Coast
I really love Lligwy Beach and the Anglesey Coastal Path that leads to and from it.
To the south is Moelfre and to the north you'll discover the tranquillity of Traeth yr Ora beach.
For the Lligwy Beach Web Cam Image Click Here

Skip Back to Contents
---

Red Wharf Bay Sailing Club Webcam
(Traeth Bychan Beach)
Quite sensibly the Sailing Club is not located at Red Wharf Bay itself, otherwise you'd have a large body of sailing boats badly balanced on their keels.
The Sailing Club is located at Traeth Bychan Beach, the next beach north of Benllech.
Click Here for the Web Cam Image

Skip Back to Contents
---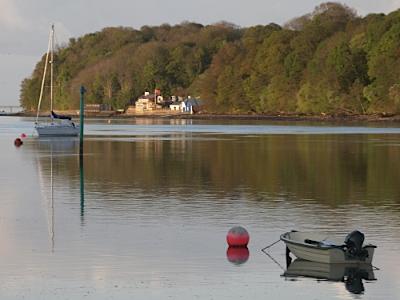 Bangor University Ocean Sciences
Menai Straits Webcam
This webcam shows an area of the Menai Strait directly in front of the School of Ocean Sciences in Menai Bridge. The camera position may be moved occasionally, which is excellent news.
Other than being a Site of Special Scientific Interestand a Special Area of Conservation it is an Area of Outstanding Natural Beauty.
I invite you to visit my Menai Bridge Pages and attached links to appreciate that Outstanding Beauty.
CHECK OUT THE LIVE FEED OF THE MENAI SUSPENSION BRIDGE
AT NIGHT YOU CAN SEE THE LIGHTS OF TRAFFIC CROSSING THOMAS TELFORD'S BRIDGE
Skip Back to Contents
---

RSPB South Stack Cliff Webcam
The image of South Stack Lighthouse is an iconic representation of Anglesey's Outstanding Coastal Beauty.
The cliffs are an ornithologists dream and their needs are met wonderfully by the RSPB with the new Visitor Centre and the lookout at Tŵr Ellen right above the bird-laden cliffs.
The South Stack webcam usually captures images of specific nests among the Guillemots and amusing looking Puffins.
To Enjoy the RSPB Webcam Images CLICK HERE
---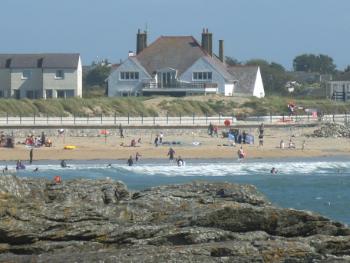 TREARDDUR BAY
This is a new webcam looking out over the beach and bay at Trearddur on Anglesey's west coast and just up the road from Rhoscolyn.
Skip Back to Contents
---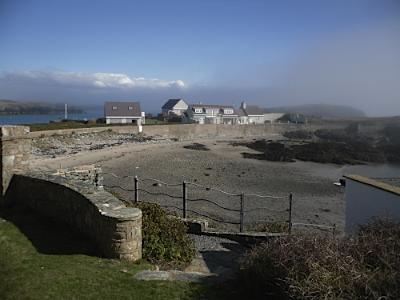 The Point Webcams at Rhoscolyn
May I introduce you to two brand new cameras brought my attention by the owner of The Point Holiday Bungalow in Rhoscolyn on Holy Island, Anglesey.
Beach View  The Point Rhoscolyn Beach View
Sea View     The Point Rhoscolyn Sea View

Skip Back to Contents
---
Return from Anglesey Webcams to HOME PAGE
---
Care To Share A Thought?
Dear Reader,

Would you care the share a thought or make an observation.

What Other Visitors Have Said
Click below to see contributions from other visitors to this page...


Love Anglesey

We come up each year to visit family and we all love it. We try to get a beach day at Church Bay and enjoy discovering new places and experiences. …
hello helloooo :)

Sending big waves and Hellos from Cheshire, UK. Loving your webcams :)

Keep up the good work ... Not rated yet
Great to have 5 mins to have a look at the webcams dreaming of the spring/summer to arrive. See you in 2020. Love from Leicester Xx
---
---
---