BENLLECH BEACH
Ice-Cream, Sandcastles and Family Fun
Family fun on Benllech's sandy beach is always a childhood memory rekindled.
Great cafes and restaurants are all within a casual walk, whether you're spending a day or a week's holiday in this delightful Anglesey coastal village.
So, in between wandering to get an ice-cream or a cup of tea you can swim, dig holes or make sandcastles.
There again, why not just... RELAX?
If you're after a bit of ADVENTURE then just mount your board and sail all the way to Red Wharf Bay - and back.
SEA-FISHING? Pick your mark and cast. You choose exactly where to exercise your skill AND patience. Scroll Down for fishing tips.
WALKING? You want to walk?
Well, the Isle of Anglesey Coastal Path is a gentle walk along the sandy beach to Red Wharf Bay.
Feeling a bit more energetic? Then head north to Traeth Bychan and then visit the historic maritime village of MOELFRE. After tea and cake at Anne's Pantry you can ride the bus back.
---
TRADITIONAL BEACH FUN
Benllech Beach is the most traditionally British of all Anglesey Beaches. Many people return year after year to enjoy the sea, the beach and to walk the Anglesey Coastal Path.
The bay is wide and sandy and buzzes with fun and activity in Summer.
The tide goes out very, very far and it feels that you can walk forever across clean, clean sand.
They used to have donkey rides on the beach.
There again, these days I'm not above promoting camel trains to and from the water when the tide's out.
What I am saying is that this is a very, very big sandy beach. It's an extension of the massive Red Wharf Bay, stretching all the way to Llanddona Beach.
---
FAMILY CHILDHOOD MEMORIES
My Dad used to pick up my Mum, my brothers and I during his lunch time during childhood Summers and bring us to Benllech.
We'd spend the afternoon here to be picked up at tea-time.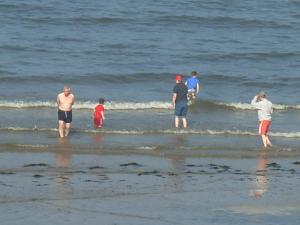 The whole afternoon would be passed digging holes to discover water or building sandcastles that got ever more elaborate.
There used to be trampolines at the top of the beach, as well. That was GREAT FUN.
Jump too high and you'd smack into the wind-blown pile of sand below.
Blinkin Flip! Benllech was one of the great Anglesey beach for families in the old days.
I am delighted to report to you that it still is a great Anglesey beach today.
"Bring me your worn and befuddled masses."
Some of you may remember an old war-time DUKW assault vessel that would take people for a trip around the bay.
No sign of it today. Probably been 'taken out' by an U-Boat. It still lives in my memories as one of those things I should have done.
I never went on the 'DUCK', as my war-experienced father used to call it. But I did ride a donkey.
Even as a very young child I felt sad for the poor little donkey, as I do today. No donkeys here now, thankfully.
I hope they're in a 'Retirement Home for Ironic and Sarcastic Species'.
---
THE BENLLECH CONNECTION
If you have any lovely memories to share about your stay in Benllech or in the surrounding area I would be delighted to hear from you.
I would love to learn about what it is that has brought you here for the first time or has made it your Summer home for the last 30 years.
Please CLICK HERE to visit my Contact Me page to share your own individual or your family's connection to the area.
---
BEING HERE
The other day I was able to walk right around the headland south to see The Ship Inn in Red Wharf Bay.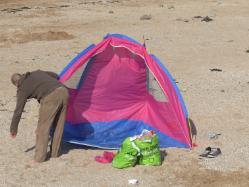 Had I hopped onto the Isle of Anglesey Coastal Path just before St David's Caravan Park, I could have bimbled (walked)to The Ship to enjoy a good pub meal, washed down with an excellent pint.
However, when the tide's in the entire massive beach disappears leaving only a pleasant promenade.
Of a casual holiday evening or at the end of a hard day at the beach the smell of fish and chips emanating from the parked cars is unbelievably tempting.
The entrepreneur in Dan Dare's beach hut offers the most Gigantic Ice-Creams.
It's clear from talking to him that he doesn't believe in coloured ersatz-fruit juice, so all you get is a mountain of fabulous ice-cream and a flake. I CAN LIVE WITH THAT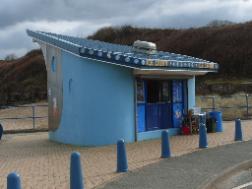 Give me a beach and an ice-cream melting over my hand and I am the happiest little bunderskinder for miles around.
Right on the beach you'll find The Wendon Café, which has been there all my life.
My aunties used to work here in the early sixties.
---
ANGLESEY WEATHER
---
NO STRANGERS JUST NEW FRIENDS
What I like about established beach villages like Benllech is that everyone engages with each other and the banter is always cordial and complimentary of the beach.
The sea and weather are always satisfying topics of conversation to bring people closer together.
In the evening people promenade down to the beach and just walk and walk.
For anyone on holiday these walks are never pointless.
Beach walks offer fresh air, exercise and an overdue expansion of that part of your soul you keep forgetting about.
It doesn't matter what season it is - or what weather for that - there is always someone on the beach walking, trotting, engaging with the bracing wind or just taking much-loved doggies for a walk - on a leash, naturally and according to local ordnance.
"THEY'VE EVEN GOT AN ALIGATOR SALE AT THE WENDON CAFE!"
---
SANDCASTLES!

TELL ME ABOUT YOUR SANDCASTLE BUILDING SUCCESSES AND FAILURES. Click Here
---
FREQUENT VISITOR SMILES
It must be pretty obvious to you by now that I love all of Anglesey.
The coastline in particular.
However, there must be something really special about the stretch of coastline between Pentraeth and DULAS BEACH.
WHY? I hear you ask.
Ask those fourth generation visitors to Anglesey.
I know of one family that has been staying in the TRAETH BYCHAN area since 1945.
Each new geneation has become infected by their fascination and love of Anglesey.
They keep returning, that's what they do.
YOU ARE MOST WELCOME.
A good old Lancashire accent really makes the old place feel cosmopolitan.
You could be anywhere in the world. "Where's me ukelele? Muther!!"
---
LOCAL FACILITES
Don't feel that you need to bring absolutely everything with you in the car when you come to Anglesey. Just bring yourself.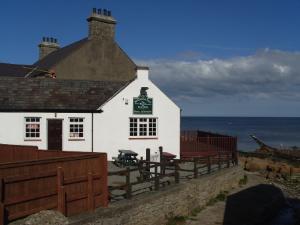 Everything you need for your visit, you can buy in Benllech or a handful of miles away in Llangefni, in the centre of the Island.
As I write elsewhere on this page, Benllech has been a small holiday village for a century at the very least.
Benllech knows what you want, as does my mate Simon in the Jolly Fryer.
Please CLICK HERE for eating and shopping facilities in BENLLECH
---
THE BENLLECH AREA
You can think of Benllech as being central.
To the south you have Red Wharf Bay and Pentraeth. To the north, Moelfre. To the west you have the market town of Llangefni.
This area is oriented to accommodate visitors. But none of this intrudes to spoil the green and blue beauty.
As you drive along the coast either side of the village you'll find plenty of caravan parks that welcome tourers and campers.
There is now an increasing number of luxury holiday cottages being made availble for visitors.
Everything you need as a couple, or as a family, is to be found in the village.
If you fancy exploring further you'll find a number of decent little pubs and hotels that serve food and do well out of it.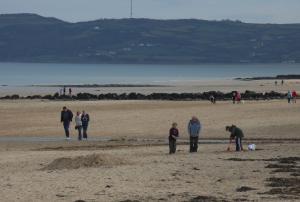 Being busy and full of regulars is the best recommendation for any café or restaurant.
So you can choose to park the car keys on the shelf for your entire stay, or just pootle up and down the coast to find somewhere that suits you.
---
FISHING AT BENLLECH
Mike Thrussell will be well known to many sea anglers and it is with his kind permission that I share his advice on fishing in the Benllech area.
Tackle and Tactics
Only worth fishing at night and during the spring tides.
It produces well in calm weather to long range casts for the whiting and dabs, but fishes best for the coalies and bass with a good surf and northerly wind blowing force 3 to 5.
Distance makes a difference here, so you'll need the power of a 5-6oz beachcaster, 15lb mono and a 60lb shock leader. Carry grip leads of 5ozs for normal conditions, but in a big surf a 6oz lead can be useful advantage.
For the dabs, whiting, dogs and coalies locals favour a clipped down three-hook rig with size 2 Kamasan B940 Aberdeen using 12-inch hook traces from 20lb mono. For the bass a one-hook clipped own rig with two size 2/0 Viking pattern hooks rigged pennel style on a 30lb trace is the best choice.
Plenty of fish are caught off the promenade casting out on to clean sand, but you can also fish off the sandy beach on the right hand side, which is where the bulk of the bass come from. It can be a hot and cold mark, but does give shelter from strong southerly and southwesterly winds.
There are so many more lovely things to learn about fishing on Anglesey on my Fishing Tips Page Please CLICK HERE for more information.
---
WATER SPORTS AT BENLLECH
When the conditions are perfect then this beach is well worth a visit and promises extended runs to the right of the bay towards Red Wharf Bay.
Go too far left and you'll be chewing geology.
I have to be honest with you, though. Don't bother coming here with your surf board hoping for that Once in a Blue Moon set of waves. It's time you could better spend checking out Anglesey's West Coast beaches from Aberffraw to Trearddur Bay.
Benllech is a bay for windsurfing and kite-surfing.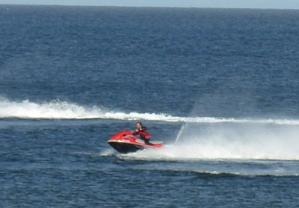 Keep an eagle-eye on the weather reports.
A few days of Westerly to North-Westerlies or North Easterlies make the journey to Benllech worthwhile.
All these winds are ideal for windsurfing with guaranteed long reaches. North Easterlies don't really favour kite-surfers.
When the tide is out, the sea presents itself very well.
You can see the hazards of some isolated rocks toward Red Wharf Bay and dodge the defunct sewage outfall on the left.
Be warned though. Check your tide timetable and 'do-the-deduction' because the tide comes right up to the promenade.
This can be a lovely beach for extended runs. However, if Benllech doesn't deliver good sailing conditions, then head north, just beyond Moelfre to LLIGWY BEACH.
And – if you've got cast-iron underwear - there's always the reef beach at Dulas.
The Jet-Skiers above probably came from TRAETH BYCHAN, which is just around the corner to you right.
It's not as if they've been adventurous and travelled from afar. Low horse-power boats that 'qualify' for registration fees can blame these bleeders' antics for the fiancial outlay.
---
BOAT LAUNCHING AND REGISTRATION
The County Council requires you to register powerboats over a certain horse power and also lists the required qualifications.
Please CLICK HERE for all the above information and about launching fees on other Anglesey beaches and slipways.
---
PETS ON THE BEACH
• There are some seasonal prohibitions on dogs on Benllech Beach, and you should always keep them on a leash - unlike Crazy Fido here.
• You'll find similar Seasonal Prohibition on a number of Anglesey beaches.
• Always bring a doggie poo-bag with you because the little dears can't always help themselves.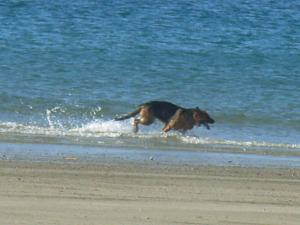 Imagine specific matter oozing from between your tanning and sandy toes.
Imagine a worse scenario; it's your child.
• The main concern regarding dogs on Anglesey beaches is a health issue. Doggie poo can blind for life.
FOR MORE INFORMATION ABOUT DOG RESTRICTIONS ON ANGLESEY BEACHES PLEASE CLICK HERE.
---
GETTING TO BENLLECH BEACH
The easiest way is to travel along the A5025 Coastal Road from Menai Bridge heading north toward Amlwch.
The coastal route.
• Once across Britannia Bridge on the A55 Expressway take the second left-hand slip road indicating Amlwch.
• Turn right at the top of the slip-road and head for the Four Crosses roundabout. Straight across this and just keep going on the A5025.
• Pentraeth is a few miles ahead.
Pentraeth has a great walking beach if you follow the Isle of Anglesey Coastal Path. Please keep an eye on the tide because Red Wharf Bay has one of the fastest incoming tides in the country.
• Carry on through Pentraeth for a few more miles and you arrive in Benllech.
About halfway between Pentraeth and Benllech you will pass two turnings for Red Wharf Bay on your right.
• As you arrive in Benllech there is a quick route down to the beach. But you'll find that yourself later.
For now, drive into the village to the obvious crossroads by the garage. Turn down right opposite the garage and take a humpy ride down to the beach.


• The car park is opposite the beach. Park the car and chill out.
---
What's The Best Sandcastle
You Ever Built?
Second to excellent ice-cream, I love sandcastles and love building them.

Sadly, I lack the architect's imagination to build big. I just step back now and then and decide where to add the next bit.

My friend, Judith told me about a couple of engineers in Porth Dafarch (by Trearddur Bay) this year who built a three dimensional race track that even had a fly over ... over itself.

Too much for me, though I can appreciate genius when I see.

What's the best sandcastle that you ever built? Send me a photo if you've got one.

What does a Sandcastle mean for you? Dreams? Treasured Memories? Peace and Quiet?
---
Return from BENLLECH to ANGLESEY EASTERN BEACHES
Visit ANGLESEY WESTERN BEACHES
---