ANGLESEY WESTERN BEACHES

"On Anglesey the sweet sunshine rests gently upon the landscape." 


HOW ABOUT...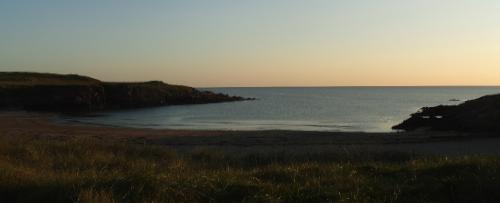 Being on an endless Golden Beach with sand so fine that it massages your tense little toes?
Investigating the rockpool beasties with amazed children?
With plenty of good sand for exercising your architectural dreams of building gothic sand castles?
Riding the waves or racing before that clean wind?
Seals that are so delighted to meet you that they will carry the fish to you. That'd be a first.
The Big Blue before you and the Big Blue above.


THE CHOICE IS YOURS
On both East and West coasts you'll find wonderfully sandy beaches stretching from north to south. If you like rocky coves for exploration, plenty of them as well.
Excellent beaches from LLANDDWYN BEACH and Llanddwyn Island edging the Menai Straits in the south western corner ALL THE WAY up to CHURCH BAY near the north western point near Carmel Head.
On the East Coast, Golden beaches stretch from the seemingly endless LLANDDONA BEACH in Red Wharf Bay to the almost secret and delightful TRAETH YR ORA in Dulas Bay and SANDY BEACH near Church Bay.


WEST COAST ANGLESEY BEACHES


It really is as long as a childhood memory. You step out onto the beach and can either stay close to the families or head a long way to the left for peace and quiet. Good fishing, windsurfing and kite-surfing.
There again, you may decide to shoulder your gear and take a fifteen-minute walk to enjoy the small sandy coves and grainy beaches on LLANDDWYN ISLAND.
NEWBOROUGH BEACH
One lovely blessing about Newborough Beach is that it is far enough away from Llanddwyn to afford you all the peace you want. Be careful, though, it's not a nudist beach. Anglesey County Council could be watching you, as well as a few of the locals, I should imagine.
Newborough Beach is an extension of Llanddwyn Beach separated by Llanddwyn Island.
Main parking and local facilities are identical. However, you could choose to walk down through Newborough Forest, which is a straightforward forty minute walk.
CLICK HERE for more information about LLANDDWYN and NEWBOROUGH BEACHES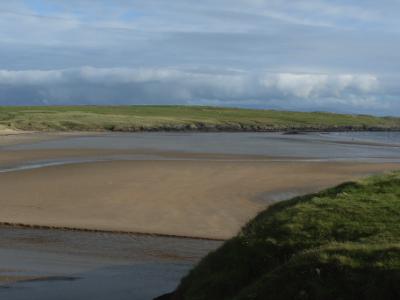 It's Anglesey's Sahara desert striding dune after dune to the sea. And not a camel in sight. Aberffraw Beach is big, wide and awards you pleasant soft white sand.
It is embraced by pleasant grassy headlands and backed by a long line of sand dunes that have marched all the way from the main road to the sea.


RHOSNEIGR BEACHES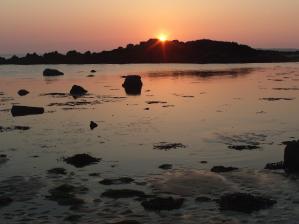 Nothing exemplifies the image of Anglesey as a necklace of beaches embracing beautiful rolling countryside more than the Rhosneigr Beaches.
In terms of the Anglesey Coastal Walk you could start all the way back at Llanddwyn and encounter each gem of a beach.
However, from Cable Bay it's a short and delightful walk north to Porth Nobla, Broad Beach, then to the Rhosneigr Village Beach.
From here (armed with an ice-cream) the glorious and secluded Crigyll and Cymyran beaches are a satisfying little walk away.
This small sandy bay near Rhosneigr nestling between two headlands is incredibly popular on hot summer days. When you arrive you'll know exactly why. Good surfing, kayaking and fishing. Evening barbies seem de rigeur
Cable Bay is one of the string of gems that make up the Anglesey beaches.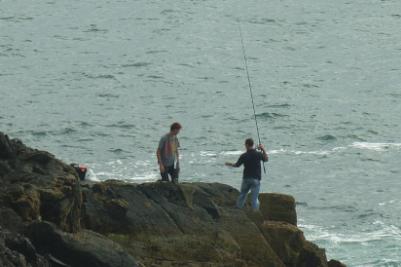 If you follow the Isle of Anglesey Coastal Path north from Cable Bay around the headland you will find yourself at this nice sandy beach.  
This is a decent sized beach great for sunbathing, games and excellent for splashing about. AND building sandcastles! The rocks on each side, make for great exploration for children of all ages.
Hot for surfing only if Cable Bay is Very Hot. Again, good fishing.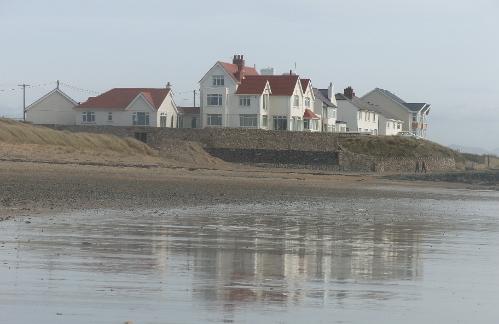 This is just one long, long beach backing onto the sand dunes just south of the village. It has excellent swimming, sunbathing and picnicking. Lovely soft sand, no seaweed and, again - now and then - it is great for surfing long reaches.  
You'll regularly find a string of sea anglers setting up along the Broad Beach, come a decent fishing evening. Other similar glorious beaches are always available nearby.
On hot summer days Rhosneigr Beach is never really crowded because when it starts filling up people head for Broad Beach Or any one of those other beautiful sandy beaches within easy walking distance.
The village offers shops, cafes and tidy little restaurants. The fact that Rhosneigr boasts a Fat Face and the renowned Funsport surf shop tells you how far it has come in recent years. Regarded as one of Britain's best windfsurfing and kite-surfing beaches.
Both beaches are a short walk along the beach from Rhosneigr Main Beach. Even in Summer Cymyran Beach can feel like an Autumn beach.
But then...

Then I went for an after work run on this beach - during our 2008 Indian Summer. The previous day the wind had a definite autumnal 'bite' to it.
When I went running Cymyran was glorious. The sun was soft and warm, the tide was coming in and the sand was soft this time.
People fish the Dangerous Tidal Race at its far end by Plas Cymyran House. The beach is excellent for surfing and other such water sports.
Crigyll Beach is closest to Rhosneigr Main Beach. Crigyll is a better beach for peaceful sunbathing and swimming than Cymyran Beach. There is plenty of room.
If you've had enough of screaming kids and noisy jet-skis then Crigyll Beach is ideal. It's also where the novice windsurfers and kite surfers usually end up and have to drag everything back to their car or boogie bus.


HOLY ISLAND BEACHES


This beautiful, isolated and perfectly formed sandy beach is a bit of a struggle to find unless you're fortunate enough to be staying at the Silver Bay Caravan Park.
Like a few other Anglesey beaches its isolation lends it a sense of freedom.  If you have a need for some solitude from the masses, then this sandy beach is ideal for you.  It is a pretty and pleasant escape.
Like a few other of our beaches, Silver Bay carries a fearsome reputation for surfers and has left its mark on many who overestimated their skill level. There again, breaks like these feeds ambition.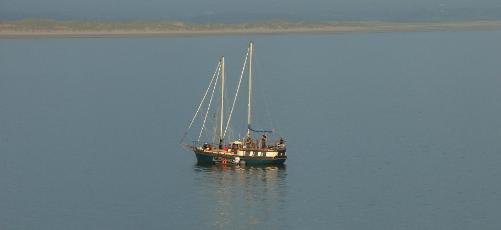 For the lazy beach loungers and the hyperactive, Rhoscolyn Beach is a lovely beach. You will find plenty of warm, soft sand at the back of the beach. Visitors flock here to enjoy the sunshine, the coastal path and (just like Trearddur Bay) it is a magnet for divers.
The narrow road down past the 'White Eagle Hotel' and tiny car park offers formidable vehicular challenges.
Imagine a hot sunny day with the tide lilting against the rocky shores with the sea smooth and silky. You could be anywhere in the world and you haven't spent a fortune on a Mediterranean holiday or left a large carbon footprint behind you.
Trearddur Bay has a fine award winning sandy beach that attracts families, surfers, windsurfers, kite-surfers, divers, jet-ski enthusiasts, the posh boat set and plenty of fishermen who cast off the rocks on both sides of the beach.
---


ANGLESEY BEACHES NORTH OF VALLEY?
HANG ON THERE! THAT'S NOT ALL.
You'll have looked at map and I can hear you say to yourself,
"What about the rest?

What about Church Bay?

What about Sandy Beach?

Hey! What about the Lobster Pot?
Blinkin Flip! Hold your horses! I've only gone and created another page for those beaches.

For information about Sandy Beach, Church Bay, Cemaes Bay and more beaches and stuff just..
,

Care To Share A Thought?
Dear Reader,

Would you care the share a thought or make an observation.

,

---
Visit EASTERN ANGLESEY BEACHES.

---
.

---