RHOSNEIGR BROAD BEACH

Relax and Barbie on the Sweetest, Softest Sand
Rhosneigr Broad Beach Beckons To You.
This is an absolutely wonderful place to pass a day listening to the seagulls, the surf and enjoying a picnic.
Set up your beach tent, light your barbecue and retire from the world.
This is just one long, long beach backing onto the sand dunes with excellent swimming and sunbathing opportunities.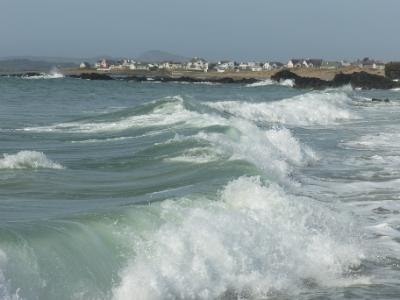 Lovely soft sand, no seaweed and, again, now and then, makes it great for a bit of surfing with long reaches. Kite surfers and kayakers are frequent visitors when the Rhosneigr Main Beach is just a bit too wild for them.
There honestly isn't much more to say about Broad Beach other than that it is a delightfully long sandy beach close to the village shops. Near enough for an ice-cream.
---
A WALK TO PEACEFULNESS
On bad weather days this is still an excellent beach for walks. See if you can leap across the river that runs down from Llyn Maelog (Maelog Lake).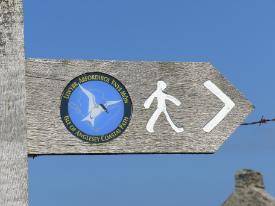 The Isle of Anglesey Coastal Path passes along the beach.
If you want to ramble a bit then you can make it the beginning of a 200 kilometre walk along staggerigly beautiful coastline.
You can choose to make it one of the most wonderful experiences of your life.
You'll become gently fitter, healthily tanned AND lose a bit of weight at the same time.
---
BROAD BEACH IS IDEAL FOR A GENTLE JOG IF
YOU WANT TO RECOVER FROM THE NIGHT BEFORE.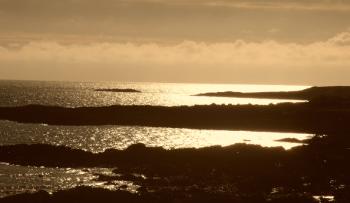 Enjoy evening walks along Broad Beach toward Porth Nobla and Cable Bay.
Enjoy the sunset over Broad Beach and the cliffs of Holy Island in the distance.
The first piece of advice to you about the beach from Broad Beach to Cable Bay is that it's a very satisfying walk in both summer and winter.
It offers an ideal long walk for blowing those dark winter cobwebs and rejuvenating your soul.
The windier and stormier the better it is for me.
By the end of the walk not even the most desperate of demons are left clinging to me.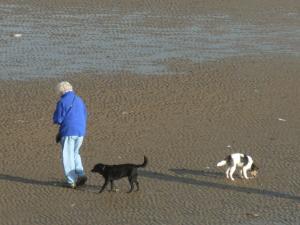 If you choose to park your car in Cable Bay and walk to Rhosneigr and back then it's a satisfying two hour walk or trot.
Depending on the time that you take your walk there could be shops and restaurants open.
Even if there aren't, it's still a very invigorating walk to tire both doggies and kiddies.
---
PETS ON THE BEACH
• No major prohibition on dogs, but please keep them on a leash.
• Though not here in Rhosneigr, there are Seasonal Prohibitions on dogs on certain Anglesey beaches.
• Always bring a doggie poo-bag with you because the little dears can't always help themselves.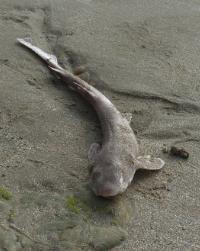 Imagine specific matter oozing from between your tanning and sandy toes.
Imagine a worse scenario; it's your child.
• The main concern regarding dogs on Anglesey beaches is a health issue.
Doggie poo can blind for life.
FOR MORE INFORMATION ABOUT DOG RESTRICTIONS ON ANGLESEY BEACHES PLEASE CLICK HERE.
---
SHOPS AND RESTAURANTS
For all your Beach Day shopping, either get back in your car or pootle along the beach to Rhosneigr.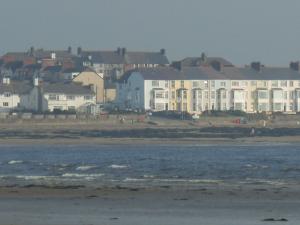 You need a bucket and spade? They got it!
You need an Ice-cream? They got it!
You need a good snack or an excellent meal? They got it!
You need a cashpoint? They got it!

CLICK HERE for Details on the Nearest Facilities, Shops, Cafes, Restaurants and MUCH MORE.






---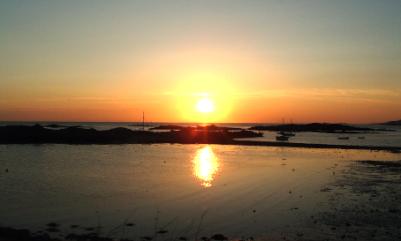 FROM PORTH NOBLA TO RHOSNEIGR BROAD BEACH
Walk along the beach from PORTH NOBLA. and you will encounter a number of small beaches and rocky shores worth investigating.
From Winter through Spring to Summer and then Autumn the nature and character of these beaches can change greatly. Bend into the wind or stop and stare patiently.
Take all the time you need to reflect on what you see and who you are and where you are going.
After a good old storm out at sea it's an interesting place because of all manner of fishing boat paraphernalia, nets, boxes and stunned dogfish land on the beach.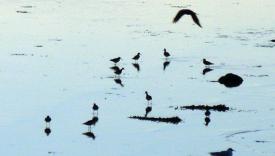 It's all rather smelly in warm weather when the tide is out.
But if you manage to gird your loins it is great for exploring the pools for beasties and curious-looking critters.
There is a small ribbon of sand below the sand dune and a bit more peace than the other beaches but there is no direct access to the sea from here.
---
Do not tarry too long... Broad Beach beckons.
But not before you strike another long stretch of sandy beach, which is described as being attached to Broad Beach.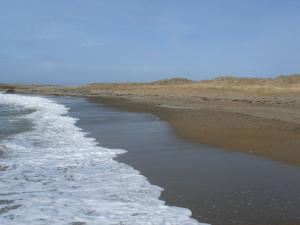 This sandy beach is accessed either along the beach or you can park in a large car park behind it.
This car park is located on your right half a mile out of Llanfaelog toward Cable Bay.
This is a very popular sandy beach and great for sunbathing and sandcastles, though Dads should really remember that it's for the kids not for your architectural ambitions.
Excellent for evening and daytime barbies. It offers wonderful sunbathing during the day in excellent soft sand high up the beach.
Some people even pitch a tent and spend the night here, which sounds wonderful in high summer, though I suspect it's not entirely legal.
---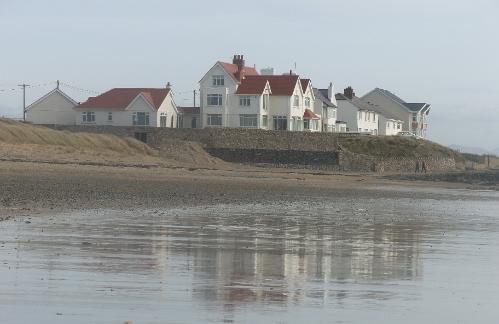 At high tide you will find a temporary little lagoon below the rocks by the large holiday homes above the rocks. In sunshine the water here is lovely and warm and makes for a decent little, reasonably deep swimming hole.
This beach is good enough to spend an entire day sunbathing, swimming, bodyboarding and surfing.
A few hundred yards and beyond the large holiday homes you finally arrive at Broad Beach.
---
FISHING ALONG THE RHOSNEIGR AREA COAST
I have noticed that there are regular competitions held all along this long stretch of small beaches.
If you interested in a competition at Broad Beach, then Holyhead Angling Club will be holding its CHRISTMAS CUP on November 29th 2009 between 6:00 and 10:00pm. High Water 20:52pm 27.9ft.
For fishing in this immediate area please have a look at my fishing tips on Porth Nobla and Cable Bay.
---
SURFING AND OTHER WATER ACTIVITIES
The beach behind the Llanfaelog Road carpark is sandy but ROCKY on the sides.
If you're going to do a bit of surfing here, then it can be a fun place. However, WATCH OUT for the rocks that are covered at high-tide.
One problem with this beach is that waves can break too close to shore.
It's great for the body-boarding. If you're surfing the waves, then you're always in danger of chewing beach sandwich.
You can hire wetsuits and paraphernalia from the North Wales Wetsuits van located in the car park behind the dunes.
You can't miss it. It's the one that looks like it could do with a good holiday.
On Broad Beach, JET-SKIS now and then visit this beach to scream, roar and spoil everyone's day.
I get really worried when I see these critters. There are just too many children splashing about here having harmless fun.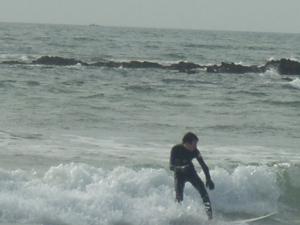 This young chap was surfing with his girlfriend on Broad Beach. The waves were about three feet.
The sand was yellow, the sky blue and early Spring never offered greater hope.
I can't help but think he was showing off a bit.
I don't blame him either because she was very pretty and determined.
It would be most improper to show her attempts. But she looked lovely.
---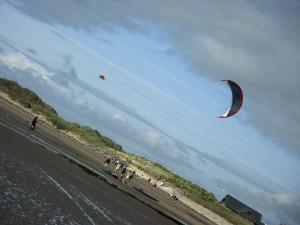 KITE-SURFERS are rather more democratic and less inclined to conceit about where they engage in their sport.
You'll find them on this very open Rhosneigr shoreline quite reglarly. It offers long reaches for the novices.
The experts seem to enjoy the space and a bit of peace.
WINDSURFERS are a pretty vain bunch and only tend to blitz Rhosneigr's Main Beach.
But, if you want space and peace then you'll find Broad Beach an excellent nearby alternative.
WEST AND EAST COAST CONDITIONS Aberffraw and the Rhosneigr area are the best surfing, windsurfing and kite-surfing beaches on Anglesey's West Coast.
But what if the wind has been blowing from the North East for a few days? What do you do?
Easy. Head for the East Coast to Llanddona Beach or - best of all - Lligwy Beach for a mind blowing session.
---
BOAT LAUNCHING AND REGISTRATION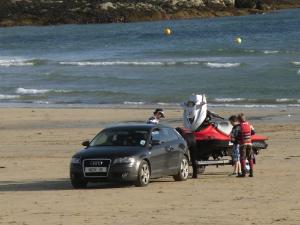 Essentially all boats are launched from Rhosneigr Main Beach.
However, some determined individuals do pull their dinghies down the pebbled walkway to Broad Beach.
The County Council requires you to register powerboats over a certain horse power and also lists the required qualifications.
Please CLICK HERE for all the above information and about launching fees on other Anglesey beaches and slipways.
---
WHATEVER YOU DO, BE SAFE AND ENJOY YOURSELVES
ENJOY YOURSELVES AND COME BACK AGAIN
NEXT TIME BRING YOUR FRIENDS WITH YOU TO RHOSNEIGR.
---
CONTACT ME
I would love to hear from you about your stay in Anglesey or to try and answer any questions you may want to ask in preparation for your visit.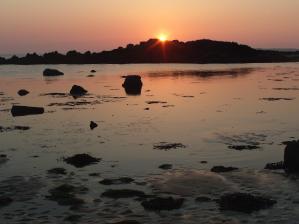 Maybe you are one of those visitors who has been visiting Anglesey for decades. You're not the only one.
Please tell me what makes Anglesey a special place for you.
Maybe you have special advice - or even warnings.
Please feel free to share by CLICKING HERE.
---
GETTING TO BROAD BEACH
• Travel across Anglesey on the A55 Expressway.
• Halfway across the Island take Junction 3 for Rhosneigr.
• Follow this road through Engedi, then a few miles later Llanfaelog.
Turn right opposite the church and down past the Llanfaelog Post Office.
Carry on through Llanfaelog, under the railway bridge and past the Anglesey Golf Club.
Arrive the village square and straight along the Main Street.
The carpark is up on your left halfway down the street.






---
SAND WISHES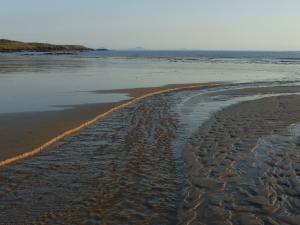 I am a great believer in the truth and stating what it is that you want from life. Sometimes you need a little help - some divine intervention, perhaps.
I've learned that it pays to have more than one MODUS OPERANDI.
If one contingency doesn't work, then you have another to hand.
When I'm on the beach and a profound desire strikes me, then I pick-a-stick and write the thought or desire in the sand to allow the sea to carry it to the world to be brought back fulfilled.
This all works on the same general principle as Tibetan Prayer Flags. It's a theory under development, but it's got great potential.
I'm sure you'll agree that Rhosneigr and Anglesey beaches are excellent beaches for carrying out these profound experiments.
There again, you could always just tell the person.
In the meantime, while you're working yourself up to that CLICK HERE to learn the SAND WISHES theory. It's all very technical, yet simple.

---
Return from Rhosneigr Beach to ANGLESEY WESTERN BEACHES
Have a look at MORE WESTERN BEACHES