Anglesey Hidden Gem.com
Book Store
Books by the Author of this site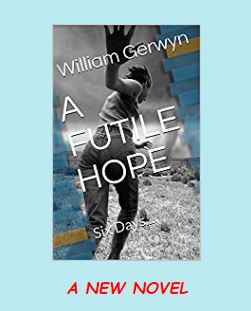 Scroll Down For More
---

Anglesey Hidden Gem


By

William Jones

Anglesey Hidden Gem - The world is bigger, more interesting and much more profound when you can attach a name and a story to a place. With that thought in mind, I welcome you to my fully illustrated book about Anglesey, My Hidden Gem. This is very much my book, my stories – amusing, eccentric and quirky - because it's all about my journeys and My Island home. Allow me to share and guide you.

So imagine rediscovering that part of your Soul you'd forgotten about while trying to be someone else. Leave your city driving behind and grab an ice-cream. Slow down and allow gentle, natural beauty to smooth your concerns to easy contentment...
For a look inside Click Here...
Purchase 'Anglesey Hidden Gem' HERE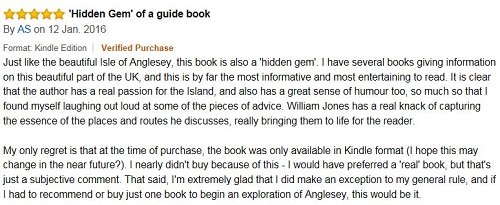 Purchase 'Anglesey Hidden Gem' HERE
---
A NEW NOVEL

A FUTILE HOPE
- Six Days...
By William Gerwyn

The Earth will be obliterated in Six Days time and there is absolutely nothing anyone can do about it, other than ignore it, get seriously depressed, party, get drunk, stoned or just pray.

Morality is in freefall and normal everyday physics appears to have gone on holiday.

Why bother hoping for salvation when you could simply point at the bastard thing in the sky that was going to kill you in six days' time?

Jenny and Jack seem to have accepted their fate and wish to do nothing more than spend their last six days together in their rural idyll, well away from humans, in each other's arms under a warm duvet.

Sadly for them, in addition to the devastation heading their way, some maniacs are after Jenny for a reason only known to them. The latest recruits are more than happy - and desperate enough - to kill Jack to get to Jenny.
Loving, sarcastic and building up to a nice violent climax. And their problems don't end there.
And it all happens on the beautiful Isle of Anglesey. Go figure!
CLICK THE BOOK IMAGE FOR MORE INORMATION...

---
NEW!

APPALLING LIES & INSPIRING MISSIVES
from Anglesey
By William Gerwyn

Recently adopted by yet another cat, William Gerwyn has lived in the heart of Anglesey for most of his life and has always valued the stories he has been told by his family.

In this book, William Gerwyn writes in this book about local wisdom, both contemporary and those reaching back to great grandparents and their memories. While memory of a person's physical presence is lost within a generation, their words and sayings can still be found in our daily conversations and observations on our world. Witty and barely credible, these are old words in new clothes covering topics of love, affection, sadness and easy cruelty.

"When it comes to the Milk of Human Kindness, the van doesn't stop at his house."
---
I'M WAITING AS QUICKLY AS I CAN
Gentle Little Timebombs
By William Jones
"I'm Waiting As Quickly As I Can".
When you're in a hole the best thing to do is stop digging'.
But what do we do? We carry on digging.
Why is that we can look at other people in trouble and identify what's probably going wrong for them? But why are we so blind when it comes to sorting out where we're going wrong? It's the same bloody skill.

It's all a bad habit. We know what's wrong, but we deny it and hide solutions in the ever more complex and confusing emotions that we gather as a shield around ourselves. We just get tired and it's all futile isn't it?
I've found my best lessons in stories and conversations. Here are some of them for you in "I'm Waiting As Quickly As I Can".

---

GIVEN A REASON TO KILL
How to Justify Killing as a Rational Act
By William Gerwyn Jones

'Given a Reason to Kill' presents you with a plausible template for understanding the internal and external forces which exhort many to exhibit behaviours considered as 'Pure Evil'. These reprehensible acts can shockingly be justified as rational by those committing the crime.

Many of us find ourselves unable to understand how an individual can revel in the horror of carrying out acts beyond belief. Sadly, this is nothing new. Humanity has been here before and will be here again – all too soon.
Man is not a Rational Being but a Being who Rationalises. Therein resides our downfall...
---
William Gerwyn Jones - Author
William Gerwyn recently woke up to discover how old he was and was shocked. How on Earth did that happen? So many hopes and aspirations still unrealised because of commitment to and exhaustion from caring for family, friends and strangers.
He reviewed his situation and choose to walk away from his job and from people who were causing severe injury to his health and soul simply because they wished to. With a couple of degrees in psychology to his name he now sits writing, reflecting on his garden and despairing over his heavy-handed attempts at fine cooking. His friends are now more precious to him than ever and he is in a dilemma over whether to adopt a few cats or not.
William Gerwyn is advocate of laughter and of not over-thinking problems. He believes that we know the solutions to our problems even though we pretend we don't. He has confidence in the unconscious mind for finding novel ways to bring the conscious mind to focus on solutions. William Gerwyn believes in the power of stories – the oldest and most powerful technology of all.
,

Return from Anglesey Books to HOME PAGE
.
---