ANCIENT ANGLESEY

Sometimes You Need a Bit of Spooky & Disturbing
Ancient Anglesey history could well be your main reason for coming to Anglesey and you are most welcome.
There is also the possibility that it's raining that day.  What on earth are you going to do if you can't get to the beach?
Don't worry, there plenty for you be getting on with.
So, here are a few of my favourite historical sites on Anglesey that I enjoy visiting.
As the ancient Anglesey light changes with the weather, so does the atmosphere...
I've laid out some history for you to bring with you to add colour and lend a distinct atmospheric flavour to you explorations.
---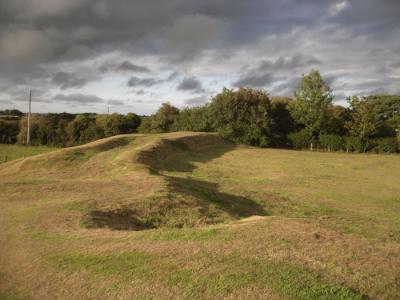 CASTELL BRYNGWYN AT BRYNSIENCYN


May I encourage you to visit Castell Bryngwyn near sunset, as the golden light casts engaging – and again – sensuous shadows. Bryngwyn is romantic rather than eerie.
There again, I haven't visited the site at twilight when shadows begin to move and dance. Push all such nonsense aside. It's Free Admission.
It is very likely that the sensuous, circular embankment of Castell Bryn Gwyn reaches back into that invisible period about 2,500BC.
This is the Neolithic Period of Anglesey Man and Woman's history. Click Here for More ...
---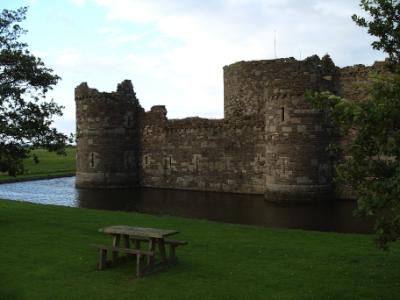 BEAUMARIS CASTLE


Beaumaris is a Tardis Castle that appears squat and small from the outside; however, once you've crossed the moat and entered into the castle, you begin to realise just how big it is.
A visit to Beaumaris Castle is not a short-lived affair because you always seem to find a new corridor or room to explore.
Set yourself or your children a challenge. Count how many toilet chutes there are in the inner and outer walls. Then, once you've got a figure imagine how they would have got rid of it and where they put it.
Horrible thought for you to bear with you on your explorations, Ancient Anglesey was cruel and brutal. And Very Smelly. Just something for you to contemplate.
---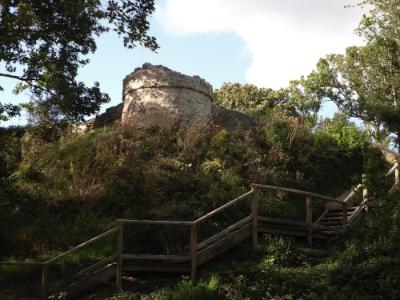 ABERLLEINIOG CASTLE


Imagine that. Aberlleiniog is The Castle That Time Forgot. Once a structure of strategic and tactical importance, it disappeared from general consciousness for centuries.
A mythical castle from the 12th Century in an Area of Outstanding Natural Beauty in Llangoed near Beaumaris.
Believe me, it really is a beautiful area with pleasant paths and boardwalks to take you to the castle and on a gentle flat amble about the ancient woodland.
The history is important, but I'll be completely honest with you, for me it's a lovely place to escape to.
---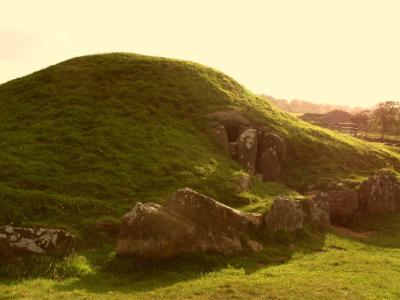 BRYN CELLI DDU BURIAL CHAMBER


Set in lovely countryside away from human habitation, Bryn Celli Ddu burial chamber will make you a bit nervous as you choose to enter its narrow, confined entrance tunnel.
Returned to a semblence of its form prior to archaeological exploration this monument to Pre-historic History is easily accessed and free to enter.
Where else can you sit in the presence of 4000 year old Memories of Sacrifice and burial rituals?
Where else can you sit and watch the Sun come up to mark the Summer and Winter Solstice or the Spring and Autumn Equinox?
There's a good chance there'll be no-one else there. Unless the Druids are about.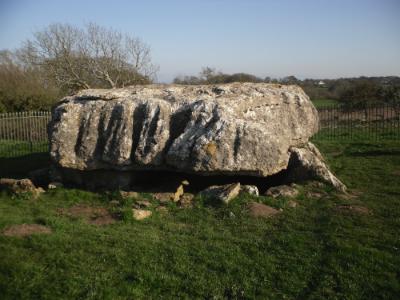 LLIGWY BURIAL CHAMBER


I hope that you enjoy good weather when you visit this ancient Anglesey burial site that reaches back beyond the scope of human memory.
There again, an atmospheric stormy day will certainly lend an eeriness commensurate with our expectations of burial grounds.
It is not until you contort your sylph-like self into Lligwy's burial chamber that the weight of the 25 tonne capstone attains a certain concerning significance.
Bent double you may find yourself making less than casual calculations about how long it would take you to escape should a few of the upright stones suddenly ... SLIP!!
---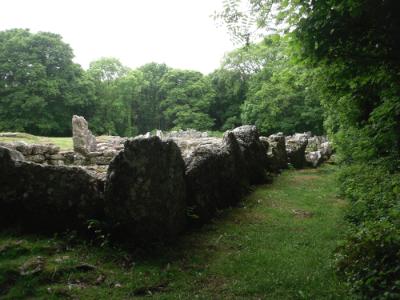 DIN LLIGWY ANCIENT SETTLEMENT


Din Lligwy is set on the top of a hill that would once have overlooked the entire countryside and sea in the Lligwy area.
When you visit the hut settlement today you will inevitably be delighted by the ambience created by the Ash and Sycamore trees that surround most of the site.
This hut circle is a settlement that served as home for Iron Age Britons and later as a Roman estate.
It's presence acts as a bridge between Anglesey's Druids, Invading Romans and the sustaining of Lligwy's Christian traditions.
---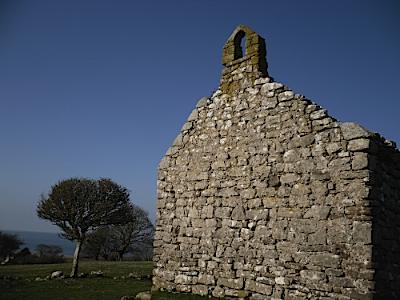 LLIGWY CHAPEL OF EASE


Standing aloof in the open fields this ancient 12th Century Chapel reaches back into Anglesey's ancient religious history.
The church remained in use for over 600 years until it finally fell into a state of dereliction and disuse in the early eighteenth century.
Its religious role has been dismissed to ancient Anglesey history but it serves to remind us all of times gone by.
Listen It does occasionally rain on Anglesey. So Lligwy is an area where you and the family can spend a couple of hours of historical investigation.
How's that for a back-up holiday plan?
---



THE ROMAN INVASION AND DRUIDS
While I am about it, talking about Ancient Anglesey, I'm sure that you know that Anglesey was one of the last places in Roman Britain to be invaded.
Why? Well the Druids of Mona (as the Romans used to call the Island) used to scare the beejazus out of your average Roman squaddie.
Use the link below to take you to that particular intresting tale.
Click Here For More Information...
---


MORE ANCIENT ANGLESEY ITEMS
TO FOLLOW


That's it for now. I have more sites that I am sure you would like to visit and I'll be adding these as opportunity allows.
Please enjoy and if you feel like sharing your experiences then just type in below.
Have fun.
Wil
When I was writing about Llanddwyn Beach on the West Coast of Anglesey, it was fun sharing my Fish Batting story.

I'm sure you've got some even better Anglesey holiday stories that people really would love to hear about.

Go on, let us hear them.

YOUR Anglesey Story
Click on the links below to read some great stories. They were all written by other visitors to this page.

St Mary, in Anglesey?

Hi there, I've just finished reading The Marian Conspiracy by Graham Phillips. I'm just finishing it, but he postulates that The Virgin Mary lived …
---
Visit ATMOSPHERIC ANGLESEY CHURCHES.
Return from Ancient Anglesey to HOME PAGE.
---
---