ABERLLEINIOG CASTLE & WALK
IMAGINE THAT.
Aberlleiniog is a mythical castle in an Area of Outstanding Natural Beauty on the stunningly beautiful Isle of Anglesey.
Once a structure of warfare and strategic importance, it disappeared from scholarly consciousness centuries ago.
ABERLLEINIOG IS THE CASTLE THAT TIME FORGOT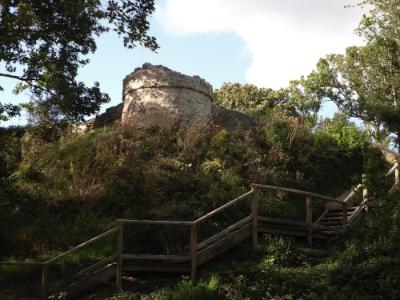 Believe me, it really is a beautiful area to visit, with pleasant paths and boardwalks to take you to the castle and a gentle, flat arboreal amble.
Located in the beautiful woodland near the village of Llangoed it has now been rediscovered and Anglesey's very own and very wonderful Menter Môn.
This Rural Development Agency has bought the land with a £317,500 grant from the Heritage Lottery Fund.
CONTENTS
SURPRISING ENCOUNTERS

WITH BUT A STEP A PLEASANT JOURNEY IS BEGUN

120 MEN CALLED NORMAN KILLED AT ABERLLEINIOG

SIEGE

CONGRATULATIONS AND CASTELLATIONS

NICE VIEW, PETUNIA

LOCAL SHOPPING & EATING
---

SURPRISING ENCOUNTERS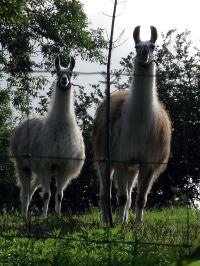 There are plenty of surprises to be found in the Aberlleiniog area.
These two characters in particular.
In character perhaps but certainly out of place.
I hope that you'll encounter these friends, and more, as you take to the path from the car park. It was certainly a surprise for me.
Underfoot, the path varies according to the weather, so make sure you've got have a decent pair of waterproof shoes with you.
---

WITH BUT A STEP A PLEASANT JOURNEY IS BEGUN


I have noticed that the more pleasant a spot is then the more pleasant are your encounters with other visitors.
I'll guide you to Llangoed and the car park start point at the bottom of the page.
For now, though, let's start from the carpark assuming that you have arrived here in good order.
On the lower side of the carpark you'll notice a concrete path that you need to take to amble quietly into the woods.
The walk is well signposted offering you distances in kilometres.
---
Conversion to miles is quite straight forward:
A pint is 20 fluid ounces and a litre of water weighs one kilogram.
Divide the height of your wife (or maybe one you've borrowed) by the first number that springs to mind when you see the lamas and Bob's your uncle.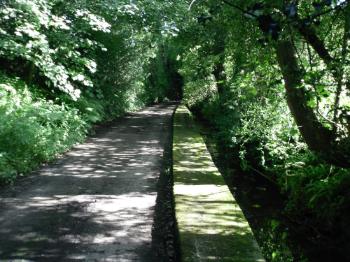 The way ahead for you is a concrete road with a pleasant, albeit linear, little stream. That aside, the sound of the rushing water and the rustling of the green canopy quickly imbues the surroundings with a gentle calmness that can slow you right down.
Don't be in too much of a hurry because you will be perambulating through ancient woodland which is a designated Area of Outstanding Natural Beauty – as is much of Anglesey. Whether designated or not.
This road has been here for many years as access to the sewage plant you'll come across. Pay no heed to it.
Beyond the road's end is a track that is occasionally muddy, though as you proceed you'll find yourself bouncing gently over excellent and appropriately placed boardwalks.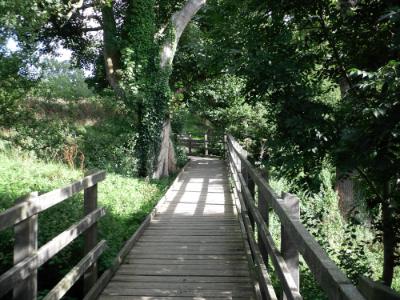 I like to imagine the Aberlleiniog woodland without environmental improvements as a child might have played among the trees long before the castle was re-discovered by the outside world.
It must have been a fabulous place to play Cowboys and Indians and Hide-and-Seek.
I'm sure that it was also a fabulous secret spot for discrete amorous encounters.
Ah Me! Why didn't I know about this place when I was a teenager?
---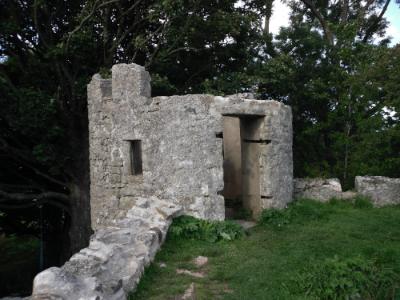 120 MEN CALLED NORMAN KILLED AT ABERLLEINIOG



A BIT OF HISTORY




Aberlleiniog was built at the end of the 11th Century (probably about 1088) by a Norman Earl, Hugh D'Avaranches of Chester. He built the castle to bring the battle into the heartland of the revolting Welsh under Gruffydd ap Cynan.
Please don't take offence against the description because I like to think that we are a pretty bolshie lot to this day.
The South Wales men were the renowned archers employed by Edward 1st of England against the Scots.
Us North Walians were not very sophisticated fighters; however, we were definitely a bunch to avoid in the heart of any 11th and 12th Century battle.
The above sounds like events outside the Sailor's Return in Beaumaris in the 1970s.
---
Aberlleiniog Castle is a Motte and Bailey structure. Effectively a defensive structure that is a mound of excavated earth with a deep ditch surrounding it as a further defensive measure.
One advantage of this type of castle is that they were relatively cheap to construct and were more than adequate to see off most small assaults.
The Motte mound originally constructed by the Normans during the 11th and 12th Centuries would have been surrounded by a protective timber fence.
The Bailey component was a further courtyard area established below the Motte.
Again, this would have been surrounded by a timber fence outside the motte ditch. Most baileys would have been service villages for the Lord of the Castle.
---

SIEGE


As stated above the castle was originally built to hold Norman soldiers to fight against the revolting Welsh.
Please have a look at my Beaumaris Edwardian Castle page for a bit of guidance about the strategic importance of Anglesey for Edward I in his battles against the Welsh.
Further, Anglesey – or MONA as the Romans called it - was a centre of rebellion for the British tribes, which is why Suetonius Paulinus invaded the Island, follow by Agricola a few years later. For More Please Click Here.
Anyway, back to the Normans. In 1094 Aberlleiniog Castle was overwhelmed by Gruffydd ap Cynan and 120 of Hugh D'Avaranches' best were put to the sword.

CONGRATULATIONS AND CASTELLATIONS


It just may have struck you, Dear Wise Reader, that all the above images of the castle are of a stone-built structure.
I hope that some of the other images will allow you to extend your imagination to manufacture the Norman Motte and Bailey.
After the Norman were seen off by history and rendered chinless by in-breeding, it would be at least 500 years before a need arose to defend Anglesey once again.
This time it was during the English Civil War. It is thought that it was Thomas Cheadle, Constable of Beaumaris, a Royalist, who built the castle.
It is surprising that Thomas Cheadle managed to keep hold of his head, let alone his role as Town Constable. Surprising? he held it during the incumbency of the Roundheads following their capture and execution of King Charles I.
Maybe he got away with it because he was having an affair with the wife of Sir Richard Buckley (not the current Sir Richard). It was thought that he murdered Sir Richard and married his widow. (So definitely not the current incumbent).
HANG ON!!
Didn't Oliver Cromwell have a problem with Adultery and Murder?
---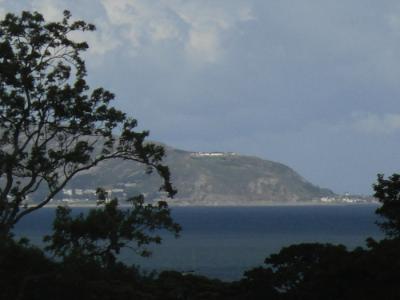 "NICE VIEW, PETUNIA"


After you have ascended the delightful boardwalk to Thomas Cheadle's castle (or not) stand and reflect on the Constable's cheek and political prowess.
Balance your way around the ramparts and realise just how difficult it would be to take such a castle; however small.
It would have been a painful and pretty depressing assault armed with nothing more than pikes, bows and NAFFI (No Ambition and F.A. Interest, as they used to say during the War).
If you run out of ideas then just gaze about you and enjoy the above view.
Down again below the Castle, follow the signs that will take you on a pretty circular little walk back to the village of Llangoed through this beautiful Nature Reserve.
As the image below indicates, it's just a few kilometres to enjoy Penmon Lighthouse and Puffin Island and to seek out earthenware pots of St Seiriol's Pickled Puffins.
PUKE!!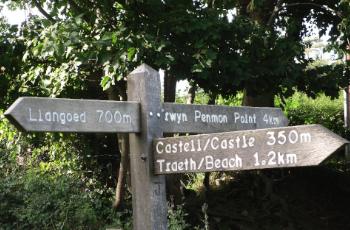 ---

LOCAL SHOPPING & EATING


You should consider yourself blessed to have had the wonderful sense to spend part of your stay on Anglesey's Riviera.
The beauty along the Menai Straits from Menai Bridge to Beaumaris is truly glorious. There's a sense of completeness and satisfaction to visiting both Menai Bridge and Beaumaris.
Lush woodland cascades down from Llandegfan above to the very banks of the Menai Straits, for your gaze to be borne unconsciously toward the old town of Beaumaris.
Not only is Beaumaris a wonderful town to visit and wander about the Tardis-like castle, but there are the many wonderful quality eating opportunities eager to draw you in to be satisfied. Both in tummy and Soul.
Round off a lovely trip to Aberlleiniog Castle with a fabulous meal.
For more information Click Here ...
Do get in touch
Do you have a great story about this to share or a question to ask? Yes? Then please write it in the box below.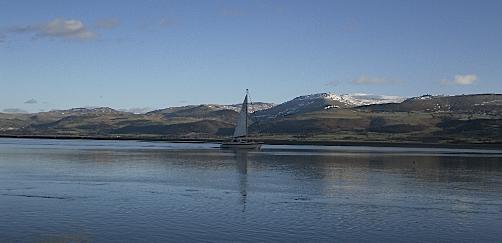 ---
Return from Aberlleiniog Castle Walk to ANGLESEY WALKS.
---