ST DWYNWEN - SANTES DWYNWEN

The Welsh Patron Saint of Lovers
On January 25th every year Welsh people celebrate St Dwynwen's Day as a day of affirming their LOVE and FRIENDSHIP.

Any excuse will do.

We should be celebrating Love and Friendship every day of our lives and endeavouring to widen our circle wherever you live in the world.

January 25th is the Feast Day of Wales' Patron Saint of Love with lovers and aspirants exchanging Cards and Love Spoons.

If Dwynwen is Patron Saint of Love then Llanddwyn Island on Anglesey is the Island of Love (N.B. Nudity discouraged).
---
BUT WHO WAS DWYNWEN?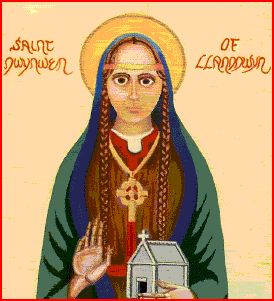 No Mills & Boon ending to the Welsh Patron Saint of romantic experiences.
It's always sad when a desperate love between two people ends in tragedy.
I'm amazed that the lovely lady could even begin to reflect positively on love after all that.
Betrayal and visions and divine intervention: a Greek Tragedy unravelled.
Read her sad, sad ... very sad story...
Down the centuries tens of thousands of pilgrims have flocked to the now ruined mediaeval Island church to make their offering and beseech our blessed saint to intervene and bring Love into their lives.

This idyllic little island peninsula on the south west of Anglesey enchants with its beauty and its romantic aspect.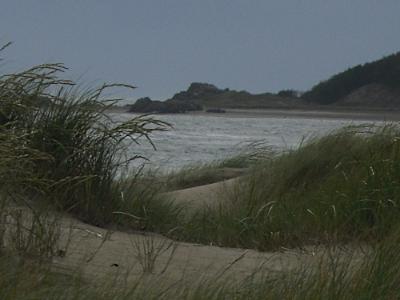 THE MAD DASH BETWEEN BIRTH AND GRAVE
Dwynwen wishes Love and Happiness for you and for me. Life is a mad dash between birth and the grave so get a bleedin' move on.

Each Anglesey Saint's church is associated with a divine well and Dwynwen is no exception. The well of the Welsh Patron Saint of Love is dedicated to those who are seeking love or wishing to test the robustness of their present lover.

So how do you discern your amorous destiny in a Divine Well? If you know where to look then you can stand in St Dwynwen's Well to cast your bread, meet an eel and make your Love Wish.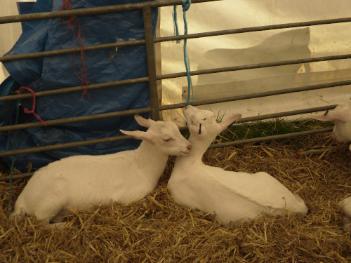 AGRARIAN AMOUR
Here on Anglesey farmers and their wives offer each gifts of St Dwynwen Love Cards and Love Spoons.

The day to buy something cheaply from an Anglesey farmer is January 26th. They beam and glow as if the Single Farm Payment has turned up on time for once.

On St Dwynwen's Day all Anglesey adults greet each other with a warm embrace, a kiss on the forehead and the passionate greeting, "Dwi'n dy garu di." (dween duh gar-ee dee).

It's as French as we get. "I love you!"

On the evening of St Dwynwen's Day it is the time for a special romantic meal. This is usually cooked with coquettish giggles and smouldering looks.

This romantic repast is the Famous Anglesey Love Potion and I would encourage you all to participate. Take the necessary precautions.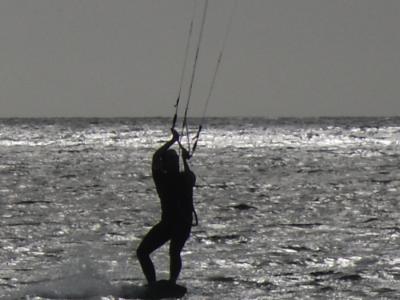 SAND WISHES
But what if I can't get to beautiful Anglesey, its beaches, the Coastal Path and gently rolling countryside?

Just what do you do?

Listen to me. There is an alternative and an easy one. Though you will need a sandy beach to hand. Soft sand and an incoming tide.

I'm sure I don't need to remind you to be careful about being safe, do I?

Send out your wishes to the world to be fulfilled. CLICK HERE to learn the SAND WISHES theory. It's all very technical, yet oh so simple
HOW DO YOU CELEBRATE ST DWYNWEN'S DAY?

DO YOU DO ANYTHING INTRESTING?

Do you have any stories you'd like to share about your St Dwywen Day celebrations?

Are there any events going on that you'd like to advertise?

Please do get in touch.

What Other Visitors Have Said

Click below to see contributions from other visitors to this page...


Marriage
Hi Wil I realise this is a love island and it is a very beautiful place for people to propose :) However, I am enquiring whether you can have anyone …
---