EAST COAST ANGLESEY BEACHES


Sand, Surf and ... Sea-fishing

.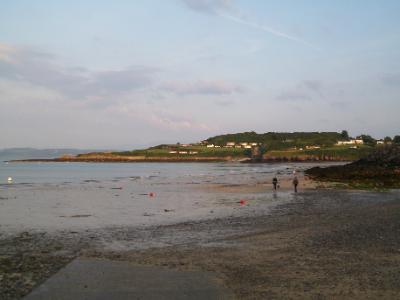 Anglesey Beaches - Traeth Bychan on a Warm & Wonderful
Summer Evening


Anglesey Beaches
Give Body and Soul a Break


Those pennies don't seem to stretch as far as they did, do they?
So the award winning Anglesey beaches could offer you a perfect solution:
Closer to home with familiar facilities makes your holiday, above all, affordable. All you need to do is bring yourself and your family.
No need to pile up the car because all the shops are here for you. From supermarkets to little country shops.




Some of Britain's Finest Beaches.




Just Waiting for You




If you want to talk about 'Sandy Beaches' then look at the west and east coast of Anglesey and just point. The choice is yours.
East and West Coast Anglesey beaches offer you wonderfully sandy beaches stretching all the way from north to south. If you like rocky coves for exploration, plenty of them as well.
From LLANDDWYN BEACH and Llanddwyn Island edging the Menai Straits in the south western corner ALL THE WAY up to CHURCH BAY near the north western point near Carmel Head.
On the East Coast, Golden Anglesey Beaches stretching from the seemingly endless LLANDDONA BEACH in Red Wharf Bay ALL THE WAY up to the almost secret and delightful TRAETH YR ORA BEACH in DULAS BAY.
---


EAST COAST BEACHES


This is a part of Anglesey that is clearly much loved by visitors who return again and again to enjoy the pleasant coastline and good quality sandy beaches.
The area along this lovely eastern coast of Anglesey is dotted with many well-established and well laid out caravan parks and camping sites.
Ready? Then here we go...
This beach - beaches, in fact - really is truly one of Anglesey's Hidden Gems.  Hidden away to the east of Beaumaris and a mile or so from Penmon lighthouse at Trwyn Du.
Compared to other Anglesey beaches, it's not a big sandy beach; however, it's a magical place to chill out at the right state of the tide to achieve the right state of mind.
---
WHITE BEACH really, really is a hidden gem. By that I mean it really is hidden.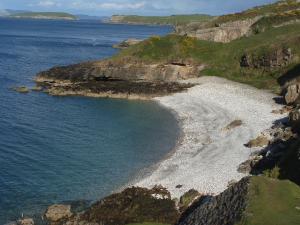 White Beach on Anglesey's East Coast
Hidden, good and proper.
White beach is small and perfectly formed beach with dinner plate sized pebbles.
It's really awkward to find and get to but most certainly worth the nervy journey
Ideal for a different type of family beach day. Some crazy horses in need of serious therapy.
It's an excellent 'different' beach day beach. A bit of scrambling, fishing and exploring.
Did I mention the Crazy Horses?
LLANDDONA BEACH Another glorious Anglesey beach treasure for you to discover. Located on the east end of the wide Red Wharf Bay, Llanddona Beach looks out along the entire East Coast of Anglesey. Excellent reputation for windsurfing. kite-surfing and sea fishing.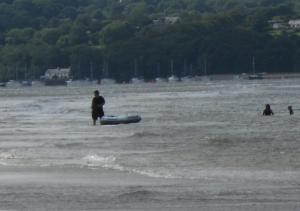 It has a beautiful beach set against the backdrop of the lush green eastern peninsula of Llanddona.
The final road down to the beach is a bit of an adventure.
Before you all rush out of the car to start your beach day, find the little snack café. Change your sweat-soaked t-shirt.
Grab a cup of tea and listen to your heart slow down to a gallop. 
Then, and only then, buy the kids an Anglesey Ice Cream. My favourite is blackcurrant with cream and a flake. Hey! it's your holiday. You choose.
Red Wharf Bay - I do not diminish Red Wharf Bay by suggesting that it is a platform from which to view the beauty of the broader bay, because that's what it is really.  Unless you've come to wave at sailors who got the tides wrong.
As is most of the coastline of the beautiful Isle of Anglesey, Red Wharf Bay (or Traeth Coch – 'Red Beach') is an Area of Outstanding Natural Beauty that is miles across from the hamlet that is known as Red Wharf Bay to Llanddona Beach on the other shore.
For more information about Red Wharf Bay CLICK HERE...
www.anglesey-hidden-gem.com Benllech Bay Beach

BENLLECH BEACH Sandy beaches are always fulfilling and, in between wandering to get an ice-cream or a cup of tea, you can dig holes, make sandcastles or quite simply relax.
Benllech Beach is the most traditionally British of all Anglesey Beaches and many people have been returning here for decades to enjoy the sea, the beach and coastal walks.
Benllech Bay thrives in Summer and the tide goes out far leaving a massive sandy bay.
I'm not above promoting camel trains to and from the water when the tide's out.
Good fishing beach, though not generally in a good condition for surfing activities. Best head north of Moelfre to Lligwy Beach.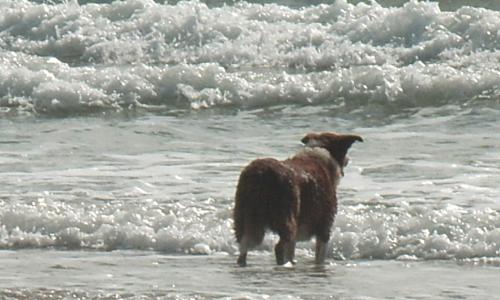 ,

TRAETH BYCHAN Traeth Bychan is a pretty, sandy beach that is typical of the East Coast Anglesey beaches.
It offers a lovely package of location, beauty, sailing, water sports, fishing and the glorious Isle of Anglesey Coastal Path to pootle up and down along the beautiful gently undulating green coastline.
Considering its size it is served by very suitable facilities. There is a small and very decent café and ice-cream stand. There is also a large County Council car park and well maintained toilets.
I windsurfed here when I was a young novice and found it a lovely experience. I'm not sure I'd have a go these days because it appears to have been taken over by sailors and the Jet Ski fraternity . And I don't really blame them, either.
---
MOELFRE This is a very small bay with an aesthetically acceptable little pebble beach. I challenge you to set up a stable deck chair or lie down to sunbathe without crippling your back.
But HANG ON! Moelfre is a very, very popular and thriving little visitor village. So, it can't be the beach that brings thousands of people to Moelfre every year.
It's The Coastline, The Walks and the Maritime History that bring people here in their droves.
It is also the fishing that brings people to Moelfre. Experts and novices fish by the old lifeboat station and opposite Moelfre Island.
The experts are often amused by novices knocking each other on the head with their rods. The big boys head for The 'Royal Charter' Monument.
I love coming down to this little bay in Summer when the tide's in. With the cruisers moored close to the beach and the small fishing and lobster boats bobbing up and down on the swell, it looks and feels like one of those idyllic Greek fishing villages.
The ones you encounter by happy accident. These are images that fix happy memories.
---
LLIGWY BEACH This is a considerately located beach. Wide and sandy, it leans effortlessly against soft white sand dunes. Here, the sea is big and blue and above you the sky is also big and blue.
Lligwy Beach is a very clean beach with its softest sand against the dunes. A very large area of tide-compacted sand offers plenty of room for beach games, sand castles and writing your great love's name in the sand.
There is only one little warning about Lligwy Beach. On the left the sand can be very soft.
Chelsea Tractor and attached boat will be fascinating artefacts for future archaeologists. So take care.
A FORMIDABLE REPUTATION for WINDSURFING, KITE-SURFING when the NE and NW winds have been blowing for a few days.
Excellent Sea Fishing.
---
TRAETH YR ORA BEACH This is the one Anglesey beach I adore. I have lived on Anglesey for most of my life and didn't know this idyll existed.
In truth, Traeth yr Ora beach is what saves the Dulas Bay area in terms of sandy beaches. It is wide and it is golden. This beach is flat and the sea never looked more tempting.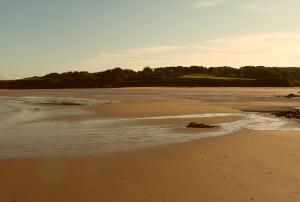 Traeth yr Ora Beach is golden sand all the way down to the sea at low-water. Against the low cliff the sand is soft and white and tingly between the toes that have longed for the experience without knowing they did.
This hidden gem takes just a little bit more effort to get to. It's a nice beach. It's a really nice beach.
You'll always find someone fishing off Traeth yr Ora Beach or those little sandy shores back towards Lligwy Beach.
---
DULAS BEACH Bit of a misnomer really. The rocky beach on the seaward side of the beach next to Traeth yr Ora Beach is a fascinating place to explore. You'll discover an elephant's graveyard for crabs that sets you wondering what on earth's been going on.
The best description of Dulas Bay Beach is that it is a very interesting broad estuarine lagoon between Afon Goch (Red River) and the sea.
It really isn't a beach to go sunbathing or swimming because the sea is about half a mile away and at low tide it is mostly fine mud. Dulas Bay is a walking beach.
The last time I was here was a lovely late Summer evening and I spent a glorious few hours just traipsing to the abandoned boats and checking out the tidal pools.
Dulas Bay is a truly wonderful and interesting area to explore, as long as you keep a close eye on the tide.
Otherwise you will find yourself in trouble and separated from your car by a very wide stretch of water.


CONTACT ME


I would love to hear from you about your stay in Anglesey or to try and answer any questions you might want to ask in advance of your visit.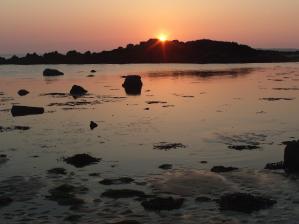 Maybe you are one of those visitors who has been visiting Anglesey for decades. You're not the only one. Some families have been visiting Anglesey for over sixty years.
Please tell me what makes Anglesey a special place for you.
Maybe you have special advice - or even warnings.
Please feel free to share by CLICKING HERE.
---
Visit WESTERN ANGLESEY BEACHES.
Visit MORE WESTERN ANGLESEY BEACHES.

---
---