TRAETH BYCHAN
A Dignified Package of Natural Beauty and Water Activities
TRAETH BYCHAN IS A SUPERB FAMILY BEACH
Here you will discover a very pretty sandy beach that's typical of this side of Anglesey.
The lands falls gently green and beautiful down to a very wide bay (when the tide is out).
Traeth Bychan presents you with a lovely package of location, beauty, water sports, fishing and the glorious Isle of Anglesey Coastal Path to pootle up and down along the gently undulating green coastline.
The beach is mainly given over to water sports, though at low water the beach opens out wide and around the corner to the right.
There's plenty of room for everyone and for every type of beach activity.
Quite naturally, I would spend plenty of time here building sandcastles.
---
I know of one family that has holidayed in the area since 1945.
I met the fourth generation with his Mum and Dad a short while ago.
Baby was 9 weeks old and BEAUTIFUL but became rightly irritable when naughty Daddy stopped walking in order to talk to me.
Have a good life, little baby.
---
I windsurfed at Traeth Bychan when I was a young novice and found it a lovely experience.
I'm not sure I'd have a go these days because it appears to have been taken over by sailors and the Jet Ski fraternity.
And I don't really blame them, either.
There is an obvious affluence and decency to Traeth Bychan's sandy beach and surrounding area that ensures a quality day at the beach for all.
Go and have a good look at the old lime-kiln round the corner.
From the outside you view a square, robust utilitarian industrial structure. Duck your head and step inside.
It's ROUND! Lovely surprise.
I'm sorry I've just spoiled it for you, but lead the kids there. It's giggly interesting. How will you explain that one?
---
THE TRAETH BYCHAN AREA
The land on either side of the road down to Traeth Bychan beach is inhabited by very small, well-maintained and long-established caravan parks.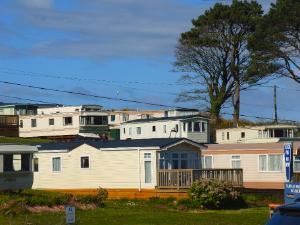 The best of these caravan parks are located off the road and don't really interfere with the view.
The area along this lovely eastern coast of Anglesey is dotted with many such well-established and well laid out caravan parks and camping sites.
This is a part of Anglesey that is clearly much loved by visitors who return again and again to enjoy the pleasant coastline and good quality sandy beaches.
Many people have set down holiday roots here in Traeth Bychan and hereabouts. The caravans in the parks lend an elegant and much-loved ambience to the area.
---
TRAETH BYCHAN - Eating and Shopping
Considering its size it is served by a pretty decent small café and ice-cream stand called "The Dive-In". Thank Heaven for that.
I mean, how ever could you enjoy a day at the beach stopping little kids trying to eat ice-cream recovered from sand.
Then the wailing and, "There goes Daddy to get you another ice-cream."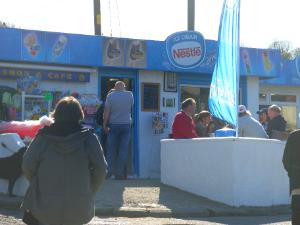 You'll also find excellent parking in the large County Council car park (£2 the whole day during the holiday season) with its well-maintained toilets.
There is no restaurant or family eatery at Traeth Bychan.
However, if you travel back up to the main road and up and across into Marian Glas.
You'll find the Parciau Arms at the far end on your right.
Parciau is always busy and lively and serves good family food. The beer is also good.
Very sensibly, it's well oriented toward looking after families.
There are plenty of shops, cafes and much more a few miles away at Benllech and in Moelfre. Click Here
---
A Sad Old Man's Tale - One wintry evening a number of years back a group of us decided to spend the evening drinking at the Parciau - 'being young again'.
A bit worse for wear we then spent the night on a trailer in our bivvy bags in pouring rain.
We were well anaesthetised until the following morning and somehow ended up at the Little Chef in Gaerwen for a fried breakfast.
Like stamina, the Little Chef and those days are long gone... Thankfully.
---
RED WHARF BAY SAILING CLUB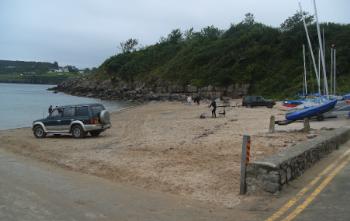 You may think it curious that this sailing club is located here.
Red Wharf Bay is about four miles south along the coast just below Benllech Beach.
I suppose the Sailing Clubs at Traeth Bychan because the tidal characteristics make it less than ideal for a sailing club.
At Red Wharf Bay the tide comes in rapidly and exits just as quickly.
So, I imagine too many sailors have been stranded a few miles out watching people enjoying a pint outside the Ship Inn in the distance.
About 30% of the beach above the High-Water margin is given over to the storage of family sailing boats and the Clubhouse.
---
What's The Best Sandcastle
You Ever Built?
Second to excellent ice-cream, I love sandcastles and love building them.

Sadly, I lack the architect's imagination to build big. I just step back now and then and decide where to add the next bit.

My friend, Judith told me about a couple of engineers in Porth Dafarch (by Trearddur Bay) this year who built a three dimensional race track that even had a fly over ... over itself.

Too much for me, though I can appreciate genius when I see.

What's the best sandcastle that you ever built? Send me a photo if you've got one.

What does a Sandcastle mean for you? Dreams? Treasured Memories? Peace and Quiet?
---
WATER ACTIVITIES
Traeth Bychan opens out into a wide bay that is much loved by the sailing fraternity and sorority and the Jet-Ski brigade (who make one heck of a racket).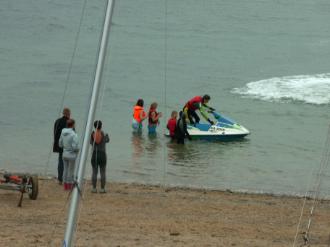 As I wrote above, this is a lovely beach for novice windsurfer and if it's been blowing a good NE or NW for a couple of days then conditions can be good.
However, there are very, very few reports about it.
The best location for WINDSURFING and KITE-SURFING on this stretch of coast will be found at LLIGWY BEACH. Again, when the wind grows and grows in strength, get in your car and head for Lligwy.
You will find the conditions to be exceptionally good for surfing of all sorts.
---
LAUNCHING YOUR BOAT
The County Council requires you to register powerboats over a certain horse-power and also lists the required qualifications.
Please CLICK HERE for all the above information and about launching fees on other Anglesey beaches and slipways
---
FISHING
The entire length of the west coast of Anglesey offers excellent sea fishing. From LLANDDONA all the way up north to the west of Point Linus you will find excellent marks.
Traeth Bychan, being a beach, is as good as any other beach in this area.
A good surf will release plenty of beasties from the sand and set the fish feeding. Mind you, you'll have to compete hard with the feed in wild suspension to catch anything.
A good strongman cast should take you into better fishing water.
Many anglers choose bring their boats or hire one locally and stand off-shore. A bonus for ths type of fishing is that you can pootle up and down the coast.
You will also find plenty of seals to compete with. Not only that,
Come the mackerell, Come the pods of dolphins and porpoise.
There seem to be more of them about these days. Try Cemlyn for a regular good view of these beautiful (My View) beasts.
I am deeply grateful to Mike Thrussell for kind permission in allowing me to quote from his articles on fishing on Anglesey.
BAITS Peeler crab can give you a big edge, but fresh king rag and blow lug is also effective. Try tipping the crab and rag with a sliver of squid to add movement. Keep baits for the flatties small at this time of year.
TACKLE AND TACTICS Not a beach normally noted for big catches, it does occasionally produce a steady run of plaice for some local rods. These were at long range and taken the first two hours after low water.
Distance casting was the key, so keep the main reel line down to just 12lb with a 60lb shock leader and use 6500 sized reels and 5-6oz beachcasters. Most fish fell to either a wishbone rig or a two-hook rig. Stick to the bigger spring tides and use a flat Breakaway lead to allow the baits to drift round with the tide, or retrieve the baits a few inches at a time to induce the fish to take. The same tactics took late dabs too.
For the bass and the dogfish, look for a night tide with a northwest wind to stir up some surf and pull the fish in. Again either side of low water is the best time during a big spring tide.
There is a small stream running across the beach inside the headland on the right side. Fish here on the flood tide for flounder and the odd bigger bass.
For more detail about fishing on Anglesey have a look at this Link to Mike Thrussell's Page
I wish you patience, good fortune and a good pair of warm socks.
PETS ON THE BEACH
• No major prohibition on dogs, but please keep them on a leash - Unlike Crazy Fido here.
• Though not here at Sandy Beach, there are Seasonal Prohibition on dogs on certain Anglesey beaches.
• Always bring a doggie poo-bag with you because the little dears can't always help themselves.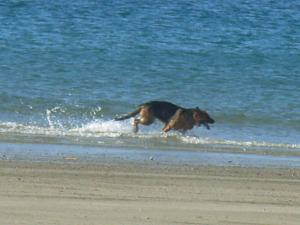 Imagine specific matter oozing from between your tanning and sandy toes.
Imagine a worse scenario; it's your child.
• The main concern regarding dogs on Anglesey beaches is a health issue.
Doggie poo can blind for life.
FOR MORE INFORMATION ABOUT DOG RESTRICTIONS ON ANGLESEY BEACHES PLEASE CLICK HERE.
---
THE ISLE OF ANGLESEY COASTAL PATH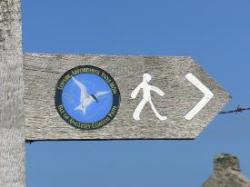 Anglesey offers you four great gifts: the countryside, the beaches, the Isle of Anglesey Coastal Path and, most important of all, a place to get clean away from everything.
The Coastal Path skirts Traeth Bychan up and down along the beautiful green coastline overlooking low and shelved cliffs.
Its a gentle and wonderful walk south from Traeth Bychan to Benllech or north to Moelfre.
These beaches and the Coastal Path afford ease of access to excellent sea fishing and - depending on your pre-occupation - viewing seals feeding.
Anglers seem particularly skilled at attracting seals to them along this coast.
All you need to do is stick out your rod and feel contended and smug.
The Coastal Path adds a new and extraordinary different dimension to holidays on Anglesey.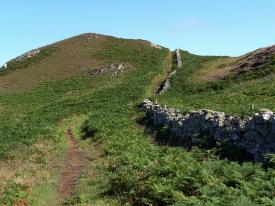 The work of Menter Môn has to be acknowledged as remarkable and visionary.
The new Coastal Path has revealed so many treasures that had lain unsuspected to many local people even.
I am always encountering people at one beach car park or other packing their knapsacks, eager and set for a walk along the coastline.
Many people become year-round visitors to Anglesey because they have discovered a wonderfully satisfying challenge.
They come to complete different sections of the path around the coast of Anglesey.
People don't only walk the Coastal Path for fitness, they come to recharge their batteries and re-discover a sense of peace they thought they'd lost forever.
The further you walk the softer and gentler becomes your outlook and the deeper your appreciation of Anglesey's outstanding natural beauty.
MARITIME HEROISM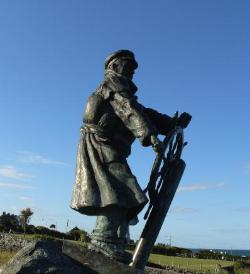 The coastline is full of maritime tales of astonishing bravery.
Victory regularly wrestled from satanic seas.
I do urge you to visit the Seawatch Centre and Lifeboat Station in Moelfre, either by driving a few miles down the road or traipsing north along the coastal path.
Learn about the appalling sinking of the Royal Charter in 1853 and the almost unbelievable courage of the local lifeboat crew at the sinking of the Hindlea, 100 years and a day later.
Please go to my Moelfre page for tales of Coxswain Richard 'Dic' Evans and his crew.

Moelfre and Coxswain Richard Evans

Have glance at the RNLI Moelfre Lifeboat Station website

---
CONTACT ME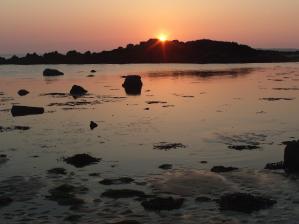 As I write on each of my beach pages, I would love to hear from you about your stay in this area.
Maybe you've never visited Anglesey before and have some a question you want answered before you arrive.
Please tell me what makes Anglesey a special place for you.
Maybe you have special advice - or even warnings.
Please feel free to share by CLICKING HERE.
---
GETTING TO TRAETH BYCHAN
• Travel across the Britannia Bridge on the A55 Expressway and continue for about 150 metres the other side. Take the first feed-off road on the left signposted for Amlwch.
• Up this ramp and turn right at the top. Continue for about a half mile until you arrive at the roundabout next to which the Four Crosses is located.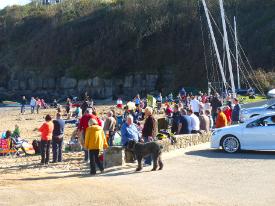 • Straight across the roundabout and head for Amlwch on the A5025.
• After about 10 minutes on this road you will come upon the small village of Pentraeth.
Pentraeth has its own beach, though this is probably best for taking a long walk and exhausting the kids and the dogs.
Rapid incoming tide. Please take care.
• Continue down the hill through Pentraeth and back up the hill toward Benllech and Amlwch.
• The next village is Benllech. Carry on through and continue toward Amlwch.
In Benllech, the right hand turning in the square opposite the garage will take you down to Benllech Beach.
• Less than two miles out of Benllech you will arrive in a large open crossroads. This is Marianglas (trans. 'Blue Moraine').
Take the right turning signposted for Traeth Bychan and follow the pleasant, but narrow road down to the car park and beach.
---

Return from Traeth Bychan to ANGLESEY EASTERN BEACHES

Return to HOME PAGE