LLYNNON MILL
VISITORS PAGE


A visit to Llynnon Mill is an absolute must and I hope that the weather allows you to see it at its best.
in addition to visiting inside the only working windmill on Anglesey you are afforded the luxury of fabulous meringues and cups of tea.
Make sure that you talk to the Miller and his Capable Assistant.
These two gentlemen are a wonderful source of information and very pleasant and genial company. It'd be a shame to walk away regretting not asking that question.
Not only is the windmill a wonderful place to visit, you can walk about the reconstruction of the Iron Age Settlement located just lower down on the same site.
Enjoy your visit, take plenty of photos and buy some flour while you're there.
,

ANGLESEY'S ONLY WORKING WINDMILL

ANGLESEY'S IRON AGE SETTLEMENT

,


ANGLESEY'S ONLY WORKING WINDMILL


This Grist Mill is the only fully operational windmill on Anglesey. The Swoosh of its sails sweeping past is simultaneously exhilarating and frightening.
You may be lucky on your visit for the miller to have set the sails to work.
Many a young Anglesey child has run him or herself dizzy around the mill, which would probably explain its remaining a popular place to visit by Island people. It leaves an indelible image on one's memory.
If it's a fine day enjoy a cuppa and fine cake at the tables outside of the delightful little mill café, the Llynnon Tea Room.
Back to Contents Menu
,

---
,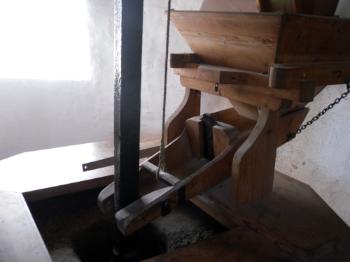 INSIDE LLYNNON MILL


There are a few reasons I wish you to visit the Mill: its beauty and the countryside, to name two.
However, it is the robust workmanship of the wooden machinery that I want you to appreciate and enjoy more than anything else.
Without the Wind and Gravity and the simple innovative engineering solutions of a bygone age, the beauty of Llynnon Mill would not be known to us.
I do most sincerely hope that the sails are in full circular flow for you. Click Here For More .....
Back to Contents Menu
,

,


ANGLESEY'S IRON AGE SETTLEMENT


Completed in 2007 these reproduction Iron Age Roundhouses at Llynnon now form part of a living museum on the Mill site near the very rural Anglesey village of Llanddeusant.
With but a skip, a hop and a jump one can take a gigantic leap from the mill that was in full community use in the 1940s to a reconstruction that is a representation of life on Anglesey between 3,000 and 5,000 years ago.
I wonder how many of the modern Druids worship their other god, a horned god, Cernunnos.
Back to Contents Menu
,

---
,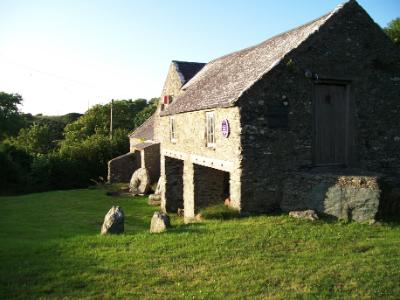 MELIN HYWEL WATERMILL


To this day I deeply regret that I did not have a camera with me the first time I visited Melin Hywel (or Melin Howell) with my rather lovely friend.
I remember the mill was unlocked and so we wandered about the interior seeking to imagine the pounding, grinding and hissing noise in an atmosphere of corn flour dust.
It was around 2000, I think and even then the timbers were showing the sign of ageing and woodworm.
Back to Contents Menu
,

,

GETTING HERE

View Melin Hywel Watermill in a larger map
---
Back to Contents Menu
Return from Llynnon Mill to HOME PAGE.
---
---