THE ISLE OF ANGLESEY
The Hidden Gem


WHERE WOULD YOU CHOOSE TO BE ON A MONDAY MORNING?"
"HOW ABOUT THE ISLE OF ANGLESEY?"


A DREAM REALISED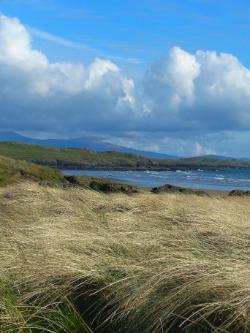 Imagine unexpected and reassuring discoveries along the Island's Coastal Path.
Imagine yourself on Golden Beaches that are softer, sweeter and longer than childhood memories.
Imagine catching and riding that unforgettable wave.
Imagine building ambitious sandcastles with your children or grandchildren or just being thrilled at a child's fascination of rockpool beasties.
Imagine a glorious sunset while holding your loved one's hand and easing out a gentle, joyful sigh.
Imagine wandering along narrow roads through gently rolling countryside.


Imagine THE ISLE OF ANGLESEY

Imagine rediscovering that part of your soul you'd forgotten about while trying to be someone else.
Leave your city driving behind and grab an ice-cream.
Slow down and allow gentle, natural beauty to smooth your concerns to easy CONTENTMENT
IMAGINE THE BIG BLUE




WHAT'S THE ANGLESEY HIDDEN GEM WEBSITE ALL ABOUT?

The Island is embraced by 125 Miles of Coastline and most of this is designated as an Area of Outstanding Natural Beauty
Outstanding Walks and unforgettable views
Twenty Seven Excellent Sandy Beaches and rocky coves. Great for relaxing, conducting a barbecue, swimming, snorkelling and - very important this - sandcastles
A golf course for almost every day of the week. You might as well spend one day realising the fairway isn't the only thing you've been missing.

Some of the Best Windsurfing and Kite-Surfing beaches in Britain
Excellent Sea and Lake Fishing
Extraordinary restaurants and great little cafes
Ancient Celtic History and monuments
And so much more
So MUCH MORE...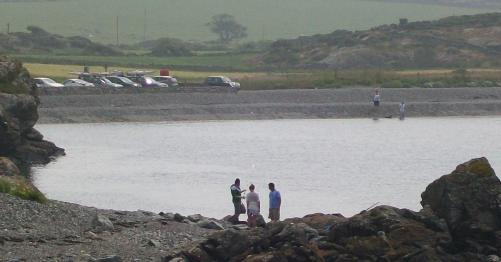 WONDERFUL BEACHES
You'll discover 27 of the finest beaches in the whole of the United Kingdom and the best coastal path anywhere this side of Paradise.
Family Sandy Beaches, Small Sandy Bays and intriguing Rocky Coves.

Every beach is joined to the other by the stunning Coastal Path that circles almost 125 coastal miles.
This is TRAETH YR ORA BEACH by Dulas Bay.
The only way to get here is, either walk a few miles from LLIGWY BEACH to the south, or take the Island's Coastal Path

Visit ANGLESEY'S WESTERN BEACHES
Visit the Island's EASTERN BEACHES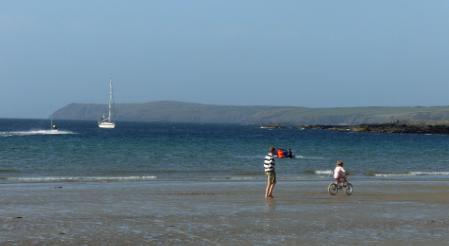 I LOVE ANGLESEY
I'll add to that. I REALLY LOVE Anglesey.
There again, I do happen to live in one of the most beautiful parts of Wales. I live on an island off the North Wales coast.
Okay. So I know it's joined to the mainland by Thomas Telford's glorious Menai Suspension Bridge and Robert Stephenson's Britannia Bridge.
Nonetheless, it is an island and we hang on tenaciously to our Island identity.

It's a wonderful Hidden Gem that I want to share with you for your credit crunch holiday (or vacation, if you're a colonial). Believe me, there is so much to see.
So why spend a fortune travelling abroad when you can pop across and see us. SO....
Grab the menu! Grab your picnic! Grab your boots! Grab your fishing rod! Grab your surf board! Grab your bucket and spade!


Grab them all! Be your own Hero.
There again, just reach languorously for a glass of chilled Chablis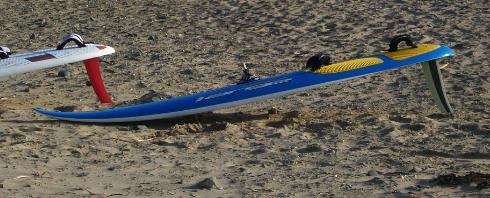 WIPE OUT! - WINDSURFING & SURFING



Anglesey is surrounded by the sea and good clean winds most of the year. So, if the wind and waves are not to your liking on one coast, then pack your wagon. Head for the other side.
North, East or West. There's always something going on.
CHECK OUT EACH WESTERN & EASTERN BEACH PAGES FOR SURFI
. NG, WINDSURFING AND KITESURFING INFORMATION
SEA FISHING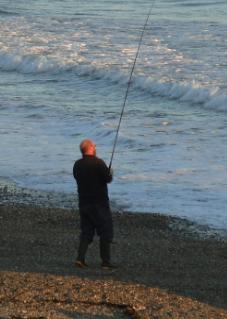 It doesn't matter if you're looking for a beach to 'conduct a barbecue', idle and laze or face the challenges of the sea.  
These beaches will satisfy your needs.
I've never fished off the beaches. But I know people who do and they tell me the Island got one of the best sea fishing coastlines in Britain.
Anglers regularly travel from as far away as Blackpool and Northern Ireland. Probably further.
Read Brian's latest tips about FISHING AT CYMYRAN BEACH.
CLICK HERE for Sea Fishing Advice


GOLFING ON ANGLESEY

For when you want to knock a few balls, then we've got six golf clubs along with two driving ranges on the Island.

The Anglesey Golf Club in Rhosneigr
The Bull Bay Golf Club in Bull Bay
The Holyhead Golf Club in Holyhead
The Baron Hill Golf Club in Beaumaris (Nine-Holer)
The Henllys Hall Golf Club in Beaumaris
Llangefni Municipal Golf Course (Nine-Holer)
Llangefni Driving Range (as above)
Click Here for More On Anglesey Golf Clubs.
RAMBLING, AMBLING OR ENJOYING A GENERAL 'BIMBLE ABOUT'
Each view, monolith or ancient church reveals an astonishing history when you just stop and ask.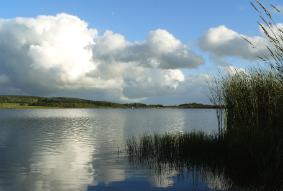 If you walk back a few hundred yards from Llyn Llywenan at this spot you'll discover a very small chapel called Ainion.
It didn't matter how awful the weather the people would walk from the chapel to the lake to be baptised.
In fact, baptisms still take place in the lake.
Though only in Summer these days, so my Mum tells me. Click Here for More
ANCIENT AND SCARY
Anglesey is immersed in terrible historical events. It was one of the very last parts of Roman Britain to be conquered. Quite simply, the Romans were more fearful of Anglesey Druids than Druids anywhere else in Britain.

If you do a bit of reading into the period you'll learn that when the Romans marshalled their forces to finally take the Island, the troops nearly lost their nerve.
It wasn't the Druidic host and legends of magic and human sacrifice that terrified the Roman legion.
It was our Women! Read More ...
Don't Worry!
 These days our women are both fair and beautiful ladies and a lot less predisposed to terrify visitors.



TALK ABOUT EERIE ANGLESEY

I remember travelling in the Inner Mani region of the Greek Peloponese many years ago. It was starkly beautiful but certain aspects of that place leave you deeply unsettled.
It has an appalling history. Maybe it's our own ancient and violent history that still clings here and there on the Island. It can be equally unsettling.
But it's not all like that.
Last year I discovered a wonderful little track down to Dulas Beach. It's well worth the driving adventure to find this magic place.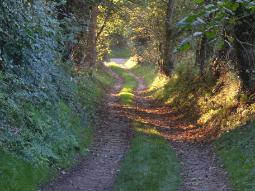 Leave the car at Lligwy Beach and saunter back up the hill.
Then down this beautiful lane to Dulas Beach on the other side of the headland. Choose a beautiful Autumn evening bathing you in gentle sunshine.

Why not CLICK HERE and join me in a gentle evening amble down to Dulas Beach.
Gaze enviously at the small cottages along the way.



WHY NOT ENJOY AN ISLAND BREAK?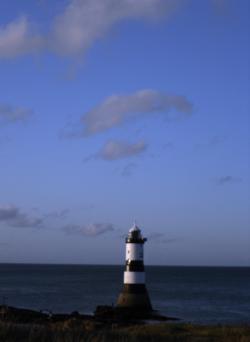 Early Autumn is the only time when the fresh green beauty of an Island Spring is seriously challenged. 
As Summer ends, Nature gently guides us into Autumn. The bronze sunshine of the early evening bathes many secret places in a romantic mantle.
You'll discover many of these natural treasures yourself.
Let me help you. I'll share with you the magic locations I have discovered myself after living on the Island for most of my life.
I'll also guide you to one of the most eerie parts of the Island

Where will you stay?

Why not rent a cottage or farmhouse for your stay?
Whether you're travelling budget or looking for that something special, Anglesey can help make your dream holiday just perfect.

Now there's an idea worth thinking about.
---
---