SEA FISHING TIPS

Brian's Insider Knowledge
To Give You The Edge
"Fishing Tips," Will said.
So, let's begin. Fishing on Anglesey.
I remember walking down there once from RAF Valley on the West Anglesey coast and found the car park under water - it's tidal - The Water Was BOILING WITH MULLET. Literally boiling with mullet.
I've never seen anything like it in my life, hundreds of them.
Latest Info
This is supposed to be my page but Will had a chat with an angler of Cymyran Beach this Spring evening and it's well worth hearing.
"It's been an absolutely wonderful day and the sun was still quite strong about 5:00pm when I saw this retired gentleman sat on his tackle box eagerly watching two rods.
He was on the Round, a few hundred yards up from Plas Cymyran House.
"As usual I went and had a gentle word with him. No bites so far. In fact, he admitted, he'd been out four times in all this year without a single bite.
"But his experience at Cymyran and other parts of Anglesey told him to be patient.
"Three years ago he caught about 50 sea-bass, next year 40 then about 30 last year. It looks likes there's a decline, but you never know because they can come back with a vengence.
"At Low Water the bass, mullet, flounder and fry course up the tidal race past the house and up to Four Mile Bridge and idle about around the bridge.
Easy taking for those who work out what they're hankering for.
"The tide turns and down flow the beasts along the main channel past the house and are carried by the 8 knot current along toward the beach at the Round.
"The bass feed off the fry and if you're ready you can feed off them. The gentleman told me that last year he saw small herring throw themselves onto the beach trying to escape the feeding frenzy.
"A great place for rays of all sorts and flat fish.
Though, he warned me, he was catching flat fish hand over fist last year until August. Then NOTHING."
---
A further WARNING to me was about angling off the tidal race below the house when it was running fast.
"Once you fall in there, the odds are heavily weighed against you."
NEVER, NEVER, EVER LET YOUR CHILDREN PLAY HERE.
Too many tragedies and heartbreak to write about.
Also, remember that angling is a sport and not a Life-or-Death event. He likes his feet firmly planted on the sand and won't go near rocks, especially at his age.
I wished him well. He hoped for a bite at least. But if he didn't get one, then that was alright. At least he was here enjoying the beach and the peaceful reassuring sounds about him.
The gentleman is retired and spends his time between his home and his static on the Island. Then in Winter he and his wife pop over to stay with his son in Sydney, Australia for a month.
Good health and Good fortune to him.
---
PENRHOS BEACH
This is the other end of the Cymyran-Four Mile Bridge tidal race. You'll find it by driving through Valley toward Holyhead.
It's the Cob and you can park at Penrhos Beach and make your way to the marks.
There is about a thirty minute difference in tides changes between Cymyran and Penrhos, even though they're only a handful of miles apart.
You'll notice that one side of the bridge remains high while the other empties away.
I understand this fishes similar to Cymyran Beach. Tide in, fish in. Tide out - fish out.
Again, takes the greatest of care as you investigate the main channel at Low Water.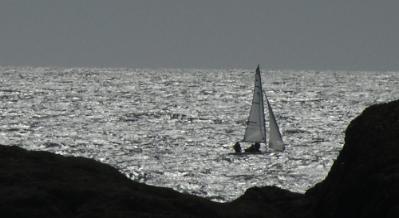 Think of this coastline as fishing from CYMYRAN BEACH at Plas Cymyran along to Rhoscolyn Head.
The Rhoscolyn area is the home of the wrasse, like Trearddur Bay is home to doggies.
Landing Cod isn't that hot though you may catch the odd tompot blenny.
The bait will need to vary as will the tackle, though ledgered rag seems to attract the wrasse and hokai appeals to pollock.
The rocks off Rhoscolyn seem to fish best from LW up to a couple of hours before HW.
Float-fishing tends to yield little while a running ledger on the bottom will more or less guarantee decent-sized wrasse.
Light tackle and rag dropped straight off the rocks yield results.
A westerly breeze does not seem to favour good catches and Beware: the rocks are sharp.
I think it was at RAVENSPOINT (on the left of the bay) that some kids were catching heads.
I asked the kid what he meant, "Heads?"
He pointed to a cruising seal. The kids couldn't get the fish to shore quick enough.
Night fishing off these rocks keeps the Trearddur Bay Inshore Lifeboat very active.
Ravenspoint is the place to go for Conger, especially a few hundred yards to the right.
You may not catch many but you'll sure have plenty of fun. Give them a chance and they'll spit in your eye.
Everything in fishing comes down to luck at the end of the day. Either it's a bite every chuck, or bugger all and lost tackle galore.
If you like Dogfish, then it seems that all the Trearddur Bay marks are excellent.
If you don't like Doggies, then ... You could always go for a pint.
Cast out about 100 yards and you could reach some rare birds like Gurnard.
N.B. Why not go for a recce before it gets dark so that you can familiarise yourself with the terrain. It could prove life-enhancing.
The Flag Pole - Reportedly Plaice gobble up live Rag and anything attached.
Porth Dafarch is about a mile north of TREARDDUR BAY on the coast road past the Trearddur Bay Hotel. You'll find it in the dip and has a County Council toilet block as extra identification.
According to Mike Thrussell of Worldseafishing.com the obvious outcrops around Porth Dafarch fish best during neap tides and can offer some pretty good fishing. Pretty snaggy, though.
"Night tides produce the best of the conger and huss, especially after a blow with the sea still coloured but settling down.
"You get some decent coalfish during February and early March."
---
Do you have any advice you'd care to share with fellow anglers?
Listen, I know that everybody likes to keep secret marks secret, but sometimes it's safety information that needs to be shared or advice about where the best bait's to be got.

Let others know what they need to know.
What Other Visitors Have Shared
Click below to see contributions from other visitors to this page...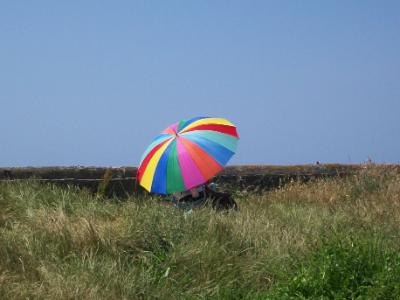 CEMLYN BAY
It's an excellent spot for spur-dogs. A mate caught one four and half foot long. You'll lose a lot of tackle here, though.
For more information about this beautiful moon-shaped beach and local advice Please Click Here.
---
CEMAES BAY
Cemaes Bay. Not very good off the beach. The best places are the bridge or the ledges behind St Patrick's church.
The fishing of the Llanbadrig ledges can be fabulous if not overtly exciting when there's a strong swell.
For more information about this beautiful moon-shaped beach and local advice Please Click Here.
---
AMLWCH PORT
That where I nearly out my hip out. If you're casting off the breakwater the kids tell me that the best fish are out of range of an ordinary cast. They showed me how they get out there.
It's strange to watch but very effective. They just swirl the rod around and around like a hammer thrower and then let go. They tried to teach me but, like I said, I nearly put my hip out.
---
POINT LINUS
Now there are two good spots. There's a good carpark on Porth Eilian Beach and you'll find a good spot to your left if you walk along the rocks.
Walk along the road toward the lighthouse and you'll eventually come across a path down to the old Pilot Boat dock. A few decent marks
---
The stretch of coast from Moelfre up toward Porth yr Ora by Dulas Bay offers pretty good fishing. You're pretty sure to find somewhere to suit you.
On the rocks to the north of Lligwy then you're likely to catch plenty of mackerell on light spinning tackle with small bass wedges, feathers and hockais.
If you blank at Lligwy then head back south, down the coast along the shelves toward Moelfre.
Opposite the Island is good or the marks opposite the Royal Charter monument on light tackle.
You'll never feel alone here, either. Seals are drawn to anglers. Must be their charisma.
So you'll wear yourself out trying to reel in faster than these big bleeders can feed.
Good luck on that one. If there's a good shoal of mackerel about, then the entrails prophecy depression.
---
Tight Lines, Everyone and STAY SAFE.
Don't be a lesson everyone else points to.
That's enough gen for now. I'm off for a pint at the Skerries in Holyhead.
Brian
---
Return from Brian's Fishing Tips to the Sea Fishing page

Return to HOME PAGE