Anglesey Golf Clubs

GOLF ON ANGLESEY

Considering the size of the Island, Anglesey golf clubs will provide you with many unexpected and memorable experiences.

Each golf course offers unique challenges from the technical to the meteorological.
Nonetheless, as good walks spoiled go, you'll find little in the way of location, facilities and greens that will prove anything other than pleasant.

Now this is the way to go. Like many people who return again and again to Anglesey to complete stretches of the fabulous Anglesey Coastal Path, you can do the same with your golf.
You buy your Anglesey Golf Pass on-line and then you have 12 months in which to play all the courses.
So. Just Pay the Amazing Price of £89 to play all of Anglesey's premier golf courses:
Baron Hill
Anglesey Golf Club
Bull Bay
Henllys Hall
Holyhead
Storws Wen
Click Here to Purchase the Anglesey Golf Pass ....
---


ANGLESEY GOLF COURSES
For when you want to knock a few balls, then we've got six golf clubs along with two driving ranges on Anglesey.
ANGLESEY GOLF COURSES
ANGLESEY GOLF COURSE in Rhosneigr

BARON HILL GOLF COURSE in Beaumaris

HENLLYS HALL GOLF CLUB in Beaumaris

LLANGEFNI GOLF COURSE
& DRIVING RANGE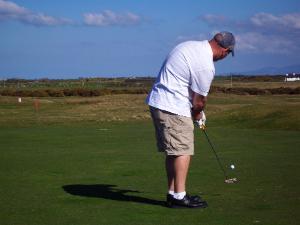 The Anglesey Golf Club
Rhosneigr Golf Club
Located at Rhosneigr, the Anglesey Golf Club is a flat but challenging par 71 course links course for golfers of all standards. The Anglesey Golf Club seeks to offer all visitors a welcoming atmosphere.
The clubhouse was a regular haunt of the author, witty journalist and bon viveur Ian Skidmore. I think it was the quality of the menu and conversation that drew him there more than the golf.
The course is playable all year round due to the exceptional sandy soil which drains exceedingly well therefore giving good value to members and visitors alike.
The nearby village of Rhosneigr is once again on the move, as it were, and becoming a very fashionable centre for exteme watersports, surfing, wind-surfing and kite-surfing.
The beaches all the way from Cable Bay to the near south to Cymyran Beach to the near north are all wonderful flat golden sand and a glorious place to be in Summer and in Storm.
For More About Anglesey Golf Club CLICK HERE ....

The Bull Bay Golf Club

On the north coast of Anglesey you will find the Bull Bay Golf Club offering all that you can hope for, whatever your skill level. It really is one of North wales' premier courses and clubs.
Situated right on the coastline, it must be the most beautiful golf course on the Island. A friend insists on playing there regularly – even though it's a long way from where he lives.
The course is always maintained to the highest standard and remains playable throughout the year. The club motto is Welsh and admirable: "Her Deg ar Hen Dir" meaning 'an honest challenge on ancient land'.
This Anglesey hidden gem that is Bull Bay has now become accessible to more visitors from further afield due to the improved road and ferry connections to the Isle of Anglesey.
Less than two hours by road from the north of England.
A message to the people of Dublin is that it's easy and cheap to get to Anglesey, far cheaper to play golf here and the Guinness is also cheaper.
For More About Bull Bay Golf Club CLICK HERE....
The Holyhead Golf Club
Anglesey Golf Club can be very challenging. You have to be accurate here otherwise you might as well bring a bucket of balls along with you. It is an excellent course highly regarded both locally and afar.
Enjoying fantastic views towards the mountains of Snowdonia and situated only 1 mile from the port of Holyhead, gateway to Ireland, the course is a challenging heathland 18 hole championship course with some of the best greens to be found anywhere.
Use the Anglesey Golf Pass to vary the Anglesey landscape unravelling before you and to really test your handicap.
If your handicap is consistent across Anglesey's golf courses then you deserve bragging rights.
The course is 6090 yards, par 71 and 5208 yards, par 72 for the ladies.
For More About Holyhead Golf Club CLICK HERE ....

The Baron Hill Golf Club in Beaumaris
(Nine-Holes)
Beaumaris and Anglesey's Riviera welcomes you to enjoy a glorious day of golf and to enjoy wonderful rural peace.
This is one of the oldest– and most challenging - clubs on the Island of Anglesey blessed with some of the finest greens on Anglesey. Baron Hill Golf Club welcomes you to a very friendly club indeed.
Located above one of Anglesey's most beautiful and historic towns, Beaumaris, it is a complete package of golf and a very fine meal. A good walk enhanced.
For More about BEAUMARIS Click Here
For More about Baron Hill Golf Club CLICK HERE ....

The Henllys Hall Golf Club in Beaumaris
The Golf Course here at Henllys is an 18 hole par 71 course set in mature parkland, within the grounds of the historic Henllys Hall.
Went to a wedding reception here once and discovered that Henllys Hall is an absolutely gorgeous place, whether you intend golf, a meal or a stay.
In golfing terms it is a quite recent golf course of fifteen years that embraces its natural surroundings to offer challenging golf in an area of astonishing natural and managed beauty.
For More About Henllys Hall Golf Club CLICK HERE....
For More About BEAUMARIS Click Here
---

Storws Wen Golf Club
For those of you who have travelled from Llangefni to
Benllech, then down from the California Inn in Brynteg, your eyes cannot help be drawn to your left and the beautiful broad greens.
The nine hole golf course was built in 1996 by Ken and Eleri Jones. I used to work with Ken who was, if I remember correctly was a ship's Chief Engineer. A very tall and gentle man who was a perfectionist as is the old tradition among ships' engineers.
Storws Wen reflects this professional outlook and appreciation. Never knew he was a golfer though. Just remember his kindness and his smile.
Storws Wen has risen to great acclaim and has since established itself as a demanding challenge to players of all levels with great views of the Snowdonia Mountains and Red Wharf Bay, an area of outstanding beauty.
For More About Storws Wen Golf Club CLICK HERE....
---
Llangefni Golf Course & Driving Range
Nine-hole Public Golf Course set one third of a mile north of the county town, next to the Oriel Ynys Môn art and heritage centre.
Described as a top class par 3, set in beautifully mature woodland. It appeals to both low handicap players and novices. Club hire and tuition available.
The Llangefni Golf Driving Range is on the same grounds. Floodlit and very popular on Winter evenings.
For More About Llangefni Golf Course and Driving Range CLICK HERE....
---
Return from Anglesey Golf Clubs to HOME PAGE.
---