ANGLESEY JOURNAL

Discoveries and Reports

THIS IS MY ANGLESEY JOURNAL


Why bother with a, Anglesey journal when you already have webpages about the beautiful Isle of Anglesey, you might ask?
Think of your life as a set of stable events around family, home and work. There is a normality and a standard expectation to almost every aspect of that part of your life.
Consider these as your own standard webpages describing your life in reassuring detail. My life has those stable pages; however, outside of this are the unexpected, disappointments and the pleasant surprises.
There are those gentle kindnesses given to you that you did not expect and leave you deeply moved.
Turn a corner and see a familiar view that is transformed against a backdrop of purple storm clouds or gentle evening sunshine in the palest powder blue sky.
That's what this page is all about. Things that happen that are too minor or don't fit into a standard page.
These are my little reflections and I offer them for your consideration (as I put it in my letters at work).
This is my Anglesey Journal.
A SUNNY JUNE AFTERNOON IN RHOSNEIGR

WHAT A GLORIOUS DAY'S SAILING ON ANGLESEY!

BODAFON MOUNTAIN A SPRING EVENING'S REFLECTION

TERRIBLE TWINS WORLDWIDE RESEARCH

LLYNNON WINDMILL, A WINDSOME WONDER

A BEAUTIFUL CHURCH AND THE FIRST LAND ROVER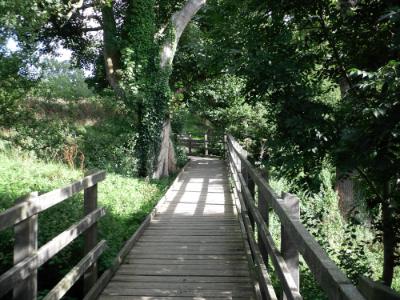 www.anglesey-hidden-gem.com - Aberlleiniog Castle Llangoed
---
Dear Reader,
This is where you can choose to share your favourite Isle of Anglesey experiences with everyone.
YOUR Anglesey Stories, Tips, Discoveries, Must-Do's, and so forth!
"Anglesey-o-philes" will really enjoy reading about the adventures and explorations of others.
CLICK HERE to share your tales with everyone...
---



ANGLESEY JOURNAL

- July 2018




MYNYDD BODAFON 




Meetings with Genial Strangers
Before setting off for the top of Mynydd Bodafon it might be worth stopping to tarry a while at the lakeside near the bench and prove to yourself what a duck magnet you are.
Duck flotillas will cut through the water to come to you from all directions. Many individuals half-sunken with invertebrates and bread, feign dignity in desperation like fatally injured tenders coming in off the Atlantic Convoys.
---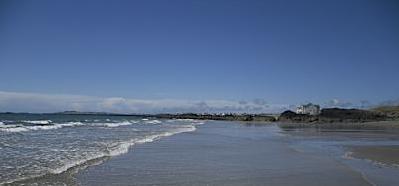 www.anglesey-hidden-gem.com - Rhosneigr Ty'n Towyn Beach

ANGLESEY JOURNAL

- June 20 2018



A SUNNY JUNE AFTERNOON IN RHOSNEIGR
The sky was gloriously blue and sand golden as we traipsed casually across Broad Beach, Tyn Tywyn, Porth Nobla and ended up on Barclodiad y Gawres Burial Chamber above Cable Bay. Madame X told me of her adventures here as a young lady. Phew!
---

ANGLESEY JOURNAL 

WHAT A GLORIOUS DAY'S SAILING ON ANGLESEY


Doesn't a little sail boat go up and down in a three foot swell, gusting wind with the tide against you?
It took us an hour or so to sail around the wonderful Rhoscolyn Headland to arrive around the beacon on Ynysoedd y Gwylanod.
Out of the shelter of the Trearddur Bay Sailing Club at Porth Diana we called up Holyhead Coastguard to inform them of our plans, number of people and estimated time of return. To read on Please CLICK HERE

Return to Page Contents
---
ANGLESEY JOURNAL - June, 
ANGLESEY AT ITS BLOOMING BEST
I tap on the greenhouse to wish them well and then set about encouraging the plants I have been gently hardening outside.
The garden is running on idle at the moment, with the main body of the flowers and vegetables no more than strong plantlettes.
However, another month and the entire space should be blooming and bursting with colour and wonderful uplifting vitality. To read on Please CLICK HERE

Return to Page Contents
---
ANGLESEY JOURNAL - Monday May 2, 
BODAFON MOUNTAIN A SPRING EVENING'S REFLECTION
My friend loves this area for the strong emotional attachment. Being here again I rediscover an inevitable attachment build inside my own heart again.
On such an evening as this the view is quite breathtaking and make sure that you inspect the triangulation point stone. There is an etched panoramic representation wrapped around it telling you what you are seeing in each direction.
I believe that a view is always greater if you can put a name to each significant point. To read on Please CLICK HERE

Return to Page Contents
---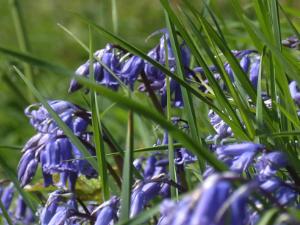 Anglesey Spring Bluebells
ANGLESEY JOURNAL - Monday December 13, 
DESPERATE FOR SPRING
The trees are now no more than skeletal shadows waving their bare limbs against a gray laden sky. So, as I pass through this darkest period of the Winter Season, I am forever seeking signs of changing seasons.
Surely madness lies in this melancholic preoccupation, or at least a re-investing in sadness.
Yet, we are nearly there. Not long now until December 21st, the shortest day of the year. Daylight will begin to extend by about three minutes a day. To read on Please CLICK HERE

Return to Page Contents
---
ANGLESEY JOURNAL - Sunday August 29, 
ST CWYFAN'S CHURCH IN THE SEA
August Bank Holiday was an absolutely delightful, sunny goodbye to the Summer School Holidays and here I was once again.
The tide was out and I could traipse across the boulder strewn remains of the old causeway right up to and to the Islet of Cribiniau and visit St Cwyfan's Church.
The present structure dates back to the 13th Century and has borne the brunt of hundreds of years of violent Anglesey storms. The graveyard has all but gone and the interred departed there cling on with desperate bony fingers.
A rare church Service was being conducted and the congregation spilled out the door. The singing of 'For Those In Peril On The Sea' offered an atmospheric memory of the islet's Christian past.
Return to Page Contents
---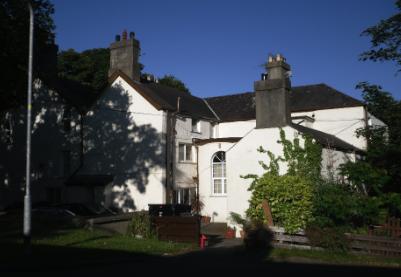 Plas Pencraig Llangefni
ANGLESEY JOURNAL - Saturday June 14-17, 
TERRIBLE TWINS WORLDWIDE RESEARCH
It's all a bit like Jack Higgins' 'The Eagle Has Landed'. Just the week before I was wandering about the beautifully located Llanedwen Church in Brynsiencyn when I happened across a gravestone: Clare Thesiger Daniell of Pencraig.
Now Plas Pencraig Mansion is somewhere were the Terible Twins, Andrew and Gordon Weare used to play when they came to Llangefni in the early 1950s. It had become private flats by the time I was active as a kid. I knew nothing about it.
Andrew and Gordon admitted they knew nothing about it either. Within three and a bit days they had it all sussed.
Interesting point: Andrew is in Anchorage, Alaska and Gordon in Warrington, Otago, New Zealand. Just read how these two investigate and reveal the history of PLas Pencraig Mansion with enthusiasm and relish. To read on Please CLICK HERE.

Return to Page Contents
---
ANGLESEY JOURNAL - Saturday May 30, 
LLYNNON WINDMILL, A WINDSOME WONDER
What a glorious way to spend the day after your birthday!
Have you ever been inside a working windmill? It's an ABSOLUTE MUST and no visit to Anglesey would be complete without this tactile and auditory adventure.
Llynnon Mill is the only working windmill on Anglesey with an interesting history and a Miller (plus Capable Assistant) who loves to share his knowledge and enthusiasm.
Sit and enjoy a lovely cuppa and large meringue while rotating your eyes to silliness chasing after the windvanes.
Return to Page Contents
---
ANGLESEY JOURNAL - Saturday May 22, 
A BEAUTIFUL CHURCH AND THE FIRST LAND ROVER
Until very recently I did not know that the first Land Rover was designed, built and tested on Anglesey.
"And how did I find this out?" I hear you enquire, Gentle Reader.
I love Spring on Anglesey because I don't really like Winter. Spring arrives for me when the sycamores beside my home are once again in abundant fresh, rustling and gorgeous greenery.
So on this day I decided to get another lovely 'fix' of Anglesey's beauty and discovered a place of such Peace and Tranquility. The Church of Llanfair yn y Cwmwd is one of the most wonderful and reassuringly timeless places I have ever visited on my home island. To read on Please CLICK HERE.

Return to Page Contents
---
ANGLESEY JOURNAL - Tuesday January 5
SNOW! WHAT? ON ANGLESEY?
I believe that if my cousin's cat, Snwc, realised that snow could be such good fun then she would have made a bit more effort to get out there.
However, Snwc is a firm advocate of Global Warming and is gently urging it along from her recumbent position as a gentle burp and warm cuddle spot on the sofa.
No need to offer copious amounts of money to Snwc to prove what research bodies want proved. Snwc's already there.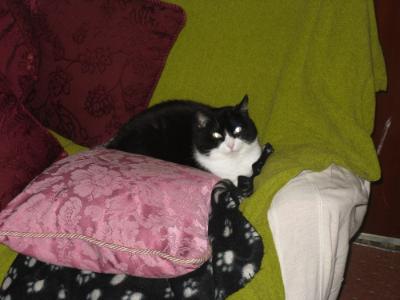 Advocacy is one thing but the coldest Winter in over thirty years is a bit of a puncture in her Sunshine Anticipation Schedule.
What does she do? Like in the Old Spice aftershave advert. She waits. That's what she does.
Snow is SOOOOO Last February and certainly not this year's 'New Black'. To read on Please CLICK HERE.

Return to Page Contents
---
ANGLESEY JOURNAL - Wednesday November 11
ANGLESEY COUNTY FLOWER
I have decided quite unilaterally that Anglesey's County Flower should be the Common Ragwort.
Some of you might well be of the opinion Anglesey's County Flower is the Spotted Rockrose (Tuberaria Guttata).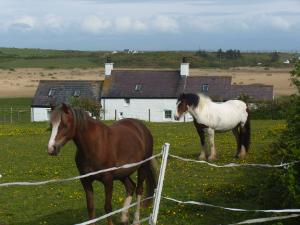 On paper it is and if you're conducting research for a school essay then the Spotted Rockrose is the right answer for academics.
But what do they know, eh?
Ragwort must be the most abundant flower on Anglesey, which gives it precedence, I believe.
Return to Page Contents
---
ANGLESEY JOURNAL - Friday August 28
ANGLESEY SUNSETS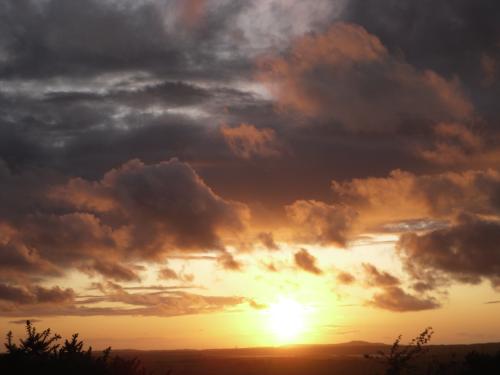 Anglesey Sunsets
Leaving the coastal road behind, you'll find yourself on a quite narrow road that snakes it way up the side of Mynydd Bodafon (Bodafon Mountain).
There's a carpark to your right about halfway up where you can stop a while and wander to the peak.
There you'll discover a triangulation point with a plaque on each side offering a pictorial description of the surrounding countryside.
It's always nice to be able to put a name to what you see.
Further along the road you'll arrive at Llyn Bodafon (Bodafon Lake), which is a lovely little packet of Anglesey Beauty.
August Bank Holiday Friday saw us with a meteorological oasis prior to the downpour of the weekend, though the imminent poor weather was becoming obvious in the late evening sky.
Nonetheless, behind the mountainside the sky burned in a Turner-esque Anglesey Sunset ......To read on Please CLICK HERE. 

Return to Page Contents
---
ANGLESEY JOURNAL - Sunday July 12  
PENYGRAIGWEN
I came across a tiny hamlet in the eastern part of Anglesey today that I didn't know even existed.
Some of you have had a good look at some of my pages will know that I have already told you to 'GET LOST!'.
This is nothing personal, you understand, but sound advice about enhancing your visit by inviting you to engage with the unexpected.
Anglesey is an island with a 125 mile coastline so travel far enough and you will always end up on the Coastal Road.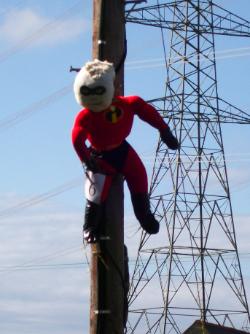 I finished some work by about 4:30pm and went to pick up my Mum to take her for a little ride in the car.
She's not been feeling too well and I know that the countryside and the sea really brings out the 'pick-me-up' stories that help.
I remembered that Capel Coch has an annual scarecrow competition (trans 'Bwgan Brain' - 'Ghost for Crows') so we headed in that direction to enjoy the family creations on the side of the road.
Michael Jackson was there, believe it or not...To read on Please CLICK HERE.
---
ANGLESEY JOURNAL - Friday July 10
RED ARROWS AT VALLEY
If I can possibly manage it, I go for a run on the beach at Cymyran two or three times a week.
I think its about five miles there and back from the 'Crash Gate' at the end of the RAF Valley runway and I generally suffer for my suntan.
I could barely get a place to park because it was packed and the viewing outcrop was a mass of individuals and families armed with binoculars and cameras. Why? What's going on?
I looked to the apron in front of the 22 Squadron Helicopter hanger. It was the RAF Aerobatic Team: Ten perfectly parked 'Red Arrows'. To read on please CLICK HERE.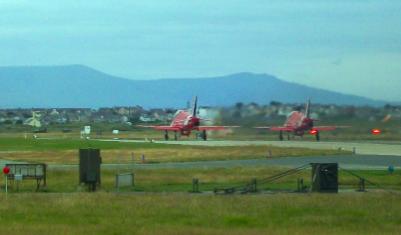 ---
Do get in touch
Do you have a great story about this to share or a question to ask? Yes? Then please write it in the box below.
---
Return from the Anglesey Journal to HOME PAGE.
---