RED ARROWS ACES
VISIT RAF VALLEY
Expect the Unexpected
ANGLESEY JOURNAL - Friday July 10 2009
RED ARROWS AT VALLEY
If I can possibly manage it, I go for a run on the beach at Cymyran two or three times a week.
I think its about five miles there and back from the 'Crash Gate' at the end of the RAF Valley runway and I generally suffer for my suntan.
I could barely get a place to park because it was packed and the viewing outcrop was a mass of individuals and families armed with binoculars and cameras.
What's going on?
I looked to the apron in front of the 22 Squadron Helicopter hanger. Ten perfectly parked 'Red Arrows'!
It was the RAF Aerobatic Team on a visit to RAF Valley. WOW!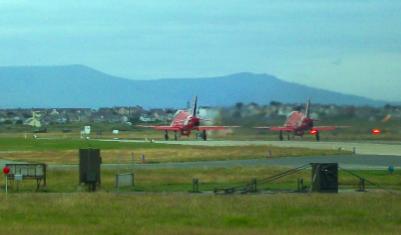 How had everyone found out? Word of mouth and seeing the Red Arrows arrive in astonishingly perfect precision, I suppose.
I heard someone else ask the same question. Apparently they'd been to the 'Wakestock' music festival in Abersoch. Which must have been nice for them.
Before an audience that was waiting for something to happen I managed to change into my shorts without raising a laugh.
Rather than perform the obvious usual struggle for breath early on, I put on a bit of pace and style and paid for it out of sight.
I did my run to the Crigyll River in Rhosneigr and back at my general distracted canter and was doing a stretch this side of the sand dunes when I heard engines warming up.
Picking up the pace along the ragged Cymyran road I could see a Red Arrow moving along the concrete apron.
I almost killed myself running to my car to get the camera and then onto the outcrop. I must have looked like an idiot.
Thankfully, no eyes or cameras were directed in my direction.
There they were, all ten aircraft. Three abreast on the runway with a 'Tail-End Charlie'.
Style and finesse. Or What!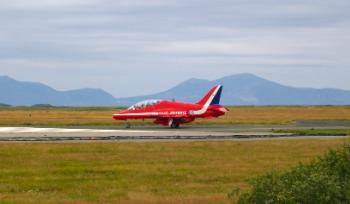 I think one of the guys had a radio scanner of sorts and we could hear the truncated conversation between the tower and team leader.
All ten engines hit full throttle at the same moment and we could feel the hot engine wash over us two hundred yards away.
All of us adults were like excited kids and the kids had mature intrigued looks on their faces.
The AErobaic Squadron took off with perfect precision all moving together and into the air.
Three followed three followed three and then 'Tail-End Charlie'.
Absolutely wonderful.
We followed them into the distance where, with Snowdonia as a backdrop, they assumed the 'Diamond Formation' and flew elegantly eastwards up the North Wales coast.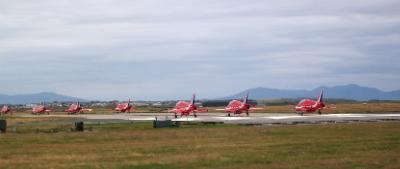 "They really get to me," I said over my shoulder to the gentleman stood behind me.
I got a similar strangled croak in reponse.
---
I would love to hear about your tales of discovery and the unexpected from your Anglesey Journal.
Please contact me by CLICKING HERE.
---
---
Return from Red Arrows to ANGLESEY JOURNAL page
.
---