RHOSNEIGR MAIN BEACH

Family Fun, Ice-Cream
and Extreme Sports
Rhosneigr is one of the best sandy beaches on Anglesey ... if not Britain.
Sit with an ice-cream and contemplate peace, your children eating sand, digging holes and building sandcastles.
And what about the WILD WINDSURFING, KITE-SURFING and FAMILY SAILING for which this seaside village is world famous.
The beach coastline stretches all the way from the intimately small Cable Bay, along the popular Rhosneigr beaches and all the way to the peace and privacy of Cymyran Beach.
At a walker's guess, that's about four miles of sandy beaches, which really sets you up for a a decent meal and an ice-cream. PERFECT!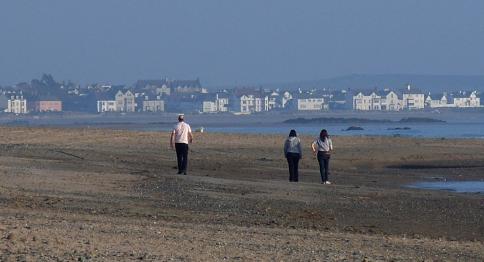 The village offers shops, cafes and good little restaurants.
The fact that this small beach village boasts a Fat Face and the renowned Funsport surf shop tells you how far it has come in recent years.
Whether you are spending the day at Lligwy, Traeth yr Ora, Traeth Bychan, Benllech or Llanddwyn Beach, each Anglesey beach is a gentle blessing between stormy seas and harsh rocky bays.
---
RHOSNEIGR VILLAGE BEACH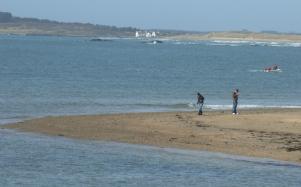 The main beaches are of golden sand and depending on the weather are ideal for both family fun beach days.
World renowned for extreme sporting activities.
The beaches are glorious on stormy days.
When you've eaten too much or want to introduce a new colour to your holiday memories these beaches become fabulous anew.
Rhosneigr beaches are ideal for long invigorating walks and a natural antidote to what ails you.
---
BEACHES AROUND RHOSNEIGR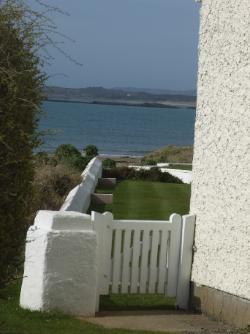 On hot Summer days the village beach is never really crowded.
Because when it starts to fill up people head for Broad Beach, or any one of the other beautiful sandy beaches and small bays within easy walking distance.
These close by beaches are Crigyll Beach, Cymyran Beach, Broad Beach, Porth Nobla and Cable Bay.
Some of the minor little bays between Broad Beach and Porth Nobla are mostly shingle leading onto a very rocky foreshore.
You'll find a bit more peace here.
Locals and visitors have their favourite beach, from the space of Broad Beach, the intimacy of Cable Bay or the buzz of the Main Beach.
ANGLESEY COASTAL WALK BOOKS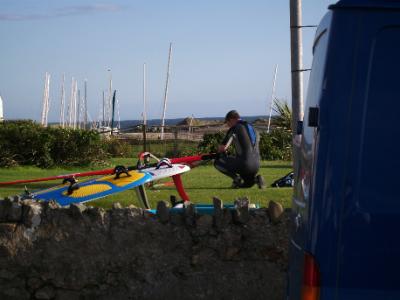 WATER SPORTS
Rhosneigr is regarded as a high-quality area for windsurfing and kitesurfing because of the big south westerly winds that are very frequent visitors to our Anglesey shores.
Indeed, it's rightly regarded as an extreme sea for extreme windsurfers and kite-surfers when the big winds roll in.
An interesting feature of sea activities on the village beach is that the wind and sea state serves to manage the nature of the activities.
So you don't have sportspersons crashing angrily (or is it spitefully!) into each other.
You never find the sea full of sailboats, kayakers, surfers, windsurfers or kite-surfers at the same time.
When the wind is ideal for windsurfing and kite-surfing the sea conditions are not suitable for sailing or kayaking.
Same goes for sailing and kayaking in their turn.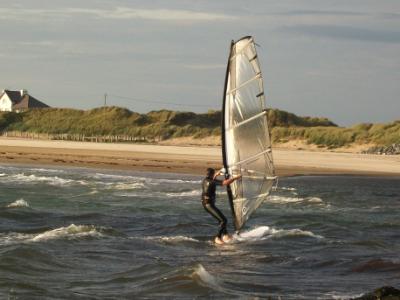 ---
TELL ME ABOUT YOUR SANDCASTLE BUILDING SUCCESSES AND FAILURES. Click Here
---
BOAT LAUNCHING AND REGISTRATION
The County Council requires you to register powerboats over a certain horsepower and also lists the required qualifications.
You'll usually find the Beach warden's van parked on the far left of the beach as you look out.
He'll be on the lookout for registration certificate you're supposed to stick on your power boat.
If you've just arrived and unsure, then go and have a chat with him.
Please CLICK HERE for all the above information and about launching fees on other Anglesey beaches and slipways.
---
CONTACT ME
I would love to hear from you about your stay in Anglesey or answer any questions you may want to ask in preparation for your visit.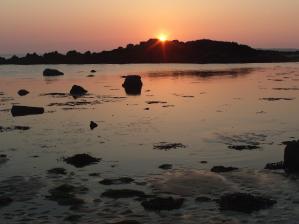 Maybe you are one of those visitors who has been visiting Anglesey for decades.
Please tell me what make Rhosneigr and Anglesey special places for you.
Maybe you have special advice - or even warnings.
Please feel free to share by CLICKING HERE.
---
RHOSNEIGR SHOPS AND RESTAURANTS
For all your Beach Day shopping just step off the beach and walk a few hundred yards.
You need a bucket and spade? They got it!
You need an Ice-cream? They got it!
You need a good snack or an excellent meal? They got it!
You need a cashpoint? They got it!

So Click Here for RHOSNEIGR EATING AND SHOPPING FACILITIES.

If you want to look further afield for good eating or those important facilities like petrol and more restaurants Please CLICK HERE.









---
GOLF
If you've brought your golf clubs with you then you will enjoy a good day's sport at the Anglesey Golf Club just outside the village and then enjoy a meal in the clubhouse afterwards.
My brother is forever driving straight from work for a round because, as he says, it is a challenging golf course that's really pushed his handicap to just above a creditable Five.
Don't be put off, though.
He plays his golf on this course with friends who have just as much fun as he does.
Golf seems to be their handicap, but they have great fun. Ask Stevie C.
There are plenty of water obstacles and grazing sheep that are magnets for golf balls.
---
FUTURE GOLF DEVELOPMENT PLANS:
The Anglesey Golf Club is regarded as a Scratch Course and there are plans to clear areas to ensure this reputation grows.
Like most of Anglesey's coastline, Rhosneigr is designated as an Area of Outstanding Natural Beauty, so this is a long-term project.
The planning and countryside obstacles are deeper than the streams and meaner than the sheep.
In very bad weather the sea wind really challenges your handicap. And, when it is wet you might as well take your snorkel with you.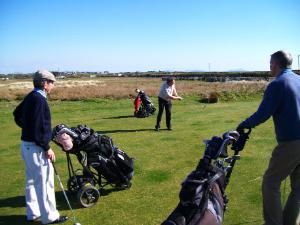 However, the vast majority of time this is an excellent golf course and remains astonishingly popular.
Each of Anglesey's golf courses has its unique character.
You can play serious golf or just knock a few balls and enjoy the view and the company in anticipation of a nice meal at the clubhouse or the village.
---
PETS ON THE BEACH
• No major prohibition on dogs, but please keep them on a leash - Unlike Crazy Fido here.
• Though not here at White Beach, there are Seasonal Prohibitions on dogs on certain Anglesey beaches.
• Always bring a doggie poo-bag with you because the little dears can't always help themselves.
Imagine specific matter oozing from between your tanning and sandy toes.
Imagine a worse scenario; it's your child.
• The main concern regarding dogs on Anglesey beaches is a health issue.
Doggie poo can blind for life.
FOR MORE INFORMATION ABOUT DOG RESTRICTIONS ON ANGLESEY BEACHES PLEASE CLICK HERE.
---
RAF VALLEY
You cannot miss the obvious fact that the RAF base lies right next to Rhosneigr. This is the UK's Fast Jet Training Centre. And they train a lot.
Rhosneigr can be very noisy indeed. What with aircraft taking-off and landing.
It doesn't seem to have put off many people though, because the caravan parks at the end of the runway have been there for decades.
The horses in the nearby riding stables seem to take it all in their ... their stride ... as it were.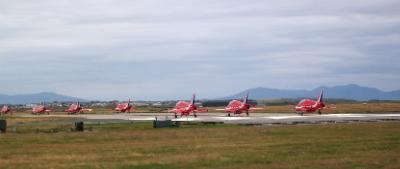 Above are the famous RAF Red Arrows on a visit. All of the pilots will have trained here.
Day visitors are equally tolerant, and children quickly dismiss any sense of irritation. Though I'm unsure how little babies take to it.
Anyway, the Search & Rescue Helicopters occasionally practice their marine rescues just off the beach.
This usually brings all eyes on the beach to bear on Our Lads and Lasses as they practice laudable skills that have been used to rescue many a silly visitor or fearful sailor over the years.
---
FISHING OFF THE BEACH
Mike Thrussell describes the fishing at Rhosneigr thus,
From late October the beach can produce a good run of coalfish with fish over 3lbs fairly common at times. Odd codling are taken from the edge of the rocks in front of the village, again from the end of October.
BAITS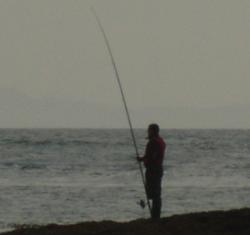 Fresh crab is the main bait for the bass and flounders, with black lug tipped with squid also good for the bass, and try ragworm for the flounder.
Tip lug off with mackerel or sandeel for the whiting and dabs, though half a medium sized sandeel picks out the bigger whiting.
Razorfish can fish well for the flounder from October on.
TACKLE AND TACTICS
A bass rod or beachcaster with 3 to 5ozs of lead and 15lb line is perfect here. Long range can produce bigger bass in high surf conditions, but generally shorter 40 to 60-yard casts produces the most fish.
Top rigs are one-hook clipped down rigs and 3/0 hooks for the bass, with three-hook flappers and size 1 or 2 Aberdeen's best for general species.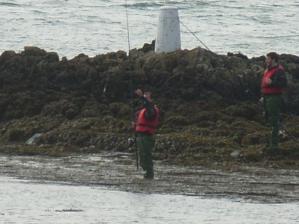 The beach fishes best the two hours either side of low water towards the rock finger walking west along the beach.
But can also produce either side of low and high water and for the first two hours of the ebb fishing tight to the rocks at the eastern end of the beach.
This being the most popular spot.
Night spring tides give the best sport, but bass also show in calming seas after a good blow.
Neap tides are good for flounder, whiting and dabs during calmer seas at night.
BOOKS ON SEA FISHING
GETTING TO RHOSNEIGR
• Travel across Anglesey on the A55 Expressway.
• Halfway across the Island take Junction 5 for Rhosneigr.
• Follow this road through Engedi. A few miles later you arrive in the small village of Llanfaelog.
• One of the first things you see in Llanfaelog is Bryn Coed Garage on the right (car sales not petrol) and then the village church on the left.
• Turn Right opposite the church.
Take care because the turning can be blind to oncoming traffic. Creep forward to take advantage of the wide junction.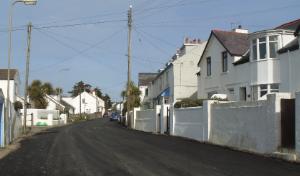 • Follow this road all the way to Rhosneigr a mile or so ahead and past the Anglesey Golf Club into the village.
• Turn right opposite the village clock and 200m down the road is Rhosneigr Beach.
Remember to stop at the bottom otherwise you're quite literally on the beach.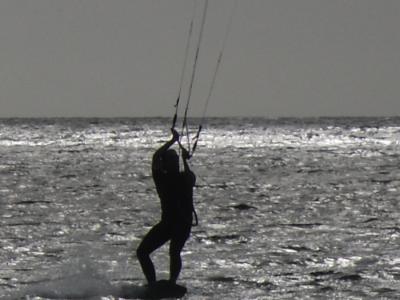 SAND WISHES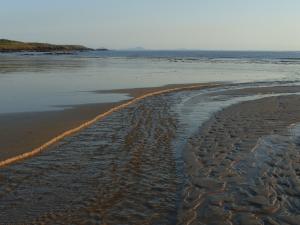 I am a great believer in the truth and stating what it is that you want from life. Sometimes you need a little help - some divine intervention, perhaps.
I've learned that it pays to have more than one MODUS OPERANDI.
If one contingency doesn't work, then you have another to hand.
When I'm on the beach and a profound desire strikes me, then I pick-a-stick and write the thought or desire in the sand to allow the sea to carry it to the world to be brought back fulfilled.
This all works on the same general principle as Tibetan Prayer Flags. It's a theory under development, but it's got great potential.
I'm sure you'll agree that the Rhosneigr Beaches are excellent beaches for carrying out these profound experiments.
There again, you could always just tell the person.
In the meantime, while you're working yourself up to that CLICK HERE to learn the SAND WISHES theory. It's all very technical, yet simple
---
When I was writing about Llanddwyn Beach on the West Coast of Anglesey, it was fun sharing my Fish Batting story.

I'm sure you've got some even better Anglesey holiday stories that people really would love to hear about.

Go on, let us hear them.

YOUR Anglesey Story
Click on the links below to read some great stories. They were all written by other visitors to this page.

---
Return from Rhosneigr Beach to ANGLESEY WESTERN BEACHES