WHITE BEACH

Crazy Horses and Nervy Driving
WHITE BEACH really, really is a hidden gem.
By that I mean it really is hidden. Hidden, good and proper.
This is a small pebble beach that is really awkward to get to.
But it is most certainly worth the journey for a different type of family beach day.
It is an excellent 'DIFFERENT' beach day beach.
A lovely beach for a bit of a picnic, fishing and exploring.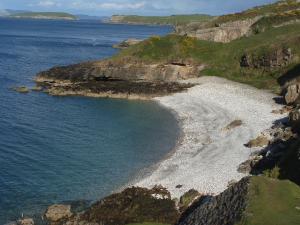 The water at high tide is wonderfully crystal clear, though I would be wary about having a swim.
Fishing reports indicate that the beach is an excellent place to begin your children fishing.
If you want to build sandcastles wait for geology to take a firmer grip.
I've lived on Anglesey for most of my life and I did not know about this beautiful little gem of a pebble beach a couple of miles from Beaumaris.
I couldn't even point to it on a map. It's not on the Ordnance Survey Anglesey map.
Look for Fedw Felin on Map 114. Have a close look at the map insert on the right and find the number 82. It's directly beneath that.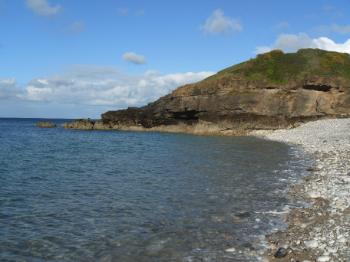 I learned about White Beach for the first time when my friend Brian told me because it has a pretty good reputation among fishermen.
It's got a decent couple of back-up beach marks when Llanddona and other beaches are not 'presenting fish'. Or, when you're a bit too sensitive for a boat trip.
---
Menai Suspension Bridge
My father used to love being driven under Thomas Telford's Suspension Bridge.
He marvelled at the dressed stone of which the towers and arches are constructed.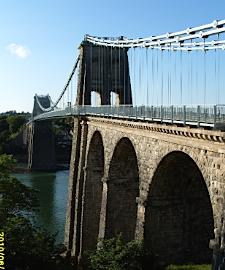 I believe that it was the skill of the stonemasons that moved him to comment, as much as the undeniable beauty of the bridge itself.
A fisherman I keep bumping into tells me that White Beach is where the stone came from for the construction of the Menai Suspension Bridge in the 1820's.
I know that Penmon Limestone from Dinmor Quarry near Trwyn Du, Penmon, is the general attribution of source; however, White Beach is just up the coast.
A solid dock-like construction just over and on the beach do seem to suggest a hint of truth to what he says.
I was outside Asda in Llangefni when he first told me this 'fact'(?).
Not the usual Sunday night when he pops into the Spar to pick up a packet of Jelly Babies for his lovely wife after a few pints.
---
The Beach
I believe that White Beach is owned by the people of Fedw Felin, directly above the beach.
All I can tell you about these people is that that they are very nice indeed.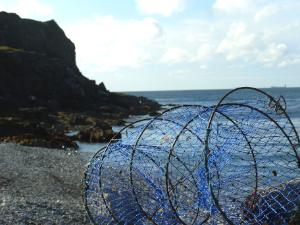 I spoke to the lady of the house the other evening.
The lady was pointing to her high-tech wind turbine that didn't generate enough electricity for them. "Need to put it a bit higher," she said.
I suppose the real problem lies in that house is sheltered from Anglesey's prevailing South Westerly winds and has to depend on the easterly winds.
The easterlies will blow your socks off and freeze your face in Winter. Rarely in Summer, though.
This means that it can be a well sheltered little beach when the west coast of Anglesey is a bit uncomfortable because of a strong south westerly.
---
Down To The Beach
A steep stairway will lead you down to the beach.
This, however, is nothing special on its own until you notice the horses' hooves on the steps.
Nothing unusual about the odd horse trotting down to the beach, I hear you say.
Listen. Either the horses are bonkers or the person in the saddle is 'The Indian', as John Wayne used to call his horse-riding stuntman, Yakima Cannut.
(He'll have gone to the Happy Hunting Grounds by now.)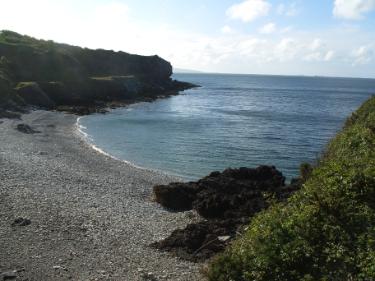 If you were to tell me that horses reverse nervously down to the beach, I'd believe you. I don't think my nerves could tolerate watching them go down the steps headfirst.
Nonetheless, down they go.
---
I can't imagine them on the pebble beach, either.
The beautiful, bleached pebbles of White Beach are dinner plate sized and fall steeply down to the water at high tide. Good fishing spot.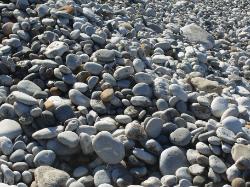 No sand here. No long stretches of beach to pursue your loved one with an aching heart.
It's more about watching where you put your feet and choosing to biggest, flattest pebbles to settle down for a picnic.
Sit and enjoy a beautiful big blue sky that can overwhelm you with delight when it's a warm Spring or Summer Day (or evening). Maybe that's it.
For me, it is the ideal evening beach when the tide's in.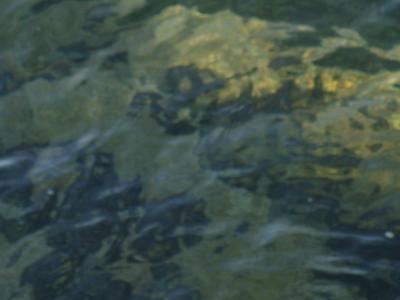 ---
ANGLESEY'S HIDDEN GEMS
Like I've said on a few other of my Anglesey Hidden Gem pages, there are places and sights not even us locals know about - just off the beaten track.
May I recommend you have an amble down to DULAS BEACH by LLIGWY BEACH and enjoy my DULAS EVENING WALK.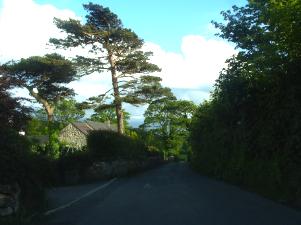 I believe there are turnings on Anglesey's little country roads that I've never been down before.
Have a look at the bottom of this page for a few routes of beautiful discovery.
There again, I could be telling an untruth. My father used to be the water distribution area controller for Anglesey.
We'd frequently go with him to burst mains and stuff - anything to get out of the house on a rainy day when we couldn't play football.
So, I might well have been down the odd road or two that I can't remember.
These days I'm looking forward to travelling down a narrow country road and encounter a sight that will draw my right back to some unexpected almost forgotten family memory.
Imagine finding new memories yourselves.
My advice to you on such matters is to GET LOST.
Anglesey is an Island, so you can only go so far before you hit the coastal route again. Idle gently.
Find Mynydd Mwyn Bach and enjoy the indigenous ostriches of Anglesey.
I won't tell you where it is, except that it's more less in the centre of the Island.
Go to Llangoed and find the Lamas.
The more you explore the narrow side-roads of Anglesey, the calmer and more serene will become your life outlook.
---
WHITE BEACH FACILITIES
In a nutshell, There Are NONE.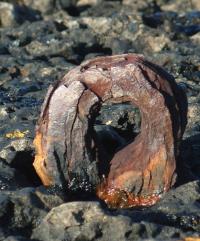 Sorry about that, but it's true.
White beach is a very isolated little pebble beach at the end of a very narrow road in a very beautiful rural part of Anglesey.
SO ... if you want good eating and holiday shopping may I direct you back to Beaumaris.
You'll find a list of those facilities on my Llanddona Beach page. To assist you Please CLICK HERE.
For more Anglesey Facilities: shopping, cash points, parking etc. Please CLICK HERE to visit my Anglesey Facilities page.
---
FISHING AT WHITE BEACH
RULE 2:
Take your bleedin' rubbish home with you. PLEEEASE!
There's nothing worse than arriving at some idyllic little coastal ledge to find that others have ben there before you and, like some animal, left their mark.
It's the plastic bags that do my head in. There again, I'm not too enamoured of cans of lager and portions of newspaper bait wrapping from all over the UK.
BAIT No need to stink the car out on the journey to Anglesey and White Beach, because you buy excellent bait at the petrol station tackle shop on the Menai Bridge side of Beaumaris (Ahhh ... Beaumaris ..)
FISHING MARKS
Three obvious marks in the White Beach area.
The first is right off the beach. The other is off the rocky ledge to the right of the beach. Both are quite easy to reach. Between them lies the middle headland.
If you've brought the kitchen sink with you then maybe one of the loco horses can carry your gear down for you. Hey! You could ride on them. Wouldn't that be fun?
Fishing off the beach can be fun with your kids. It's the safest place to do it because the further you go to your right the water can get really deep at high water.
(Imagine a decent swell and you can prophecy the dangers.)
The lady from Fedw Felin tells me this is also a great spot for losing tackle. Nonetheless, the fishing can be very good.
Lug/rag combos will draw the doggies to you like a tin of rancid Chum. Plenty of these.
Okay, so they give you a sense of fishing going on. But what you going to do with them apart from swear, which seems to be the pastime in the Trearddur Bay area.
Lovely edible crabs are an unexpected little bonus as well as the mackerell in season.
I forsee you entering into foul dialogue with seals, as well. You gotta love them haven't you?.
Polock, wrasse, codling. whiting, dabs. You name it.
Congers? Some monsters to be found. Need to bring company with a strong arm for the gaff activity.
Fishing off the Ledge Mark
Reasonably easy to get to.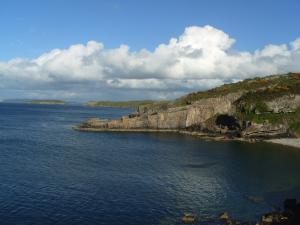 If you're starting from the carpark above the beach, then walk back along the road to the right hand corner.
Here you should find a yellow sheet of plastic on your left.
Step over and then just make your way diagonally across the field to your right. You see the edge and walk toward it.
This is a vertical cliff with a decent depth so keeping hold of your tackle should be no big problem.
For more fishing tips for Anglesey Beaches please visit the Fishing Tips page by CLICKING HERE
---
GETTING TO WHITE BEACH
Rule 1:
Gird your loins and keep your nerve.
If you have a nervous passenger on board give them a map to fold. In other circumstances a deck-chair assembly activity would provide sufficient distraction.
White beach is located a few miles outside of Beaumaris (Ahh.... Beaumaris) on the road toward Penmon.
• Probably easier to guide to Beaumaris from Menai Bridge. Arrive in Beaumaris (promising yourself to return to enjoy its lovely delights as soon as possible).
• Drive along the main street past the Beaumaris Castle and out into the country with the Menai Straits right on your right.
• In no more than a few minutes you'll arrive at the village of LLANGOED.
There a tidy little One-Stop Shop on your right. More or less opposite is the Baptist Chapel where I used to attend concerts when I was a kid.
• Follow the road down the hill. At the very bottom of the hill – before the bridge – is a turning to your left. Take this and follow the sign for Glanrafon.
• Follow the road into the village and up the hill round a steep sharp corner. Up on your right you'll see a narrow road. Don't take this.
• Travel a further 50 metres and turn right opposite an orange house named Bethania (an old chapel? I wonder?).
• Down this road for a hundred yards at the most to a left turning above where the cottages gather their wheelie-bins for collection.
• You are now on a very, very narrow road with plenty of blind corners. Hand out the map to be folded and start talking about cheese to your nervous backseat drivers.
This road can only take you to one place – Fedw Felin Farm and the small carpark above the beach.
A small portion of the Fedw Felin coastal area is owned by the National Trust and is a gentle walk separate from the Anglesey Coastal Walk.
The Coastal Walk is a bit inland from here along the road to Marian Dyrys (Check the guidebook or Ordnance Survey Map 114).
• It's just over a mile to get to the end of the road and the carpark and it may require some pretty innovative thinking to turn your car around.
BE WARNED The carpark can only hold three or (maybe at a stretch) four cars.
---
CONTACT ME
I would love to hear from you about your stay in Anglesey or to try and answer any questions you may want to ask in preparation for your visit.
Maybe you are one of those visitors who has been visiting Anglesey for decades. You're not the only one. The same families have been visiting Anglesey for over sixty years.
Please tell me what makes Anglesey a special place for you.
Maybe you have special advice - or even warnings.
Please feel free to share by CLICKING HERE.
---
PETS ON THE BEACH
• No major prohibition on dogs, but please keep them on a leash - Unlike Crazy Fido here.
• Though not here at White Beach, there are Seasonal Prohibitions on dogs on certain Anglesey beaches.
• Always bring a doggie poo-bag with you because the little dears can't always help themselves.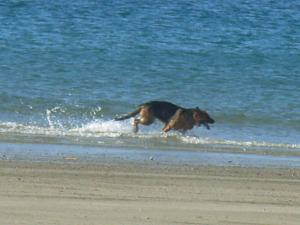 Imagine specific matter oozing from between your tanning and sandy toes.
Imagine a worse scenario; it's your child.
• The main concern regarding dogs on Anglesey beaches is a health issue.
Doggie poo can blind for life.
FOR MORE INFORMATION ABOUT DOG RESTRICTIONS ON ANGLESEY BEACHES PLEASE CLICK HERE.
---
BOAT LAUNCHING AND REGISTRATION
First of all, if you are going to launch a boat off White Beach PLEASE LET ME KNOW.
I'd love to see how you achieve it. Tie it to the back of a crazy horse, maybe?
Anyway, there are now regulations about where you launch your boat and what must be registered.
The County Council requires you to register powerboats over a certain horse power and also lists the required qualifications.
Please CLICK HERE for all the above information and about launching fees on other Anglesey beaches and slipways.
---
GET LOST IN THE WHITE BEACH & PENMON AREA
Dawdling in the Penmon Area
This is not a question. It's sound advice.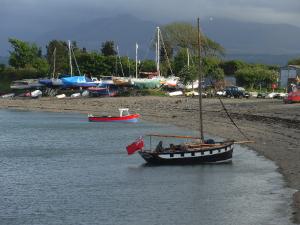 I won't detain you for long.
It's just that I want to impress upon you that White Beach is only one gloriously beautiful spot in this south eastern part of Anglesey.
I am sure that you will have enjoyed the drive from Menai Bridge to Beaumaris and then Glanrafon.
However, if you were to not turn left in Llangoed and just drive stright on you'll find yourself lost in such wonderful countryside.
---
If you had carried on up the hill past the Bethania turning for White Beach, then you could have driven all the way to Llanddona Beach along a lovely country road with a delightful view of the sea.
On your right along this narrow road you'll see the sign for a very old church across a field.
Please visit to pay your respects and delve into the past.
---
This is another absolutely sweet little drive. You know where you turned left onto the narrow White Beach Road?
You do?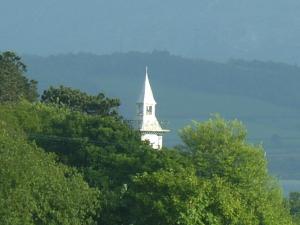 Good. Just drive straight ahead.
Turn whichever way you want.
You're virtually at the end of the Penmon headland so you can't get lost.
You may encounter traffic. So give way.
They may not be on their holiday. Slow down.
Dawdle in his area and thrive on the beauty.

---
Return from White Beach to ANGLESEY EASTERN BEACHES.
---