RHOSNEIGR BEACHES
Main Page


CONTEMPLATE RHOSNEIGR
There you are, sat on your damp and gritty towel, soggy tomato and lettuce sandwiches fermenting in the cling film.
You are basking in the hot sunshine under a blue sky with ice-cream melting over your knuckles.
Perfection because you are elsewhere. You are here in Rhosneigr. On the beach.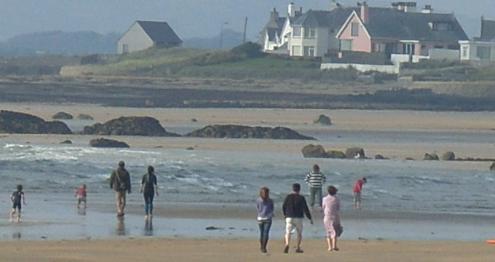 Beaches! All the way from the peacefulness of Cymyran Beach, along past the village and all the way across endless sandy beaches to Cable Bay.
Scroll Down to Contents Menu or Skip Straight To It
Fishing - If you're a fisherman or fisherwoman then this entire coastline is renowned for its quality bass fishing.
The Anglesey Coastal Path - This entire line of gems is yet another uniquely beautiful stretch Anglesey Coastline. The journey of 200km begins with but a step, so why not begin at Rhosneigr.
The journey from Cable Bay to Rhosneigr is a very satisfying walk in both Summer and Winter.

Surfing & Windsurfing


The Village Beach draws some of the best wind and kite-surfers in Britain and there are regular competitions throughout the Summer season.
Golf If you want to knock a few balls then the Anglesey Golf Club is a short walk out of Rhosneigr Village.
Let's start a few miles to the south. All the beaches are attached one to the other to the other.
CONTENTS MENU

CABLE BAY


Cable Bay is a delightful small sandy beach nestling comfortably between two nurturing headlands and is very popular on hot Summer days.
Lovely soft sand falls away toward the sea from the protected bank of dunes.
Even at low tide the water is close. But not so close that you miss out on a toddler's growing excitement and eagerness.
Back to Menu
,

,

,


PORTH NOBLA BEACH


Porth Nobla is rarely as busy as Cable Bay, which is just around the small headland to the south.
Quite simply, it's a lovely family beach a few hundred yards across.
A good sandy beach embraced by dark rocky outcrops with plenty of fabulous rock pools to gleefully explore.
Back to Menu
,


BROAD BEACH


Broad Beach Beckons To You. Give it a wave and get thousands back.
This is an absolutely wonderful place to pass a day listening to the seagulls, the surf and enjoying a picnic.
Set up your beach tent, light your barbecue and retire from the world.
This is just one long, long beach backing onto the sand dunes with excellent swimming and sunbathing opportunities.
Back to Menu
,

,


RHOSNEIGR VILLAGE BEACH


And what about the Wild Windsurfing, Kite-Surfing and Family Sailing for which this seaside village beach is world famous.
The village beach is the busiest of all beaches along this outstandingly beautiful stretch of west Anglesey.
The sand is great and it's only a short walk up the road up to shops, cafes and ice-creams.
Back to Menu
,


CRIGYLL & CYMYRAN BEACHES


This apparently long, long beach is separated into two beaches by their names. Crigyll Beach nearby and around the obvious corner - in the distance - is the same beach, but now it's Cymyran Beach.
What's immediately apparent is that these beaches are more or less devoid of people.
If you've had enough of screaming kids and noisy jet-skis then Crigyll Beach is ideal.
---
Back to the Menu
Return to Anglesey Hidden Gem Home Page.

---
---