NORTH STACK - HOLYHEAD



FOG SIGNAL STATION
Other than its primary function as a fog signal station, North Stack, just south of the Port of Holyhead, offers you astonishingly beautiful views of Anglesey's coastline.
The views are truly breathtaking, whether viewed from South Stack Lighthouse or this fabulous site.
The coastline is famous worldwide for its bird and marine life, its beauty and maritime history.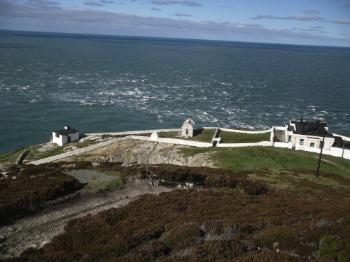 SOMETHING WICKED THIS WAY COMES

ANGLESEY COASTAL PATH TO NORTH STACK


FOG SIGNAL STATIONS


The Fog Signal Station at North Stack Holyhead has served sailors sailing up and down the west coast of Anglesey for around 200 years.
Radar technology and GPS navigation aids have greatly assisted shipping and reduced the general need for lighthouses and fog signal stations such as North Stack.
In a modern sense, the Trinity House lighthouses and foghorns function as safety nets against human and technological failure. However, the sea is a fickle mistress and when things go wrong then they inevitably do so catastrophically.
You can always depend on the fallibility of human judgment to call it wrong. Many maritime disasters seem to involve incompetence.
If not an immediate causality, then on account of decisions taken prior to sailing which guaranteed the inevitability of that disaster.
---

CANNON AND BELL?


In the old days, and I mean old days, probably going back to the early 1800s, sophistication was out of the window when it came to warning ships off the Holy Island rocks.
A big cannon was deployed on the cliff top to warn all and sundry that "Here be Cliffes!".
In the image above you can see the old Magazine where the gunpowder was kept. The Victorians couldn't even build a simple functional structure like this without rendering it with a robust elegance.
The cannon was placed at North Stack to add to the fog warning bell that was located at South Stack Lighthouse.
Both the bell and cannon were eventually replaced by a fog siren - an oil engine powered reed horn fog siren in 1895.
The cannon was eventually thrown over the cliff and could once be viewed in the sea below at low tides. It has since been recovered by local divers and is now and intriguing addition to the fabulous Holyhead Breakwater Country Park.
---
DANGER WARNING.
Keep away from the edge as there is no railing.
Simply put, YOU FALL, YOU DIE!
Please take the greatest of care
Especially if you have children in tow.

---
,
This fog siren signalled, not only a more effective fog warning, but also the importance of Holyhead as one of the most important commercial ports in the whole of the United Kingdom.
Respectfully, I direct you to my Menai Bridge page, which reflects on the importance of this vital maritime link with Ireland during the troubled early 1800s and subsequently Thomas Telford's A5 road to London.
As an informative aside, I include a contribution from one of the Terrible Twins, Gordon, formerly of Llangefni now living in New Zealand.
HI WIL,
I see you do give a fog after all. I remember, when the tide was out you could see below, quite large, long n' rusty cannon barrels amid the rocks. In the pre-Wylfa days, when power meant bigger guns. I guess a regular BOOM! went out at intervals, to warn shippynge.
As did a 'Cannon & Bell' if a shyppe was astricken with a disease on board.
I guess it would be an solitary job. Who did it and were they close-by residents? Maybe a free service provided by a concerned group. Grace Ap Darling?
Saw a great lighthouse in NSW on the Queensland border, at Byron Bay. A nice Lighthouse, with the full beams athwart and rotating, nice one.
"The Cannon & Bell"?! No wonder the pub had no customers....
Gordon.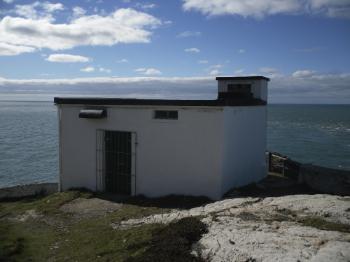 SOMETHING WICKED THIS WAY COMES


The Fog Siren was replaced in 1936 with a two-tone system that was almost unbearably loud if you were silly enough to stand in front of it.
A diesel engine inside the immaculately maintained building generated compressed air to power the Fog Horn.
This was replaced in the 1960s by an electric engine. It takes just under a minute to compress the air to generate another blast.
I remember a quick tour by a Trinity House officer many years ago.
I can easily imagine ships miles out at sea heading for Holyhead Port on a still night with dense fog hearing this sad and almost forlorn sound.
Was it Ray Bradbury who wrote, Something Wicked This Way Comes?
I can easily imagine his inspiration on such lonely nights when the fog gathers into forms that dissipate and reform into shapes designed by the fear of concerned and deeply troubled mariners.
---



"FIRE IN THE HOLE!"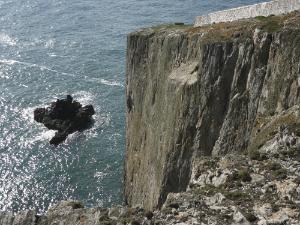 You may already have visited my Aberffraw Walk pages and might even have ventured along the beautiful coastline between Aberffraw Beach and Cable Bay.
If you have, then you'll have probably traipsed across what looks like an old army camp at Ty Croes.
Ty Croes used to be the firing range where missiles were fired at paraphernalia dragged by drones or by some nervous pilot from RAF Valley across the bay behind the Rhosneigr beaches.
Now there's a strong connection between Ty Croes and North Stack.
The Fog Signal Station is where a Shipping Hazard Warning was located. And you ignored it at your peril.
By Day –
(1) A red flag at Porth Dynllaen Coastguard Station.
(2) A red flag at North Stack Fog Signal Station.
(3) A red flag on the flagstaff near the Lighthouse on Llanddwyn Island.
By Night –
(1) A fixed red light from Porth Dynllaen Coastguard Station.
(2) A fixed red light from North Stack Fog Signal Station.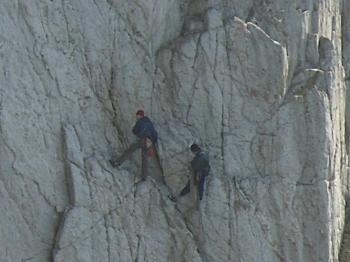 BRITAIN ROCKS THE WORLD


The climbers immeiately above are on one of the reasonably easy routes on the cliffs opposite North Stack toward South Stack.

Now I'm going to indulge in a bit of nostalgia and drag you all down with me.
In the image one up from the one above is North Stack Wall. On it are two of the greatest rock climbs in the world.

---
The first is The Bells, The Bells 40m E7 6b **. The first E7 ever (Extreme Severe Grade 7 or an act of levitation).
Only another Extreme Rock climber can know how difficult this is. I was one and I couldn't even get off the ground at this level of sheer cliff climbing.
It is a ridiculously difficult and insanely dangerous route. Think of pulling your entire body weight up using a hold consisting of a quarter inch hold you can only get your index and middle fingers and thumb around.
Now imagine doing this sort of stuff for 120feet with only a handful of pieces of doubtful pieces of protection.
This astonishingly bold route was climbed by J.Redhead and C.Shorter in the early 1980s.
---
For my generation, Ron Fawcett is one of the greatest climbers the world has ever known. It was he who started the new Rock Monkey Generation.
Ron's routes were a quantum leap above anything that had ever been done before.
Others would follow, but Ron Fawcett stood alone, as did Joe Brown for a previous generation.
I believe his first E7 was Strawberries in Tremadog but The Cad on the same wall as The Bells, The Bells. This route was a serious breakthrough in sea cliff climbing two or three years before Johnny Redhead really go switched on.


---
The Cad was first climbed by Ron Fawcett and Chris Gibb in 1978 and is recorded as a Three Star E6 6a and I love one casual part of the route description:


Climb the shallow groove and surmount the small overlap to a reasonable flake runner. If you're feeling immortal, The Bells… heads off rightwards here ...

Britain led the world in extreme rock climbing between 1970 and 1990 and it's routes tat these two above at North Stack that forged that reputation of Rock Monkies or Rock Athletes.
That's enough of my self indulgence. Sorry about that.

ANGLESEY COASTAL PATH TO NORTH STACK
 

The Isle of Anglesey Coastal Path is an astonishing gift to the welcome visitors to the Island. Be assured that a great many of the people of Anglesey love it just as much as you do - or will, when you've ventured along it.
Take a picnic with you and make sure that you spend plenty of time just looking about you.
---
When you were a child did you ever try and see the branches moving in the wind when you were sat in the back of your Dad's car?
It's almost impossible if there's only a moderate wind. It's much the same when you're walking. I don't mean catching branches moving in the wind.
---
Nature is invisible when you move but apparent when you're still. This is where a picnic comes in. Sit still, munch a sandwich and just open your eyes and ears. It's only then that bunnies and seals become visible.
It's only when you stand still that you notice that seagulls really love gliding in the updraft about the cliffs.

The Anglesey Coastal Path from the Holyhead Breakwater, along Rocky Coast, through the Holyhead Breakwater Country Park and up the ridge will bring you to North Stack.
Follow the Coastal Path a bit further and it will bring you down and still above South Stack Lighthouse.
---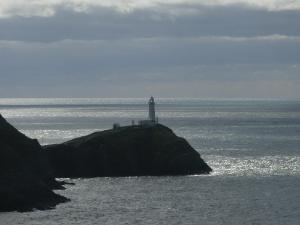 GETTING HERE


First of all, you have to get yourself to Holyhead, which is quite easy:
Follow the A55 Expressway across Anglesey from Menai Bridge and across Anglesey.
To find your way to North Stack I have placed the instructions on my Holyhead Breakwater Country Park page. You'll find a Google Map there to make it easier for you.
Therefore, I respectfully direct your attention there and hope that you have a very enjoyable and satisfying couple of hours along this striking and beautifully rugged coastline.
My best wishes to you.
Wil
---
When I was writing about Llanddwyn Beach on the West Coast of Anglesey, it was fun sharing my Fish Batting story.

I'm sure you've got some even better Anglesey holiday stories that people really would love to hear about.

Go on, let us hear them.

---
From North Stack to SOUTH STACK LIGHTHOUSE.
Visit Holyhead Breakwater Country Park.
Return to Anglesey Hidden Gem HOME PAGE.
---
---