AN ABERFFRAW WALK

Winter and Summer
Coastal Delight
Just who is Handsome Bob?
Why not come with me to Aberffraw for a beautiful circular coastal walk around the headland.
This gentle walk along an easy clear path will reveal a coastline that is low and rugged when the tide is out.
Essentially Mediterranean at High Water.
If you are specifically inclined to the one or the other, then it's a pretty good idea to buy a Tide Timetable at the local shops. If there are none here, Rhosneigr is just a few miles up the coast.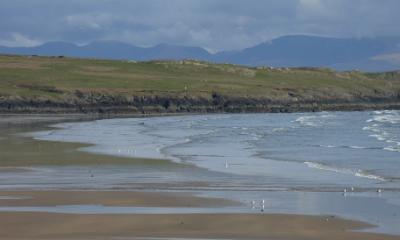 Coastal walks are such personal affairs and dependent on the mood you bring with you. When encumbered by life's pressures I seek to arrive at the coast in wild, windy weather.
Aberffraw seems to suit the mood and the distraction of waves breaking wildly and the wind in my face seems to release me.
The images that I share with you here were taken in June of this year, when I just knew I had to walk. In solitude.
The sky was big and blue, the Sun shining bright and warm with a gentle refreshing breeze acting as pleasant physical external stimulation.
I was not in the office and I was not at home, where duties corner me.
Aberffraw Walk Time: A gentle amble of about an hour. Pretty easy going and just long enough to walk off a decent lunch.

---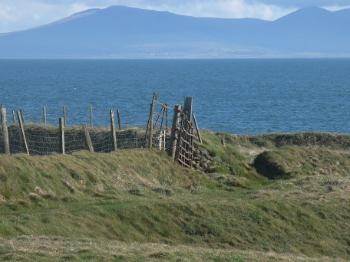 ARRIVING
To find your way to the village in the first place have a look at the GETTING THERE of my Aberffraw page. Click here for instructions.
Drive into the village and through the square past the shops and then the church on your left. Follow the road past the two council houses on your right and along the narrow, winding road for about two miles.
Coming over the brow of the hill I'm certain that you'll recognise St Cwyfan's Church in the Sea. You'll find some of its history again on my Aberffraw Page and even more detail on my St Cwyfan Church in the Sea Page.
If you've done a 'Born to be Wild' you'll have thrown away your watch for the day and are freely wander across and onto the Island.
Take care though, because if the tide is turning then you could be spending the next six and a half hours in weary extra-curricular spiritual reflection.
If you're like me it's the physical mantra of exertion and the voices of the sea and wind that will satisfy your weary soul and not reflecting on further captivity.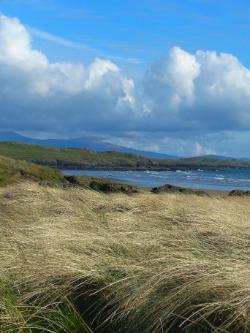 Anyway, if you've managed to find a place to park on the verge just before the beach leave the car and step down onto the beach and walk to your left to hop up onto the low headland.
The route is quite simple and will naturally lead you around the headland back toward Aberffraw Beach.
You can rush manically or just take a gentle saunter – which is best.
There is an awful lot to see if you take the time to look around you properly.
In the distance the mountains of Snowdonia roll gently, one after the other, to the end of the Lleyn Peninsula and the island of Bardsey finally on the right.
Bardsey Island is one of those Islands of Wales I'd love to spend a few days.
I'd wander about hoping for one of the Twenty Thousand Saints buried there to tap me on the shoulder and offer gentle significant guidance.
Did you know that Bardsey Island had its own king until very recently? His crown was made out of beaten sardine tins.
I have it on good authority that the sardines were eaten before the local smithy got to work on the tins.
---
A MEANDERING ASIDE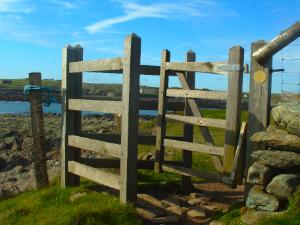 I frequently drive around the narrow back roads that criss-cross Anglesey looking for little tracks I've not investigated before.
There is nothing more intriguing for me than a small grass track that disappears between high hedges and over a small brow or round a corner.
I always want to know what's there.
---
I suppose it's all about attaining a new perspective on the all-too-familiar. Here we are back at Aberffraw.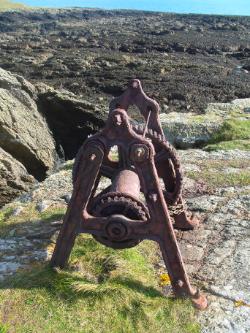 At low tide you will spot the sad and rusting remains of a boat in a seaweed covered gully.
The winch is a guide to this point.
In the near distance you can just about see Llanddwyn Island's lighthouse.
Make plans to walk there. Either as part of your Anglesey Coastal Walk itinerary for the season or just a casual Sunday morning or Summer evening's walk.
Park at the end of the Malltraeth Cob and just follow the Newborough forestry road all the way down to Llanddwyn Island.
For now, however, just saunter at your most leisurely pace along the coastal path. You will encounter little secret coves, lobstermen pulling their quarry aboard open boats and be further entranced by the panoramic view before you.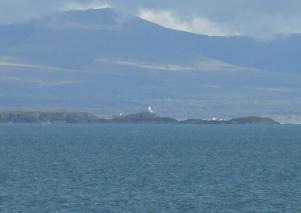 At Low Tide or High Tide this walk offers interest.
In sunshine or storm the Aberffraw coast engages your attention.
Those casual fishermen new to this coast should really take care of themselves and their friends when it's been blowing from the South West for a few days.
Fishing on the outer ledges can expose you to sudden, unexpected large heavy swells that will sweep all and sundry away to DAVY JONES' LOCKER.
The same warning goes to the more adventurous walker who wanders too far out. Hug the path. Be Safe!
---
LOBSTERS AND FISHING
As if stepping back in time, I see a stooped figure trudge defiantly toward me. Close up I recognised a red-haired, broad shouldered young man carrying a damaged lobster pot on his back.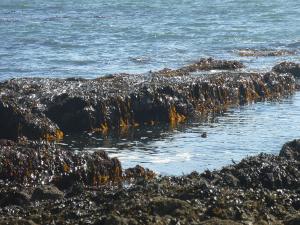 With a bit of an effort he slid the pot off his back and told me that a few of his lobster pots had disappeared in a recent storm, torn away.
A friend had spotted this weary looking temporary and final residential home of crustaceans and he'd been to collect it from the rocks to repair.
As usual, I enquired about the fishing along this particular coastline and was advised that there were plenty of 'Basses' (Sea Bass) from Aberffraw Beach, just around the corner and all the way to Cable Bay and the rocks of Porth Nobla.
Like many Anglesey Lobstermen he sells his lobsters to local hotels and restaurants (try the Lobster Pot Restaurant in Church Bay).
The crabs that he catches fetch a very poor price alone, so he dresses the crabs himself and sells them.
May I also recommend that you find Lee Nelson in Trearddur Bay and David Livingstone in Cemaes Bay for fisherman prepared dressed crab.
These are delicious and very popular indeed with locals and visitors.
If you've never tried one then seek out either of these fine gentlemen.
---
FROM HERE AND ON TO HANDSOME BOB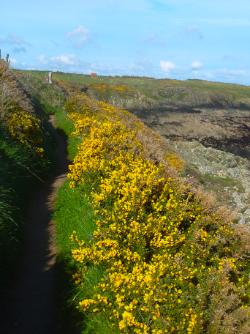 I believe that I'll leave you here and allow you to find your own way along the path, between the gorse and above another hidden rocky cove to overlook Aberffraw Beach.
If the tide is out then you'll find it quite straightforward to make your way down and follow the beach around.
Please keep an eye on the river Ffraw that snakes its way across the beach.
Keeping to the coastal path will eventually bring you to a single wooden post laden with local walk signatures.
From here you can step up off the coastal path and up past the old corrugated shed.
This is a path that will bring you back up an old farmer's track to the little road you travelled along on your car.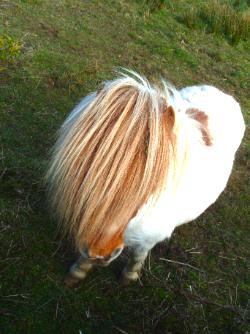 Before setting off up toward the road to search for Handsome Bob why not tarry a while to enjoy the grassy headland over the beach.
There are coastal walk benches and coastal walk benches.
Go and sit on the 'Mother-of-All-Coastal-Benches' and see if you can decipher the names of the lovers who have spooned there over recent years or been marooned in melancholia.
Back up the track, past the shed used by a local lobster man and about a mile gentle amble will bring you back to the road.
It's on the way on your way back downhill to your car that you'll find Handsome Bob, the equine Elvis impersonator.
"I than-you-vrry-mush"
---
EXTEND YOUR ABERFFRAW WALKING EXPERIENCE
As I mention above, the low coastline from Aberffraw to Rhosneigr is ideal for fishing and fantastic for gentle walks.
You can extend your stay in this area by reversing the route that I describe on my Ty Croes page. For more information Click Here.
---
Visit WESTERN ANGLESEY BEACHES.