This gentle amble to Ty Croes offers a pleasant respite from most things that ail you.
It'll take you as long as you want it to take.
As for myself, I enjoy Anglesey's beautiful sunsets.
The evening view to will present you with the delight of view the Sun sinking crimson over Rhosneigr.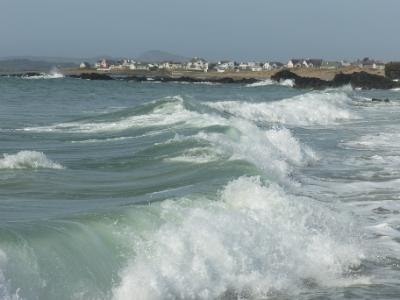 ABERFFRAW TO RHOSNEIGR COASTAL WALK
This gentle golden sand coastline stretching toward Rhosneigr is linked by the gentle rolling pasture and low shelved cliffs from Aberffraw Beach to Ty Croes. It's an easy amble and you could, if you so choose, cover a great deal of mileage.
For instance, imagine starting from Aberffraw Beach and walking North along the Anglesey Coastal Path all the way to Cymyran Beach, the other side of RAF Valley.
It's a bit of a physical slog but there is nothing unpleasant at all along the way. Plenty of ice-cream opportunities in Rhosneigr, actually.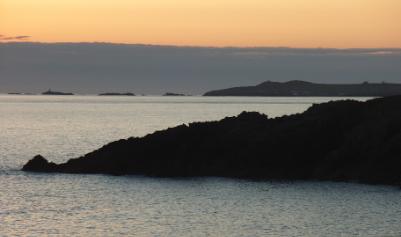 THE ROUTE
The route is pretty straightforward on the whole. Though you are temporarily diverted from the Ty Croes/Aberffraw coastline around the racing circuit.
Consider this length of Anglesey Coastal Path in either one, two or three steps:
Walk to the old camp and back. For more ...
Walk to the old camp and smuggle yourself through, make your way back to the coastal road and wait for a bus to take you back the mile or so to Cable Bay (Porth Trecastell). For More
Walk all the way to Ty Croes Camp and follow the track past the old farm and down to Porth China and St Cwyfan's Church in the Sea. Around the pleasant headland to Aberffraw Beach. Thence to the village and take a bus back to Cable Bay. For More
N.B. PLEASE TAKE CARE IF YOU ARE VISITING
A BIT LATER THAN YOU SHOULD.
TIME YOUR WALK FOR YOUR OWN SAFETY
AS WELL AS THE BEAUTY OF THE AREA.
IF LATER IN THE DAY, THEN BRING A TORCH WITH YOU.
---



FROM CABLE BAY TO TY CROES AND THEN BEYOND
It's a nice evening and the sun has finished it daily travails and is sinking down toward the horizon in crimson glory.
An amble along the coast toward Ty Croes is best started from Cable Bay carpark. If you've timed it correctly then the ice-cream van will still be there.
It seems that Cable Bay carpark was fashioned by a Neanderthal with a big club with no idea what he was doing.
Therefore, its probably best to park as low down as you can.
Look to the left and the sandlocked gate because this is where you will start your litle jaunt.
Walk along the coastline to the left of Cable Bay until you reach the old Missile Testing Base. Did I forget to mention the missiles?.
Once at the old , you are a bit bereft of Coastal Path here because you are in the environs of the private property of the Bodorgan Estate.
Sir George is the owner of the Anglesey Racing Circuit and the land upon which it rests in adventurous noisiness.
This land is private right down to the waterline.



N.B. DO NOT TRY TO MAKE YOUR WAY AROUND THE CLIFFS. IT IS DANGEROUS!
It is possible to wander about a bit here. There again, why not just sit down to enjoy the natural feast that is unravelling to your consciousness. Shut your eyes and listen to the sea.
During the day you could always bring a little picnic along with you.
When your Soul is replenished you can pootle back to the Cable Bay carpark.
If you want to know about fishing, then scroll down.
If you wish to continue then please Click Here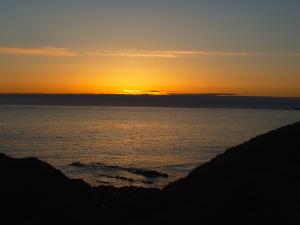 FISHING OFF THE ROCKS
If you're into fishing then the rocks about here are ideal for Bass, Mackerell or the unbiquitous Dogfish.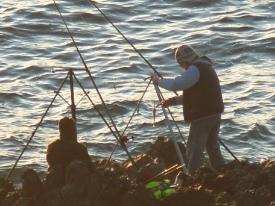 You will inevitably come across 'FAILED BAIT ABUSE'.
Most certainly you will encounter 'DOGFISH ABUSE'.
These people can be helped.
You'll have to broaden your vocabulary into the upper spectrum of the vernacular, though.
Fishing can be dangerous in the best of conditions. Add the odd bit of bad Anglesey weather and a strong swell and the entire place can be a death trap.
All the fishing guides to Ty Croes highlight the need for common sense.
N.B. IF WALKING OR FISHING ALONG THIS STRETCH OF COASTLINE THEN KEEP OFF THE LOWER LEDGES IF THERE IS A SWELL RUNNING.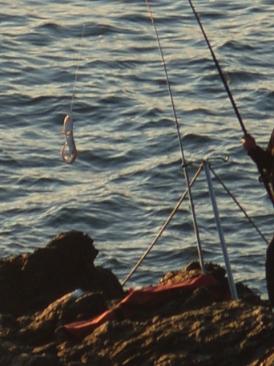 ---
SECRET LITTLE COVES
This is a gentle walk of discovery because the little secret coves that appear reveal the flotsam and jetsam from fishing boats and coastal cargo ships (Rock Hoppers).
After a good old storm the beach towards Rhosneigr can present useful little treasures to take home with you. Before now, I've used a number of fish boxes as herb continers.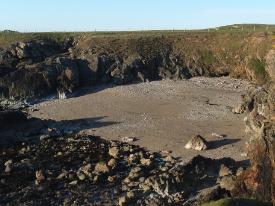 Take as much time as you want.
Stop Rushing About. Stop and Relax.
---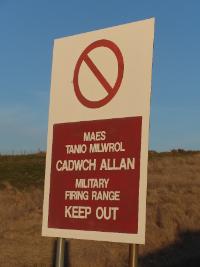 I'm sure that you'll have seen this sign from a distance.
It marks where the old Missile Base used to end and the risk of being shot began.
You're at the right spot to make it through the camp when you encounter the old concrete buildings.
There used to be the ubiquitous radar golf ball on the site. But no longer.






Follow the concrete road up through the camp enclosure. Watch out for feral sheep.
You'll arrive at another fence. Bear to the left and follow it on the outside of the fence.
About a half mile ahead you'll see the old army house that are now privately owned. Head for these. You'll come out behind them onto a concrete apron. This is where the fishermen and ladies park their vehicles.
To your right is the Anglesey Race Circuit. Head here for some motorbike or motor car racing on Bank Holidays.
On your left it's a mile or so back to the coastal road. Wait for a bus.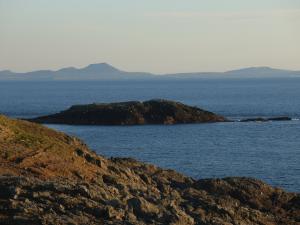 ---



FROM TY CROES TO ABERFFRAW BEACH
I'll soon divert you to a page that will take you on a very pleasant walk from Porth China to Aberffraw.
I must admit that this is one of the walks I really enjoyed last Summer. It was a lovely day with a refreshing breeze blowing from the South West across a deepest blue sea.
There had been one heck of a 'blow' (storm) the night before and other than the odd piece of seaweed that had taken flight there was no sign or damage.
So, from the Ty Croes Anglesey Racing Circuit is a very easy route and a pleasant three mile extension to the route from Cable Bay.
Again, as above, you can take a bus back to Cable Bay.
Monday to Saturday Bus Timetable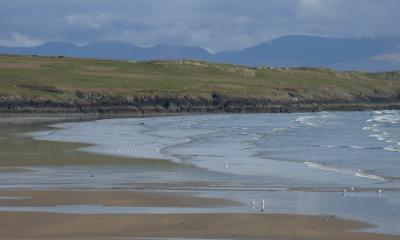 Standing on the concrete apron behind the old Army houses you can see an old farm that is now sadly dilapidated. The farm is called Llangwyfan Isaf and a little diagonal track leads down to a gate.
Taking care to shut the gate, amble down and across open fields to come across a rocky beach that is a combination of Porth China, St Cwyfan's Church in the Sea and Porth Cwyfan.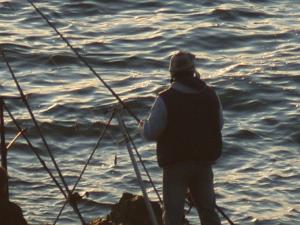 If the tide is out please take a few minutes to inspect the island church.
Though the map indicates a degree of sandiness to these beaches, I'm sorry there isn't any.
However, it's a fabulous set of ledges for fishing. An excellent reputation for Bass and Mackerell
From here on, I respectfully guide you to my specific page for this length of coastline to Aberffraw. For more information please click here ... .






---
The walk from Ty Croes is merely a small portion of the Anglesey Coastal Path. Each tiny portion draws you on to the next.
Make time to enjoy the culture, the history and the fabulous beaches of Anglesey; however, TAKE A STEP INTO THE FABULOUS ANGLESEY UNEXPECTED
---
Return from Ty Croes to Anglesey AMBLES & WALKS.
Visit WESTERN ANGLESEY BEACHES.
---