WHY ANGLESEY?
The Undiscovered
Right on Your Doorstep
Gentle Reader,
"Why Anglesey?" I hear you ask.
The Isle of Anglesey is my home and I love it so much.
The more I travel around its countryside and coast
the more resolved that love becomes.
Discover unsuspected beauty and those special moments
that will stay with you forever.
"WHY ANGLESEY?"

You CONTINUE To Enquire?
Well, Anglesey is the Hidden Gem I want to share with you BECAUSE... 

I want you to be lulled to sleep by the sound of the seashore near your rented coastal cottage
I want you to discover those magic places that will either move you to action or blissful contentment
I want you discover Anglesey beaches in sunshine, in storms and in glorious sunset
I want you to visit Anglesey to be challenged by the elements; whether sailing, swimming, surfing, windsurfing, kite-surfing or sea-fishing
I want you to enjoy Anglesey's challenging golf courses (the challenge is keeping your finer-focus when surrounded by astonishing views)
I want you to discover the Isle of Anglesey Coastal Path and return again and again to complete it
In truth, I want you to rediscover that part of your soul you keep forgetting about.
But let me be absolutely honest with you. I also want you to come to Anglesey to spend your pennies. Forgive me, if you think I'm a mercenary. I'm not.
I don't want you to suffer the hassle of long-distance travel. I want all the above for you.
Please allow me to take you on a journey around some of the places that I love. I won't reveal all because you should find your own magic places.
WHY ANGLESEY?
Well... WHY NOT?!

DINGLE BOARDWALK
& RED SQUIRRELS WALK


Listen and scan with your eyes. Why scan? The eye reacts to movement. Therefore, instead of staring wild-eyed at one spot, simply scan. If there is movement that turns out to be a red squirrel either eating or burying its nuts then your sense will pick it up.
Don't give yourself a migraine, just scan. And if they are there then you will in all likelihood see them.
So? Why Anglesey? To read more please Click Here

Return to Page Contents
---

ANGLESEY MYSTERY BEACH 
AND MYSTERIOUS NOISE


The location of this beach shall remain a mystery and yet I have no problem of you enjoying it ... if you have the good fortune to happen upon it and if you keep quiet about it.
This really was an absolutely gorgeous evening with nary a breath of wind. The air was absolutely still and there was no physical sensation other than an emotional impression such beauty can have on a person.
So? Why Anglesey? To read more please Click Here.

Return to Page Contents
---

CHURCH BAY AND A LOVELY EVENING WALK


It is at Church Bay that the Anglesey Coastal Path really begins to draw you in on the west coast of Anglesey.
The perfect balance of elements make you immediately aware of the plain fact that you are standing in an Area of Outstanding Natural Beauty.
The cliffs are distinct in that they are either tall and make you nervous or they fall away gently down to the rocky foreshore and sea.
So? Why Anglesey? To read more please Click Here.

Return to Page Contents
---

HOLYHEAD BREAKWATER COUNTRY PARK


Ambling in sunshine and blue sky around the Holyhead Breakwater Park and the high rocky path toward North Stack and South Stack is refreshing, to say the least.
There's a greedy little moorhen in the quarry pool, who will just sit there within photographic distance waiting. That's what he does. Not tame just smart.
In Spring she leads a convoy of fluffy little critters in and out of the undergrowth teaching them what's good and what's not.
The Award Winning Green Flag Holyhead Breakwater Park offers you gentle respite by the little man-made lake.
For those a bit more energetic you can extend your walk along the Rocky Coast all the way to the end of the Holyhead Breakwater.
So? Why Anglesey? To read more please Click Here.

Return to Page Contents
---

PORTH WEN BRICKWORKS


Blinkin' Flip! It's a couple of decades since I visited Porth Wen and then it was raining. But what a discovery.
The rain did nothing to blunt the desire to explore and poke my nose everywhere. Porth Wen Brickworks is a fine example of many industries that flourished, made a mint and then faded.
It's part of our Industrial Heritage and the approach along the Coastal Path is an absolute delight.
You must ... I repeat, MUST pay it a visit.
So? Why Anglesey? To read more please Click Here.

Return to Page Contents

SOUTH STACK LIGHTHOUSE


Have you ever been inside a working lighthouse? Well, this is your chance.
Give yourself and the children a delightful adventure by walking down 400 steps to the lighthouse and about a hundred upwards in a circular manner to the light.
Visit the RSPB observation center at Ellen's Tower, use their binoculars and spot comical puffins having a bit of a sleep. Enjoy the RSPB webcams.
So? Why Anglesey? To read more please Click Here.

Return to Page Contents
---

ST PATRICK'S CHURCH ON THE HEADLAND


St Patrick was shipwrecked off the Cemaes coastline in AD440 and somehow managed to make it to the shore. Thus gratified at the delay in his demise - what with all those snakes to harass - Patrick had a church built on the headland above his namesake cave.
Anglesey was well used to Saints in the 5th Century. Seen one saint, seen them all. "What's wrong with living in divine adoration of my neighbour's wife's ass?"
St Patrick's Church is a bit like a Kinder Egg, it's got a delightful and unexpected surprise inside.
So? Why Anglesey? To read more please Click Here.

Return to Page Contents
---



LLIGWY BURIAL CHAMBER




It is not until you contort your sylph-like self into Lligwy burial chamber hewn out of the solid rock that the weight of the capstone attains a certain concerning significance.
All of a sudden 25 tonnes seems immensely real.
Bent double you may find yourself making less than casual calculations about how long it would take you to escape should a few of the upright stones suddenly ... SLIP!!
So? Why Anglesey? To read more please Click Here.

Return to Page Contents
---

MARQUESS OF ANGLESEY COLUMN
"By God,sir! I've lost my leg!"


That's not something you hear every day.
When the - soon to be - First Marquess of Anglesey - had his leg blown off, there was plenty of reporting of the dangling limb but no mention of the horse.
It is always with a degree of trepidation that I enter the narrow and vertical confines of the Column commemorating both the Battle of Waterloo in 1815 and the life of Henry Paget, the First Marquess.
Reaching the top to stand on the small platform you feel suspended on nothing and your tummy seems to react to this. Mine does, anyway.
You are also rewarded with a fabulous view of Snowdonia and the beautiful Menai Straits. All for £1.50 (3,000,000 rupees).
Currently closed and awaiting funding for repairs.
So? Why Anglesey? To read more please Click Here.

Return to Page Contents
---

ANGLESEY EISTEDDFOD PROCLAMATION


One of the very best known expressions of Welsh Language and Culture is the Eisteddfod and it is a tradition of which we are truly proud.
There is of course The Royal National Eisteddfod held annually in various locations across Wales, alternating between North and South.
However, did you know that during Spring an Eisteddfod is held in each of Wales' 22 counties?
I was very fortunate recently to be able to attend the Proclamation of the 2011 Eisteddfod Môn to be held in Bryngwran. This is the Anglesey Eisteddfod and it was a fabulous Spring day with bright sunshine bathing us from a cloudless blue sky.
So? Why Anglesey? To read more please Click Here.

Return to Page Contents
---

BWTHYN SWTAN COTTAGE


Imagine an idyllic thatched and white Welsh cottage right on Anglesey's West Coast at Church Bay.
Swtan, which means 'Whiting', is an authentically renovated 18th Century cottage dressed up as it looked around 1900.
Bwthyn Swtan is well worth visiting but make sure that you spend time in and around Church Bay.
So? Why Anglesey? To read more please Click Here.

Return to Page Contents
---


THEY LIE WITH THE KING IN LLANBABO CHURCH


Like the vast majority of the churches on Anglesey, Llanbabo Church was established here around AD 460, when it appears that Christianity fell upon all parts of peripheral Britain.
Arriving on Anglesey with a vengeful zeal they dispatched Pagan gods to the shadows. The fifth Century Saints appropriated the sites and conflated the rites of the Pagan worshippers with the rituals of the new Christian Church.
Visit this rural Anglesey idyll where a King exchanged the Temporal for the Spiritual.
So? Why Anglesey? To read more please Click Here.

Return to Page Contents
---

MOELFRE & THE ROYAL CHARTER TRAGEDY


You stand safe yet feeling insecure on the Moelfre cliffs as the wind buffets you. Let the wind roar and wail as a maddened wraith seeking the sustenance of the odd human soul. What do you care?
OVER 400 HUNDRED SOULS WERE STOLEN!
"The Greatest Maritime Tragedy in Welsh History."
So? Why Anglesey? To read more please Click Here.

Return to Page Contents
---


BRYN CELLI DDU DRUIDIC GENIUS

Where else can you sit in the presence of 4000 year old memories of sacrifice and burial rituals and watch the Sun come up to mark the Summer and Winter Solstice or the Spring and Autumn Equinox?
This monument to Ancient Anglesey History is freely accessed and set in glorious Anglesey countryside. Bryn Celli Ddu is a burial chamber built over a stone henge, that is an ancient annual calendar.
YOU MUST VISIT!
So? Why Anglesey? To read more please Click Here.

Return to Page Contents

LLYNNON MILL

Anglesey is essentially flat and the prevailing south westerly winds proved the viability of milling technology on the Island.
Llynnon Mill is the only fully operational windmill on Anglesey. The Swoosh of its sails sweeping past is simultaneously exhilarating and frightening.
You may be lucky on your visit for the miller to have set the sails to work.
If it's a fine day enjoy a cuppa and fine cake at the tables outside of the delightful little mill café, the Llynnon Tea Room.
Sat here, please take the time to focus on the velocity (speed and direction) of the sail tips.
So? Why Anglesey? To read more please Click Here.

Return to Page Contents
---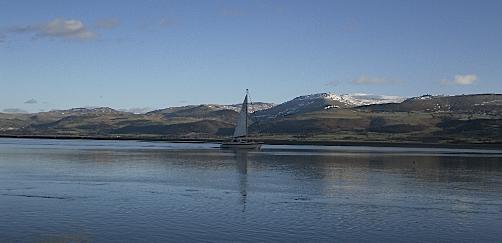 THE MOODY BLUES ON THE MENAI STRAITS


Winters on Anglesey can be harsh and were it not for these exceptionally clear brittle blue days then I really would suffer.
But this Saturday has filled in the existential void for a short while and presented me with a memory of brilliant hues. This will act as a spiritual laundromat through which I can filter inevitable tedium.
I also know that similar days will occur again. February can throw up sunshine, refreshing, yet brittle blueness and unseasonally warm days.
So? Why Anglesey? PLEASE CLICK HERE FOR INFORMATION ABOUT SAILING UNDER ANGLESEY'S BRITTLE BLUE SKIES.

Return to Page Contents
---

WHY ANGLESEY?
HOW ABOUT A CHRISTMAS DAY WALK AT CYMYRAN BEACH?


Okay! So you've goosed the fat ... or something like that now let me add a new thought to my observations on my Why Anglesey page.
The Christmas table looks like a disaster zone and you are 'Toxed to the Max!' (my new phrase). If you're like a few friends of mine then you will probably have got up at dawn's cold light.
You might also have given yourself dispensation to be naughty by pouring yourself a glass of sherry before the yardarm can even be seen.
My Dad used to toast the health (or not!) of the turkey with a glass of whiskey from about ten o'clock onwards - and carry on - and we'd always indulge him in his Freemason's toast at lunch. Which we really miss.
Nonetheless, I'd usually be the one who had chosen not to drink at lunch because I wanted a walk afterwards. It's now my personal Christmas tradition.
Living on Anglesey means that I have myriad choice of places to wander about for an hour or so before coming back for tea.
This year it is my profound desire to end up at Cymyran Beach. It's been a few months since I last paid it a visit and by now I am longing to be there.
I spent a few months this Summer heading to Cymyran straight after work to enjoy a Soul De-tox with a run along this seemingly endless beach.
I would run as far as the Crigyll River - which is Rhosneigr - and, because it was a pretty empty beach, I'd take off my t-shirt and run in my shorts.
It's been a few years since I managed to get a decent tan on my legs. I managed it this year.
All that to one side, may I respectfully propose that the designated sober person drive you all to Cymyran to have your socks blown off and de-turkified.
Please CLICK HERE for information about CYMYRAN BEACH.
While you're at Cymyran Beach, make your plans and write it all down in the sand for the tide to carry away for the Universe to make happen.
Just keep believing what you've written. CLICK HERE to learn the SAND WISHES THEORY. It's all very technical, yet so simple
---

ST GWENFAEN CHURCH AND LIFEBOAT HEROES


St Gwenfaen in RHOSCOLYN is a delightfully well-loved and well-looked after church and worth visiting to pay your respects to heroes whose mortal remains rest here.
Respectfully make your way past the graves to the back left of the graveyard.
There you will find the commemorative gravestone above the graves of lifeboat-men of the "Ramon Cabrera".
Five men named lost their lives attempting to come to the rescue of the Whitby steamer, 'Timbo which was in serious trouble in Caernarfon Bay on December 3rd 1920.
Gentle Reader, to learn more about St Gwenfaen Church and the Ramon Cabrera PLEASE CLICK HERE. 

Return to Page Contents
---

Autumn Amble To Dulas Beach


Last Autumn I returned to Dulas Bay once again because I was searching for a certain reassuring mood.
In warm and gentle evening sunshine I left the car just off the road down to Lligwy Beach and ambled along the single track to Dulas Beach.
This is a very narrow little track that eventually subsides into an old farm track and falls down past a beautiful cottage to lovely and unexpected sights.
Gentle Reader, if you wish to enjoy that evening amble to Dulas Beach right now PLEASE CLICK HERE.
You'll find out Why Anglesey? after this walk. 

Return to Page Contents


LLYS DULAS

Staggering Beauty And Thieving Seals
It's early Spring and although the trees are without leaf they create a lovely atmosphere. About five minutes later I realised that I had inadvertently – and innocently – wandered onto Llys Dulas Estate land not open to the public.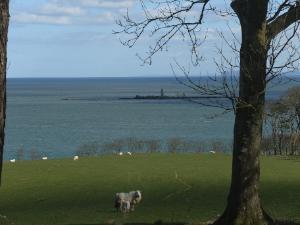 So I made my way back to the road, arming myself with a decent excuse and good manners ready to engage with any armed gamekeeper I might encounter.
Above you now and near the horizon is Ynys Dulas. Or 'Seal Island', as some visitors choose to call it – much to the chagrin of us locals.
Nonetheless, it is an accurate description because it is the home and nursery for the Grey Seals, the bane of all anglers along this coastline.
You can usually hear the foul language issue northward from those fishing on Lligwy Beach ...
Once again, Gentle Reader, may I invite you to walk with me along this astonishingly beautiful Llys Dulas Coast JOIN ME TO DISCOVER WHY ANGLESEY? BY CLICKING HERE.
---
---
Return from Why Anglesey? to the Anglesey-Hidden-Gem.com HOME PAGE. 

---