Like the vast majority of the churches on Anglesey, Llanbabo Church was established here around AD 460, when it appears that Christianity fell upon all parts of peripheral Britain.
Arriving on Anglesey with a vengeful zeal they dispatched Pagan gods to the shadows.
The fifth Century Saints appropriated the sites and conflated the rites of the Pagan worshippers with the rituals of the new Christian Church.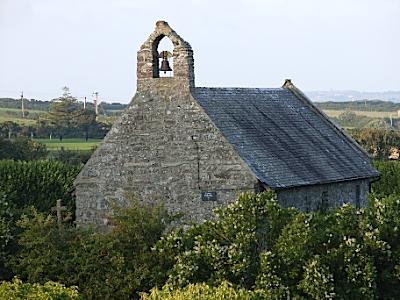 The church lies in isolation in the heartland of Anglesey, about half way up Llyn Alaw (Alaw Reservoir) on its left. The remoteness of its location renders it a bit difficult to find; however, the route is straightforward, but requires a bit of nerve. (Route below.)
Other than a nearby farm, it's isolation is compounded by the deep rural silence and its location in a dip in the landscape.
What specific Pagan rites were practiced here is not known. They would probably have been a derivation or a shadow of those practiced under the guidance - or was it control? - of the Druids
---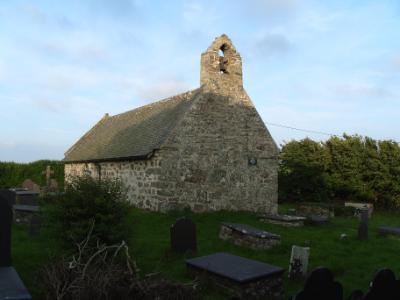 REGAL AND SAINTLY PABO
It is thought that Pabo was born circa AD474 and was the son of a Scottish chieftan. Pabo died on 9th November AD 530, and so this is the date of his Feast Day.
A gravestone discovered in the graveyard of the Church sometime during the mid to late 17th Century is believed to be that of St Pabo or King Pabo, as he once was.
This stone can now be inspected inside the church and discovered to bear the legend 'Hic Iacet Pabo Post Prud...' - 'Here Lies Pabo Post Prydein'.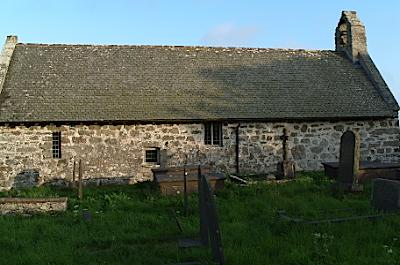 This title of 'King' is derived from two main sources. The first is the effigy on Pabo's gravestone inside the church.
Pabo appears to be wearing a crown and holding a sceptre. These are the traditional insignia of 'Kingship'.
Secondly, and more apparent is the legend that Pabo Post Prydein was the 'Pillar of Britain' or 'The Bulwark of Celtic Wales' against the Picts (Scottish Tribe).
Although his resting place is now in Llanbabo Church, in his former role as King, Pabo's kingdom was in the Pennines, in central Britain, which he defended against the said Picts.
St Pabo turned his back on his warlike ways and travelled here to Anglesey where he founded his church.
---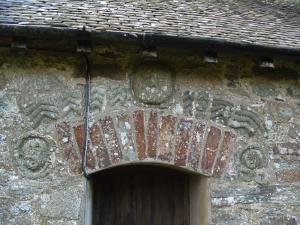 FACES FROM THE PAST
On approaching the church door you will inevitably notice three faces carved in the stones surrounding the door.
Local tales propose that these are the faces of Pabo and his son and daughter.
This attribution probably arose following the discovery of Pabo's gravestone directly opposite this south wall door.
---
THE DEVIL AND RIGHTEOUS TESTIMONIALS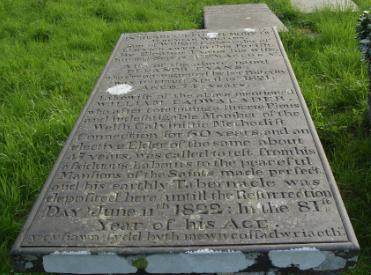 Please do take your time while you're walking about Llanbabo Church to inspect the gravestones.
The detailed testimonials engraved on some of the tombs is an endeavour to ensure a person's reputation endures beyond his or her passing. It could be surmised that such writings indicate an uncertainty about the next life and maybe it is only here while alive that we can make our mark.
Nonetheless, no matter how hard we endeavour to leave that mark - by act or engraving - in but a few generations we will surely be forgotten.
Generations of families lie side by side in Llanbabo Church graveyard sailing together once again, into an unknown, uncertain eternity.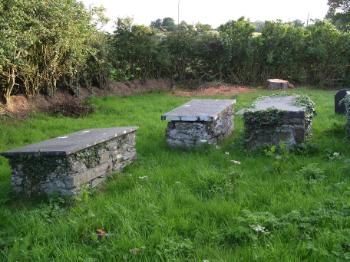 All the time, as you nose around from grave to grave,
the Devil is Watching You.
Though I have never seen it myself, it is alleged that the face of the Devil has been cut into a stone embedded in the boundary wall. No matter how hard I've searched I cannot find it.
Maybe that means I'm not spending all my time looking for the Devil everywere. Or that I cannot recognise the Devil and his works.
Thereby, I am puttng my Soul in danger of eternal damnation by this ignorance.
If you spot it, please let me know by Clicking Here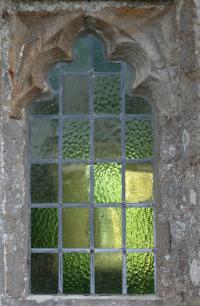 FINDING YOUR WAY TO LLANBABO CHURCH
As I mention at the top of the page, Llanbabo is located in a very rural spot. A lovely rural spot, at that.
Please believe me when I tell you that it's not at all difficult to find your way to Llanbabo Church. You have to keep your nerve, though.
The obvious advice is to buy yourself Ordnance Survey Map 114. However, it'll be a bit more fun to do it my way.
Right, Here We Go,
START IN LLANGEFNI - Head or Bodedern. After 2 miles you'll travel through the small village of Bodffordd, then the hamlets of Llynfaes, then Glanrafon.
Just over a mile from Glanrafon is Trefor, a crossroads with a chapel on the right. Carry on for a half mile.
Down the hill from Trefor in the dip is a turning on your right. This is signposted LLYN ALAW. TURN RIGHT HERE.
Follow this road for about 3 miles until it ends at a junction. TURN RIGHT.
After 1 mile or so you'll find the first right turning. Take this. You'll find a cottage called, Bedd y Wrach on your right. (This means, 'The Witch's Grave).
Follow this road until you find a junction on your left by a church. TURN LEFT HERE.
Follow the road and this will eventually bring you to Llanbabo Church. Take no left turnings.

It's in a dip on your right. Just enough space to park on the left side of the road. Take Care because it's a BLIND CORNER behind you.
You have passed Alaw Reservoir on your way. Pop in for a visit on your way back.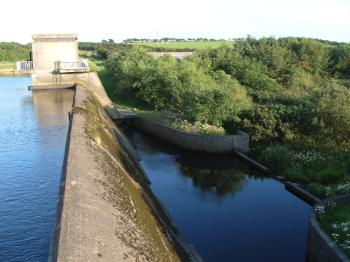 ---
STAYING ON ANGLESEY
The joy about staying on Anglesey is that it is an island. Not far across and not too far from top to bottom.
Rural roads criss-cross the Island and so everywhere is in reach of everywhere else. Although they can be tricky and that's part of the Holiday Fun.
Therefore, it does not matter where you stay. Whether it is near the gloriously sandy beaches of the West and East Coasts, or in the heart of the Island. You are never far from somewhere of great interest.
Let us know how it goes. Write your own report here
---
Return from Llanbabo Church to HOME PAGE.
---