LLANGEFNI



The Red Squirrel Market Town
For a bit more on the 2018 Llangefni Click Here.

WELCOME TO LLANGEFNI. 
This is not an extraordinary town, it's just a very pleasant place. It is the administrative heart of the Island of Anglesey and the major market town in its heyday. It is the ideal place for much of your heavy duty shopping.
All roads lead to and from this market town and so it is a grand place from which to begin your Anglesey Adventure.
So start with the Dingle Boardwalk and go spot for yourself a Red Squirrel.
FACT: There are more banks in Llangefni than all the rest of the Island put together. Four in Llangefni against two in Holyhead.
Thank Heaven for the Post Office where you can access your cash and carry out most of your household financial matters.
MARKET TOWN
DINGLE BOARDWALK & RED SQUIRRELS
ORIEL MÔN GALLERIES
SHOPPING

NOTHING EXTRAORDINARY - JUST LOVELY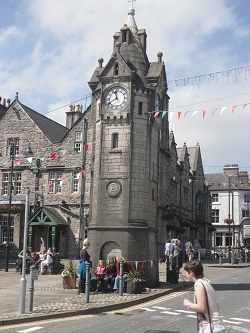 www.anglesey-hidden-gem.com Llangefni Clock & Town Square
One of the greatest gifts to the people of Anglesey is the isle of Anglesey Coastal path and we are happy to share it with the many thousands who have set themselves the objective of completely circumnavigating Anglesey.
For me, there is another gift I visit regularly.
That other gift is the Dingle Boardwalk starting by the Church of St Cyngar in town.
And it is a gift that keeps giving.  It is a place where people meet well and where rusty little critters stay their travails an instant and gaze upon us as if we were merely ghosts traversing their reality.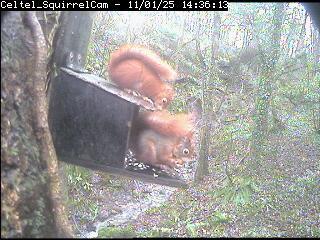 Red Squirrels - The Eyes have it
I know where the red squirrels are and love to bring friends – or other ghosts - to see them. One lovely danced a merry jig of delight when one tarried on a branch above her and looked directly at her.
If you haven't seen one of the Anglesey Red Squirrels before then prepare to be overjoyed when you do. They carry within them a near-human curiousity, astonishing agility and a cuteness that will leave you as beguiled as a child.




SHOPPING AND EATING

IN LLANGEFNI




I don't live all that far away and do most of my shopping in Llangefni. We have Asda, Aldi, Lidl, Iceland, Home Bargains and a plethora of traditional business including artisan bakers and a butcher whose family has been here for it must be a hundred years or so now.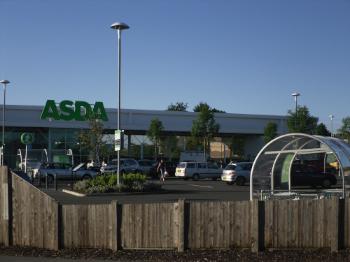 Cobblers. We have a cobbler, a town clock and a sports centre, Plas Arthur Sports Centre. We also have the best double egg and chips with bread and butter cooked anywhere in the known cosmos. Hand cut chips – like your Mum used to make - in the Mona Café opposite the town clock. The Bull? Good eating and the Avondale Café has been there longer than any other shop quite possibly
Every Thursday and Saturday is market day and they are busiest in the mornings, as if people visit it and shop early to bring a momentum to their day's activities. A shopping and gossiping slingshot as it were.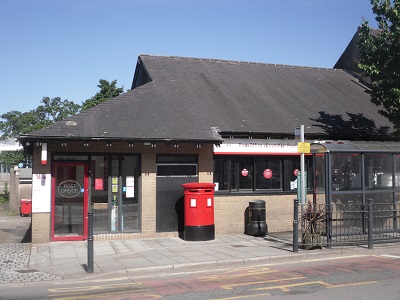 For more information about shopping, eating and businesses in Llangefni -

Click Here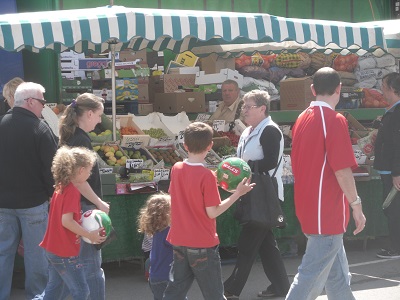 ---

THE DINGLE BOARDWALK, RED SQUIRRELS
& NANT Y PANDY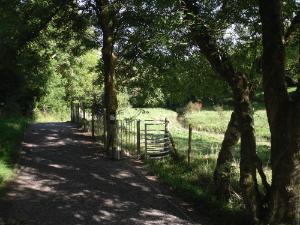 Nant y Pandy Foot and Cycle Path
Llangefni lies in a shallow valley that follows both the River Clai and River Cefni.
The River Cefni strikes on the Clai near the centre of the town after falling down through the obvious woodland called by locals as Y Dingl or The Dingle.

The Dingle Nature Reserve and boardwalk is probably the main tourist attraction in Llangefni, for the resplendent natural beauty as well as the Red Squirrels.
The boardwalk affords a level wood, gravel and then concrete surface for moving through the woodland and will, if you so wish, lead you to the Cefni Reservoir which is a mile and a half from the town centre along a very good and very level pathway.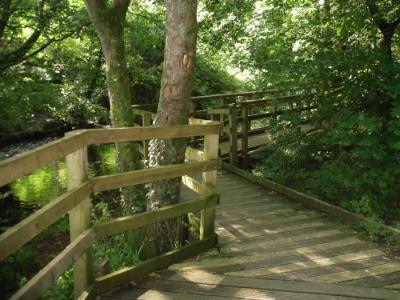 www.anglesey-hidden-gem.com Llangefni Dingle Boardwalk
A gentle walk will take you well away from the bustling town and into wonderfully gentle and interesting woodland full of sounds and sights guaranteed to delight, whatever the season.

Please CLICK HERE to read more ...
Llangefni Dingle Walk to Llyn Cefni Reservoir  June 2019
Please Click Here to read and see more...
---

ORIEL YNYS MON


Anglesey's Centre for Art and History and home to Sir Kyffin Williams and Charles Tunnicliffe Galleries at Oriel Ynys Môn and regular exhibitions by Welsh artists.
Anglesey's history investigated by artefact and stories. Exhibitions reaching back through living memory, a few centuries and then thousands of years into a past beyond the arc of known history and only 

For More Information About Oriel Ynys Mon. Please Click Here...
I would also guide your attention to Melin Llynnon in Llanddeusant of you are interested in history and would not choose to forgo a nice tea and cake.
---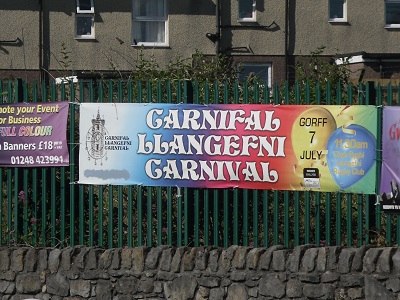 LLANGEFNI CARNIVAL


Last year's carnival was quite a surprise.
Beautiful ladies in skimpy dresses and barely-there bloomers led the Llangefni Carnival parade.
It felt like the Plas Coch Disco days again. Maybe not that bad. Nothing could ever be that bad. Could it?
Thankfully, decorum, propriety and good standards were maintained by our unique Master of Ceremonies - and local Baron Samedi - Mr Derek Taylor.
2019 Llangefni Carnival Cancelled
Sadly, there will be no Llangefni Carnival this year. One of the main reasons for its cancellation is the loss of one of the driving forces behind the much-loved event, Mr Alwyn Rowlands.
Alwyn was highly respected by many people because of his daily work and also as a communitarian. His loss will be felt by many.
The Llangefni Carnival will be back next year.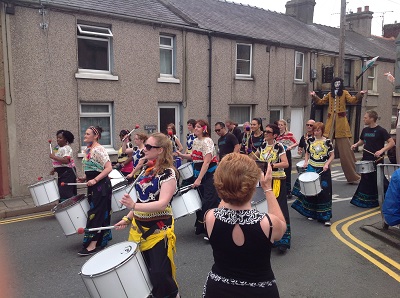 ---
RIVER CEFNI WALKWAY & CYCLE PATH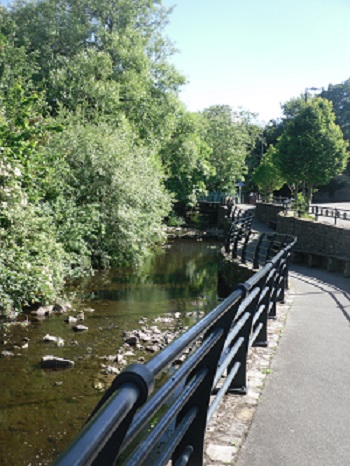 This is the lovely path adjacent to where the market settles down twice a week on the traditional Thursday and now on Saturday. 
Ahead is a blue-green bridge and when you cross that you will be on the cycle path from the Dingle Boardwalk and past Asda.

For many, this is also known as the Cefni Cycle Path - Lon Las - and should you venture further, it will bring you out in Malltraeth near Newborough. It is a distance of around five miles.
The cycle path runs parallel alongside the River Cefni as it makes its way under the A55 Expressway, across the A5 and along Cors Ddyga  to the west coast road at, as mentioned above - at Malltraeth.
A great many cyclists and hikers choose to stop for a tea and sandwich at the Cafe Mona caravanserai and you will know this place by the bikes parked outside.



---
Do get in touch
Do you have a great story about this to share or a question to ask? Yes? Then please write it in the box below.
What Other Visitors Have Said
Click below to see contributions from other visitors to this page...

Llangefni Carnival July 7 2018 - Confident Beauty, Fun and Cat Steals a Van

Dear All Llangefni Carnival was a triumph of beauty, blue skies and wonderful joy yet again this year. Those of us who remember such extended period …
---
Go to Llangefni Shopping & Facilities
Return from Llangefni Main Page to the HOME PAGE.
Visit Anglesey Ancient History 
---