LLANGEFNI FACILITIES
All you need in one place.
So, why make life complicated for yourself?
Llangefni is the county town of the Isle of Anglesey and so it has most of the facilities that you would expect and probably a few more that add to the character of the town.
Not mentioned on this page is the sports centre, Plas Arthur with its large swimming pool that is ideal for those very rare days of rain on Anglesey.
So below I list a sense of the facilities and shopping available to you in the town.

EATING IN LLANGEFNI


Llangefni Bull Hotel
The Bull Hotel: Here since about 1850 and a Grade II listed building. I had a meal here about a month ago with Madame X and it was lovely. Nice ambiance and the staff members are very warm and helpful.
Excellent coffee for between meetings or for when you have just about had enough of Every One and Every Thing.
It is of course a perfectly decent and functioning hotel for those very short breaks to Anglesey.
A bit of history about the Bull Hotel for you: Click Here...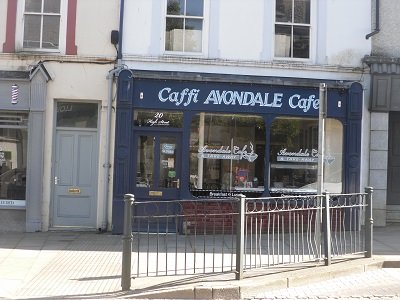 Avondale Café
Avondale Café: In its original guise this café has been here maybe as long as Mona Café. It was sold out of the family a number of years ago and subsequently re-opened as a good old British café and takeaway.
Open early in the morning and across lunch but closes in the early afternoon. Busy on weekends, which is always a good indicator.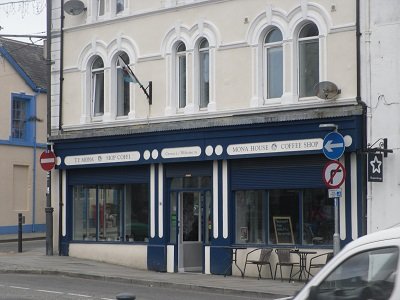 www.anglesey-hidden-gem.com - Llangefni Mona House Café
Mona House Café: Probably the best double egg and hand cut chips with peas - or beans - bread and butter and pot of tea anywhere this side of Messier 51. One of those places where you realise just how much you miss your Mum when the plate arrives.
Honest, light, clean and decent with a straightforward menu, a grand view of the high street and lovely staff. I am not generally asked what I want to eat, just how many slices of bread I want with it.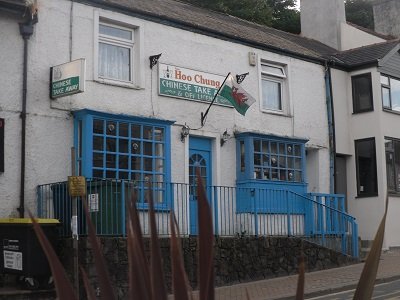 Siop Huw - Chinese Takeaway
Hoo Cheung: Chinese Takeaway. The very first alternative food shop in Llangefni - many years ago now.
The owner and cook is affectionately known as Hugh and closes his shop about half nine in the evening and heads a few doors up to the Railway Inn for a pint. Hugh knows his customers and has got it sussed.
Aran Fish & Chips
Aran Fish & Chips - Changed hands a year or so ago, but this has had no effect on quality or popularity of this excellent chip shop. You won't starve on these portions.
Locals end up queuing outside the shop on weekends (even in Winter). Really, really good fare. If you only eat fish and chips now and then for health reasons then this is the one to break your fast, believe you me.
It begs the question really, why does Dewi go to Moelfre for his fish supper when he has a perfectly serviceable chippy just down the road from his house? Go figure.
Opened originally by Mr and Mrs Cynfarwy Griffiths' granddaughter and her husband and is now in new and very capable hands, as I write above. A great place to come across people you haven't seen in a while I have just discovered.
---


LLANGEFNI SHOPS
Llangefni Becws Bont Artisan Baker
Becws Bont - Artisan Bakery: Exactly what it says on the sign, an artisan bakery.
You can get hold of good bread from some supermarkets these days; however, bread is no longer allowed to prove as long as it really needs to make good bread. You don't realise how good bread can be until you visit an artisan baker.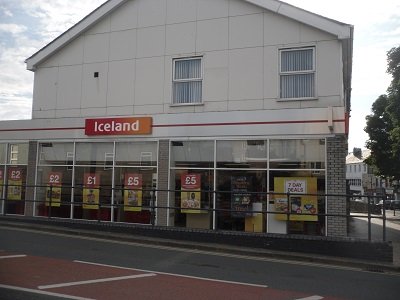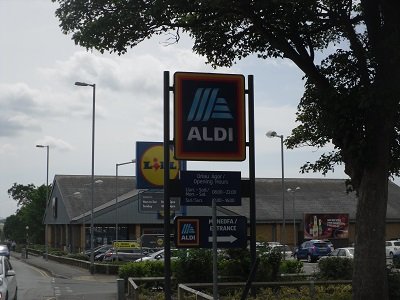 ---



INDEPENDENT SHOPS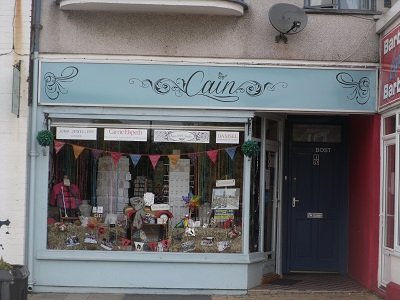 Cain: A lovely shop just down from the town clock and a lovely place to go shopping for gifts.
Y Cwt Blodau: Every town needs a florist and thankfully Llangefni has one, I am glad to say.
You will find it just down from the post office and opposite DC Williams & Son Furniture Shop.

NEAREST PETROL & DIESEL


Llangefni: 
Esso Petrol Station - Drive from The Bull Hotel for the A55 Expressway, under the railway bridge  and it's about a quarter mile ahead on your left. 

Carry on into town and find the ASDA superstore which has a petrol station.
Gaerwen:
Head through Gaerwen on the old A5 toward Menai Bridge - past the chip shop - the petrol station is at the very end of the village.

These are the obvious sources of petrol or diesel. However, if the fan has been hit by industrial action or similar then drive through Gaerwen until you get to Llanfair PG. The petrol station is ahead, just next to the primary school on your left.
Keep driving and you will eventually arrive in Menai Bridge and the petrol station is right on the roundabout.
N.B. If you miss any of the above petrol stations then you really shouldn't be driving, should you?
---

NEAREST PHARMACY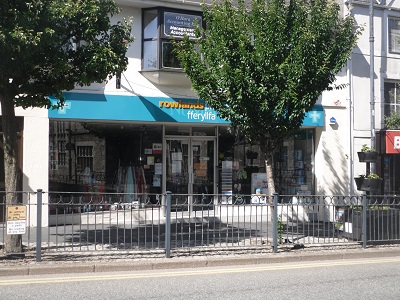 Rowlands Chemist - Pharmacy
Rowlands Chemists is found opposite the Bull Hotel. It used to be called RR Jones and had a sister shop in Amlwch.
Boots the Chemist is on the opposite side of the road and just down from the pedestrian crossing.

---



POST OFFICE &

BANKS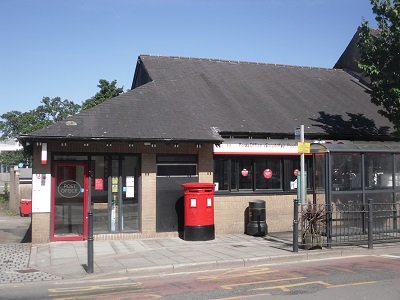 Anglesey Post Office

Remember that you can always draw money across the counter in any post office if your bank has an arrangement with Post Offices Ltd.
Rural post office survive or die because of your custom, so please buy something while you're there.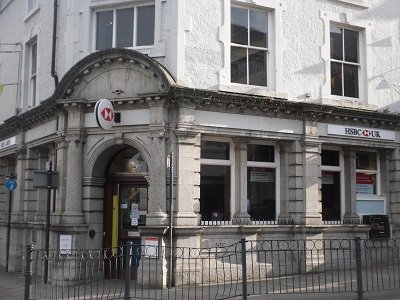 HSBC Bank
Lloyds Bank, HSBC are on the High Street
Natwest is on the road out of town for the A55 past the Bull Hotel
Barclays Bank is next door to the Post Office
---

NEAREST TOILETS


Public Convenience - Come up from the town clock and turn right at the Iceland store. The toilet is on your right.
Asda - There is a loo for customers at the back right hand corner of the store. You'll find it by the bread area.
---

PARKING


Beside the town clock
Take the turning to your right by Iceland.
By St Cyngar's church
Near the big flats on the one-way system.




---
Do get in touch
Do you have a great story about this to share or a question to ask? Yes? Then please write it in the box below.
---
Return from Llangefni Facilities to Main Llangefni Page.
---

---