ANGLESEY NEWS

What's Happening On Anglesey
Sleepy little Isle in the Irish Sea? Not on your Nelly. There's Plenty happening on Anglesey.
Allow me to share with you the news about what's been going on here on the Island. Or what's about to happen.
Some of it Good. Some of it Bad.
Some of it Glorious. Some of it PURE MISCHIEF!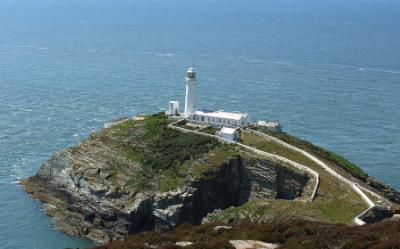 ---
SCROLL DOWN FOR THE LATEST NEWS
OR
CLICK HERE TO GO STRAIGHT TO LATEST NEWS
THE YEAR SO FAR
There is a Chinese curse that seems to sum up events here this year,
"May You Live In Interesting Times."
Well summed up, I'd say. But that does deny some lovely things that have been going on.
For instance, Anglesey remains Staggeringly Beautiful and will continue to be so - as long as plate tectonics and Man's contaminating hand are stayed.
When the weather was good this Summer, it was excellent. When it was wild, it was brilliant.
Now we look forward to a beautiful Autumn to give us the spiritual strength to cope with a British Winter. Just like when I'm in my car, all things will pass.
The bad days allow you to thoroughly enjoy the good days.
---
---
LLANGEFNI MAN FALLS THROUGH ALASKAN LAKE ICE

DAMOCLES MAY HAVE TO RETRIEVE HIS SWORD FROM VALLEY

RAF VALLEY - CAN COURAGE BE CONTRACTED OUT?

SANTA CLAUS MAY RIDE FROM AMLWCH ONCE AGAIN

COOL MILLION FOR COOL CEMAES BAY

BEAUMARIS PIER – THE LONG & SHORT OF IT ALL

CONTROVERSIAL COUNCILLOR HANGS UP HIS HAT

WELSH ASSEMBLY POURS COLD WATER ON WYLFA PROPOSALS

WYLFA NEWS BRINGS A SIGH OF RELIEF TO ANGLESEY

BEAUMARIS MARINA FLOATS BACK TO THE SURFACE

---
KEEP UP TO DATE WITH THE LATEST NEWS FROM ANGLESEY
I'll be updating and growing this site with more and more of our experiences here. Please subscribe to my monthly e-zine so you don't miss a thing.
LLANGEFNI MAN FALLS THROUGH ALASKAN LAKE ICE




April 24 2011

Andrew Weare Late of Llangefni Lives To Tell The Tale. Apart from his faithful dog, Sable, Andrew was entirely alone when he crashed through the thawing ice, and was suddenly submerged in water.

There were no creaks or cracks to warn him of the plunge. His feet never did touch the bottom, he said. CLICK HERE TO READ MORE...
---
DAMOCLES MAY HAVE TO RETRIEVE HIS SWORD FROM VALLEY




February 8 2011

It looks like the multi-billion deal to sell off the nation's Search & Rescue service to a multi-national conglomerate has collapsed.

Soteria has been found out. It appears that they had been using information obtained (allegedly) illegally during the negotiations.

So the Damoclean Sword that hung over the future of the RAF Valley Search & Rescue 22 Squadron has been withdrawn.

CLICK HERE TO READ WHY ANGLESEY PEOPLE ARE DELIGHTED...
---
RAF VALLEY - CAN COURAGE BE CONTRACTED OUT?




December 14 2010

It is proposed – read definitely – that the Search & Rescue helicopters and rescue services are going to be sold off to a private consortium, partly French and Canadian called Soteria.

The private consortium will take over the entire Search & Rescue fleet from 2012 as part of a Private Finance Initiative (PFI) deal that will eventually be worth somewhere in the region of £7 billion.

CLICK HERE FOR MORE ON THIS STORY...
---
ANGLESEY ALUMINIUM PLANT FOR SALE




November 24 2010

If you want to buy a plant you don't necessarily have to go to a Garden Centre.

Got £10million to spare then why not put in a bid for the Penrhos Site of the former Aluminium plant in Holyhead.

You won't get the entire site because Anglesey Aluminium will continue to use the aluminium smelting pot lines; however, that does leave you with a substantial amount of the site available for industrial use.

CLICK HERE FOR MORE ON THIS STORY...
---
SANTA CLAUS MAY RIDE FROM AMLWCH ONCE AGAIN

September 25 2010

It's also quite a long time since I saw Santa Claus ride into town on one of the very last trains from Amlwch to Llangefni Railway Station.

Anglesey County Council has now cleared away one of the major obstacles to Santa's return. The County Council's support for the project to open the line to Amlwch comes as delightful news for Anglesey Central Railway supporters.

CLICK HERE FOR MORE ON THIS STORY...
---
COOL MILLION FOR COOL CEMAES BAY

September 23 2010

The Good News For Cemaes is that it owns a piece of land at Wylfa Head that Horizon will need during the projected Wylfa B construction phase.

The villagers supported the sale of land in what will be a Win-Win deal for them. The sale of 35 acres of land will bring in £30,000 an acre, amounting to a cool £1.05 million. It is hoped that deal will be completed by the end of the year.

CLICK HERE FOR MORE ON THIS STORY...
---
BEAUMARIS PIER – THE LONG & SHORT OF IT ALL
September 20 2010
Plans for refurbishing the pier and placing a new pontoon for landing at the pier end were initially welcomed, as it would improve present landing at the pier's end. However, proposed plans to remove the pontoon during the winter have raised the hackles of councillors during the last council meeting.
The proposition is that the pontoon would be removed during the stormy months to save it from damage. The steps down to the missing pontoon would be locked during the day to stop casual landing and when the pontoon was in absentia.
CLICK HERE FOR MORE ON THIS STORY...
Return to Latest News Contents
---
CONTROVERSIAL COUNCILLOR HANGS UP HIS HAT
September 20 2010
It's been a while now since Councillor Fowlie stepped down from his role as Leader of the Isle of Anglesey County Council. He now stands down as a County Councillor for the Ward of Rhosneigr because of ill-health.
During his tenure in the Leadership role, Councillor Fowlie found himself mired in a great deal of conflict between the various political groups that make up the Council.
CLICK HERE FOR MORE ON THIS STORY...
Return to Latest News Contents
---
September 4 2010
Further indication that an ill wind that brings the rain does no good to anyone other than the vegetables in my garden is once again proved to be true.
A number of North Wales beaches have lost their Blue Flag status despite the efforts of Councils, Environment Agency and Welsh Water. ...
CLICK HERE FOR MORE ON THIS STORY...
Return to Latest News Contents
---
September 4 2010
Cyanobacteria love nothing better than consistently warm conditions and an abundance of nutrient.
The conditions at Llyn Cefni are now practically perfect for this blue-green algae and consequently Environment Agency Wales have declared that the amount of algae is above the safety threshold ...
CLICK HERE FOR MORE ON THIS STORY...
Return to Latest News Contents
---
August 31 2010
In these troubled economic time with the current government promising stinging cuts in public service funding, it's no exaggeration to state that the people of Anglesey are nervous about the proposed Wylfa New Build.
The work generated by the eventual operation and maintenance of the proposed 3,300 Megawatt station from 2020 would guarantee 800 permanent jobs to rise to about 1,000 and financially would bring in about £8billion into the local economy. This is a staggeringly important project for Anglesey.
It's been long months now since Horizon Nuclear Power declared Wylfa as their preferred site for building a nuclear power station and the Government's implied tentative policy on new nuclear power stations is worrying.
CLICK HERE FOR MORE ON THIS STORY...
Return to Latest News Contents
---
GOOD NEWS FOR ANGLESEY ALUMINIUM
February 25 2010
This week Peter Hain, Secretary of State for Wales, stated that he was in discussion with manufacturers of Wind Turbines to set up a manufacturing base at the defunct Penrhos Aluminium Aluminium Smelter in Holyhead.
Of course, this comes as very good news an area that has been devastated by the loss of around 700 jobs employment in the last year.
Mr Hain said that Anglesey now had the potential for becoming a significant player in Green Technology.
CLICK HERE FOR MORE ON THIS STORY...
Return to Latest News Contents
---



LIVES PUT AT RISK BY LIFEBOAT HOAX CALLER
January 4 2010
I believe that if you've read my Moelfre page that you'll be fully aware of my enormous admiration and respect for the crews of our lifeboats.
These ordinary people, both gentlemen and ladies, willingly venture out into some appalling seas to rescue the unfortunate and foolhardy. Down the years Anglesey has seen astonishing acts of courage by our crews.
I was genuinely appalled to learn that over the New Year weekend hoax transmissions put the lives of three crews in danger by calling in to claim that a craft was sinking off the Anglesey coast with three people on board.
For RNLI crews a call-out is call-out until they are either ordered by the Coastguard to stand down or conditions are too appalling to continue. It is a frequently recorded fact that returning to station while people are in danger is not in the character of these crews.
Remember that in October 1959 the crew of the foundering Hindlea were taken off by Coxswain Richard 'Dic' Evans and Moelfre Lifeboat as the ship was breaking apart at the foot of cliffs by the village. This rescue was performed in full view of the villagers on the cliffs by a crew of four in a substitute lifeboat and in appalling sea conditions.
To falsely claim that a craft lay is in danger has to be regarded as a vicious sin in itself. It is the fact that it was a contrived act which could jeopardise the lives of the crews that evokes my seething anger. Respectfully put aside the well-rehearsed logistical effort between Coastguard (MCA), Search &Rescue helicopter from RAF Valley. Moelfre, Holyhead and Rhyl Lifeboats were all victims of hoax transmissions.
As part of their normal practice in search and rescue situations, Coastguard officers had to scramble along and down cliffs to investigate beaches in the area. You will yourselves be aware that the New Year weekend was ferociously cold, which would have made for treacherous conditions for the rescuers.
The Moelfre lifeboat carried out an extensive three hour search of the indicated area, finding nothing. Because of wind conditions the lifeboat was not able to return to its station and was obliged to remain off-station in Porth Amlwch (Amlwch Port) for 48 hours.
Mr Michael Williams, Moelfre's Second Coxswain, says now that the stations mentioned are aware of the hoaxer they will employ modern technology to target him/her should another hoax transmission be made.
WELSH ASSEMBLY POURS COLD WATER ON WYLFA PROPOSALS
NOVEMBER 10 2009
The Welsh First Minister and Economic Development Ministers declared a distinct lack of enthusiasm to yesterday's positive news about Wylfa Nuclear Power Station during BBC television interviews. CLICK HERE FOR MORE ON THIS STORY...
Return to Latest News Contents
---
WYLFA NEWS BRINGS A SIGH OF RELIEF TO ANGLESEY
NOVEMBER 9 2009
A great many nuclear power supporters on Anglesey will be resting a bit more comfortably this evening reflecting on the statement by the Secretary of State for Energy and Climate Change, Ed Milliband. Mr Milliband today listed ten locations in the United Kingdom as approved sites. ANGLESEY IS ON THAT LIST. CLICK HERE FOR MORE ON THIS STORY...
Return to Latest News Contents
---
November 7th 2009
It has been suggested in the local newspapers that Anglesey is one of the locations best placed to be chosen by the Prison's Minister to hold one of the Government's new prisons. CLICK HERE FOR MORE ON THIS STORY...
Return to Latest News Contents
---
PROPOSED BEAUMARIS MARINA FLOATS TO THE SURFACE ONCE AGAIN
November 7th 2009
Proposed changes to the 1962 Fisheries Act could mean that the application to build a brand new 450 berth marina in Beaumaris is back on the agenda.
The Courts of Appeal found in favour of the local mussel fishing companies and against the application that was permitted by Anglesey County Council; it was sent to the boondocks. NO further appeal to be allowed.
However, proposed amendments to the above Act that might be incorporated into the current Marine & Coastal Access Bill could result in both Marina and Mussel Beds having to live together. CLICK HERE FOR MORE ON THIS STORY...
Return to Latest News Contents
---
October 29 2009
THE KING IS DEAD! LONG LIVE THE KING! Actually the last King of Bardsey died in 1927 and his crown was sold off.
What was once a piece of historical kitsch and patronising of the peasantry has now somehow been transformed into national significance. Oh dear! CLICK HERE FOR MORE ON THIS STORY...
Return to Latest News Contents
---
ANGLESEY RED SQUIRRELS CHOOSE TO BURY THEIR NUTS ELSEWHERE
October 29 2009
It looks like some of the latest creatures to settle here on Anglesey are already getting itchy feet.
Dr Craig Shuttleworth from Friends of Anglesey Red Squirrels and his conservation colleagues have discovered that a small number of red squirrels might have set up home on the other side of the Menai Straits at the lovely Treborth Woods and in the Faenol Estate. CLICK HERE FOR MORE ON THIS STORY...
Return to Latest News Contents
---
ANGLESEY WINTER SHOW
It'll soon be time for the Anglesey Winter Show and how time has flown since the last show.
It will be held at the Mona Showground on Saturday and Sunday 28th and 29th of November 2009. CLICK HERE FOR INFORMATION...
Return to Latest News Contents
---
FAIRTRADE MARKET STALL IN LLANGEFNI
If you're like my sister-in-law you did your Christmas Shopping in August or even in the post-Christmas Sales last year.
However, not all of us that are that focussed or organised and it all ends up as a bit of a mad panic. That me I'm talking about. You as well?
This year I'm going to choose and buy my gifts reasonably early and see if I can help the TEARFUND charity and further FAIRTRADE by doing some – if not most – of my shopping at Llangefni Market. CLICK HERE TO LEARN MORE...
Return to Latest News Contents
---
HAS EVERYONE YOU KNOW MANAGED THE DIGITAL SWITCHOVER?
October 29 2009
You may well have switched on to digital broadcasting and made the simple changes that are required. Good for you! But do you know anyone who hasn't yet?
Do you know someone who just doesn't understand the technology or the very idea of ? Do they realise that unless they engage with digital television that they'll have no television to watch before very long? Elderly and disabled people do tend to depend on television for their entertainment far more than the rest of us. So let's make sure that it continues for them. CLICK HERE TO LEARN MORE...
Return to Latest News Contents
---
"NAME AND SHAME DISREPUTABLE COUNCILLORS," IS THE CRY
October 22nd 2009
County Councillor Peter Rogers revels in the description of him as a 'Maverick'. It's true that Cllr Rogers tends to fire from the hip regularly, but one other thing that has been consistent about him is his call to name those county councillors who continue to bring the County Council into disrepute. CLICK HERE FOR MORE ON THIS STORY...
Return to Latest News Contents
---
HOLLYWOOD TITANS FEAST ON ANGLESEY OYSTERS
October 22nd 2009
It doesn't get much better than this. Being a Hollywood actor means that you are feted wherever you go and can have the pick of almost anything that you regard as attractive.
There you are, you've just finished a tough morning acting and Swanning about on the sand dunes of Newborough pretending to fight one-eyed giants and glad that there are no Gorgons among the heavenly local ladies. CLICK HERE FOR MORE ON THIS STORY...
Return to Latest News Contents
---
MP CALLS TO BAN LOW-FLYING RAF PLANES
October 22nd 2009
Elfyn Llwyd, who is the Member of Parliament for Meirionydd, has called for an outright ban on all RAF low-flying in Wales.
Mr Llwyd believes that the RAF should conduct all their low-flying training anywhere other than Wales because of the noise and because some people find it upsetting and of the potential risks of accidents. Mr Llwyd is known for his outbursts on anything that is British rather than Welsh. CLICK HERE FOR MORE ON THIS STORY...
Return to Latest News Contents
---
Will redundant smelter workers succumb
to the promise of Eastern Delights?
October 19th 2009
So what do you do when you lose a very lucrative income and have a large mortgage and a quality of life to maintain?
First thing you do is seek out employment that offers the same level of pay. Not easy on Anglesey because the largest payers is Wylfa Nuclear Power Station and WAS Anglesey Aluminium.
The Emirates Aluminium Company is building a massive $5.75billion smelter at Khalifa Port between Dubai and Abu Dhabi and is now throwing their net far and wide to attract in skilled smelter workers from across the world. CLICK HERE FOR MORE ON THIS STORY...
Return to Latest News Contents
---
ANGLESEY AIRPORT NAVIGATES TOWARD A BRIGHTER HORIZON
Saturday 17 October 2009
Such is the demand for seats on the regular weekday flights between Anglesey and Cardiff that it is now intended to increase the length of financial support for the service and Highland Airways to fly larger planes.
The Welsh Assembly Government has now decided that it will tender again for further Public Service Obligation finding from the EU. If successful then this will guarantee an operational future until 2014. CLICK HERE FOR MORE ON THIS STORY...
Return to Latest News Contents
---
BEAUMARIS RESIDENTS SEEK A RETURN TO VICTORIAN BATHING
October 14 2009
It was very satisfying to see the word 'Mooted' on the front page of the Holyhead & Anglesey Mail this week. That which was 'mooted' was a proposal to develop the old outdoor bathing area off the beautiful Beaumaris Green. CLICK HERE FOR MORE ON THIS STORY...
Return to Latest News Contents
---
COUNTY COUNCILLOR RECEIVES DEATH THREAT
October 14 2009
On Anglesey the dish best served cold is usually a good green salad and a decent Chablis. No longer.
In a Full Council Meeting last week, County Councillor Barry Durkin declared that he had received a phonecall threatening him with assassination. CLICK HERE FOR MORE ON THIS STORY...
Return to Latest News Contents
---
ANGLESEY ALUMINIUM £600 MILLION BIO-POWER PLANT PROPOSAL
October 14th 2009
It seems that there is a bit of promising news to Anglesey and Holyhead after the appalling recent news of the final closure of the Aluminium Smelting Plant on 30 September 2009.
It is now proposed that a £600Million 300 Mega Watt wood burning plant be built on the smelter site. When operational it is intended that 100 people would be employed in its operation and maintenance. A further 600 people would be employed during the construction stage. CLICK HERE FOR MORE ON THIS STORY...
Return to Latest News Contents
---
ANGLESEY LEISURE CENTRE CLOSURE
OH NO! HERE WE GO AGAIN!
You'll remember from my other news items that the future of the Island's leisure centres remains balanced on a knife edge as the County Council continue to review their plans for closure.
It looks like Holyhead leisure centre may well be closed temporarily if the County Council decides that it will spend money to make long overdue essential repairs. Or will it?
The lack of regular investment and programmed maintenance since their opening in the mid-seventies has finally realised their collapse, as has been predicted for years. CLICK HERE FOR MORE ON THIS STORY...
Return to Latest News Contents
---
ANGLESEY JEDI TAKE OR LEAVE OF THEIR CENSUS
For those of you who remember the 2001 Census some of will know that there was a strong rumour abroad that if more than 1,200 people registered their religion as being JEDI, then it would be accepted as a 'Religion', rather than a belief born of the STARWAR movies. CLICK HERE FOR MORE ON THIS STORY...
Return to Latest News Contents
---
PANTS IDEA BY HEROIN SMUGGLER
Trying to smuggle heroin into the United Kingdom is never a good idea – for the obvious reasons. However, Rafiq Mohammed of Birmingham has just been jailed for six years after attempting to smuggle £32,000 worth of heroin through Holyhead Customs. In his boxer shorts!
Ever watchful and eager to protect us from Ne'er Do Wells, Customs caught this individual as he sought to sneak the heroin on a coach off the early hours ferry from Dublin into Holyhead.
Rafiq Mohammed admitted his guilt before Caernarfon Crown Court on Friday 25th September and was duly sentenced for his heinous attempts to bring this evil substance into the UK.
The not very resourceful tend to end up on the wrong side of the law.
So let's wish him luck as he tries to keep secret from his fellow inmates the contents of his prison issue y-fronts.
---
Anglesey Aluminium - FLICK OF THE SWITCH AND YOUR DEAD
September 30th 2009
I paraphrase, but as AC/DC sing, "With a flick of the switch, you're dead..." The industrial site remains but the industry is no more than a memory.
Today the energy contract between Wylfa Nuclear Power Station and Anglesey Aluminium comes to an end.
The employment of more than 500 people on Anglesey comes to a cruel end and Rio Tinto Alcan walk away having betrayed and lied to all with whom they pretended to negotiate. CLICK HERE FOR MORE ON THIS STORY...
Return to Latest News Contents
---
ANGLESEY PRISON?
September 25 2009
It is curious how one community's misfortune is immediately grabbed as an opportunity for another.
This week we heard the news that the Ministry of Justice had rejected its preferred site for a 1,500 person prison at the old Ferodo brake lining site in Caernarfon. The reason given was the price attached to the purchase of the site and the cost of cleaning up the 27 acre ex-industrial site.
Gwynedd County Council and MP express disgust. Anglesey County Council and MP immediately declare great interest in bringing the prison to the Island. They are supported by Rt Hon Peter Hain MP, Secretary of State for Wales. CLICK HERE FOR MORE NEWS...
Return to Latest News Contents
---
MOELFRE LIFEBOAT THE BUSIEST IN WALES
September 22nd 2009
It's good to know that among us there are ordinary men and women who perform astonishing acts of bravery and then go back to their daily jobs.
It seems that the crew in Moelfre has been extremely busy this year thanks to people who forget to pack their common sense in the car when they come on holiday.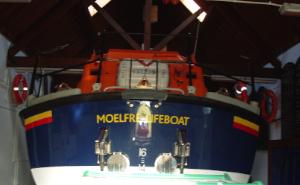 During the Summer months of 2008 the crew performed 21 rescues.
Compare that with the 42 during 2009 Summer. It DOUBLED!
And the main reason was people who were blown out to sea on their pack-away inflatable dinghies.
One silly teenager was found a mile out at sea on rubber ring.
It seems that people just don't seem to get the message about personal water safety and inflatables.
Beaumaris inshore lifeboat launched 35 times and Holyhead all-weather lifeboat launched 13 times, which put them among the highest in Wales.
To have a look at the village and the coastline of Moelfre and a link to the RNLI please click here.
---
ROYAL CHARTER 150TH COMMEMORATION
3:30am October 26th 2009 will be the culmination of a month's commemoration of the anniversary of the appalling tragedy when 459 people died in the appalling tragedy.
It will also be a celebration of the courage of many crews in the intervening 150 years.
For more information about the Royal Charter events Please CLICK HERE
Return to Latest News Contents
---
RIO TINTO ZINC BETRAY ANGLESEY
September 19th 2009
Over a hundred local people and workers marched through the town of Holyhead to a rally at Anglesey Aluminium on Saturday 19th September. They marched to express their dismay and disgust at the decision earlier this month to close the smelter plant at Penrhos. CLICK HERE FOR MORE...
Return to Latest News Contents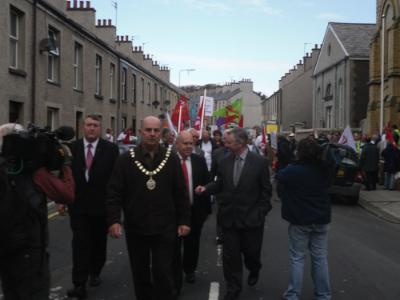 ---
LEISURE CENTRES SAVED FROM CLOSURE
September 17 2009
It's amazing what 40 County Councillors can achieve acting before a righteously angry band of people in a public Council meeting.
The vote was 39-1 in favour of extending the period of review of the leisure facilities on Anglesey form three months up to 15 months.
A bit different to the quiet meeting last month when Independents, Plaid Cymru and the conservatives voted against a common need. CLICK HERE FOR MORE...
Return to Latest News Contents
---
WYLFA NUCLEAR MANAGER GAINS NATIONAL AWARD
September 17 2009
Greg Evans, retiring manager of Wylfa Nuclear Power Station in Cemlyn Anglesey, has been awarded the accolade of .
Mr Evans who is to take up a new job with Centrica, declared his great surprise at his ward and thanked his staff and workers at the nuclear plant. He has been a significant individual in preparing the plant for de-commissioning through the re-training of existing staff.
Wylfa has been identified as one of four preferred sites for the construction of a new tranche of nuclear power stations to address national strategic energy needs.
In Wylfa's favour is the fact that the bid has received overwhelming local support, with the County Council fully backing the bid.
Mr Evans is a keen walker and has been heard to say that Anglesey's greatest aspects are the walks. I offer him my congratulations and very best wishes on his new career.
I also hope that he will continue to speak up to all and sundry about the beauty of Anglesey.
More about Wylfa Nuclear Power Station soon
---
JEDI KNIGHT THROWN OUT OF SUPERMARKET!
September 17 2009
Not really a story about Anglesey, however, it is well worth reporting that one of the Jedi Knights of the Holyhead Church of Jediism was thrown out of the Tesco Store in Bangor for wearing a hood indoors.
---
NO NUDES PLEASE, WE'RE PRUDISH
September 16 2009
Yet again there is anger over nudist bathers on the Newborough beach. Anger on both sides – like a good tan, I suppose.
Local councillors are up in arms, stating that Newborough is not an official naturist beach and they want nude bathing banned.
However, Carl Johnson of Bangor writes to the Holyhead & Anglesey Mail to remind the local Rhosyr Community Councillors that naturism is not illegal.
He writes that they would be better focussed on other more immediate issues like people allowing their dogs to illegally foul on the beaches and people to leave their rubbish behind.
Mr Johnson does share their concern over exhibitionism and other behaviour that spoils everybody's beach fun. He refers to the behaviour at only official naturist beach in the area at Dyffryn Ardudwy, where activities off the beach in the dunes are enough to make your toes curl.
Apparently Dyffryn Ardudwy has one of the worst reputations in the whole of the United Kingdom for inappropriate behaviour by exhibitionists and swingers.
Declaring a beach as an official naturist beach seems to attract the wrong sort. While being discrete and sensitive to the needs of other beach users on long, isolated beaches like Newborough can offer very little offence.
Those of us who know Newborough Beach are aware that you'll have to walk a very long way to be offended.
An observation by the author: It is a fact that some people have legitimate problems with Naturists and this is understandable.
However, one major problem that has been identified in the Llanddwyn/Newborough area is the windsurfers and kite-surfers who strip down in the official carpark.
This type of exhibitionism is illegal and the police and wardens are on the look-out, truncheon in hand and ready to take down your particulars.
---

September 9 2009 - Anglesey Council Challenged by Commonwealth Gold Medalist and World Champion on Leisure Centres Decisions
A champion athlete has created a new furore by challenging the County Council's motives and long term agenda on the Island's leisure centres.
Ex-Army captain and Welsh National Weightlifting Coach Raymond Williams is furious that the County Council has turned its back on the opportunity to create an Olympic training facility on Anglesey. CLICK HERE FOR MORE...
Return to Latest News Contents
---
September 8 2009 - Light at the end of the Tunnel for the Island's Sports Centres
Councillor Clive McGregor and his fellow councillors on the County Council Executive Committee appear to have bowed to the immense public opposition to the closure of a number of the Island's swimming pools and leisure centres.
Apparently there will be a moratorium for six months on a final decision while a business assessment is made of the existing facilities. CLICK HERE FOR MORE...
Return to Latest News Contents
---
A Good News Story - September 3 2009 - £5.6 million is to be invested in developing tourism and enhancing the Island's coastline.
Return to Latest News Contents
---

THE END OF ANGLESEY ALUMINIUM
Despite tremendous hard work and commitment by the Island's Member of Parliament, Albert Owen, Peter Hain, The Secretary of State for Wales, and the trade unions the worst scenario has been realised.
An unprecedented £48 million was offered by the Westminster Government to the partnership that ran the company (Rio Tinto Zinc and Kaiser) to help them meet their energy cost deficits until commodity prices pick up.
Around 540 highly paid workers will lose their jobs, despite being one of the most skilled aluminium smelter workforces in the world.
The impact on the Island will be very hard. On the town of Holyhead, it could be devastating, as one of the best pay packets in the whole of North Wales disappears.
This is very poor judgment by Rio Tinto Zinc/Kaiser. There again, after the mess they have made in buying an over-valued company in Alcan and their misdemeanours in China, is it any surprise?
There will be a march by the Unions, workers and local people from Holyhead Town Hall to the Penrhos smelter plant at 11:30am on September 19th 2009.
It is hoped that Peter Hain will be there along with Albert Owen MP to address those gathered. Thus further embarassing a company whose reputation is already badly tarnished.
Watch this space for more news ...
---
Return from Latest News to HOME PAGE.
---