THE SINKING OF THE ROYAL CHARTER

October 26th 1859
On October 26th 1859 the Royal Charter came to grief within sight and reach of land off Moelfre, Anglesey.
Bound for Liverpool, out of Hobson's Bay in Victoria, Australia and carrying miners with their hard won gold, the ship encountered terrifying hurricane winds of 112 miles an hour of the North coast of Anglesey.
Captain Taylor and his crew had fought for hours in the teeth of the wild maelstrom to bring the ship into a place of shelter. However, that night there was no shelter to be found that night and off Moelfre the ship that had fought bravely against overwhelming odds finally came to grief on the rocks of Moelfre.
In normal weather the passengers and crew could have swum or waded to shore with ease. But that night, watched by awe-struck villagers on the nearby cliffs, there was no easy passage to safety. Hundreds were to die before the terrified audience.
Four Hundred and Fifty Nine souls went to their maker that night. Some in abject error and some accepting their fate. Only forty-nine survived.
That this forty-nine survived at all is a miracle brought about by the heroic actions of one man. Able Seaman JOSEPH ROGERS dove into the wild sea and struck for the close by shore to be dragged out by villagers.
Consequently, the men of Moelfre stepped into the sea to form a human chain and managed, against almost insurmountable odds to bring those few survivors to the shore and safety.
---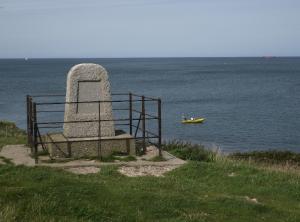 Wander north of the village of Moelfre along the Coastal path and you will arrive at the Monument to the tragedy.
Standing there on a peaceful sunny afternoon, it's almost impossible to imagine the terrifying scene that unfolded that stormy night.
If you drive back up to the anchor-bearing roundabout above the village and travel straight across then you can visit the LLANALLGO CHURCH graveyard where 140 victims were buried. This is a quarter of a mile on your left.
Please take a moment to pay your respects.
---
The Royal Charter
Local Events to Commemorate the 150th Anniversary
September 21st 2009 - Royal Charter music CD released. Composed by Henry Priestman
October 10th 2009 - Aled Eames Memorial Lecture at Carmel Chapel – 'The Smugglers of Anglesey'
October 16th 2009 – Holyhead's 'Loose Cannons' drama group will perform at the Moelfre Memorial Hall.
22nd October 2009 - Talk about the Royal Charter, Coxswain Dic Evans and Isaac Lewis.
25th October 2009 - St Gallgo Church at 1:00pm. Bishop Andrew of Bangor will conduct a service of remembrance and commemoration.
26th October 2009 3:30am - Cliff top vigil on the path above the site of the wreck. Dress warmly and bring a torch.
26th October 2009 2:00pm - Guided tour of the graves of the victims at St Gallgo Churchyard.
26th October 2009 7:00pm – St Gallgo Church. A monologue based on the Royal Carter sermon preached by the then Reverend Stephen Roose Hughes in 1859.
For further details and tickets please telephone (01248) 853444.

BRONZE DISASTER MEMORIAL SCULPTURE
Return from Royal Charter page to ANGLESEY EVENTS Page.
Return to Anglesey Hidden Gem Home Page.
---