LLYN CEFNI RESERVOIR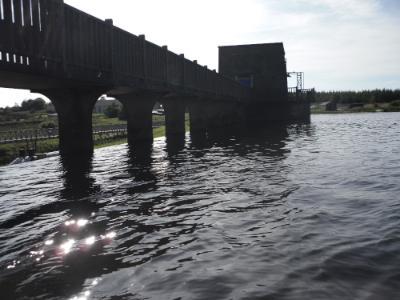 LLYN CEFNI ALGAE ALERT
September 4 2010
Cyanobacteria love nothing better than consistently warm conditions and an abundance of nutrient.
The conditions at Llyn Cefni are now practically perfect for this blue-green algae and consequently Environment Agency Wales have declared that the amount of algae is above the safety threshold.
The warning was raised yesterday by one of the countless walkers who circum-ambulate the lake reservoir from the Dingle/Nant y Pandy footpath from Llangefni.
The warning comes that it is imperative that no-one ventures into the water at the reservoir or in the River Cefni that it supplies. The same goes for any animals. Blue-green algal blooms at the level of these present can cause illness.
A few years ago the blooms were so large that a thick layer of blue-green scum was obvious throughout the length of the river through the market town of Llangefni.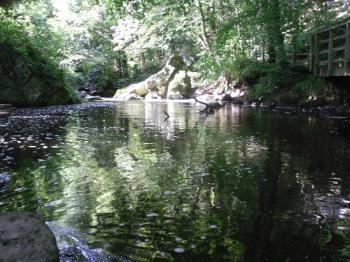 It's been a pretty wet, warm and miserable few weeks up until this one, which has increased the volume of surface water washing nutrient from the fields that surround the reservoir.
I remember a senior biologist in Welsh Water once saying that if you wished to place reservoirs at the most inappropriately biological spots then Cefni and Alaw would be the best choice.
There have of course been serious concerns expressed over the potential risk to public health from water passing through the water treatment works.
However, the encouraging news is that Welsh Water have confirmed that the treatment processes at the plant are more than adequate to remove and danger.
Environment Agency Wales and the Environmental Services Department of Anglesey County Council state that they will continue to monitor the levels in both reservoir and river.
Because the cyanobacteria bloom thrives in warm conditions it is expected that as the temperature drops seasonally then the bloom will decline.
So we'll leave it there and leave ourselves in rather a quandary. We all wish to see the blue-green algae disappear from the reservoir as soon as possible; however, that would mean we'll be wishing for the end of good weather.
I'm sure we'll all be wishing for the right thing.
Contact Anglesey-Hidden-Gem.Com
Get in touch if you've got a thought or an Anglesey experience to share or a question to ask. Maybe you just want to share information or Just Want To Say Hello!

All you need to do is fill in the form below and I'll get in touch with you as soon as I possibly can.

---
Return from Llyn Cefni to ANGLESEY NEWS.
Visit ANGLESEY WALKS & AMBLES.