ANGLESEY WESTERN BEACHES
Even
More
Beaches!
On Anglesey we have every type of beach that you could ever hope to find.  So?  WHAT ARE YOU WAITING FOR!

Beaches for fun and splashing about while anticipating that perfect ice-cream.
Beaches for diving surfing, windsurfing, kite-surfing, sailing and diving.
Rocky beaches for adventure and exploration.
Endless beaches for blowing away those mental cobwebs.

ANGLESEY BEACHES NORTH OF VALLEY


Penrhyn Mawr Beach

PENRHYN BEACH Mrs Gwen Williams of Penrhyn Farm, Llanfwrog, describes Penrhyn thus,
"We have a shell-strewn beach with intriguing sheltered coves, shrimping pools on one side and a large sandy beach on the other."
Penrhyn Beach is accessed through the private well-managed small caravan park. It also offers an interesting viewing point for the marine activities of the Port of Holyhead, with four ferries coming and going daily.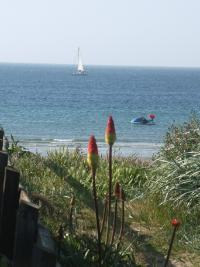 SANDY BEACH (Porth Tywyn Mawr)
Ohh! So wonderful. Another glorious beach just up the coast from Valley.
It is classically beautiful and clearly much loved. The sea is great for swimming and water sports.
The opportunities for sand architecture are plentiful.
Apart from the caravan park, Sandy Beach is isolated and manifests a wonderful atmosphere, whether you are there during the day or just sitting down and enjoying yet another of Anglesey's beautiful sunsets.
Loved by locals and visitors alike.
Thankfully, the limited parking is an asset to Sandy Beach. Unless you are staying in the caravan park, then there it's a bit awkward. I think biologists call this a 'limiting factor'.
TREFADOG BEACH is a combination of shingle and sand enclosed by low coastal cliffs. Wonderfully isolated beach.

Trefadog beach feels very much part of the land behind it and, yet, undoubtedly ticks all the boxes you require of a quiet family sandy beach.
A mixture of shingle and pebbles are a backdrop to a pleasant sandy beach.

You will find no facilities here whatsoever, so you'll have to bring absolutely everything you need with you.
Remember the doggie poo-bags.
PORTH TRWYN BEACH This is yet another little hidden gem because it can't be seen from the road despite being right beside it. 'Trwyn' means 'Nose',by the way.

Porth Trwyn Beach is an excellent little beach in fine weather.
Because of the very limited parking it doesn't become packed – even in High Summer.
In exchange for peace and quiet you lose out on the ice-cream, unless you trot a mile up-hill to the village of Llanfaethlu.
Spot the Dog.
CHURCH BAY The home of the 'six o'clock waves'. Very brave surfers will know about this phenomenon. Me? I love watching the countless cliff-top bunnies on warm Summer evenings.

By the time the cliffs reach Church Bay Beach they've risen a hundred feet above a good sized rocky and sandy bay.
Plenty of beach to rest, sunbathe and have an evening barbie.
Served by the Wave Crest Cafe immediately above the beach and the highly regarded Lobster Pot restaurant nearby.
The Island Coastal Path rises up and travels north toward Carmel Head. A gentle, beautiful and satisfying walk.
And, as I say above, the scattering of bunnies and the sense of being watched from beneath gorse bushes is very engaging.
Above all, it is reassuring.  This is the place to be and where I should be right now.
CEMLYN BAY Of a gentle Summer evening Cemlyn Bay is a lovely place to sit and watch the Porpoise and occasional Dolphin pod enter and cavort between their leisurely dining.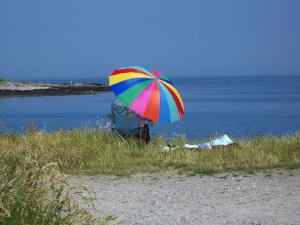 Why not bring a picnic and enjoy yourself as well.
This moon-shaped bay is a very popular venue for shore and kayak fishing as well as general coastal kayak adventures.
And the coastline? Walk about a bit on the Anglesey Coastal Path or just chill out like this lady. Spot the dog?
To really appreciate the seals off the headland bring a fishing rod with you.
CEMAES BAY is what you want it to be. Beach, Coastal Walk, Sailing, Surfing or Fishing. Or all of the above.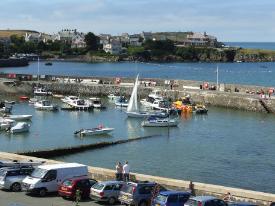 This pretty little village is blessed with a good family friendly beach and a promenade that stretches around a good length of the beach.
To follow the Anglesey Coastal Path from Cemaes Bay to the east towards Amlwch will lead you into an Area of Outstanding Natural Beauty.
Pleasant and unexpected sights and industrial archaeology awaits you.
Many weekend sailors sail around the Island from harbour to harbour, stay an evening to enjoy the good food, beer and banter. They generally cast off when distant shores and clanking of beer glasses draws them onwards.
---


CONTACT ME


I would love to hear from you about your stay in Anglesey or to try and answer any questions you may want to ask in preparation for your visit

Maybe you are one of those visitors who has been visiting Anglesey for decades. You're not the only one. The same families have been visiting Anglesey for over sixty years.
Please tell me what makes the Island a special place for you.
Maybe you have special advice - or even warnings.
Please feel free to share by CLICKING HERE.
---

Return from More Western Beaches to WESTERN BEACHES
Go to Anglesey Eastern Beaches

---
---