TREFADOG BEACH

Pleasantly Isolated With An Ancient Celtic Atmosphere
PORTH TREFADOG
What a beautiful Anglesey beach for a bit of peace and quiet from the confused and milling masses?
Even the cows in their lush meadows will offer up a gentle sigh of relief at your long anticipated arrival.
It is such a lovely beach for family fun and sandcastle building.
Sunshine seems to unravel the essential and curious beauty of this lovely family beach.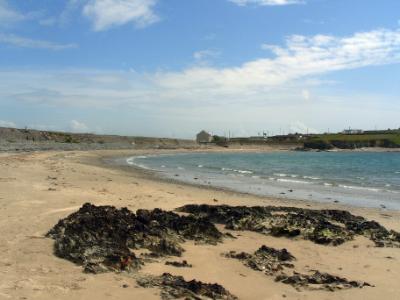 So get ready to settle back in your deck chair to view the lovely sight of Holyhead Port, which is one the busiest ports in the whole of the United Kingdom.
Ships and ferries come and go every single day and you can relax to watch the world pass by in the distance while sipping a glass of ... dare I suggest ... a delicate chilled Chablis.
Or you can gallivant with your loved one or splash about with your children.
The images I have attached to this page reveal a beautiful beach that is wide and golden, with a shingle and pebble backdrop and a particularly sharp reef on the right.
A journey through green countryside that falls gentle unto the sea brings you to this isolated and curious Anglesey beauty.
---
TREFADOG BEACH
As I write above, Trefadog Beach is a combination of shingle and sand enclosed by those rocks and low coastal cliffs that brings to it our gift to you all: The Isle of Anglesey Coastal Path.
This little bay is about 300 metres across and, like a small number of Anglesey beaches, it possesses a particularly individual character.
I think this is partly because of the structure of the wall that protects the farm fields from erosion and being eaten away storm after storm after storm.
Believe you me, Anglesey is renowned for some horrifying storms.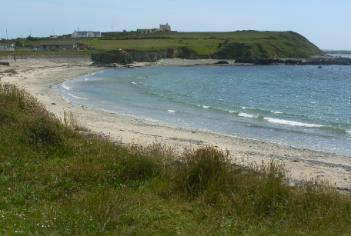 Trefadog beach feels very much part of the land behind it and yet undoubtedly ticks all the boxes you require of a quiet sandy beach.
There are no facilities whatsoever here so you will need to bring everything you need with you. Remember the doggie poo-bags.
---
PARKING
Very limited. The properties near Trefadog Beach will require clear access at all times.
In such circumstances I am of the firm opinion that the 'Dad's Army' Sergeant Wilson approach is best.
Present yourself at Trefadog B&B and commence negotiations by saying, "Would you mind awfully if ..."
---
TREFADOG FARM BED & BREAFAST
The farm is named Trefadog after the beach and offers Bed & Breakfast for the world weary.
Proprietor. Margaret Williams 01407 730464
"A warm welcome awaits you at Trefadog which originates from the 13th Century, and is a classic example of a Welsh 'Hall House'." Non-smoking and, sadly, no pets.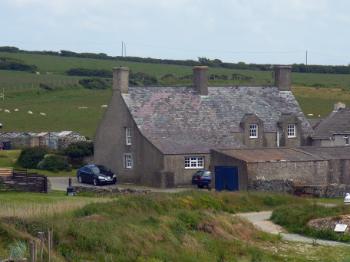 In the adjacent field you will discover an ideal - but simple - site open to touring caravans.
Though like all proper holidays you'll need to bring everything but the water and loo paper with you.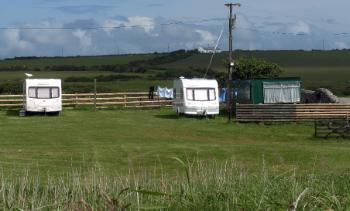 ON SECOND THOUGHTS, BRING THE LOO PAPER WITH YOU. JUST IN CASE.
After all, there are emergencies and there are EMERGENCIES.
---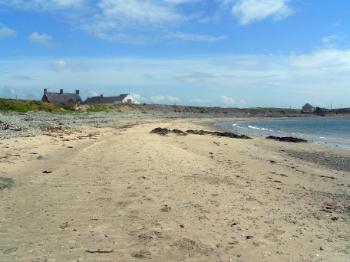 BEAUTIFUL ANGLESEY VIEWS
To reach the beach you need to take the turning on the A5025 for the village of Llanfaethlu.
This road from there is open, engagingly tortuous and narrow. This is what I really like about the journey to Trefadog Beach.
A few hundred metres out of the village Holy Island is revealed to you in its best aspect.
Come around a sharp left hand bend over the brow of a hill and there it is.
The Port and Holyhead Mountain manifest a striking image.
I really love the idea of Holyhead Port because of its simple and beautiful functional engineering. It's a place of people and goods in transit and a business that ebbs and flows like the tide each and every day.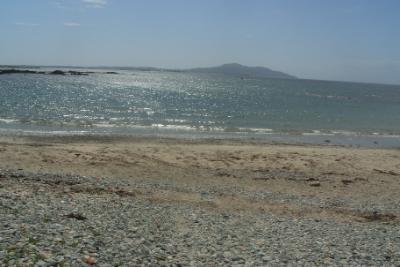 ---
SHOPPING AND EATING
Once again frankness is demanded of me.
Unless you want to scavenge food off the beach there is nothing here. Absolutely nothing. Nada. Nix. Dim (Welsh).
Llanfaethlu - a couple of miles back - has a lovely village post office at the Coffee House (thanks to Mrs Bessie Burns and the ladies who cared enough).
It has its sweet little country shop and an old fashioned café where you can eat in or out.
The post office, caff and shopIt depends on your custom for their survival.
Spend a little in both the shop and post office because I wouldn't want to report you to Mrs Burns.
In Summer it's a little Chip Shop, as well.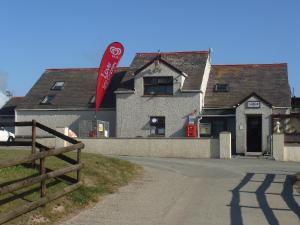 You could always head left along the Anglesey Coastal Path to SANDY BEACH (about 20 minutes walk).
There is a delightfully friendly shop in the Sandy Beach Caravan Park.
I find that a Strawberry Mivvy rounds off a lovely little walk quite perfectly.
Of course, there are plenty of local facilities on this Western stretch of Anglesey's coast. Please CLICK HERE for those vitally important shops, cafes and restaurants.
---
BOAT LAUNCHING AND REGISTRATION
The County Council requires you to register powerboats over a certain horse power and also lists the required qualifications.
Please CLICK HERE for all the above information and about launching fees on other Anglesey beaches and slipways.
---
EERIE ANGLESEY
Nature and too many silly films on television have taught us that each condition has its opposite - or at least a sliding scale from one extreme to another.
Anglesey storms are dramatic and can be howling banshee wild. But its not the wild weather that reveals a different character to this particular stretch of coast.
Take away the sunshine and add a strong cold Winter breeze and what do you have? Trefadog Beach reminds me a bit of the intimidating atmosphere of an Arthur Conan Doyle ghost story.
Don't Whistle Whatever You Do!
Keep heading north towards Carmel Head along the Isle of Anglesey Coastal Path with the mist rolling in over the sea and across headlands and you'll know what I mean.
A strong Celtic atmosphere seems to settle over everything.
Mystical or what?
The Vikings once lived on the headland and archaeological data supports this belief.
(NORTH STACK FOGHORN NOISE) You never know who you'll encounter in the mist.
It might even be yourself coming the other way with a puzzled ... or is it intrigued ...look on your face.
Just a thought.
SAFETY ADVICE: In poor weather conditions ALWAYS make sure that someone knows your route and the estimated time of your arrival at your destination. Take your mobile phone, warm clothing, waterproofs, a flask of hot drink and a snack with you.
Considering the quality of the journalism in this area you really don't want to make the headlines. They'll probably use a picture of Nelson Mandella because you both share the same engaging crooked smile.
---
SAFETY ADVICE!
On the entrance to the beach off the road you will notice a STENA FERRIES Warning Sign.
When ferries enter Holyhead Harbour they have been known to generate waves that can cause unexpectedly high waves on all the beaches along this coastline. Even as far as Church Bay to the north.
KEEP AN EYE OPEN IF YOUR KIDS ARE SPLASHING ABOUT.
FISHERMAN! YOU ALSO KEEP ON YOUR GUARD. THERE HAVE BEEN LOSSES OF LIFE OFF THE LEDGES.
---
PETS ON THE BEACH
• No major prohibition on dogs, but please keep them on a leash - Unlike Crazy Fido here.
• Though not here at Trefadog Beach, there are Seasonal Prohibitions on dogs on certain Anglesey beaches.
• Always bring a doggie poo-bag with you because the little dears can't always help themselves.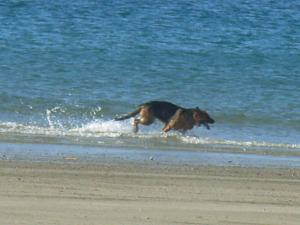 Imagine specific matter oozing from between your tanning and sandy toes.
Imagine a worse scenario; it's your child.
• The main concern regarding dogs on Anglesey beaches is a health issue. Doggie poo can blind for life.
FOR MORE INFORMATION ABOUT DOG RESTRICTIONS ON ANGLESEY BEACHES PLEASE CLICK HERE.
---
GETTING TO TREFADOG BEACH
This is a lovely windy country road with two distinct right hand turns.
I'll begin at the Menai Straits and guide you from there to the beach.
Take a deep breath... Here we go:
• Travel across Anglesey for twenty minutes on the A55 Expressway and come off at Junction 3 for Valley and Trearddur Bay.
• Head into Valley and turn right at the traffic lights.
• Once you have turned right you are on the A5025 coast road heading north. After about a mile you will pass through the hamlet of Llanynghenedl.
There is a 40mph speed limit and you should adhere to it, as cars can pull out of a blind spot on your left from the houses.
• Carry on for 1 mile until you come to the village of Llanfachraeth with all its traffic signage on the outskirts. Travel through.
• Around 3 miles north the road will bring you to the village of Llanfaethlu on the hill to your left. Turn in past the Coffee House post office/shop/café.
• Travel 150 metres through the village and up the hill. Turn left at the council houses.
• Travel down this road for a ¼ mile. Take the second right turning at a house well-signed as 'Penrhos'.
• Travel down this road for one mile and turn right at the small white cottage, called 'Penrallt' (Trans. 'Top of the Hill').
This road will take you down to the beach.
---

Return from Trefadog Beach to MORE WESTERN BEACHES
Return from Trefadog Beach to WESTERN BEACHES