Sandy Beach Area Facilities

Lobster Roulette & Where Everything's At.

So here we are, at Sandy Beach, bang in the middle of a rural area on the west coast of Anglesey.
You've been carousing on the sandy beach or maybe splashing with the children in the waves.
There again, you could have had a lovely satisfying session on your windsurfer.
Alternatively you could be sat on the beach shocked, bruised and near-throttled by your kite-surfer.
You're about to head back to your rented cottage, hotel, caravan, tent or bed & breakfast, and your tummy starts to rumble.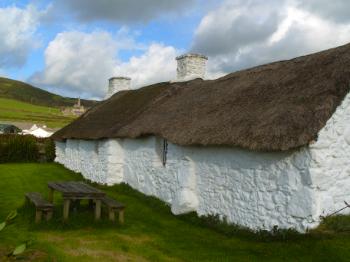 "Mmmm ... tea and toast." Sorry, that's morning.
Where to eat? Maybe there's a bit of shopping to do or you want to fill up the car with petrol.
"Hey! I need cash and I haven't done my lottery."
---
NEAREST PETROL

No need to travel all that far really. Don't try Llanfachraeth because the Elim garage stopped serving petrol quite a while ago, but it's a great place for window blinds.
The closest garage is Tregele, then pretty close by is Llanfechell.
If you're going to travel to Trearddur Bay, Rhoscolyn or Valley for an evening meal then you have a choice of two garages there.
Let's have a look. How do I get there?
Tregele:
Head back from Church Bay for the coastal road and turn north towards Cemaes Bay (Or vice versa).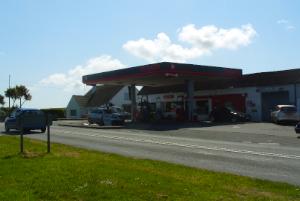 It's the first set of buildings on your left in the village.
Miss this one and take the next left and you can feed off Wylfa Nuclear Power Station.
"How many neutrons do you require, sir?"
Llanfechell:
Literally out in the wilds and a bit difficult to find, if for some reason the Tregele garage is closed during the day.
More or less opposite the garage in Tregele you will see a junction. Take this and follow the road through this small hamlet into the country.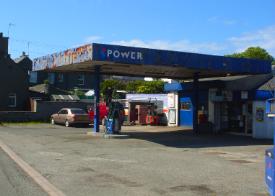 After about a mile you'll see a side road to your right.
Take this and drive into the lovely little village of Llanfechell. Spot the white-washed ancient church.
Straight through the square past the pub and it's there on your left.
It has one pump for diesel and petrol. It looks 'tired'; however, it has a little shop.
Valley:
There are two garages in Valley and both are quite easy to find whether your coming from Penrhyn Beach, Sandy Beach, Porth Trwyn or even Church Bay.
The easiest garage to find in Valley is the Gulf Station just off the crossroads traffic lights in Valley and on your left.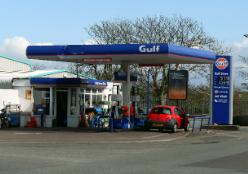 For the second garage, you turn right at the traffic lights and it lies on your left near the end of the village.
If you reach the Police Station, then turn around on the big right junction for Gorad.
Holyhead:
That's it really for this stretch, unless you want to travel all the way to Holyhead, where you'll find the Tesco Garage by coming off at Junction 1.
It's strange really that Holyhead only has one garage.
Holyhead is the biggest town on the Island and sees more traffic than most other ports in the whole of the United Kingdom.
I'd have thought that the price of petrol in Dublin would have been ridiculously high because of their melt-down economy. But what do I know, eh?
Me? I'd tank up in Holyhead before going to Ireand and then I'd tank up again when I got back to Holyhead.
If I could spell it, I'd use my nouse.
---
P.S. You won't find a sandy beach in Holyhead town, though I do understand that there was a daft idea to create one on Newry Beach.
One good storm and sand would no more than a memory or a hazard for shoppers on Stanley Street.
Methinks someone was after meeting Her Majesty.
---
NEAREST SHOPS and EATING PLACES
To the north of the Sandy Beach chain of hidden gem beaches you have Cemaes Bay. You'll find details about this tidy little village directly below, which has it own lovely sandy beach to boot.
Holyhead:
This is where you have to go if you need to do a big 'complicated shop'.
How else are going to cook that lovely recipe you've chosen from the BBC 'Olive' magazine, which requires a ton of meat, a garden of leaves and twenty seven different esoteric herbs and spices?
It's so much easier if you have a garden as big as Jamie Oliver's.
There again, you could pre-empt all of this by dining out every night. It all depends how your conscience deals with the thought of the imminent demise of crustaceans running on idle at the back of a restaurant.
Do they gather together into a collective intelligence and regard the entire affair like 'Lobster Roulette'?
"There goes Bob. I'd have expected more of a fight ... Ooooh! NICE ONE BOB!"
A lovely and very pretty village to the north with plenty of pubs and the Harbour Hotel and a pretty good chip shop/caff.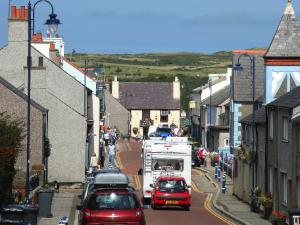 • RS McColl mini-supermarket at the end of High Street. On your right as you face the Stag Inn at the very end of the street.
Food at:
• Stag Inn at the end of the main street,
• The Harbour Hotel down by the beach car park;
• The Vigour Inn on the High Street;
• The Woburn Hill Hotel on the High Street.
• Wavecrest Café. Located immediately above the beach. During the holiday period it is open between 10:00am and 5:00pm and closed all day on Tuesdays.
• The Lobster Pot. This is a locally renowned restaurant. Indeed it is renowned far and wide. Opposite the beach car park.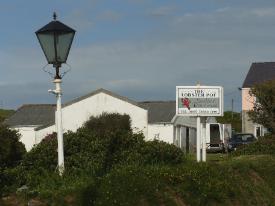 I am certain that people in far away Cheshire are planning their meals at Church Bay months ahead.
It is reassuringly expensive. The lobsters are very fresh.
In fact, I understand that prior to the evening's cooking they are running on idle in a tank at the back.
To investigate this fabulous restaurant PLEASE CLICK HERE
---
LET US ALL KNOW YOUR FAVOURITE ANGLESEY RESTAURANT
OR EATING PLACE
Share Your Favourite Anglesey Restaurant
Where was your tastiest meal?
Was it in the Sandy Beach area?

Share YOUR favourite with everyone by Clicking Here!
---
TREARDDUR BAY, RHOSCOLYN and VALLEY
As I mentioned above, you can always head south and onto Holy Island (Holyhead)for your eating and shopping.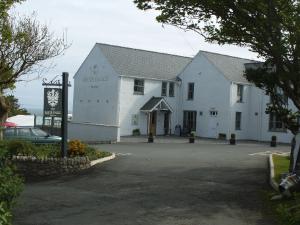 You don't always have to stay hugging your rented cottage in the Sandy Bay/Church Bay area.
For more information on what's available in the Trearddur Bay, Rhoscolyn and Valley Area PLEASE CLICK HERE
Psssst! If I were you, I'd definitely head out to the White Eagle in Rhoscolyn. They've just done it up and it is wonderful.
That's it above and there's a sandy beach down the road where you can work up an appetite.
Or, you can walk the Anglesey Coastal Path, which will guarantee hunger pangs. A banana sandwich doesn't always cut the moutard - Ooof! That's an unpleasant thought.

Llanfachraeth:
These are two villages on your way north to Cemaes or south to Valley along the A5025 Coastal Road.
Llanfachraeth is the bigger of the two, with its Post Office/Premier Convenience Store for all your shopping and postcard ... posting.
You'll also find the Holland Hotel more or less opposite the post office. Here, you can enjoy a cup of tea and a snack or enjoy a damn fine Sunday Lunch.
---
Listen for a moment. Post Offices like this depend on your 'footfall' in order to survive. So why not use it before we lose it.
Also, to prove to yourself that you are on Holiday write a letter or send a postcard.
"The scenery is here, Wish you were beautiful".
---
Llanfaethlu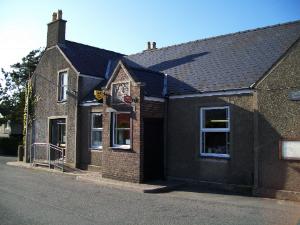 The Coffee House is quite well-known in this area because it's not only a Post Office, it's also another damn fine little shop and cafe.
Important Note this If your spending a day on Sandy Beach then you've always got the little shop in the caravan park and in Llanfachraeth.
If you're at Trefadog Beach or Porth Trwyn Beach, then you are within easy reach of Llanfaethlu. There are absolutely no facilities close to either pretty rocky and sandy beach.
Llanfaethlu Coffee House offers you deliverance from Ice-Cream Deficiency Disorder by a short journey back up the hill.
---
EATING, SHOPPING, CASHPOINTS AND MORE ON ANGLESEY
For more information PLEASE CLICK HERE
---
NEAREST CASHPOINT
Cemaes Bay:
• Cash Link in the McColl shop at the end of the High Street.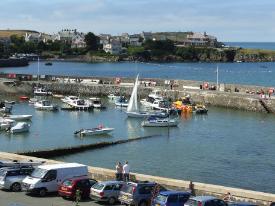 • There is also a free-standing HSBC cash machine.
The machine is located half way down the main street. Turn for the car park and it's about 15 metres on your right.
Locals tell me that this cash machine is usually either not working or devoid of cash. Bon Chance.
• Post Office on the High Street.
You can usually draw money across the counter if your bank has an arrangement with Post Office Ltd.
These small post office exist on your custom, so why not buy something while you're there to make sure it's still there on your next visit.
AS I wrote above, Cemaes Bay also provides a fine sandy beach within easy reach of all the local facilities.
Valley: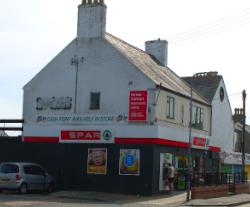 There's a cashpoint attached to the Spar shop across the traffic lights on the Trearddur Bay road.
I believe that this Spar shop is open 24-Hours-a-Day. Poor staff.
If the cash machine is not working then you can always draw 'cash-back' in the Spar.
It could be free, but I don't really know. All I do know is that the Spar in Llangefni will charge you 50p for the privilege.
I've noticed in Llangefni that some people come in for Beer Tokens on a Sunday night and draw out money across the counter.
There are three free cash machines within a 50 yard stagger.
---
Do you have any questions you'd like to ask or important information you want to share?
We'd love to hear from you.
Maybe you have questions you want to ask in advance of your visit?
Maybe you have special advice - or even warnings?
Please feel free. ASK YOUR QUESTION BY CLICKING HERE.
---
NEAREST PHARMACY
Cemaes Bay:
• Rowlands Pharmacy, Medical Hall. At the end of the High Street on your right.
Amlwch:
• Rowlands Pharmacy, 6 Queen Street. On the main street.
Head east out of Cemaes Bay, through Bull Bay until you find the Copper Mountain town of Amlwch. Head for the church and that's the beginning of the main drag.
Amlwch is on the north coast of Anglesey. You will not find a sandy beach anywhere in this area. The closest lies to the west is Cemlyn Bay and to the south is Traeth yr Ora.
The latter is truly a delightful, beautiful, stunning, gorgeous sandy beach.
Valley:
Sneakily located just off the road and behind sycamores.
Arrive at the Valley traffic lights and turn right for Holyhead. About halfway through the village you'll find the pharmacy in a lay-by behind some trees next to a Bric a Brac shop.
---
Return to SANDY BEACH
Return from Sandy Beach Area facilities to HOME PAGE
---

---