TREARDDUR BAY


Eating And Shopping
Around The Village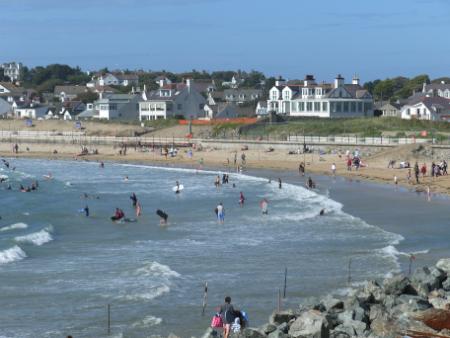 Please be aware that in TREARDDUR BAY you'll find absolutely everything you need to enjoy a brilliant Anglesey holiday within a short mile or two.
Holyhead is a mile and a bit north with all the big shopping you'll need, with its supermarkets and the brilliant Co-op on the high Street.
See if you can make Beverley smile. It's well worth the endeavour.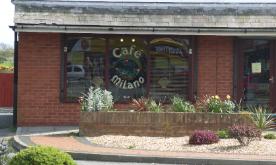 Valley is a couple of miles the other way, with its lovely little arcade, family hotel, cafes and ethnic restaurant.
Rhoscolyn, where the food at The White Eagle is truly excellent.
---
As you will have noted on my TREARDDUR BAY Page there are a couple of great restaurants and pubs more or less right on the beach.
I am very happy to report that TREARDDUR BAY now finds itself with a cafe. The Bay Cafe opened this late Summer and offers snacks and sandwiches.
Some smart cookie has realised that people will be looking for a snack and somewhere to go on arainy day.
I wish them the very best of luck and advise them that simple and affordable is the way to success with families.
---


NEAREST SHOPS


Trearddur Bay:
On the Main Road
• The Beach Shop - SPAR. Also contains the Tackle Bar for fishing bait.
• Trearddur Costcutter Stores.
• Splash Watersports / Diving Services Equipment Sales & Hire – Ravenspoint Road (left road as you look at the bay). Ice-cream, lollies and 'Poki Pola' (pop)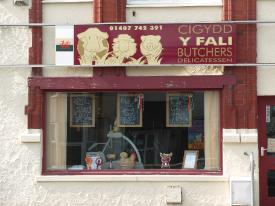 Valley:
• Cigydd Y Fali - Valley Butchers. Used to be known as 'Seth's Shop'.
Seth has now retired but the shop still maintains the outstanding reputation created by him, Margaret and the family.
• Spar Large store just off the traffic lights on the Trearddur Bay road.
• Stermat Excellent hardware and small garden centre. Opposite the Valley Hotel on the traffic lights.
---


NEAREST EATING
In and Near Trearddur Bay


Trearddur Bay:
• The Trearddur Bay Hotel - 4 Star Hotel. Quality restaurant and bar meals. Entrance located opposite the Lifeboat Station.
• Seacroft Hotel – Pub, restaurant, rooms. On Ravenspoint Road. Newly refurbished, light and airy with a large decking patio.  A very good menu
• Olde London Road Inn – Opposite Ravenspoint turning.
• The Imperial Palace - Chinese Restaurant & Takeaway. On the Main Street
• The Bay Cafe – Snacks. On the hill down to the beach from Holyhead.
---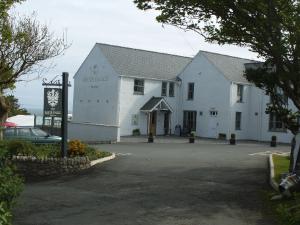 Rhoscolyn:
• THE WHITE EAGLE - At the top of the road down to Rhoscolyn Beach car park. Excellent menu and good beer.
One of the best meals I ever enjoyed, I had here.
Moule as a starter, followed by some of the best fish and chips this side of Simon's Chipshop in Gaerwen. CLICK HERE TO HAVE A LOOK AT SIMON.
Four Mile Bridge:
• The Anchorage Hotel – Cocktail Bar and Restaurant halfway through the village.
• Cegin Fach Café - (trans. Little Kitchen Café). Up the hill from the bridge it's on your right just opposite the turning for Rhoscolyn.
Valley:
• Valley Hotel - Excellent family place. Menu is robust and servings very filling, served by very friendly and efficient staff. Carvery on Sunday £6.95.
• Agra - Balti Restaurant and Take-Away - Has had a very good reputation locally since its opening many years ago.
• Roses Kebabs - This is quite new so I have no report to share with you.
• Bull Hotel - Halfway through the village.
• Sukothai - Thai Restaurant and Take-Away. No reports, sadly.
• Local Chip Shop and Chinese Takeaway just up the Holyhead road from the traffic lights.
---
---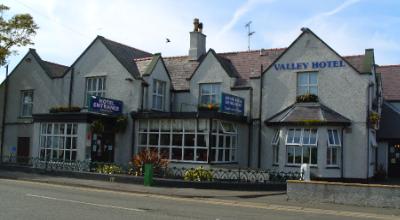 The Valley Hotel


NEAREST ICE-CREAM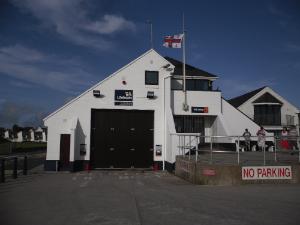 REALLY IMPORTANT THIS
• You will usually find two ice-cream vans next to each other right on the beach near the lifeboat station (above).
You'll also find them here on sunny winter weekends.
Both locals and visitors usually enjoy a glacial nibble in their cars while watching the sea break over the brave surfers who keep getting wiped out.
---


NEAREST PETROL


NONE IMMEDIATELY LOCAL. It burnt down a few years ago.

Holyhead:
There are now two supermarket petrol stations in Holyhead: Morrisons and Tesco (supermarket is 24 Hours opening).  Both very close to each other on the outskirts of town

Travel back toward Holyhead and TURN RIGHT onto the A55 Expressway from the roundabout.

Take the first slip road and turn left at the top. Head down to the first roundabout and take the right exit.  The Morrisons garage is below. 
For the Tesco petrol station go across this roundabout down to the next and it's on your left.
Prices more or less the same for both and each has a little shop.  The Tesco Supermarket is open 24 hours a day
---
,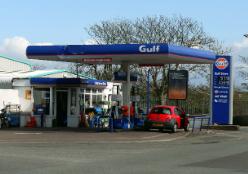 Valley
There are two petrol stations in Valley.  One at either end of the village.

• Right on traffic lights. Diagonally opposite the Valley Hotel.
• Turn left at the traffic lights. It's at the other end of the village on your left.
---


NEAREST PHARMACY


• Boots and Numark - On the main street (Market Street).


NEAREST CASHPOINTS


Trearddur Bay:
• The Beach Shop - On the Main Street. Hole- in-the-wall outside. You have to pay if you are using it to access your own bank.
• Trearddur Stores - On the Main Street. Cash Link machine inside the where you have to pay for the privilege.
• Local Post Offices - Remember that all post offices have an arrangement with most of the main high street banks.

This means that you can draw money across the counter if you have right bank card.
Holyhead:
Tesco - Free cashpoints (come off at Junction 1)
Morrison - Free Cashpoints (come off at Junction 1)
Co-op - middle of the High Street (Market Street)

High street banks.
Building societies on the main street (Market Street).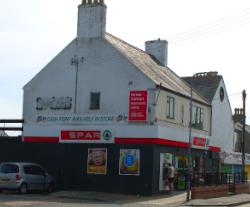 Valley
• Outside the Spar Shop.
• HSBC Mini-Branch. No Cashpoint and limited hours.
• Post Office opposite the Spar shop
---


NEAREST TOILET


• In the main car park behind the main beach.
Please be aware that Anglesey County Council is looking to sell-off or close all public toilets. Daft Buffers!
N.B.
There is a scheme that nobody seems to know about where Anglesey County Council pay around £500 to pubs, cafes, hotels and public buildings in some towns to allow people to use their toilets without being obliged to buy anything. 
A list exists!  Check this link below for Anglesey County Council updates.

Anglesey Public Toilets Update
.
,

---


NEAREST PARKING


• In the main car park behind the beach.
• Overlooking the beach on the Trearddur Bay Hotel road just before the Lifeboat Station.
Just a few parking spaces(including disabled parking) but you get to stay next to the ice-cream vans. Heaven!
---


ABOVE ALL OTHER THINGS

HAVE A LOVELY STAY!

REMEMBER TO HAVE A LOOK AROUND THE REST OF ANGLESEY WHILE YOU'RE ENJOYING YOURSELF.

We'd would love to hear from you.


When I was writing about Llanddwyn Beach on the West Coast of Anglesey, it was fun sharing my Fish Batting story.

I'm sure you've got some even better Anglesey holiday stories that people really would love to hear about.

Go on, let us hear them.

,

---
Visit WESTERN ANGLESEY BEACHES.
Visit MORE WESTERN ANGLESEY BEACHES.
Go to Anglesey Hidden Gem HOME PAGE.

---
,

,

---
,

---