THE BEST CHIP SHOP ON ANGLESEY
IS SIMON'S GAERWEN CHIPPY THE BEST CHIP SHOP ON ANGLESEY?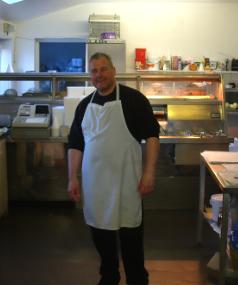 Reflect on this sensory image for a moment.
Gentle reader consider this...
Nothing, Absolutely Nothing beats the smell of vinegar being splashed over steaming hot fish and chips.
It gets your juices ready for joy and for some traditional, primaeval culinary satisfaction.
Break open the dark golden crust to reveal the whitest and most succulent fish you had been hoping for.
Then imagine yourself back in your car in the car park steaming up the windows in decadent and joyful indulgence.
YES! WITHOUT DOUBT. SIMON'S CHIPPY HAS TO BE THE BEST
---
YOU KNOW YOU WANT IT
I have been visiting Simon's chip shop in Gaerwen (halfway through the village) for more years than I care to remember.
So it must be pretty good, mustn't it?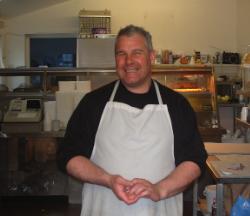 What I really love about Simon's shop is that everything is cooked to order.
You'll never see a fish in the heater pathetically curling up at the edges.
You walk in and a lovely lady takes your order and delivers it to the Maitre Chef.
Simon waits eagerly at his fryer, looking like Captain James Tiberius Kirk ready to take on the Klingons.
Unlike Captain Kirk, Simon does not wear girth-restricting impedimenta but he's always ready for battle.
"Two fish!" And he's away.
---
HIS FISH IS ALWAYS THE BEST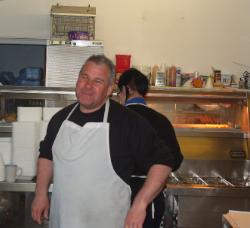 I know this because my beautiful friend Coralie once worked there.
I always stopped by for a chat on a Saturday night before going home.
I have never found a single bone and I know why.
When the fish is prepared a sensitive hand caresses every fish to check for bones.
Or that's a sensitive ham-fist in one specific case.
---
HEADLINE NEWS!
Simon is spreading the joy and his Anglesey chip shop empire is growing steadily.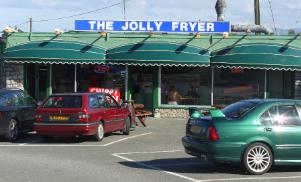 He has another chip shop in Newborough - on your way to LLANDDWYN BEACH.
There's also the Jolly Frier that he's just taken over in BENLLECH.
You'll find it inside the carpark, opposite the garage.
I must ask a favour of you, though. And I hope you'll be kind enough to indulge me.
When you walk into Simon's shop in Gaerwen or in Benllech - remember the face you see here - shout, "Simon!! Two fish! - (or whatever your order is).
This is more meaningful if you are a total stranger until that very moment. Also ask him about his ski-ing holidays at the beginning of the year.
Ask him if he sustained any injuries this time.
---
When Simon's cooking at the Jolly Fryer in Benllech, Melita is in charge of frying duties in Gaerwen.
The same protocol applies here - if you please.
"LEETY!! TWO FISH, PLEASE!"
Don't be cruel, but ask her how Simon is and has he been on holiday again.
Tease her, but don't cause her lovely brow to furrow.
---
WATCH AND BELIEVE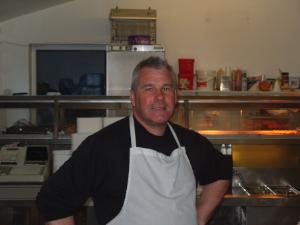 Take a closer look at the sequence of Simon's pictures above.
You'll soon realise there's something quite unique going on here.
It's a TRANSFORMATION.
From a cuddly and affectionate Simon we have moved through each stage of this miraculous transformation to end up with Super Chip Shop Person.
He looks a bit scary here, doesn't he?
It's an illusion.
He's a nice guy
REALLY!
He's just assumed the identity that will serve you with the BEST FISH AND CHIPS ON ANGLESEY
It's TRULY AMAZING!!
---
A LITTLE BIT OF WHAT YOU FANCY DOES YOU GOOD
If I didn't believe that Simon's Chip Shop in Gaerwen is the best on Anglesey, then I wouldn't say so.
So, why don't you ...
VISIT AND ENJOY A TRADITIONAL HOLIDAY MEAL THAT REALLY ROUNDS OFF A TIRING DAY ON THE BEACH, SURFING, OR A FAILED FISHING TRIP.
YOU KNOW IT MAKES SENSE

---
Return from Best Anglesey Chip Shop to EATING & SHOPPING Page

Return to HOME PAGE
---
Check out the transformation below, once again.