LLANDDWYN BEACH
Longer Than Childhood Summers


Please believe me when I tell you that the sandy beaches at Llanddwyn are longer and more golden than childhood Summers.
They are among the very best of Anglesey Beaches.
If you're going to spend time at a few of our beaches during your holiday, then this beach offers you so much.

From Sunbathing, Bathing, Windsurfing, Kite-surfing, Fishing to Ancient Celtic Romance. It's all here. Just waiting for you.
All you need to do is point your car in the right direction.
I am not exaggerating. Llanddwyn is blessed with miles of sandy beach.
It has its own glorious beach and, just north around the corner - past the Island - is Newborough Beach. This second beach is longer and equally beautiful. Here you will find real privacy.
BEACH AWARDS
Blue Flag Award
Resort Seaside Award
Marine Conservation Society Award
---


LLANDDWYN BEACH


Step onto the beach from the car park and allow your toes to embrace freedom in the softest of golden sand.
For just a moment just raise your eyes to the blue horizon where the Snowdonia mountains march their way west to sink into the sea at the finest point of the Lleyn Peninsula.
There, in the hazy distance is Bardsey Island, where twenty thousand saints are allegedly buried.
I suppose that means planting a vegetable garden would bring you perilously close to offending Heaven.
The area behind the sand dunes is Newborough Warren (Tywyn Niwbwrch). It is a Site of Special Scientific Interest and a Nature Reserve. Therefore, sadly but sensibly, it remains out of bounds.
Don't worry, though, because there is more than enough of interest on the beach, in the sea and on Llanddwyn Island to keep you occupied the entire day. And night, if you've brought your rods with you.
Whether you come to unwind, de-stress, idle, sunbathe, kite-surf, fish, play football or build sandcastles, it is all here for you.

Like many of our beaches touching on occasionally tempestuous seas, this glorious beach adopts different identities according to the weather.
Personally, I love the beach and Island best in violent weather and at twilight when shadows begin to move.
I am transported to another romantic period when St Dwynwen resided here.
You can go to Llanddwyn Island from the bottom of this page but, for now, here's a brief view of the Island from the forestry track.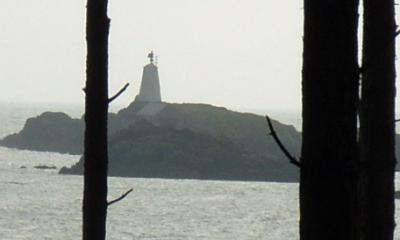 First, Let's Enjoy The Main Beach


This beach is long enough so that even on busy days there is plenty of room and plenty of parties are enjoyed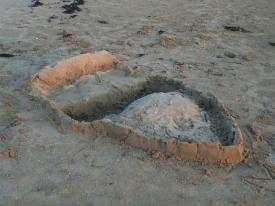 Sandcastles of varying aesthetic quality are constructed here by children under the guidance - or is it the interference - of frustrated dads who didn't get it right as kids.
Because their own dads interfered.
Children! Bring your own bucket and spade or you'll never have your own sandcastle.
---
TELL ME ABOUT YOUR SANDCASTLE BUILDING
SUCCESSES AND FAILURES. Click Here
---
If it's privacy you crave then this excellent beach affords you plenty. Just turn to your left when you step onto the beach and start hiking.
TAKE CARE - It's a lovely walk to Abermenai Point; however, you'll notice that the Menai Straits becomes narrow and the it can be rather 'hairyscary'.
If you are after 'total freedom' then be warned because the sign in the car park informs us that Naturists are frowned upon by the authorities.
This is not a nudist beach. Doesn't keep them away, though.


BATTING FISH OFF LLANDDWYN


Have I seen Sea Bass leaping? You Bet I have.
A couple of job changes ago I used to be a member of the Welsh Water Marine Survey Team - this was before Health & Safety was invented, by the way.
Steve Williams from Bangor and I used to cruise up and down the Menai Straits in a little Zodiac deflatable every three weeks or so throughout the year - in almost every weather the Straits could throw at us. Which it did.
It's no wonder that Steve and I are dedicated landlubbers these days.
One fine and glorious Summer day Steve and I were anchored just off Abermenai Point. It was high tide and we were waiting for it to turn so we could sample the centre channel all the way down to the old Beaumaris Lifeboat Station.
Steve was having a snooze and I was being poetical as usual. The sea was so still and blue and there wasn't a cloud in the sky. Anglesey seemed to hang suspended in powder blue.
Steve was just about to tell me to shut up one more time when a great silver marine beast flew past me at the side of the boat.
Next thing, the water was alive with leaping Sea Bass. "Hold her stable!" I shouted as I stood up and grabbed the oar.
I stood there, oar in hand waiting to bat myself a fish.
Bass are psychic! If I turned one way they leaped the other way.
About forty of them flew past on their journey into the Straits and I never batted a single fish.
Maybe, swimming past St Dwynwen's Island lent them an eerie protection that day?

ARE LLANDDWYN BEACHES YOUR FAVOURITES?


Are these your favourite Anglesey beaches? Maybe you've enjoyed bathing, walking or generally been blown about here?
If you've got stories or thoughts you'd like to share about this or any other Anglesey beach with other visitors then Please CLICK HERE.
We'd all love to hear from YOU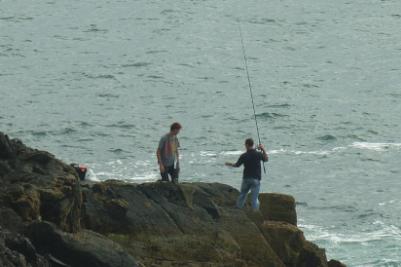 FISHING AT LLANDDWYN


Mackerel Bashing
If your luck's in, August can be a fabulous time for some 'Bashing' in Llanddwyn Bay.
It's almost too ridiculous to catch hundreds of mackies. But you can. Many did last year.
They caught so many that they were handing them out to all and sundry. They arrived back at the car park spiritually and physically exhausted. Burdened with an euphoric glow and a ton of fish.
These are the kind of memories that sustain you in the middle of Winter when even the bait is taking pity on you.
Gill Netting at Llanddwyn
If you have a license it's not illegal to gill-net at Llanddwyn but you certainly get the impression there a great deal of the illegal sort going on.
These morally corrupt 'persons' really mess it up for proper fisher-people.
If you're fishing at Llanddwyn at the beginning of the year, then the 31st of March can't arrive soon enough.
Rule 1 about Gill-netters: Shop Them!
For more information on fishing at Llanddwyn and Llanddwyn Island go to my Fishing Page.

CHECK OUT ANGLESEY TIDE TIMETABLES


WINDSURFING AND KITESURFING


Like in 'The Transporter' film, there is always a Rule 2
When you change into your wetsuit in the Llanddwyn carpark, keep your particulars to yourself.
You may feel cool falling and strolling about starkers, but I can guarantee you that anyone over sixty won't be impressed.
Everything works best in context.
Imagine a bit of George Michael crooning in the background, the Indian take-away finished off and a few bottles of wine rolling on the floor.
Beer glasses make you look attractive. Car parks don't.
Digital cameras and angry policemen could well be a new phenomenon here.


---
Like Rhosneigr beaches you'll find that Llanddwyn Bay offers regular excellent conditions for windsurfing and kite-surfing.
It can be a good beach for surfers, as well.
Kite-surfers throng to the beach. The thronging can be so great it can be a bit unsafe.
When you get novices and the Big Boys on the same stretch of water, something's got to give. Mostly it's tempers. Occasionally, flesh and bone.
Anyone who insists that he has a good report of windsurfing at Newborough Beach round the other side of the Island is usually given a strange look.
It is one heck of a long way to lug your gear.
Most windsurfers and kite-surfers are mad; however, anyone who carries his gear the mile and a half to Newborough Beach is either seriously dedicated or just a bit odd.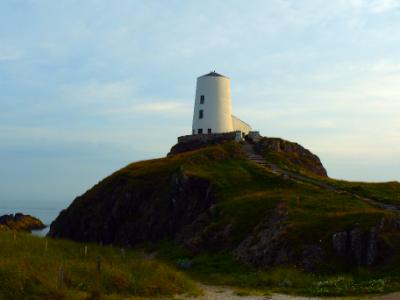 LOCAL FACILITIES


Don't feel that you need to bring absolutely everything with you in the car when you come to Anglesey.
Think about your Carbon Footprint. Just bring yourself.
Everything you need for your visit you can buy on Anglesey. Not only do we have big supermarkets we have plenty of country shops and post offices that will sell you everything, from stamps to snorkels.
Both Llanddwyn and Newborough beaches are as isolated as they are astonishingly beautiful. You'll have to bring everything you'll need for the day.
The local facilities in Newborough are limited to a very good One-Stop shop, a pub and an excellent Chip Shop (another extension of Simon's Chip Shop Empire).
If you want more cafes and restaurants then you'll have to drive up the coast to Rhosneigr.
Click Here for Llanddwyn Facilities
Please Click Here for Rhosneigr Facilities
For Anglesey Facilities Please CLICK HERE
---


CONTACT ME


Do you have any questions you'd like to ask? I would love to hear from you.
Maybe you have questions you want to ask in advance of your visit?
Maybe you have special advice - or even warnings.
Please feel free. ASK YOUR QUESTION by CLICKING HERE.
---


BOAT LAUNCHING AND REGISTRATION


The car park at Llanddwyn is owned by the Forestry Commission and the access to the beach is narrow footpath.

Therefore, it is not possible to launch any craft bigger than a longboard off this beach.
What people generally do is launch from another beach and rest a while in the bay.
The County Council requires you to register powerboats over a certain horse power and also lists the required qualifications.
Please CLICK HERE for all the above information and about launching fees on other Anglesey beaches and slipways.
---


PETS ON THE BEACH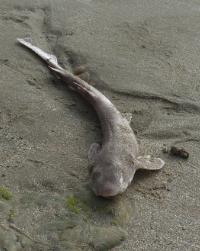 • There are Seasonal Prohibitions on dogs at Llanddwyn and certain other Anglesey beaches.
• Always bring a doggie poo-bag with you because the little dears can't always help themselves.
• The main concern regarding dogs on Anglesey beaches is a health issue. Doggie poo can blind for life.
FOR MORE INFORMATION ABOUT DOG RESTRICTIONS ON ANGLESEY BEACHES PLEASE CLICK HERE.
---


GETTING TO LLANDDWYN


The easiest route to Llanddwyn is to travel across Anglesey on the A55 Expressway and pull off at the Rhosneigr (Junction 5).
It will take you about twenty minutes to get to Newborough (In Welsh - Niwbwrch).
You'll travel along the coast road past Rhosneigr and Cable Bay.
Follow this road through the villages of Llanfaelog,

ABERFFRAW

and Hermon.
Take the road to the right when you arrive at a road junction next to the Bodorgan primary school.
The next village is Malltraeth where the celebrated British artist Charles Tunnicliffe came to paint the birdlife from the cob.
There is a permanent exhibition at the Oriel Llangefni of both his paintings and those inspiring portraits by the internationally renowned artist Sir Kyffin Williams.
Pursue the road straight ahead and you will arrive in Niwbwrch square.
Take the road to your right at the crossroad opposite the shop. Follow the road down to the toll machine (£3) and onwards to the beach. The toll restricts the number of visitors to the beach.

N.B. The toll machine may not always be working, so use your initiative. Or, if you intend to be a regular visitor to Llanddwyn you can buy a token at the village shop for £15. It'll last you the year.

SAND WISHES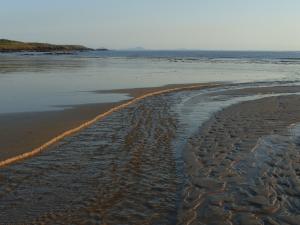 When I'm on the beach and a profound desire strikes me, then I pick-a-stick and write the thought or desire in the sand to allow the sea to carry it to the world to be brought back fulfilled.
This all works on the same general principle as Tibetan Prayer Flags. It's a theory under development, but it's got great potential.
In the meantime, CLICK HERE to learn the SAND WISHES theory. It's all very technical, yet simple
---
What's The Best Sandcastle
You Ever Built?
Second to excellent ice-cream, I love sandcastles and love building them.

Sadly, I lack the architect's imagination to build big. I just step back now and then and decide where to add the next bit.

My friend, Judith told me about a couple of engineers in Porth Dafarch (by Trearddur Bay) this year who built a three dimensional race track that even had a fly over ... over itself.

Too much for me, though I can appreciate genius when I see.

What's the best sandcastle that you ever built? Send me a photo if you've got one.

What does a Sandcastle mean for you? Dreams? Treasured Memories? Peace and Quiet?
---
Return to ANGLESEY WESTERN BEACHES.
Return to Anglesey Hidden Gem HOME PAGE.
---
---