LLANDDWYN ISLAND

St Dwynwen
Patron Saint of Lovers


To view Llanddwyn Island, dig your bare toes into the soft sand beyond the Llanddwyn Beach car park and glance to your right.
There, in the near distance, is the Welsh Island of Love.
If you are not too burdened with food and beach paraphernalia then you must visit the island of our Patron Saint of Lovers, St Dwynwen.
It is also an extension of the Newborough Nature Reserve.
Even its appropriate designation as an AONB (Area of Outstanding Natural Beauty) does tend to understate its mystical magnificence and unique beauty.
Llanddwyn Island is surrounded by a number of quite small, yet lovely, cove beaches. Some sandy and some fine dark shingle.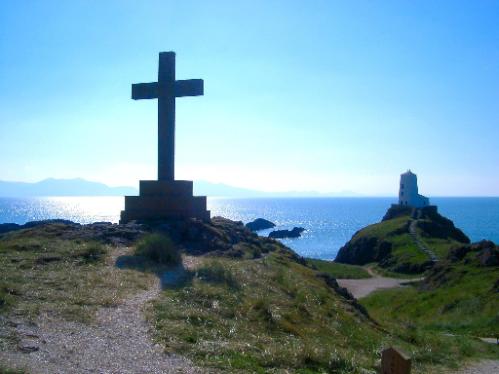 This compact island is historically significant and is very important to us on the Isle of Anglesey because it holds the remains of the Church of Saint Dwynwen.
LINGUSITIC NOTE

In Welsh, we differentiate between the genders of our saints. Sant is the masculine (as in Dewi Sant, our Paton Saint, David) and Santes the feminine (for example, Santes Dwynwen).

PAGE CONTENTS
ARE THESE ISLAND BEACHES YOUR FAVOURITES?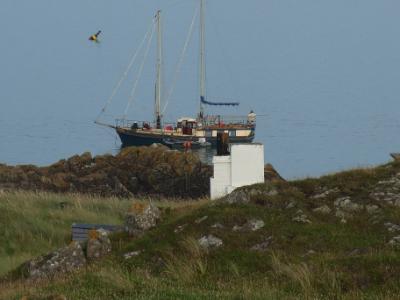 DESERT ISLAND PARADISE


Llanddwyn Island is barely an island but at high-tide it is cut off from the mainland by a 200 metre stretch of water and becomes a tidal island.
Great care should be taken when going onto Llanddwyn Island because many people have found themselves as sole inhabitants for the six and a half hours of the tidal cycle. So, buy a tide timetable before you venture.
I don't mean to worry you, but if you have children in tow then you're going to run out of crisps, drinks and excuses very, very quickly.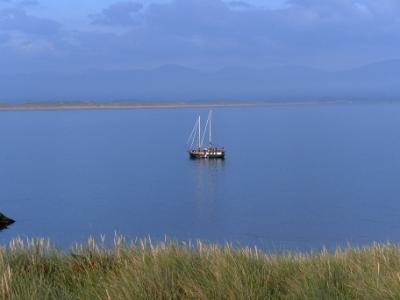 Apart from the glorious view of the mountains and the giant blue sky that meets the gloriously blue sea, Llanddwyn Island present you with wonderful little cove beaches and plenty of decent fishing marks.
Llanddwyn Island's mood is as capricious as the Anglesey weather and engages the visitor in differing reflective states.
You can walk straight along the centre of the Island on a well-constructed path. Or you can take the gentle coastal path that circumnavigates the entire island.
Please watch where you walk as some areas are clearly marked Out of Bounds. This is because a great deal of the scruff land on Llanddwyn Island is nesting ground for birds.
Plenty of bunnies to warm the cockles of your heart.


ST DWYNWEN'S FEAST DAY


January 25th is the Feast Day of Wales' Patron Saint of Love with lovers and aspirants exchanging cards and lovespoons.
As Dwynwen is Patron Saint of Love then Llanddwyn island on Anglesey is the Island of Love (N.B. This is Not a Nudist Beach).
Down the centuries tens of thousands of pilgrims have flocked to the now ruined mediaeval Island church to make their offering and beseech our blessed saint to intervene and bring Love into their lives.
This idyllic little island peninsula on the south west of Anglesey enchants with its beauty and its romantic aspect.
If you know where to look then you can stand in St Dwynwen's Well to cast your bread, meet an eel and make your Love Wish.
As I write above, January 25th is St Dwynwen's Day. For more info about St Dwynwen's Day Click Here
---


DWYNWEN'S UNHAPPY LOVE


It is curious that Dwynwen is identified with love because the tales of her own experiences of amour are both violent and tragic.
Yet, somehow we are culturally drawn to stories of love abused and love unrequited. Interestingly, Dwynwen was also the patron saint of sick animals (forsaken lovers?).
Llanddwyn Island really should be called, 'The Isle of Wistful Longing' and misconceived wishes.
A friend of mine once stood in Dwynwen's Well made his wish, found a girl, fell in love and then divorced.
Romance and tragedy are such common human conditions with little more than a sensual shiver and weary resentment to separate them.
It is difficult for us in this cynical age to understand how Llanddwyn became a place of pilgrimage for tens of thousands of people down the centuries. Yet it was.
With the gifts and offerings of the pilgrims a church was built on Dwynwen's original. It would be interesting to learn what rituals were attached to such an individual's pilgrimage.
However, the motive would be simple enough, for we all seem impelled by Mother Nature's Prime Directives.
---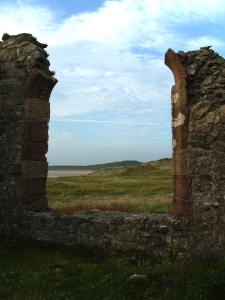 Dwynwen's brief residence beneath Heaven occurred sometime around the 5th Century when the Celtic lands seemed to have been invaded by early Christian saints.
I have previously mentioned that 20,000 saints of that period are allegedly buried on Bardsey Island (Ynys Enlli). WHY?
Dwynwen was one of 24 daughters of the fecund Brychan Brycheiniog, King of Wales, later St Brychan.
All are forgiven, especially those with something the Church wanted: Earthly tenure in the kingdom of the descendents.
Like many fair and beautiful women Dwynwen found her beauty to be a curse. The one to whom she was attracted eventually rejected her.

Another frequently tried-and-tested structured twist in the love tale applies here: Misinformation.
What would a classic tale of love be without confusion and misunderstanding?
Verily, it would be like Hamlet without the Balcony Scene.

---


SERVE MAELON RIGHT OR PAUVRE MAELON?
 

According to which story you choose to invest your belief, Dwynwen was in love with a young man called Maelon Daffodrill, whom she wished to marry. Maelon rejected her love OR her father refused the match as he had already decided upon a more politically convenient marriage.
It is said that when Maelon learned that Dwynwen was to be married to another that he raped her, thereby bringing a brutal end to any young woman's dream of sweet innocent love.
Then we have Heaven's intervention in the form of angel who awoke Dwynwen from her troubled slumber to offer her a magical potion. Her motives unknown, Dwynwen gave the potion to Maelon who in an instant was transformed into a block of ice.
Depending on which story you choose to believe, Maelon deserved this fate OR Maelon did not deserve this fate. Hey Ho!
The intervention of Heaven was not yet complete for she was then granted three wishes:
The first of her wishes was that Maelon be thawed;
The second that she could by her prayers and example be a conduit for God's care for all lovers;
Thirdly, she wished never to marry.
One can read so much into these tales. In addition to being fascinated by this easy embracing of Christian values and Pagan beliefs in the confusion of simple Human desires.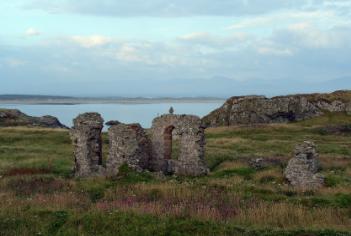 Dwynwen built a stone church on Llanddwyn Island and through her prayers and kindnesses became a beacon for lovers everywhere and a patron saint for sick animals.
Did Heaven intervene again to supply her with crippled animals to justify that role? It very little to ask considering that Judas had been damned to betray before he was ever born. What's the difference?
Nonetheless, Dwynwen died on January 25th 645 and this is recorded on the Celtic Cross beside the central path to the end of the Island.
---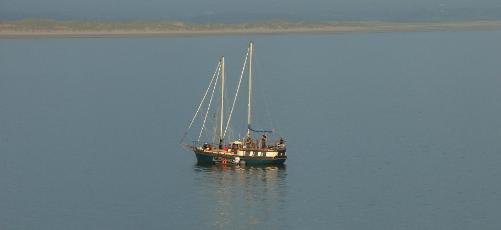 DWYNWEN'S WELL


For reasons of Health & Safety I am loathe to direct you to Dwynwen's Well. It's not exactly dangerous but the route down can slippery and it is located in a cleft in the rocks.
Safety Message
Llanddwyn Island cliffs are vicious sharp-edged lava rock eroded to fine edges by millennia of tempestuous Irish Sea storms. My wish for you is eternal satisfying love.  NOT A&E.
I respectfully direct you to enquire of its location with other visitors to Llanddwyn Island who may be able to guide you there in person. It lies between the church ruin and the old lighthouse.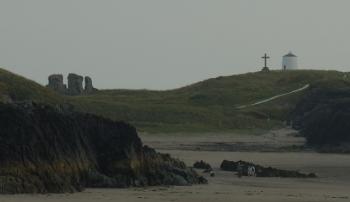 So how do you discern your amorous destiny in a Divine Well?
First of all, you have to convince yourself that what you are seeing is a well rather than a shallow little pool that is served by a wee spring.
That leap of imagination achieved, there are a couple of methods by which you discover your future.
Apparently, should you cast your handkerchief upon those heavenly waters issuing from this holy island you can divine prospects of happiness from its movements. I hope your hankie doesn't soggily sink and that it dances merrily in amorous jubilation.
Again, you could always defer your divination to a magical sacred fish (probably an eel, What!) which will flirt among the waters indicating propitious divination – OR NOT!
One dead-cert, iron-clad guarantee is for the water to boil in your presence for this augurs love and good fortune.
Bring some solid Carbon Dioxide with you to achieve this end because, after all, 'faint heart never won fair lady'.
If you're concerned over the faithfulness of a partner, then cast breadcrumbs upon those waters and covering them with a handkerchief.
A disturbed surface is a good omen.
Good Luck To You.
---

ARE LLANDDWYN ISLAND BEACHES
YOUR FAVOURITES?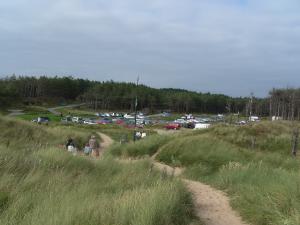 Is this your favourite Anglesey beach?

Maybe you've enjoyed bathing, walking or generally been blown about here?
If you've got stories or thoughts you'd like to share about this or any other Anglesey beach with other visitors then please CLICK HERE.
We'd all love to hear from YOU
---


LLANDDWYN ISLAND PILOT COTTAGES


At the far end of Llanddwyn Island you will find a small terrace of cottages that were once the home of the Menai Straits Pilots.
These cottages have now been converted into an Interpretation Centre which sets out the cottages as they would have looked around the end of the nineteenth century. Please take time to visit.
The cottages will remind you how isolated this tidal island can be in tempestuous weather.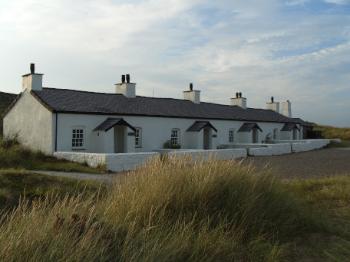 On first consideration it might seem a trifle odd to have navigation pilots located here. However, there was a time between the 17th and 19th Centuries when countless large ships regularly sailed in and out of the Menai Straits to bear away slate to the entire world.
If you have visited the Slate Museum in Llanberis, Caernarvonshire you will have learned of the scale of the slate industry – the biggest in the world in its time. Even today, North Wales slate is regarded among the best roofing material in the world and is still transported abroad.
The slate would be brought down from the mountainous quarries by dedicated trains to the docks in Bangor, Felinheli (Portdinorwic) and Caernarfon.
There the slate was transferred to sailing ships that would have to negotiate the treacherous sandbars between Caernarfon and Abermenai Point at the other end of Llanddwyn Beach.
It was in 1826 that the Caernarfon Harbour Trustees decided that a solution would have to be found the problems of ships that foundered on the sandbars. This was a major obstacle to the efficiency of Caernarfon as an export dock.
Stand and gaze across the Menai Straits toward Caernarfon from Brynsiencyn at low tide and the scale of the problems associated with the sandbar are obvious.
To this end they located Pilots on Llanddwyn Island and built the cottages to accommodate them and their families.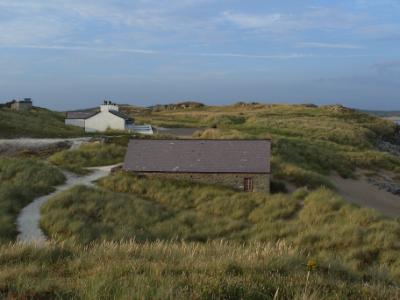 In addition to their pilot duties, the men also served as the crew of the lifeboat. The lifeboat station was eventually taken over by the RNLI but taken out of service in 1903.
I am sure that you will have been intrigued by the Cannon in front of the cottages. Maybe you have construed theories for yourself based on invading French Fleets, which was a worry in the 17th and 18th Centuries.
This had nothing to do with fears of invasion but was a Call-to-Arms to the members of the lifeboat living in the nearby village of Newborough (Niwbwrch). I understand that this was occasionally supplemented by a rocket flare.
Llanddwyn Island conducts its geographical presence with a genuine romantic mysticism. So much so that on occasion we can be distracted from its more functional usage.
Had Dwynwen been alive in the eighteenth century then her own misery would have been occluded by regular tragedy seen out in Caernarfon Bay. Respectfully, I direct your attention to my report on the RAMON CABRERA LIFEBOAT DISASTER.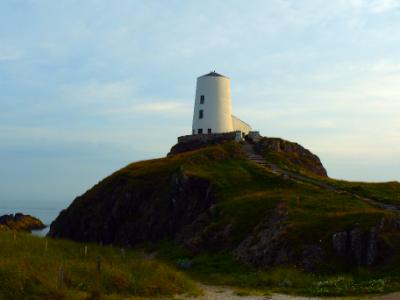 LLANDDWYN ISLAND LIGHTHOUSE


Prior to the Pilots being located on Llanddwyn Island in 1826 the Caernarfon Harbour Trustees had a small single light navigation place on the small headland.
This single light was constructed as an aid to navigation in and out of the Menai Straits and to indicate the entrance to Pilot's Cove.
This was replaced in 1845 by the small beacon, Tŵr Bach (literally 'Small Tower') that remains today and can be seen opposite the dominant lighthouse, Tŵr Mawr (literally 'Big Tower'), which was constructed in 1873.
The resemblance to Anglesey windmills of that period is obvious. Why not adopt that shape? It was tried and tested on Anglesey and the construction skills were indigenous.
It has been mooted, however, that there may well have been a windmill already located here.
But being so far from any agricultural habitation and access of cheap means of transportation, those simple logistical challenges do make this unlikely. But who knows?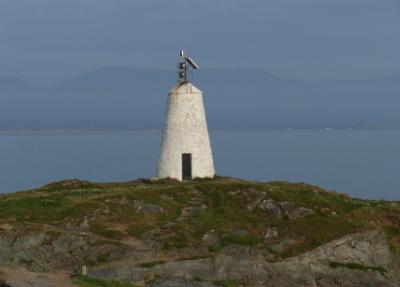 ---


ANGLESEY LOVE POTION


There are many recipes for love potions. Some are no more than circumstance, a glance, a romantic sunset or some imponderable quality of simply being human.
Generally, the more complicated or contrived a situation the less likely is a loving relationship to develop successfully.
There again, comedic failure in all the above can be the best potion of all.
Trust me on this last one.
BE WARNED. Wearing tank-tops, flares and singing self-penned love songs accompanied by plastic stringed guitars is a guarantee of complete failure.
There is Only One Potion That Guarantees LOVE which just might last beyond the first date. Actually there are two, the second being charisma in the form of a big wallet.
BE WARNED
Wearing tank-tops, flares and singing self-penned love songs accompanied by plastic stringed guitars is a guarantee of complete failure.
There is Only One Potion That Guarantees LOVE which just might last beyond the first date. Actually there are two, the second being charisma in the form of a big wallet.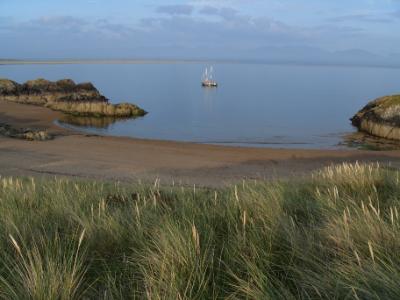 Anyway, back to the dead-cert potion:
A succulent marmite of seared lamb braised gently against a background of Mantovani, before being introduced to a solicitous combination of a robust French red wine (a Bordeaux, possibly), onions, garlic and a bouquet garnis of available strong stemmed herbs (rosemary is essential).
Each step in this love potion's creation must be imbued with loving intent otherwise the magical culinary concoction is merely expensive scouse.
When served this rich and thick stew should be presented in magnolia cream French-style bowl plates along with torn clumps of crispy, crunchy bread for dunking.
Any candles should be placed to the side of the table otherwise your partner is embraced in a shroud of pointless darkness caused by retinal burnout.
As an oblique salute to St Dwynwen's unrequited love this magical stew should be presented with a side dish of eternally distressed lettuce and profoundly crushed potatoes.
PLUS copious amounts of alcohol, beer glasses and a structurally intact prophylactic.
The potion can either be eaten or applied – depending on appetite or inclination and the availability of clean-wipes and a ready excuse to hand in case your mother comes back early from bingo.
---


'I'M WAITING AS QUICKLY AS I CAN'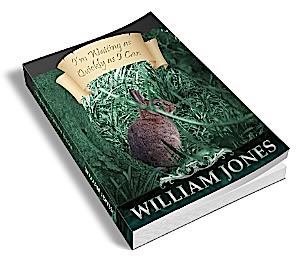 There are a couple of reasons why I visit beaches, walk the beautiful coastline of Anglesey or just rest in quiet contemplation in some ancient churchyard.

I need to gather my thoughts and reflect on what's gone right and, more specifically, what's gone wrong.
Then I write about it. I used to do a bit of psycholog-ing.
The lesson is to just SIT, REST AND REFLECT in beautiful locations like Llanddwyn Island.
To learn what I mean PLEASE CLICK HERE or on the Sweet Bunny image above.
---
When I was writing about Llanddwyn Beach on the West Coast of Anglesey, it was fun sharing my Fish Batting story.

I'm sure you've got some even better Anglesey holiday stories that people really would love to hear about.

Go on, let us hear them.

YOUR Anglesey Story
Click on the links below to read some great stories. They were all written by other visitors to this page.

A ram's tale

My friend Val and I just love to go a walking, Over the hills and far away doing lots of talking. Last week we were at Lligwy Bay, and, as it was a lovely …
---
Click Here for Llanddwyn Facilities
Return from Llanddwyn Island of Lovers to Anglesey Western Beaches
Go to Anglesey Hidden Gem Home Page

---
---
---