RAMON CABRERA

Rhoscolyn Lifeboat Tragedy December 3 1920
ST GWENFAEN CHURCH AND RAMON CABRERA LIFEBOAT HEROES
Like a few other small villages on Anglesey you'll discover that the name today is not the original.
Rhoscolyn used to be called Llanwenfaen, after St Gwenfaen for whom the church is named.
Llan is the name for 'church'. Newborough should be called Llanon after St Non (Santes Non). Llangefni should be named Llangyngar after the church of the sixth century St Cyngar.
It is my intention to write about the history of some of my favourite Anglesey churches when circumstances and time allow.
However, for now I'll tip my hat in their direction and talk about one particular part of St Gwenfaen's recent history.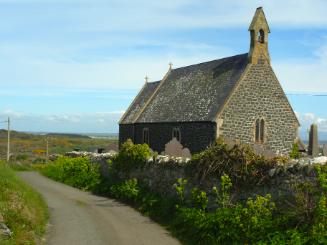 St Gwenfaen was first established in the 7th Century.
Like all Anglesey Churches you'll find a legend attached relating to a cure.
St Gwenfaen was purported to ease mental illness.
PS You'll find St Gwenfaen's well along the coastline should you follow it north toward Trearddur Bay.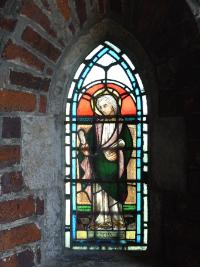 I'll offer you a link to St Gwenfaen Church at the end of this little piece for more details.
You will also be able to make a donation to the church fund for care and refurbishment from that website.
I cannot pass through the cemetry without saying hello to Baby Luke and offering a little prayer for him and his parents.
---
Ramon Cabrera Lifeboat Disaster
St Gwenfaen is the obvious landmark that tells you that you have arrived near Rhoscolyn Beach.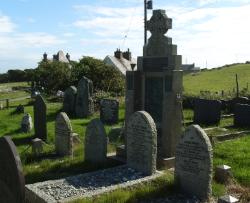 St Gwenfaen is a delightfully well-loved and well-looked after church and worth visiting to pay your respects to heroes whose mortal remains rest here.
Respectfully make your way past the graves to the back left of the graveyard.
There you will find the commemorative gravestone above the graves of lifeboat-men of the "Ramon Cabrera".
Five men named lost their lives attempting to come to the rescue of the Whitby steamer, 'Timbo which was in serious trouble in Caernarfon Bay on December 3rd 1920.
---
Conditions were so appalling that after several attempts by the Ramon Cabrera to come alongside she had to break away and seek shelter off Llanddwyn.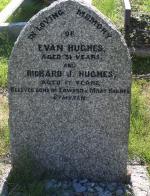 It took seven hours to reach the shelter of Llanddwyn and to beach the Ramon Cabrera, by which time five men had been claimed by the stormy sea. The bodies came to shore at Llanddwyn.
The five men were to the storm are, Owen Owens (61 years of age), the Coxswain, William Thomas (19 years of age), Richard J. Hughes (17 years of age), Evan Hughes (34 years of age), Owen Jones (38 years of age).
Evan and Richard Hughes came from the same house, Cymyran at Cymyran. The story in the family is that Richard was washed overboard and Evan dove in after him.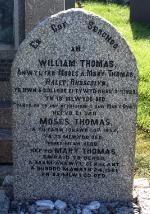 Both were lost and now rest together contemplating eternity.
---
This was a tragedy from which the Rhoscolyn Lifeboat never recovered. The loss was too great for the small community to endure and in 1929 the station was closed forever.
To add to the appalling sense of tragedy, the rescue attempt in appalling seas was not recorded as such. It was officially designated as a 'NON-SERVICE'.
---
Please take a moment to pay your respects to these individuals now sailing through eternity.
Take a further moment to contemplate the heroism of the men and women who serve in today's lifeboat crews.
These are ordinary men and women who perform extraordinary acts of bravery.
CLICK HERE to learn about ANGLESEY'S RNLI LIFEBOAT STATIONS and their History.
For more information about St Gwenfaen's Church please CLICK HERE for an outward link.

---
Return from Ramon Cabrera Lifeboat Disaster to WHY ANGLESEY?.