RHOSCOLYN BEACH

Great Beach and Rugged Coastline
Rhoscolyn is another Anglesey beach that's brilliant for families and lazy beach loungers.
People come to the beach to enjoy the sunshine, as well be active and quite clearly Sailing a major preoccupation.
You will find plenty of warm, soft sand at the back of the beach and an abundance of rock-pools to explore for hideous little beasties that wouldn't look out of place on DOCTOR WHO.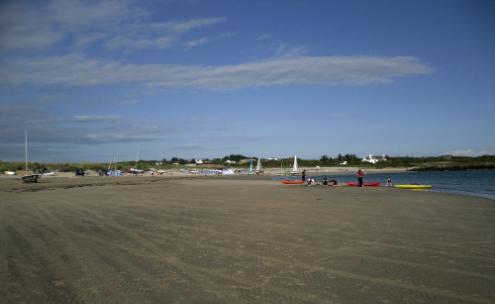 At Rhoscolyn the Anglesey coastline really begins to get tough and rugged and the sandy beaches of Holy Island stand out as gems among the rising cliffs.
This is a family beach that's also ideal for sailing and fishing, with the Anglesey Coastal Path meandering along rolling greenery above stark, vertical cliffs.
Rhoscolyn beach is located near the very southern tip of Holy Island (Holyhead Island) on Anglesey and is just west of SILVER BAY beach, which itself is definitely worth a visit.
Be warned though, the car park is very small and is usually full on warm sunny days. You may even be lucky and find an ice-cream van here, but don't bank on it.
The excellent news is that you have The White Eagle Pub at the top of the road.
---
WHAT'S YOUR FAVOURITE BEACH?
This has to be your favourite Anglesey beach.
It has to be, hasn't it? Okay, so there are a few other brilliant beaches on Anglesey.
I'm sure you've got some lovely stories or thoughts you'd like to share with other visitors about Rhoscolyn or another Anglesey beach.
Because we'd all love to hear from YOU about YOUR STORY
---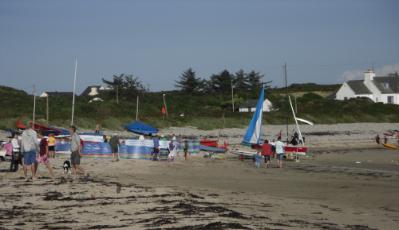 THE BEACH
Rhoscolyn is a very pleasant small sandy bay bounded by rocky outcrops that are characteristic of the Holy Island coastline.
The further north you travel the higher and more imposing the cliffs become, reaching their highest point at South Stack. Here they overlook the beautiful South Stack Lighthouse.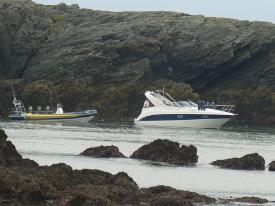 You'll usually find small boats a few hundred yards off the beach.
These boats are occupied by optimists dangling their fishing rods in anticipation of nature's bounty.
Or Not. But that's what fishing is about.
You can catch and blaspheme at dogfish while waiting for Pollock, Sea-Bass and whiting.
Divers use this beach to access the clear waters of this coastline. I understand that the west coast of Anglesey is renowned by British divers for its crystal clear waters.
---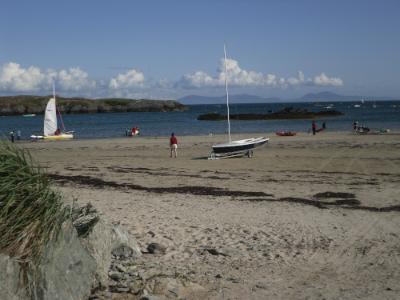 RHOSCOLYN'S OTHER BEACHES
You have the main beach, which is large and fully occupied on a good Summer day and also equally so on a good sailing day.
Whether the sun's out or not.
From the back of the beach you'll notice there are two small sandy bays to your right. Definitely worth a look.
Directly ahead of you, you'll notice the large old lifeboat house, below which you'll find another another stretch of sand.
Blinkin' Flip! But you are spoilt for choice.
Follow the path around the smaller life boat house and - AGAIN, ANOTHER BEACH!!.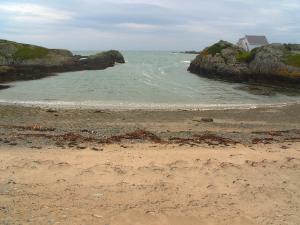 ---
SANDCASTLES!

TELL ME ABOUT YOUR SANDCASTLE BUILDING

SUCCESSES AND FAILURES. Click Here
---
DRIVING ADVENTURES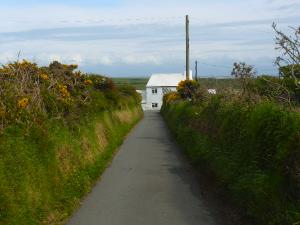 Rhoscolyn beach is not big. There again, it's not small.
It's a very popular boating activity beach and you can enjoy a wonderful adventure in getting your boat down to the car park along a very, VERY narrow road.
You'll also encounter a handful of blind 90 degree bends to negotiate.
I have yet to see two vehicles pulling boats come face-to-face, but in an infinite universe anything is possible.
It would be a wonderful spectacle of driving skill to behold.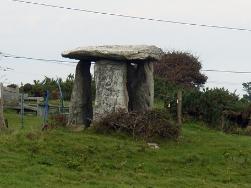 Maybe a Druidic curse could be invoked by dancing naked around the cute Gromlech garden centre burial chamber.
A good general rule is to extend courtesy and seek to make the other driver happy.
After all, you're on your holidays with all the time in the world.
---
PETS ON THE BEACH
• No major prohibition on dogs, but please keep them on a leash - Unlike Crazy Fido here.
• Though not here at Rhoscolyn, there are Seasonal Prohibitions on dogs on certain Anglesey beaches.
• Always bring a doggie poo-bag with you because the little dears can't always help themselves.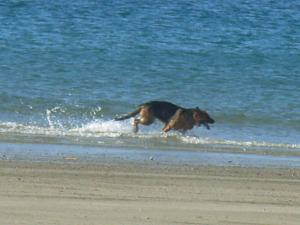 Imagine specific matter oozing from between your tanning and sandy toes.
Imagine a worse scenario; it's your child.
• The main concern regarding dogs on Anglesey beaches is a health issue.
Doggie poo can blind for life.
FOR MORE INFORMATION ABOUT DOG RESTRICTIONS ON ANGLESEY BEACHES PLEASE CLICK HERE.
---
ANGLESEY COASTAL PATH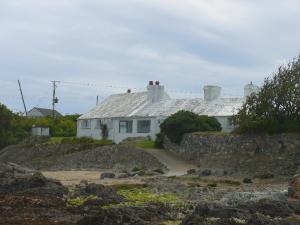 Depending on the weather and conditions underfoot the walk along the coastal path to Silver Bay is a pleasant experience.
Rhoscolyn Beach is an excellent starting point for an hour's walk along the Isle of Anglesey Coastal Path to the north.
It brings you back to the road by the church and back down to the car park.

You could also pop around the headland on the left of Rhoscolyn Beach to Silver Bay. Just follow the Anglesey Coastal Path sign at the entrance to the carpark.
---
To Walk To The North Follow These Simple Instructions: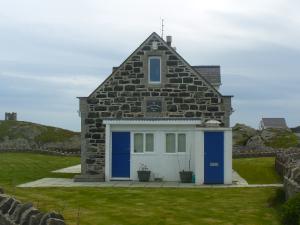 Take the concrete path on the right of the beach around the small converted lifeboat station.
Before this the path will bring you down below the beautiful cottage above with its rope lounger.
At Rhoscolyn Lifeboat House (1877) pass a moment here to appreciate the stonework of the sunroom extension at the back.
I remember the work being done by a local builder. I would stop to chat with him each time I passed by.
It was a pleasure to watch his patient craftsmanship and I always looked forward to seeing his progress when I was next that way.
---
The beach below the old lifeboat station seems to be a regular stopping point for groups of kayakers.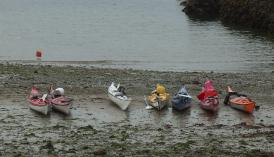 Many are the times that I've nodded to them in greeting as they munch their sandwiches and sip their hot coffee, rosy-cheeked and wild-eyed.
As Longfellow wrote on the Sea:
"Only those who brave its dangers comprehend its mystery."
The route is obvious and well-signposted between the whitewashed houses.
The path eventually becomes narrow and quite regularly muddy.
Then you're over a style onto open ground that'll take you all the way up to the Coastguard station.

---
Taking enormous care, you can skirt the rising sea cliffs on your left.
When the sea is calm and the Sun is abroad, then this has an idyllic, almost Mediterranean feel to it.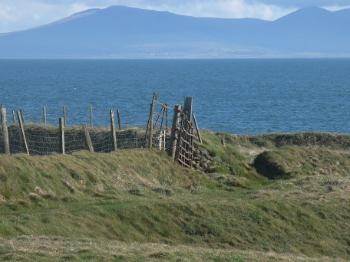 If you've seen the film, "The Big Blue, then you'll know what I mean from the early scenes.
"Ah! Sicily by night, you lucky dolphin."
After a little uphill hike you'll arrive at the Coastguard station.
Like many of the Coastguard points on Anglesey, it has now been abandoned but remain a significant landmark on the headland.
I feel it's a bit like leaving your safety glasses at home.
From this high vantage point you can look along the mountains of Snowdonia as they sink westward down toward Bardsey Island.
Just offshore you'll notice the Rhoscolyn Beacon located on Ynysoedd y Gwylanod ('Islands of the Seagulls').
Not really worth a picture because if you've seen one offshore rock, you've seen 'em all.
---
You will have a choice of routes from here.
There is an extension to the Coastal walk that'll take you further along above the cliffs and the cormorants to come back to the Rhoscolyn area behind St Gwenfaen's Church.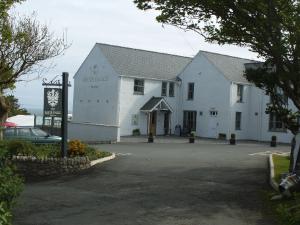 There again, you may decide that you have justified your next ambition form the day, which is to head for the excellent WHITE EAGLE PUB for a stupendous lunch and a good pint.
Just follow the road behind the Coastguard Station down to the Church and let gravity and necessity bring you to the White Eagle and then back down to the beach carpark.
---
ST GWENFAEN CHURCH AND LIFEBOAT HEROES
Like a few other small villages on Anglesey you'll discover that the name today is not the original.
Rhoscolyn used to be called Llanwenfaen, after St Gwenfaen for whom the church is named.
Llan is the name for 'church'. Newborough should be called Llanon after St Non (Santes Non). Llangefni should be named Llangyngar after the church of the sixth century St Cyngar.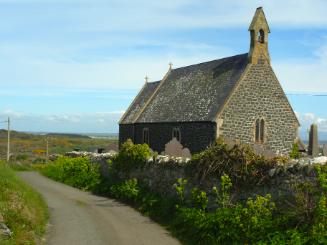 It is my intention to write about the history of some of my favourite Anglesey churches when circumstances and time allow.
However, for now I'll tip my hat in their direction and talk about one particular part of St Gwenfaen's recent history.
St Gwenfaen was first established in the 7th Century and like all Anglesey Churches you'll find a legend attached relating to a cure.
St Gwenfaen was purported to ease mental illness.
To learn more about St Gwenfaen's Church and about the Ramon Cabrera Lifeboat Disaster Please CLICK HERE.
---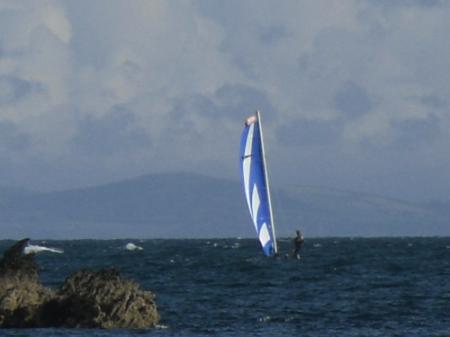 FISHING and WATER ACTIVITIES
I did mention that the car park is small, didn't I? It is small, though you'll find a well-maintained toilet block and drinking water tap at its back.
On a busy day – and it doesn't take much to make it busy – you'll barely be able to manoeuver a lame donkey on roller skates.
Most of the vehicles that arrive here bear with them dingy sailors, anglers, jet-skis and divers - big vehicles to carry big equipment.
Most trailers are kept at the back of the beach for ease of access to the water and the vehicles inevitably bought back to the carpark.
This usually guarantees confusion in trying to get out of the carpark later on.
You'll invariably see little Shetland-type cruisers and anglers along the stretch of coast from around Silver Bay and up past Trearddur Bay up toward Porth Dafarch.
CHECK OUT ANGLESEY TIDE TIMETABLES
FISHING
Last Sunday, I was parked up by St Gwenfaen's Church, where I'd been checking out family dates on the Ramon Cabrera disaster.
Three vehicles arrived on the scene like the SAS on a mission and out hurried about eight people who rushed to the back of their vans.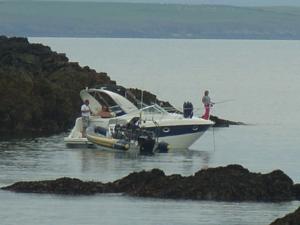 Out were pulled buckets, rods galore and other fishing paraphernalia.
They had a real sense of urgency about them, so – as I usually do – I asked one where they were going to fish, state of the tide and what they were expecting to catch.
"A few hours down from High water. You choose your own best spot all along the coastline.
"Usually catch nothing," he quipped. "No, but plenty of doggies and some whiting."
---
Apparently, the Sea-bass seem to stick further South below Rhoscolyn Bay.
I'm sure that if you ask another angler, he'll share a different experience.
One thing common to all tales is the super-abundance of doggies in the area. Too often have I seen an angler rage at these poor saps before throwing them aside.
You always know when there's been a fishing competition by the number of dead dogfish strewn along the beach.
---
After a bit of an intense conflab three of them headed up the road past the church toward Rhoscolyn Head.
The road ends at the farm, so you cut down across the field at the kissing gate (Giat Mochyn or Pig Gate in Welsh).
I think they would then have headed down the coast toward Ravenspoint, which would explain the 'Doggies' quip.
The rest of them continued their conflab with arms pointing in various directions.
Eventually they headed off through the gate below the church and up toward the Coastguard Station, which is one of the high cliff areas.
It's a very difficult to get down to any suitable shelves in that direction, so do please TAKE EXTREME CARE.
For more fishing tips in this area PLEASE CLICK HERE.
---
BOAT LAUNCHING AND REGISTRATION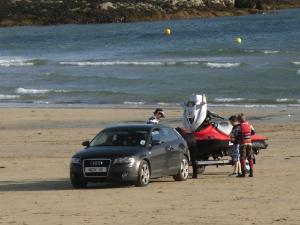 Rhoscolyn Beach is essentially a sailing beach, though you'll find that it is used by the occasional jet-ski ace and power boat enthusiast.
For the latter two there are registration and launching fees to consider.
The County Council requires you to register powerboats over a certain horse power and also lists the required qualifications.
Please CLICK HERE for all the above information and about launching fees on other Anglesey beaches and slipways.
---
---
EATING, SHOPPING AND OTHER FACILITIES
If you've been having a look at my Silver Bay page then you'll have realised that apart from the excellent White Eagle Pub and the odd appearance of an ice-cream van, there is very little in the immediate area.
But worry not, less than two miles away in Valley and in Trearddur Bay and Holyhead all you require is at hand.
Please CLICK HERE for more information about shopping, eating and other facilities in this beautiful coastal area of Anglesey.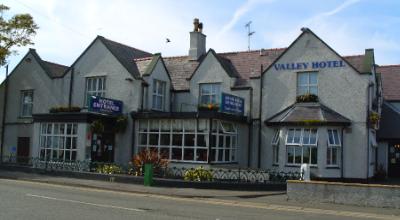 ---
STAYING IN THE RHOSCOLYN / HOLYHEAD AREA
Imagine yourself waking up to the sound of the sea lapping the shores rather than John Humphries mercilessly hectoring some poor sap.
Put on Classic FM to hope the DJ will play Ron Goodwin's '633 Squadron' to set you up for a day's activity - or inactivity, as you will.
It's a fact that tens of thousands of people return to visit Anglesey year after year. Many, several times a year.
The obvious reason is that they enjoy the natural beauty, the walks, the sea, the beach, the people, the welcome and the facilities that make it so easy to be here.
Many have purchased homes here to retire. Others have bought caravans that now reside in the caravan parks that dot Anglesey's Western and Eastern coasts.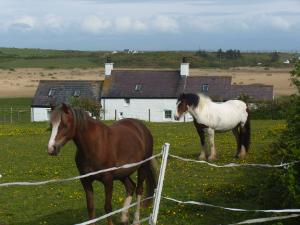 Camping is always a very reasonable alternative. You can just bring your bivvy bag or the kitchen sink to camp to the degree of comfort that you want.
Others rent a caravan or even one of the many holiday cottages that are now becoming more and more available to you.
---
At Rhoscolyn you'll find the SILVER BAY HOLIDAY VILLAGE.
It was here I met a couple from Northampton who told me they loved Anglesey because everything they needed for a varied holiday was here: fishing, cycling, walking and good food.
It was a delight to meet them and I'm glad the caravan site they'd been planning to visit in the Lleyn Peninsula was flooded.
---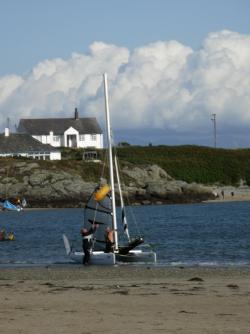 If you want to pamper yourself, then we have luxury hotels at Tre-Ysgawen Hall, TREARDDUR BAY, Valley and Beaumaris.
You might choose one of the good family hotels in the Pentraeth and Benllech areas.
You could stay more Island-central in the Bull Hotel in Llangefni.
There's nothing more friendly and satisfying than a good day's activities in the fresh air, a meal in a good restaurant, a drink or two and slip off your shoes.

---
ANY QUESTIONS? GOT INFORMATION TO SHARE?
Do you have any questions you'd like to ask? I would love to hear from you.
Maybe you have questions you want to ask in advance of your visit?
Maybe you have special advice - or even warnings.
Please feel free. ASK YOUR QUESTION by CLICKING HERE.
---
GETTING TO RHOSCOLYN BEACH
OH! WHAT FUN!
In the words of Paul Daniels, "You'll enjoy this. Not a lot!" So here we go ...
Route 1:
Coming from Holyhead / Trearddur Bay
• At the Holyhead A55 Expressway roundabout Turn Left for Trearddur Bay. McDonalds should be on your left.
• Drive out of Holyhead and past the Holyhead Golf Course on your right to arrive in Trearddur Bay.
• Drive through Trearddur Bay into the country until you reach the next village.
• Immediately you enter the village, you will see a Right Turning for Rhoscolyn. Take this road.
• This road is single track with passing places.
Take care as some people are rather heavy on the accelerator on blind bends.
• After a good mile, Rhoscolyn's St Gwenfaen's Church will be above you on your right. Sweep down left for a hundred yards and turn down the road for The White Eagle Pub.
• Pass The White Eagle and head down an even narrower road down the car park. There are no passing spaces.
Great road for practising your reversing skills.
• You arrive at the Rhoscolyn Beach (Borth Wen) carpark.
Route 2:
Coming from Valley.
• Travel across Anglesey on the A55 Expressway and Take Junction 3 for Valley and Trearddur Bay.
• Drive to the Valley traffic lights and Turn Left for Trearddur Bay.
• Four Mile Bridge is the first village you'll come across. Cross the bridge and up a little hill.
About 50 metres past the old Post Office/shop Take The Left Turning signposting Rhoscolyn.
• Follow this road for about 1 mile until you Pass the white Church Hall on your Left. 50 metres past this is a well-signposted Left Turning for The White Eagle Pub.
• Pass The White Eagle and head down an even narrower road down the car park. There are no passing spaces.
Great road for practising your reversing skills.
• You arrive at the Rhoscolyn Beach (Borth Wen) carpark ... EVENTUALLY.
---
SAND WISHES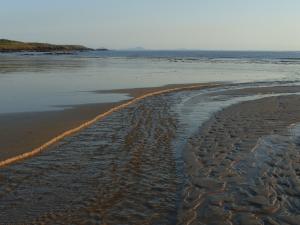 I am a great believer in the truth and stating what it is that you want from life. Sometimes you need a little help - some divine intervention, perhaps.
I've learned that it pays to have more than one MODUS OPERANDI.
If one contingency doesn't work, then you have another to hand.
When I'm on the beach and a profound desire strikes me, then I pick-a-stick and write the thought or desire in the sand to allow the sea to carry it to the world to be brought back fulfilled.
This all works on the same general principle as Tibetan Prayer Flags. It's a theory under development, but it's got great potential.
I'm sure you'll agree that Rhoscolyn is an excellent beach for carrying out these profound experiments.
There again, you could always just tell the person.
In the meantime, while you're working yourself up to that CLICK HERE to learn the SAND WISHES theory. It's all very technical, yet simple
---
What's The Best Sandcastle
You Ever Built?
Second to excellent ice-cream, I love sandcastles and love building them.

Sadly, I lack the architect's imagination to build big. I just step back now and then and decide where to add the next bit.

My friend, Judith told me about a couple of engineers in Porth Dafarch (by Trearddur Bay) this year who built a three dimensional race track that even had a fly over ... over itself.

Too much for me, though I can appreciate genius when I see.

What's the best sandcastle that you ever built? Send me a photo if you've got one.

What does a Sandcastle mean for you? Dreams? Treasured Memories? Peace and Quiet?
---
Return from Rhoscolyn Beach to ANGLESEY WESTERN BEACHES
Click Here to visit MORE WESTERN BEACHES