TREARDDUR BAY
Anglesey's Mediterranean


Imagine a hot sunny day at Trearddur Bay with the tide lilting gently against the sandy and rocky shores.
The sea is smooth, silky and inviting.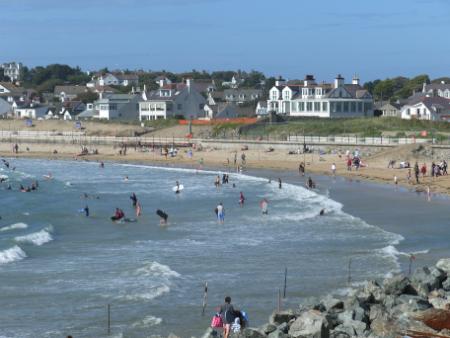 You could be anywhere in the world and You Haven't Spent a Fortune on a Mediterranean Holiday.

Neither have you left a foul CARBON FOORPRINT behind you.  Instead, you have just made your way to ANOTHER BEAUTIFUL ANGLESEY HOLIDAY BEACH.

HOLIDAY MEDITATION


You may find yourself sitting on a rocky outcrop of HOLY ISLAND meditating on how wonderful the world can be and contemplating on the variety of the BAY's beaches.

At any moment you can choose to remain silent, transported away from your daily life pressures.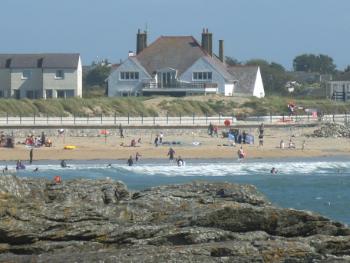 There again, you could choose to pootle back to the main beach to immerse yourself in the lively laughter and banter of similarly pressured individuals who are ... 'Just Letting Go...'.

Whichever rocky outcrop you have rested on, you are only a short walk away from TREARDDUR BAY BEACH.

Wander back there in a while to sit on a bench on the sea wall/promenade or even dip your toes exhausted by accelerating and braking.
---


THE MAIN BEACH


TREARDDUR has a fine award winning sandy beach that attracts families, surfers, windsurfers, kite-surfers, divers, jet-ski enthusiasts, the posh boat set and plenty of fishermen who cast off the rocks on both sides of the beach.

Because the coastline is rocky and the water incredibly clear it attracts diving enthusiasts from all over Britain.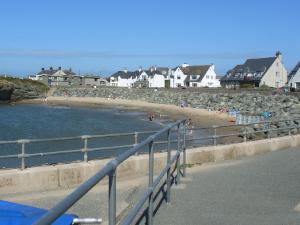 You will find the Splash diving shop along Ravenspoint Road.

Here you will find receive all you need to help you engage boldly with Nature at its wettest.

Why not nibble an ice cream while you decide whether to match the colours of mask and fins.

(N.B. That's Goggles and Flippers for us plebians).

The Village Beach is the biggest and the more popular beach on the rocky coastline surrounding this small village.

If you take a stroll along Ravenspoint Road on the left you will encounter small sandy coves, the largest of which is PORTH DIANA.
---


EXTERNALISE??


I don't know about you but I spend far too much time inside my head and it's not always a good place to be. When it gets too much what I do is externalise.

I go out of my way to feel something external; the sensation of water about my feet or the sudden exhilaration of diving into the surf; freezing cold water down the back of my wetsuit.


Even better, I dig a hole in the sand until I find water or I teach a young friend the joys of building glorious sand castles.

Romantically, I take a stick and I write my love's name in the sand and surround it with the biggest heart I can manage and hope it impresses her.


CLICK HERE to learn the SAND WISHES theory. It's all very technical, yet simple
---


THE BAY'S BEACHES


The western coastline of Holy Island presents Nature in its most gentle aspect but quickly veers to be RED-IN-TOOTH-AND-CLAW the further north you walk.
The cliffs rise steeply toward South Stack and as they gather height they reveal small rocky bays.

Some of these bays offer sand while others are pebble and shingle access to good swimming water.

A few very small sandy coves lie in secret spots.

I'll leave you to discover these little gems.

The TREARDDUR BAY beaches to the north are mostly pebbly and rocky. That is, apart from PORTH DAFARCH BEACH, which is mostly sandy.
---




IS TREARDDUR BAY YOUR FAVOURITE BEACH?




Is this your favourite Anglesey beach? Maybe you've enjoyed bathing, walking or generally been blown about here?

If you've got personal or family stories or thoughts you'd like to share about this or any other Anglesey beach with other visitors then Please CLICK HERE.
We'd all love to hear from YOU
---


BEACHES NORTH OF THE VILLAGE AND PARKING


The parking along the coastline is very poor. However, the stretch of little bays and coves can be reached very easily by a little walk along the Isle of Anglesey Coastal Path.

You begin by walking very close to the road and gratefully leave it behind the farther northwards you traipse.

There are only two named little beaches among these little bays and coves: Porth y Post Beach and Porth Dafarch Beach.
Porth y Post Beach
This beach is about half a mile north along the South Stack road past the Trearddur Bay Hotel.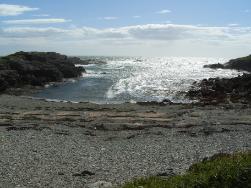 It's right on the road and only attractive when the tide's in (that's my view, anyway).

As you can see in this picture, it's nothing more than pebbles and rocks.

Yet, it draws visitors who wish to enjoy a bit more peace and quiet.

No facilities here. It's far too small for that.

It's still a decent place to idle for a moment or two on the Isle of Anglesey Coastal Path.
Porth Dafarch Beach
This beach is about a mile farther north and lies in an obvious dip in the road.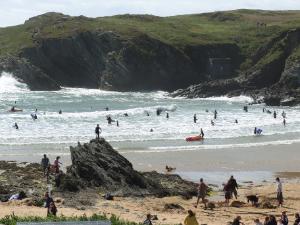 This is a good sandy beach wedged between the low rocky headlands (great fishing here).

It attracts lovely clean waves for those enthusiastic surfers. Me, among them. N.B. Watch out for rocks.

The good news is that Porth Dafarch is popular enough and busy enough to attract an ice cream van or two.

You'll also find a good toilet, cared for lovingly by the County Council.

Anglesey County Council really likes visitors and is making great efforts to open up the Island's history, culture and the astonishingly beautiful coastline and countryside.





THE AREA


Just looking at the houses of Trearddur tells you that it's a pretty prosperous area.

Like BENLLECH, people who have visited the area for decades come here to enjoy their retirement.

The cars in the car park, sailing boats and big jet skis announce that the other people on the beach are high achievers.

But remember this; stepping out of the sea in our baggy shorts we are all equal. Fat, thin, pale, tanned we are all equally human.

We are united by the simple act of letting out a long, exultant satisfying sigh of utter relief.




ISLE OF ANGLESEY COASTAL PATH


A few of weeks ago I met a couple from Northampton on Silver Bay (a few miles south at Rhoscolyn) who said they had fallen in love with Anglesey because it had everything they wanted.

On Anglesey, we don't have the best of indoor facilities that tourist 'havens' like Blackpool or Rhyl boast about.

But that's not why tens of thousands of visitors come to Anglesey every year.

In the main, it is the large number of excellent sandy beaches and rocky shores that brings our visitors.

However, we now have a new type of visitor. People come to walk.

They come to exchange the sound of traffic for the sea, seagulls and unique choughs that seem to gather above you from nowhere when you shake a bag of crisps.
---


EATING AND SHOPPING IN TREARDDUR BAY


TREARDDUR really could do with a good cafe. The old Sea Shanty's gone, making way for a couple of nice houses next to the main carpark. Gone are the good morning fry-ups and everything with chips.

The Trearddur Bay Hotel is a FOUR STAR hotel with a fine restaurant and a bar that serves bar meals obviously.

Then you've got The Waterfront right on the beach. It's well worth visiting for its menu and ambience but it's best enjoyed in stormy weather.

Large windows overlook the bay and from here you can watch Nature at its very best.

The sea breaks magnificently over nearby rocks, wind-driven individuals pull up their collars as they take the dog for a walk (on a leash, of course, as per restrictions and according to the season).


Even better, you can see the waves gather themselves on the left side of the beach about two hundred yards out and wipe out the novice surfers, time and again.

Doesn't it make you feel nice, warm and nurtured?

Or, rather, doesn't it make you feel envious?

For information about Eating and Shopping in the Trearddur Bay area please Click Here 





WATER ACTIVITIES AT TREARDDUR BAY


Jet-Skis seem to predominate use of the bay and can really get in the way if you're a novice windsurfer or kite-surfer. The big boys and lasses look elsewhere on Anglesey.

The beach is supposed to be marked off for swimmers, but I've seen dangerous intrusions by the odd clown.

When the circus is in town, I'd choose RHOSNEIGR Broad Beach or somewhere equally open for swimming with your kids.
Surfing

Mixed reviews, really.

When it's a nice sunny day and the beach is packed then you might as well head for one of Anglesey's other beaches for surfing.

You could always try CABLE BAY, ABERFFRAW, Lligwy or even Porth Dafarch.

Check the wind direction first. Best swell SW with a NE onshore wind. Decent breaks presents rights and left.

I have seen big swells here at TREARDDUR BAY but you're talking about conditions when the SW winds been blowing up a storm.

Some spectacular Wipe Outs to entertain those watching from their cars by the Lifeboat Station or from inside the Waterfront.

Generally, you'll encounter a decent break on the left side of the bay with some nice 3 to 4 footers, nice and clean with plenty of power to excite your surfing ambition. Watch out for rips and the rocks.


Windsurfing & Kite-surfing

As above, the big boys head elsewhere when it's sunny and the swell minimal. However, every now and then you get a really good storm blowing for a few days and the sea conditions are only suitable for windsurfing and kite-surfing.

No Jet-Skis. Unless they're upside down.


Kayaking

Depends if you want to surf or just enjoy a gentle pootle around the coastline.

Head south around Ravenspoint to a lovely little beach below the caravan parks.

North to Porth Dafarch and around South Stack Lighthouse will bring you to where the powerful currents meet . Only For Experts.

They're the ones who don't go near it. TAKE GREAT CARE!



---



FISHING AROUND TREARDDUR BAY
TREARDDUR BAY has a very skilled inshore lifeboat crew. Their skills have been honed by pulling anglers out of the drink at night.

My fishing friend from Cymyran tells me that he's seen far too many lifeboat lightshows around Ravenspoint to the left of the bay.

"I used to fish off the rocks but seen too many regular accidents of the shelves. I prefer sand under my boots," he said planting his willies in the beach.

For a bit more detail of fishing in the TREARDDUR BAY area please CLICK HERE.


GETTING TO TREARDDUR BAY


Patrick Lee Fermor wrote that the best way to approach any new city is by boat and by night.
However, as most of you don't have a boat, I'll offer you the road routes.
Route 1 – Coming from Holyhead/Trearddur Bay
• At the Holyhead A55 Expressway roundabout TURN LEFT for Trearddur Bay. McDonalds should be on your left.
• Drive out of Holyhead past the Holyhead Golf Course on your right to arrive in Trearddur Bay.
---
Route 2 – Coming from Valley
• Travel across Anglesey on the A55 Expressway and TAKE JUNCTION 3 for Valley and Trearddur Bay.
• Drive to the Valley traffic lights and TURN LEFT for TREARDDUR BAY.
• Continue through Four Mile Bridge, which is the first village you'll encounter. Cross over the bridge and up a little hill. About a mile onwards you'll arrive at TREARDDUR BAY.
---
Return from Trearddur Bay to ANGLESEY WESTERN BEACHES.
---

---