LLIGWY BEACH

Golden Days and Wild Surf
Lligwy Beach is a considerately located beach.
Wide and sandy, it leans effortlessly against soft white sand dunes. Engaging and enticing.
Relaxation or wild surf adventure? You've come to the right place.
Here, the sea and the sky are BIG and GLORIOUSLY BLUE.
This lovely wide beach is very clean and its softest sand lies against the gentle dunes.
A very large area of tide-compacted sand offers plenty of room for beach games.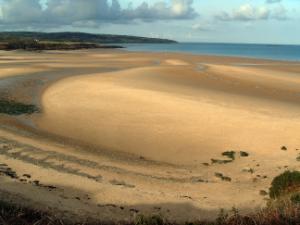 Build your wild, gothic sand castles.
Write the name of your great love in the sand and make your sweet wishes.
The Isle of Anglesey Coastal Path flows gently down from the low headland on both sides of this pleasant wide bay.
Allow your happy feet to follow the path as it meanders engagingly through the soft sand dunes.
---
SHOPS AND FACILITIES
You will find a superabundance of natural facilities to extend and enhance your holiday beach day; however - as usual - you will need to bring most of your eating with you.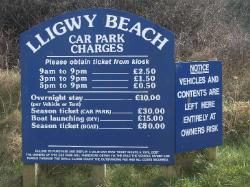 The beaches on this stretch of Anglesey's eastern coast beaches, you will only find the odd shop or ice-cream van.
For a better choice may I gently direct you to my eating and facilities pages at BENLLECH FACILITIES and MOELFRE FACILITIES.
There are two routes for arriving at Lligwy: from the Moelfre end and from City Dulas.
This also means that there are two large car parks at either end.
As you stand in the centre of the beach looking out to sea there will be a large car park to your right and also to your left.
The prices above are correct at the time of 'Going-to-Press' and are likely to stay the same because it costs a small fortune to paint signs in this detail.
Overnight stays also need to be paid for.
---
On the right end of the beach is a private caravan park that welcomes you. It has a little shop where you pay and also buy ice-creams, sweets and snacks. There's also a toilet at the bottom end.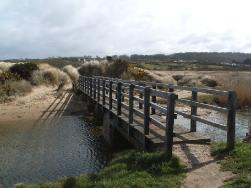 On the left end of the beach you will find a cargo container where some poor sap spends her/his day collecting money.
To make the day pass tolerably s/he also sells sweets, crisps and drinks.
To walk from one car park to the other, just wander along the soft and sandy Coastal Path across two sweet and new little foot bridges to the caravan car park for an ice cream or to use the loo.
---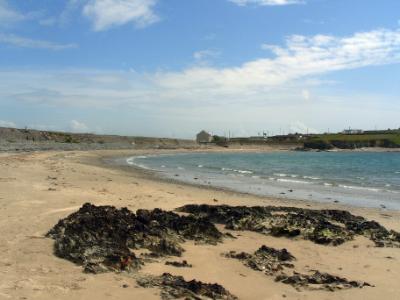 SAND WRITING
I don't know if you know about Tibetan Prayer Flags and how they work, but my romantic side likes to believe that writing your love's name in the sand can achieve the same end.
May I gently direct your attention to my Sand Wishes page for how this intriguing magic works. Tibetan Prayer Flags and Sand Writing
---
BEACH WALKS
Wander along the soft and sandy coastal path across two new little foot bridges to the south car park for an ice cream or to use the loo.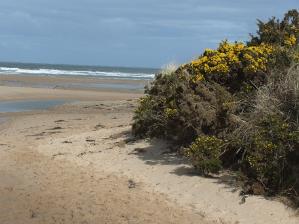 You can walk north to the beautiful and slightly isolated Traeth yr Ora beach along on the Isle of Anglesey Coastal Path.
This is a particularly fine walk with rich greenery on your left and the blue sea looking out onto Dulas Island on your right.
Further on, and on the other side of Dulas Reef is Portobello House.
This Mediterranean-style house (or is it Italianate?) lends a sense of elsewhere on golden days. Far from the office.
One little warning about Lligwy Beach. On the left are signs indicating that the sand can be very soft. So please take care.
You should be safe, but it doesn't take much to scare a little child.
The distant left will draw your interested gaze toward DULAS BEACH and a brief sandy sojourn before your eyes come to rest on the glorious Traeth yr Ora Beach.
If the tide is far out then you MUST go for a walk to discover these magical and peaceful beaches. Remeber that you've always got the Coastal path to bimble along if the tide's in.
To the right the Anglesey Coastal Path will guide you on a thirty minute walk to MOELFRE
Low shelved cliffs set against soft grassland fall gently down to the beach to both north and south.
Along these, and through the trees, ambles the Coastal Path revealing glimpses of the sea and coast through soul nurturing woodland.
TALKING ABOUT AMBLING - as I love to do.
Last Autumn, after one awful and very stressful day at work I just had to get away from anything that reminded me of people.
So, I went for a wander down to Dulas Beach from the Lligwy road.
It was a beautiful golden evening with a pure pale blue sky beginning to fade to pink ...
Why don't you discover this magic spot yourself by Clicking Here at DULAS EVENING AMBLE.
While your in this area, there is another lovely coastal walk on the upper side of the Llys Dulas Estate.
You can choose to walk all the way to the Point Linus lighthouse and Amlwch or just find a a picnic spot on the coast and watch the Grey Seals. Please CLICK HERE for more information and pictures.
---
BEACH BARBECUES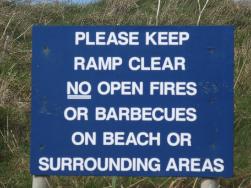 I'm afraid I have bad nbews for you about beach barbecues. You can't have one.
I'm really sorry about that. It's an ideal spot, I grant you. However, RULES IS RULES.
Think positve. You're keeping some young person in a job and working on a suntan.
Anyway, there's plenty to do here on Ligwy's beach and the rolling coastline attracts you further and further along to make lovely and unexpected discoveries.
---
CHELSEA TRACTOR WARNING
There is only one little warning about Lligwy Beach. On the left are signs indicating that the sand can be very soft.
Chelsea Tractor and attached boat will be fascinating artefacts for future archaeologists.
So take care. They may even find you in years to come, with stony tears studding your calcified cheeks.
---
IS LLIGWY YOUR FAVOURITE BEACH?
Maybe you've enjoyed bathing, walking or generally been blown about here?
Let us know how you feel about this glorious wild and beautiful beach
If you've got stories or thoughts you'd like to share about this or any other Anglesey beach with other visitors then Please CLICK HERE.
---
SURF'S UP!!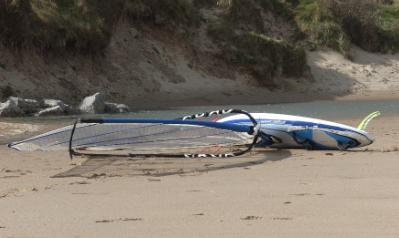 WINDSURFING - I met this guy in the carpark last weekend, lean and mean and quiet.
He'd travelled down from Chester that morning in his smart Audi.
He was quiet because he was WHUPPED! and been out there for a few hours.
I enquired how he knew the conditions were suited for someone of his skills.
The best conditions manifest themselves after it's been blowing a NE for two or three days and switches to NW, I proposed.
True enough, he responded. But the very best conditions are when it's turned further to the NNW.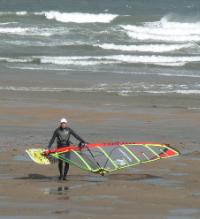 There's nowhere else on the East Coast of Anglesey really worth surfing. He was clearly experienced and didn't even mention LLANDDONA BEACH.
Maybe BENLLECH BEACH is alright for the novices, he added, but it's no good for really having fun.
He commended the main beach at RHOSNEIGR. "Let it blow a good SW for a few days and it gets really, really wild."
It's no surprise then that you've got some pretty keen weather watchers in the North West.
Nick Slater from Amlwch notes,
"Lligwy and Dulas Reef, my first ever reef surfing experience was here. Brilliant 4-6 ft cross shore hollow perfection.
"Works best on a North West 6-7 which is cross shore with the swell running down from the north. This will have secret spots going off.
"I've been surfing this place for 15 years as well as most of Anglesey. Which on its day can get as good as anywhere.
"Good to see a site putting North Wales surfing on the map."
KITE SURFING - I didn't realise just how wild Lligwy can be until I saw a kite-surfer bounce so high you could drive a double-decker bus under him.
There were two kite-surfers out today and Boy! did they go.
When conditions are good then Lligwy Beach can be WILD! You don't really need to know much more than that do you?
---
SEA FISHING
"LOOK OUT FOR SEALS!!"
Just up the coast you'll notice the striking Dulas Island gently balanced on the near horizon.
Some people call it Seal Island. And with good reason.
If you're into seals then you'll enjoy a gentle walk up the coast at high tide to watch handfulls of the bleeders feeding.
The best place to see seals is along the Anglesey Coastal Path above Llys Dulas Estate.
You'll find a few notes about the Llys Dulas seals on my Why Anglesey? page.
On the other hand, if you're an angler then you'd better be quick at reeling in otherwise you'll only be landing heads.
For more information please have a look at my Fishing Tips page by CLICKING HERE.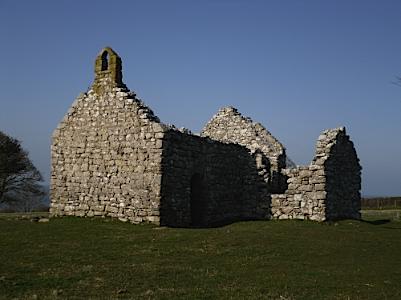 ANCIENT MONUMENTS
Quite literally just up the road from the south end of the beach, you are three significant historic sites well worth visiting during your day at the beach.
The image above is of Lligwy Chapel of Ease which dates back to the 12th Century. Located in beautiful and large open fields less than a mile from the beach, it will captivate you. Take a step down into the old burial vault to view, but resist the urge to pee in the corner. Please Click Here For More ...
Across the field and beyond the trees you'll find a 4th Century Roman Encampment and just up the road there's the old Communal Burial Chamber. Please Click Here For More ...
---
CONTACT ME
Do you have any questions you'd like to ask? I would love to hear from you.
Maybe you have questions you want to ask in advance of your visit?
Maybe you have special advice - or even warnings.
Please feel free. ASK YOUR QUESTION by CLICKING HERE.
---
BOAT LAUNCHING FEES AND REGISTRATION
The County Council requires you to register powerboats over a certain horse power and also lists the required qualifications.
Please CLICK HERE for all the above information and about launching fees on other Anglesey beaches and slipways.
---
PETS ON THE BEACH
• No major prohibition on dogs, but please keep them on a leash - Unlike Crazy Fido here.
• Though not here at Lligwy Beach, there are Seasonal Prohibition on dogs on certain Anglesey beaches.
• Always bring a doggie poo-bag with you because the little dears can't always help themselves.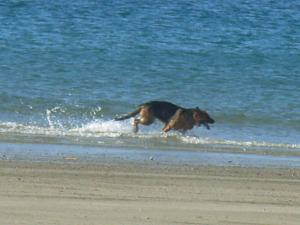 Imagine specific matter oozing from between your tanning and sandy toes.
Imagine a worse scenario; it's your child.
• The main concern regarding dogs on Anglesey beaches is a health issue.
Doggie poo can blind for life.
FOR MORE INFORMATION ABOUT DOG RESTRICTIONS ON ANGLESEY BEACHES PLEASE CLICK HERE.
---
GETTING TO LLIGWY BEACH
Although the A5025 Coast Road is an excellently surfaced road, most of its length is limited to a 40mph speed limit. Road accident statistics on this stretch of road are frightening and tragic.
The County Council is about to carry out a major reassessment of road conditions along the entire length of the A5025. This isn't the only Black Spot on this road.
It's usually the young and inexperienced, the unlucky foolish or downright careless who make up the statistics.
Two Road Routes To The Beach
The first route will bring you to Lligwy Beach north car park and its cargo container shop-let.
The second route is will bring you to the private south car park with its shop and toilets.
ROUTE 1
• Travel north from BENLLECH on the A5025 coast road.
• TURN LEFT at the MOELFRE roundabout (it's got an anchor lodged in it) and follow the road for about a mile and a half until you see the road sign for BRYNREFAIL.
This is a collection of buildings on the top of a hill.
• In Brynrefail TAKE THE RIGHT HAND TURNING for TRAETH LLIGWY, which is signposted.
This turning is opposite the Craft shop that is above the road.
On another day you could turn left and head up for BODAFON MOUNTAIN and climb to its highest point.
From here you can view inland to the heart of Anglesey. Or you can gaze at the large tankers and cargo ships idling outside Dulas Bay waiting for the Pilot to board and guide them into Liverpool.
• Follow the narrow and twisty road to Lligwy Beach for about a mile and take the right turning at the junction.
Follow this road down to the Lligwy Beach car park.
ROUTE 2
• Travel north from BENLLECH on the A5025 coast road.
• TURN LEFT at the MOELFRE roundabout and follow the road for a mile and a half until you see a very obvious right hand turning on a sweeping left hand curve in the road. Turn right here.
As you turn you will notice an old school building on your left. You also will see a sign indicating 'TRAETH LLIGWY ROAD'.
• Follow this road for about a mile until you come to a cross roads with a sign indicating Traeth Lligwy to the left.
Follow this road down. You will arrive in a private car park belonging to the car park (£2 for the day).
There is a decent little beach shop at the entrance and a toilet down on your left in the car park.
---
What's The Best Sandcastle
You Ever Built?
Second to excellent ice-cream, I love sandcastles and love building them.

Sadly, I lack the architect's imagination to build big. I just step back now and then and decide where to add the next bit.

My friend, Judith told me about a couple of engineers in Porth Dafarch (by Trearddur Bay) this year who built a three dimensional race track that even had a fly over ... over itself.

Too much for me, though I can appreciate genius when I see.

What's the best sandcastle that you ever built? Send me a photo if you've got one.

What does a Sandcastle mean for you? Dreams? Treasured Memories? Peace and Quiet?
---

Return from Lligwy to ANGLESEY EASTERN BEACHES

Return to HOME PAGE