TRAETH YR ORA BEACH

This is MY Secret Beach"
TRAETH YR ORA really can convince your that you're somewhere else in the World.
Anglesey does that to you.
Maybe you're looking for peace and quiet and a sense of distance from home and office?
Then this little secret sandy beach on Anglesey's east coast is just right for you.
In truth, it is TRAETH YR ORA that saves the Dulas Bay area in terms of sandy beaches.
It is sufficiently wide and golden and the sea never looked more tempting.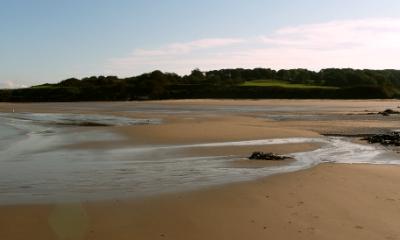 ---
TRAETH YR ORA BEACH is golden sand all the way down to the sea at low-water.
Against the low cliff the sand is soft and white and tingly between the toes that have longed for the experience without knowing they did.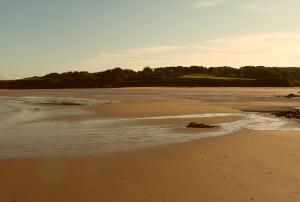 This is another of Anglesey's hidden gem that takes just a little bit more effort to get to.
It's a nice beach.
It's a Really NICE Beach.
Let me correct myself.
It's a GLORIOUSLY NICE BEACH.
---
A PERFECT BEACH DAY
TRAETH YR ORA BEACH is separated from its sister beach at Lligwy by rocks gathered by some spiteful giant and laid in a long broad line down the right hand side of the beach.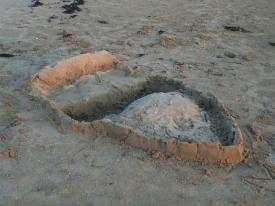 What I love about this beach is that you can lie about engaging actively with inertia or you can go for a dip.
BETTER STILL construct the most intricate Gothic Sandcastle imaginable.
However, if your children are very small and inclined to sit on your creations, remember one day this will be a treasured memory.
Your artistic aspirations will have to await the appearance of your great novel.
---
INTRIGUING CRUSTACEAN CEMETRY
Or, even, when you are bored with this temporary heaven then you can wander across to the left and the very broad outlet of the Red River (Afon Goch).
You can literally spend hours here exploring and discovering the world of miniature beasties that live under the seaweed.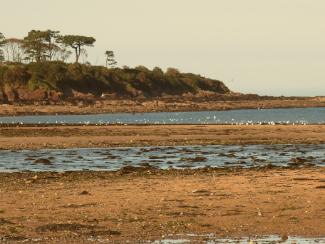 You will be astonished at the number of crabs that end up as a meal for some beast or other.
The crabs lie on the sand, destroyed shells contemplating eternity until the sea carries them away to be brought back as debris to make the golden beach even more golden.
It is a Win-Win situation - unless you're a crab, of course.
---
DULAS ISLAND
You can't miss Dulas Island. It's a very wide rocky outcrop with a large tower pointed tower balanced on the sea about a mile offshore.
Some people call is Seal Island. These people are not locals. For us, it is always Ynys Dulas, which is its original name.
It lies a mile or so offshore and appreciation of its distant beauty should be tempered with the knowledge of tragic tales.
In the days of wooden vessels the east coast was ever violent and destructive of sailing ships.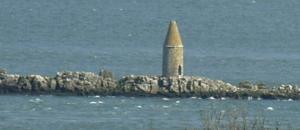 Storms would last for days and it was always with heavy hearts that local fishermen would visit the Island to discover the dead bodies of sailors.
Somehow, wreck survivors managed to swim to this temporary shore to then die of thirst and exposure.
Apparently, the lady of Llys Dulas Estate was so appalled by this needless loss of human life that she ordered a tower to be built on the Island and it was regularly stocked with food and water.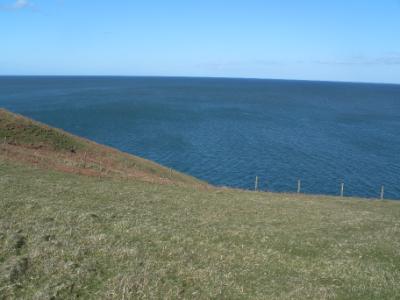 From Penmon in the south and all the way up to Point Linus on the north eastern corner of Anglesey, you will always see large cargo vessels and tankers anchored offshore of Dulas Bay.
These large vessels come here to wait for or drop off the Liverpool Pilots based in Amlwch Port.
Sometimes you'll see a handful resting at anchor. At night they are all lit up like Christmas trees on the near horizon.
Large vessels also come here to shelter from violent Winter storms and tempestuous seas.
---
PRISONER ISLAND - Ynys y Carcharorion
This is something I learned a short while ago from someone living near Moelfre.
Apparently, at the lowest of tides a group of rocks comes into view between Dulas Island and the shore. Criminals were tied to this rock to drown slowly.
I have no more to share at the moment but will ask around for more information.
If you have information please get in touch with the CONTACT ME link below.
---
EATING AND SHOPPING
Rule #1 If you're going to spend the day enjoying the peace and beauty of TRAETH YR ORA BEACH, then you'll have to bring everything with you.
As the dirctions below will reveal, it's just a little bit of a journey to get there if you're travelling with children. Might take a couple of trips to bring down everything to guarantee fun in the sun.
If you're travellIng light, then it's little more than a quarter mile walk to the Lligwy Beach carparks for sweets and ice-cream and sundry beach items. If the tide's in, just hop onto the Anglesey Coastal Path behind the beach.
Again, have a look at my Lligwy Beach page for details. Please CLICK HERE.
For a full complement of shops, cafes, restaurants and cashpoints you'll have to get back in the car or bus and travel a handful of miles to the coastal villages of Moelfre or Benllech. For details, please CLICK HERE.
---
FISHING
This is a quietly popular fishing beach and as a slightly distant extension to Lligwy Beach it can be both blessed and cursed by the Grey Seals on Ynys Dulas.
When the photographs that grace this page were taken one gloriously sunny day I encountered a couple of anglers digging bait and fishing off the small sandy beach right next to TRAETH YR ORA.
I need to find out about fishing off this beach and I'll place them on my FISHING TIPS Page.
You could also have a look at the TRAETH BYCHAN BEACH Page and LLIGWY BEACH for general hints in the meantime.
---
WINDSURFING & KITESURFING
Though I've never seen anyone windsurfing or kite-surfing at TRAETH YR ORA, it does offer pretty long reaches.
Though, to be honest, the headland around Portobello reduces the impact of a good NNE wind.
There again, there are a few good reports of the Dulas Bay reef.
Watch the tide though otherwise you'll be closer company to the destroyed crabs than is healthy.
Lligwy Beach offers the best conditions on this entire length of the eastern coast of Anglesey.
For details of Lligwy Beach please CLICK HERE.
---
COASTAL BEAUTY
Whether you make your way down to TRAETH YR ORA BEACH through the woods by Penrhyn or walk to along the Coastal Footpath from Lligwy Beach either is a route that slows you down by the gentle and pleasant beauty of the area.
If you don't believe me, go there. You will bless me and my family for generations to come.
Also, you will be moved by the sad, brief and violent life of the poor crabs.
But not before you poke at them and stick them in someone's handbag to be discovered later.
There is no direct road to take you to TRAETH YR ORA BEACH.
Either, you follow the Isle of Anglesey Coastal Path from Lligwy Beach (which is an absolutely delightful walk), or you can park a distance away and traipse down the Coastal Path past a small hidden field of established caravans and out onto the headland above.
---
PETS ON THE BEACH
• No major prohibition on dogs at Traeth yr Ora, but please keep them on a leash.
• There are Seasonal Prohibitions on dogs on certain Anglesey beaches.
• Always bring a doggie poo-bag with you because the little dears can't always help themselves.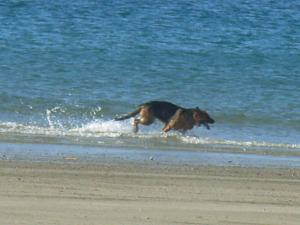 Imagine specific matter oozing from between your tanning and sandy toes.
Imagine a worse scenario; it's your child.
• The main concern regarding dogs on Anglesey beaches is a health issue.
Doggie poo can blind for life.
FOR MORE INFORMATION ABOUT DOG RESTRICTIONS ON ANGLESEY BEACHES PLEASE CLICK HERE.
---
CONTACT ME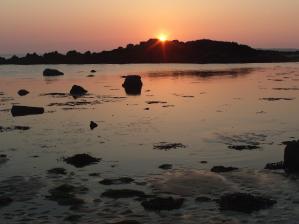 As I write on each of my beach pages, I would love to hear from you about your stay in this area.
Maybe you've never visited Anglesey before and have some a question you want answered before you arrive.
Please tell me what makes Anglesey a special place for you.
Maybe you have special advice - or even warnings.
Please feel free to share by CLICKING HERE.
---
GETTING TO TRAETH YR ORA BEACH
There are Two Routes down to TRAETH YR ORA BEACH.
The first will take you directly to Lligwy Beach from where you can walk north for about a mile on the Isle of Anglesey Coastal Path.
This is a particularly fine walk with rich greenery on your left and the blue sea on your right looking out onto Dulas Island.
The second route is far more awkward and leaves you with a real parking challenge.
Route 1
• Travel north from Benllech on the A5025 coast road.
• Turn left at the Moelfre roundabout and follow the road for about 2 miles until you see the road sign for Brynrefail, which is a collection of buildings on the top of a hill.
• In Brynrefail take the right hand turning for Traeth Lligwy, which is signposted. It is opposite a craft shop above you on the left.
• Follow the road down until you reach a junction. Turn right and it will take you down to Lligwy Beach car park.
• Pay to park and then head to the North along the coastal path. It's about a fifteen minute walk along the Isle of Anglesey Coastal Path.
---
Route 2
• Travel north from Benllech on the A5025 coast road.
• Turn left at the Moelfre roundabout and follow the road for about 3 miles until you see the road sign for Brynrefail, which is a collection of buildings on the top of a hill.
• In Brynrefail Take the right hand turning for Traeth Lligwy, this is signposted.
• A mile down the road to the beach you will arrive at a junction. Turn Left here.
• Follow the road until it finally deteriorates into a muddy track that will take you down to the south side of Dulas Beach. If you can find a place to park here on the side of the very road then do. But take care of people's entrances.
• On the last left corner before the muddy track begins you will find a track leading down into the woods. It is signposted with the Coastal Path logo.
• Follow this track ever downwards through the trees past a small field with about eight caravans hidden from the world.
Carry on out of the woods until you are standing looking out over TRAETH YR ORA BEACH.
From this vantage point you can really appreciate the astonishing beauty of this area of the Island.
---
ROAD TRAFFIC WARNING!!
Although the A5025 is an excellently surfaced road, most of its length is limited to a 40mph speed limit. Road accident statistics on this stretch of road are frightening and tragic.
The County Council is about to carry out a major re-assessment of road conditions along the entire length of the A5025 because the Dulas area is not the only Black Spot.
Take care. If you are one such driver then remember, first of all, SLOW DOWN! and, most importantly, YOU ARE ON HOLIDAY, for Heaven's sake!

---
Return from Traeth yr Ora to ANGLESEY EASTERN BEACHES.
---