LLIGWY BURIAL CHAMBER
I visited Lligwy Burial Chamber in Spring when Anglesey is at its very best.
The route I took along the coast road to Lligwy and then the small narrow road to Moelfre was resplendant in sunshine and refreshing green.
I hope that you enjoy similar weather when you visit.
There again, an atmospheric stormy day will certainly lend an eeriness commensurate with our expectations of burial grounds.
YET ANOTHER GLORIOUS ANGLESEY SPRING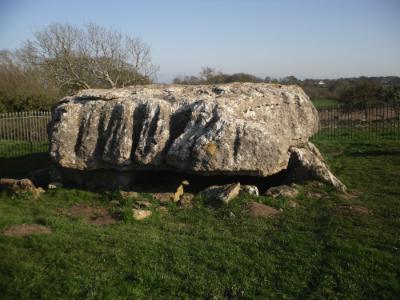 ARCHITECTURE AND HISTORY
An accurate description of the burial chamber is that it is Neolithic in origin and is cut into the rock. It proposed that it was constructed more than five thousand years ago (3,000 years BC).
You will note quite easily that the chamber is a circle of upright stones capped by rather large stone.
This rather large stone is 5.5m x 4.5m and weighs a staggering 25 tonnes.
The Chamber was excavated in 1908-09 by E. Neil Baynes who discovered the bone remains of more than 30 adults and children, in addition to animal bones, pot shards, flints.
Interestingly, certain pottery artefacts indicate that the chamber found use across more than a thousand years and was latterly used during the Bronze Age.
One feature that is immediately apparent about the Din Lligwy Dolmen or Cromlech is that it is not one of the free-standing burial structure that one expects. It is low-lying and literally hugs the earth.
Indeed, if you were to clamber inside - and it is possible with a bit of planning and contortion – it feels more like a mausoleum with a nice square door entrance through which bodies could be brought in to be laid to rest.
---
People of the Early Bronze Age built henges and stone circles. A particularly fine example of a henge and burial chamber can be found at Bryn Celli Ddu near Llandaniel Fab, just up from the Plas Newydd Estate.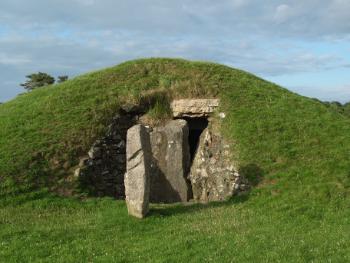 Bryn Celli Ddu Burial Chamber and Mound
Subsequent to its excavation, Bryn Celli Ddu was covered by a mound of earth. Both Lligwy Burial Chamber and Bryn Celli Ddu offer an internal and external view of original stone architecture and how they looked in their immediate rural environment.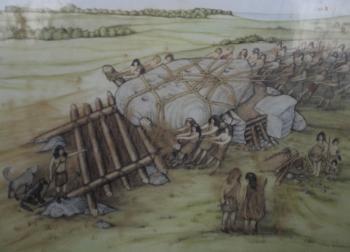 The above image is a photograph of part of the information board beside the Dolmen.
As I point out on my Bryn Celli Ddu page, although the capstones to the burial chambers tend to be massive the engineering solution for placing them in position is elegantly simple.
Lligwy Burial Chamber would be no less important for the community which served than any other. Therefore the entire male population would have been involved in its construction.
---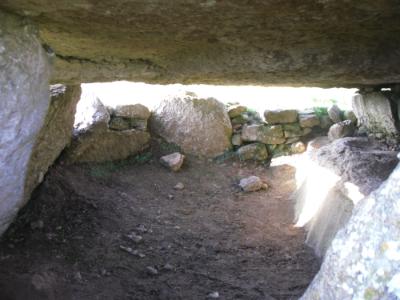 THE VIEW FROM ANOTHER PLACE
It is not intil you contort your sylph-like self into Lligwy burial chamber hewn out of the solid rock that the weight of the capstone attains a certain concerning significance.
All of a sudden 25 tonnes seems immensely real.
Bent double you may find yourself making less than casual calculations about how long it would take you to escape should a few of the upright stones suddenly ... SLIP!!
To mis-quote Eddie Murphy from the film The Golden Child,
"He who is narrow of arse ... would stand a far better chance of getting out."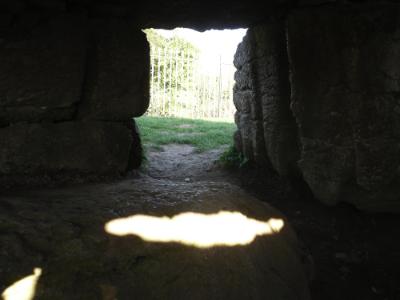 GETTING THERE
This really is a very simple route.
Arrive at the Moelfre roundabout – the one with the anchor in it – and take the left turning before the road down to the village.
Follow the road for a couple of miles and you'll find Lligwy Burial Chamber on your left. Keep an eye out for a heritage sign on your right by a place where you just might be able to park your car.
If you are unable to park here, then about a half mile ahead the road widens suddenly. This is the parking space for the Lligwy Chapel of Ease, which is also worth a visit. You can walk back to the burial chamber from here.






---



YET ANOTHER GLORIOUS ANGLESEY SPRING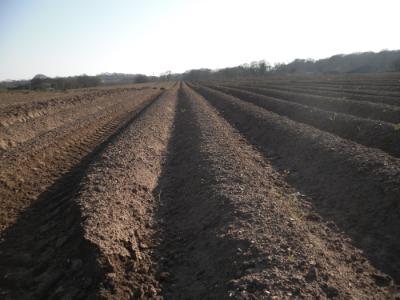 It was a really lovely Anglesey Spring day when I visited, as I've already told you. But why not mention it again?
Not any mountains on Anglesey. Well ... just a few and their ambition is far greater than their reach.
Anglesey is gentle, rolling countryside along whch you really should take the time to amble or maybe bring your bike and make an afternoon and picnic of it.
There's nothing wrong in staight line journeys either.
You should always remember that even a straight road offers you two perspectives on the same rural loveliness.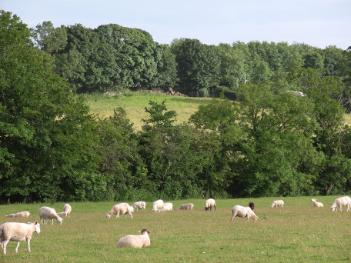 By the time you visit Lligwy Burial Chamber the potatoes will probably be ready to be picked.
An entire season will have rushed past you and I hope that you carry no regrets about what you should have done in the interim.
If it's still Spring, then Take Your Time To Make Your Plans.
Even that's not enough. Ask anyone slightly ahead of you on their temporal journey for their advice. I can guarantee you that their words will be simple and direct.
"Making Plans is Not Enough!

ACTING ON YOUR PLANS IS THE BIGGEST LIFE SECRET
So what are you all waiting for.
The REST OF US are ALL HERE!
WAITING FOR YOU!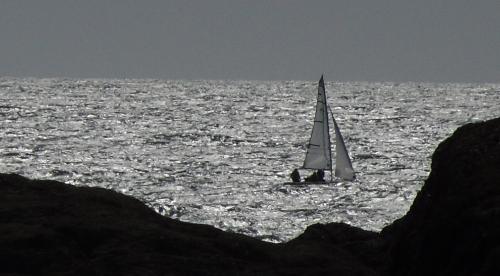 ---
Go from Lligwy Burial Chamber to LLIGWY CHAPEL OF EASE.
Visit DIN LLIGWY ANCIENT SETTLEMENT
Visit BRYN CELLI DDU Burial Chamber
Visit EASTERN ANGLESEY BEACHES.
---