LLIGWY CHAPEL OF EASE
Lligwy Chapel of Ease is a single cell place of worship set in beautiful open countryside falling gently away to the sea at the beach in Lligwy on Anglesey's Eastern Coast.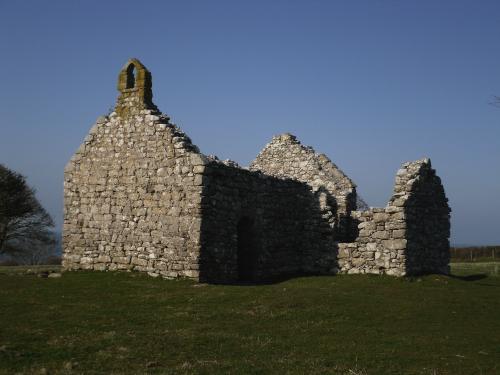 HEN GAPEL LLIGWY
This small stone chapel dates back to the twelfth century with certain features reaching all the way back to its original construction – parts of the south door in particular.
It retains its essential structure, with its gable-end bell-cote. It remains a reassuring presence in the open countryside, albeit a roofless presence.
The church remained in use for over 600 years until it finally fell into a state of dereliction and disuse in the early eighteenth century.
It is now a registered Ancient Monument. One of a number in the immediate area.
---
Just to the north is Dulas Beach and to the South - no more than 20 minutes along the coastal path - is Moelfre, a small village rich in maritime history, overburdened with maritime tragedy and persistent in it acts of astonishing human courage.
The countryside becomes remotely rural the further north you travel and the coastline ever more beautiful because of the sense of isolation along the narrow coastal road that takes you to Pengorphwysfa and Amlwch.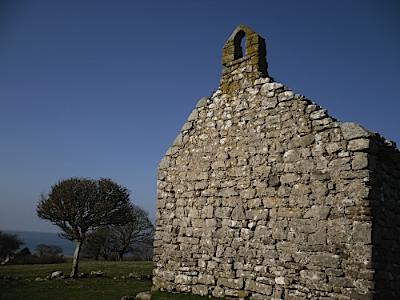 From the images presented on this page you will notice that the church is quite rudely constructed to serve a simple function as a sanctuary for spiritual contemplation by a small rural congregation.
Lligwy Chapel is attached to the Church of St Michael which is located a little over a mile away in Brynrefail off the coastal road towards Mynydd Bodafon (Bodafon Mountain).
St Michael's Church is the main parish church for this immediate area and, as I write above, Lligwy Chapel is a Chapel of Ease.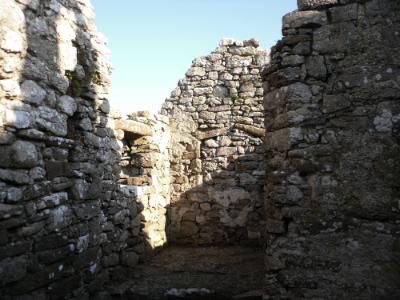 WHAT IS A CHAPEL OF EASE?
As I have already mentioned, this is a very rural area with the main parish church a distance away.
It was a common practice after the turn of the First Millennium to build religious structures for the ease of access to spiritual sustenance for those living away from the main church.
You must remember that life in the countryside was harsh, hard and sadly brief. The role of churches was important when so little physical comfort in life could be attained and sustained by the poor.
These chapels of ease performed simple, regular religious services, marriages and christenings but it was rare indeed for burials to be conducted here.
---
Lligwy Chapel served its rural community from the twelfth century right up until the early eighteenth century, somehow surviving the Dissolution under Henry VIII under the Chantries Act of 1547.
The enmity between Henry VIII and the Church of Rome rarely manifested itself in dissolution and demolition in the more rural periphery of England and Wales.
Maybe areas such as Anglesey were spared much of the mayhem and destruction because they offered no threat to the Crown in any significant political sense.
It must also be remembered that the Tudors first rose to prominence from Plas Penmynydd near the heart of Anglesey.
---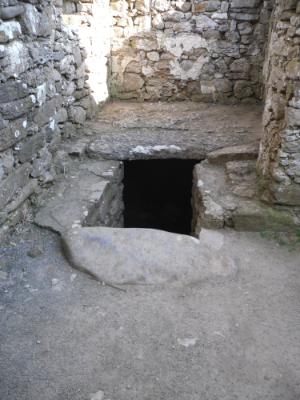 LONELY AND ABANDONED
There is no evidence of burial in the near vicinity of the church; however, if you look inside the church you will find a vault into which you can descend.
It is now empty and any mortal remains residing therein would long ago have been taken for a second internment at the main parish church of St Michael in Brynrefail
This vault and burial chapel was added by the Pierce Lloyd family who used to reside in the now long gone Plas Lligwy (Lligwy Hall).
The family added this feature for their own family members when they appropriated Lligwy Chapel as their family church in the sixteenth century.
Two centuries later the church fell into disuse and remains so to this day.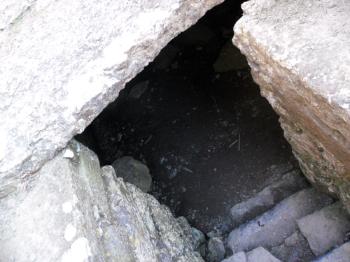 Lligwy Chapel of Ease is not the only abandoned church on Anglesey. I will of course, in due time, write about others that may interest you.
In the meantime, may I gently direct you to a recently abandoned church in Rhosgoch, called St Peirio.
St Peirio's is another small church in the heart of Anglesey (See the image below).
The church's remoteness imbues it with a rich and sad atmosphere. Be gathered in to contemplate how brief is our time on the Earth and how quickly our mark fades. Please Click Here for more on Rhosgoch and St Peirio's abandoned church.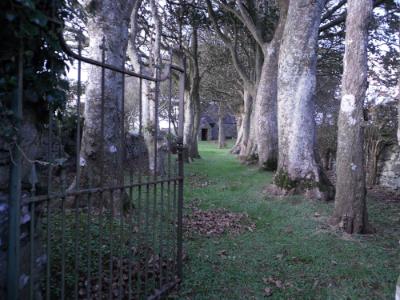 ---
Though appearing to stand alone in its haven of green meadows, the Lligwy Chapel of Ease is not the only significant historical treasure in the immediate Lligwy area.
Back up the narrow road towards Moelfre is Lligwy Burial Chamber dating back to the Neolithic Period. Possibly as far back as 4,500 years when it was a communal burial chamber or Cromlech (in Welsh).
The Cromlech is very easy to find, as it is located right by the roadside in the corner of a very large field, which had been ploughed for a very large potato crop on my last visit. For more on Lligwy Burial Chamber Please Click Here.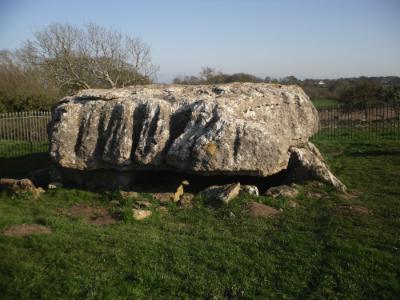 AND, as if that weren't enough to occupy you, there is an ancient stone fortified enclosure at DIN LLIGWY within which a homestead existed during the Iron Age and later.
For more information about Din Lligwy. Please Click Here.
I believe that archaeologists are of the opinion that some of the buildings were used to manufacture iron. This is evidenced by the discovery of slag heaps and what can be interpreted as foundry hearths.
Further, silver ingots were also found here which indicates the high probability of smelting of precious and everyday metals.
Such fortified enclosures as this of the 4th Century, would in all likelihood have been a villa based on the Roman design.
Even after the Romans finally left Britain their influence remained strong, especially among the wealthy who continued to aspire to the high ideals of Roman civilisation.
Of course, these ideals eventually foundered as Britain fell into the dark, turbulent and violent period of feudal kings and the coming of Christianity. Anglesey was no exception to the general tumult and upheaval.
For more about the Romans and Anglesey Please Click Here.
---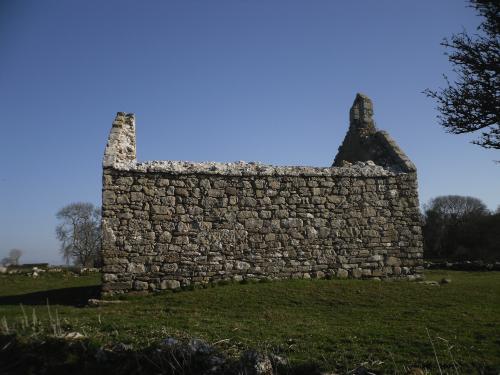 GETTING TO LLIGWY CHAPEL
It is relatively easy to find the Chapel of Ease, Burial Chamber and the 4th Century Homestead.
A singe track road will bring you all the way from Moelfre past the ancient monuments and out opposite the road leading to Lligwy Beach.
Whether you are travelling from Amlwch in the north or Benllech to the south, you will eventually reach the roundabout at Moelfre. Not easy to miss, as it has an anchor embedded in it
Make as if you are to journey down into the beautiful village of Moelfre but take the small left turning just before it.
Follow this road for a couple of tortuous miles on a single track road and you cannot miss the Burial Chamber on your Left.
Half a mile ahead the road opens out and an obvious lay-by on your left is the parking area to visit Lligwy Chapel of Ease that stands clear and alone in the middle of the field.
You can also park here for the 4th Century Homestead.









---



TELL US ABOUT YOUR VISIT TO LLIGWY CHAPEL
I do hope that you are able to make time to visit these beautiful ancient treasures at Lligwy during your next visit to Anglesey.
I am eager to discover whether you find the many ancient sites on Anglesey as thought provoking as I do.
We live such privileged lives and compared to ancient times we continue to be privileged despite the doom-mongers.
We can look at descriptions by others of these sites but it is only when we visit them ourselves that we can begin to grasp the desperation and isolation of communities of a bygone age.
Please do get in touch to share
your personal feelings about these ancient sites.
I'll be honest with you, I have sometimes visited these places in twilight and in bad weather. A sense of time past is captured at these moments when your imagination sets shadows into motion at the periphery of your vision.
I can find these ancient sites very eerie and uncomfortable places to be.
Let me know how it is for you. Click Here to share your thoughts
---
Visit DIN LLIGWY ANCIENT SETTLEMENT.
Return from Lligwy Chapel to LLIGWY BEACH.
Visit Eastern ANGLESEY BEACHES.