ANGLESEY SUNSETS
BURNING SKY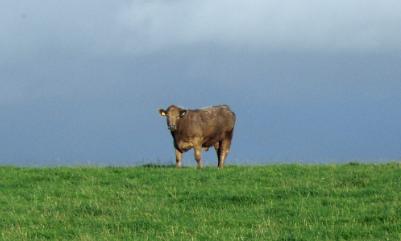 Anglesey Journal - August 28 2009 Anglesey Sunsets
This is not an Anglesey Sunset.
This is a Cow.
Just to clear up any misunderstanding.
This observing cow is normally located outside of Llansadwrn near Beaumaris.
I encountered this cow after a very trying and confusing day at the office when I just wanted to get away.
Quite obviously I had my camera with me and wanted to capture some Anglesey magic before the light faded on this Bank Holiday weekend - as well as the weather, so it turned out.
Nonetheless, here I was heading for the east coast of Anglesey.
---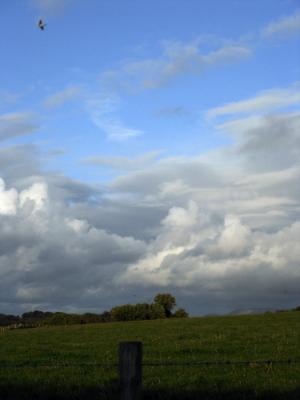 I am one of those lucky souls who can stare at the sky for ages, construing monsters and puddings from diaphonous clouds and thereby losing myself in a mindless reverie.
It was on a journey back across Anglesey after a hospital visit that I first really appreciated the physical blessing of being born on the west coast of Wales on Anglesey.
Travel westwards along the A55 Expressway as sunset approaches and I hope you'll understand.
The Anglesey sky really is big. And, as I have written elsewhere on these meandering pages, add a big blue sky to a big blue sea and the impact on a tired heart can be overwhelming.
---
Now, let's take this notion a step further and add a beautiful sunset. They not only physically stop you in your tracks they elicit a 'judder' deep inside.
Like Being without Knowing, deep inside you is a viewer who helps you Know without Knowing. It's not complicated.
Indeed, as the wise Meerkat says, 'SIMPLES'.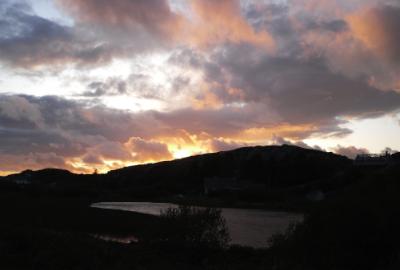 MYNYDD BODAFON
The light fades quickly at this time of year, as I still wait for Summer to happen. There was no sign of the 'Barbecue Summer' we'd been promised by the Met Office.
In May we'd been warned to prepare for major heatwaves. Indeed, we had been warned to prepare a 'Cool Room' in the house. I had Miles Davies on stand by.
It didn't happen. So I take my pleasures where I can.
I love driving along the east coast toward DULAS BEACH and then - more or less opposite the LLIGWY BEACH turning - I turn left for Mynydd Bodafon and Maenaddwyn.
This is proper rural Anglesey and worth getting lost in.
BURNING SKY
Leaving the coastal road behind, you'll find yourself on a quite narrow road that snakes it way up the side of Mynydd Bodafon (Bodafon Mountain).
There's a carpark to your right about halfway up where you can stop a while and wander to the peak.
There you'll discover a triangulation point with a plaque on each side offering a pictorial description of the surrounding countryside.
It's always nice to be able to put a name to what you see.
Further along the road you'll arrive at Llyn Bodafon (Bodafon Lake), which is a lovely little packet of Anglesey Beauty.
August Bank Holiday Friday saw us with a meteorological oasis prior to the downpour of the weekend, though the imminent poor weather was becoming obvious in the late evening sky.
Nonetheless, behind the mountainside the sky burned in a Turner-esque Anglesey Sunset.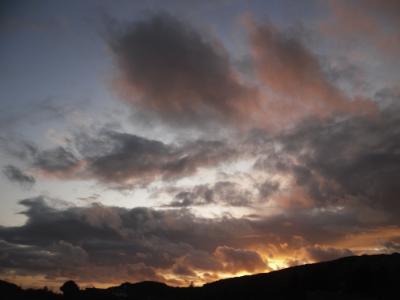 THE WEST AFIRE
Tomorrow will bring rain and it is writ large; however, this evening the sky offers up a surprising transcendental sunset.
There will never be another Anglesey Sunset like this.
Depending on my future emotional state there may well be better. There will most certainly be the indifferent and ones I won't even notice because I am too happy or too sad to notice.
But now? The sky is afire above Mynydd Bodafon
The light is fading rapidly as and I get back in the car to drive the few short hundred yards to the top of the steep descent and tarry a moment.
Anglesey's flat plain to the west is dark but the sky all dark pastels.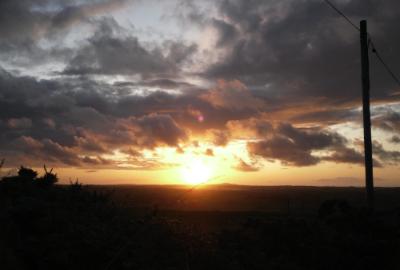 I can't remember a sunset as glorious as this one before me. It's been quite a while since I made the time to stop and stare.
I think the last occasion was right on the west coast of Anglesey at CHURCH BAY.
You really should visit Church Bay to stand at the lookout above the beach near day's end. Wait for another different Anglesey Sunset.
The effect is enhanced and exaggerated by the shadows that fall across the sea, the seagulls' calls and the surf breaking on the beach and rocks below.
Stay until your sprit is sated and then head for the Lobster Pot Restaurant.
There's always a lobster waiting for you and running on idle in a tank in the back.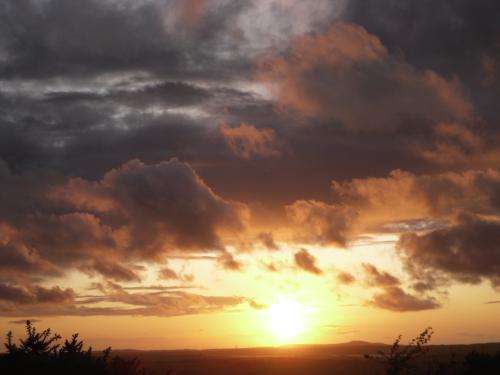 ANGLESEY SOUL FOOD
The good news for you all is that there's plenty more sunsets and they don't fade in interest the more you watch.
The Sun will one day blow up, the Moon melt and all that is and was will fade through entropy to a homogeneous energy state (The Second Law of Thermodynamics!!).
But here on Anglesey with your bucket and spade packed away a satisfying tired glow will settle about you and your loved one.
Time to Think and Time to Reflect.
Gordon Bennett!! When was the last time you could do that?
Anglesey's occasionally ferocious seas and astonishing sunsets will stop you in your tracks.
Give your monkey-mind a map to fold.
Look below and tell me Turner wasn't Welsh.
Have you seen anything better today? Apart from your partner, obviously.
Rent your Anglesey cottage, B&B, Hotel, Caravan, Tent ... Whatever.
ANGLESEY SUNSETS ARE FREE!
Just GET HERE!
When would NOW be a good time to get here?
---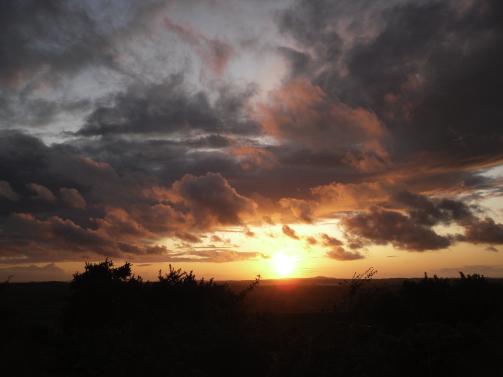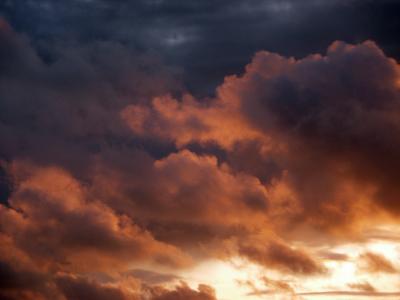 GOT THE MESSAGE YET?
I live on flat Mona and don't need to get in the car. I sit at my desk and a dappled golden light rest gently against the wall by my desk.
I live on Anglesey and I'm on holiday everyday. I am never more than twenty minutes away from a beach at any time.
I hope to see you here.
Head for the nearest beautiful Anglesey Sunset. You can't mistake me.
I wax lyrically aloud whether there's someone around or not.
Don't reach for the Diazapam, just say Hello.
CONTACT ME WITH YOUR FAVOURITE HOLIDAY TALE.
I would love to hear about your tales of discovery and the unexpected from your Anglesey holiday.
We'd all love to hear from you.
Please contact me by CLICKING HERE.
---
Return from Anglesey Sunsets to ANGLESEY JOURNAL page.
---