CONTINUING TOWARD RHOSGOCH FROM BODEDERN
I'm glad that you're still with me on the road to Rhosgoch. There again, you could have turned left in Llanfechell and headed for the beach at Cemlyn, Church Bay or Cemaes Bay and it's a return day.
Maybe you did or maybe you didn't; however, here we are and that's all there is to it.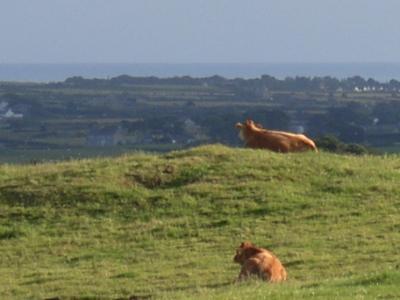 WELCOME BACK or GLAD YOU'RE STILL WITH ME.
Let's take a moment to consider where we're going next. The countryside from here on is big and open. Beautiful gently rolling hills and rural isolation abounds.
Rhosgoch is a bit like Llanfwrog really: it's a state of mind AND a decent pub this time. Both those little descriptions really do go together nicely, don't they?
The pub's called The Ring and last I time I glanced in its general direction there were some very pretty ladies about the place dressed in Fancy Dress.
I wish you good fortune on your visit.
I apologise for my my inappropriate description of Mynydd Mechell, but now this next part of Anglesey will also offer you curious packets of atmosphere.
I hope you enjoy or at least stop to appreciate the landscape and come to your own conclusions.
---
LLANFECHELL CHURCH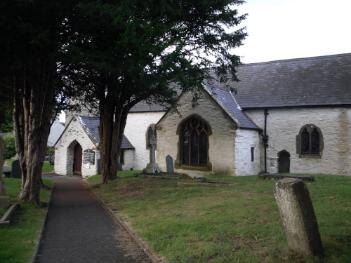 Before you rush off into the countryside again please take a breather and have a look at the village square and St Mechell's Church.
It is believed that the first church of this parish was constructed in 630 A.D. The present church dates back to the 12th Century and was extended over the next few centuries.
I won't mislead you that I am knowledgeable about the church and for those with an interest please find a link to the Mechell Historical Society website at the bottom of this page. It makes for an interesting read.
In the meantime, please stay with me while I tell you about the two legends attached to the church tower.
---
LET NOTHING COME BETWEEN A MAN AND HIS PINT
The present church bell tower was constructed for one of a couple of specifc reasons.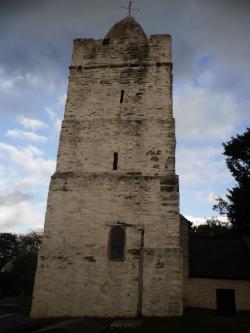 It appears that the Chapel House across the square used to be a brewery, which is yet another pagan site succumbing to the Christian onslaught.
It is alleged .. that when the bell in the old tower was rung that the beer turned sour.
Good enough reason for moving the church for some people.
It is further alleged that Colonel Hughes-Hunter of Brynddu (the manor house in the trees as you leave Llanfechell) complained most vigorously that the tolling of the bell was causing his bees to stop making honey.
The bell tower was reconstructed to tone down the tolling, which was taking a toll on the beer or the bees.
So we have Beer and then the Honey, which makes Mead and that brings us back to an unheralded victory of the Pagans over the Church.
---
INTO THE COUNTRYSIDE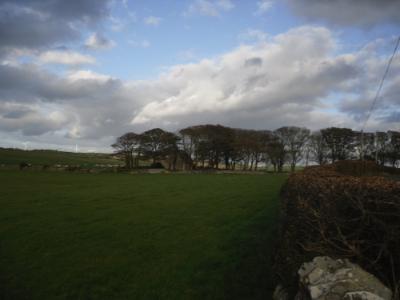 I'm sure that you'll have noticed the garage in Llanfechell so I now direct you toward and past it. You'll notice Brynddu, Home of the good Colonel, in the woods on your left.
A couple of hundred yards along you'll notice the turning to your left. Take this Left turning and follow the road.
You'll see a sign on your right for a farm called 'Dymchwa'. I love this name and I'm sure there's a great story behind it, which I choose to translate as 'Ruination'.
Llanfechell seems to be a cauldron of moral conflict. But everybody seems so nice. Behind the curtains? Who knows?
Follow the road right around a 90 degree corner and past Tai Hen (Old Houses), which I believe is a County Council smallholding.
Opposite this farm, the road can led you over a humpback bridge. The river below you is the Wygyr. If you were to follow this river across the fields you would come out in Cemaes Bay and issue forth under the bridge by the Harbour Hotel and tumble into the sea.
Don't drive over the bridge, but there's nothing stopping you leaning over the torrent below to look out for fish, ducks and the ubiquitous Moorhens.
Carry on along the road heedless of any turnings and you'll notice a large farm on your right called Rhosbeirio.
Glance to your left and you'll spot a copse with an ancient looking building among the trees.
This is about a hundred yards off the road. Stop Here. The glory that is Rhosgoch can wait.
---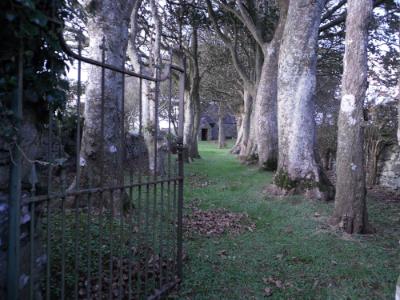 ST PEIRIO'S CHURCH - RHOSGOCH
There's just about enough space for you to park your car by the gate and I do sincerely suggest that you do take a breather here and inspect this now abandoned church.
It last received restoration work in 1812 by Richard Lloyd and sadly has been neglected, fallen into disrepair, though not yet a ruin.
Eventual ruination is only a matter of time. Unless, of course, there's a New Revival. I wouldn't hold my breath, though - even in this age of post-modern crisis.
I can't imagine any of my neighbours crawling to chapel or church on all-fours begging forgiveness and begging for a Crown from above. John Jones H. in Llangefni is alleged to have asked for half a crown at the turn of the 20th Century in Lon Y Felin Missionary Chapel.
My Llangefni grandmother used to report these tales as her mother rolled her eyes and tried to shame her for going to chapel to gather gossip. The worst sinners were always the best performers on a Sunday.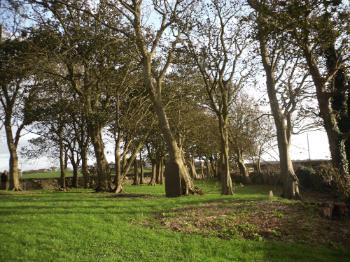 Structurally it look in good condition, however it is boarded up and now left to elements that carry prayers in Tibet and bring ruin to Anglesey.
The location of St Peirio in this remoter area of Rhosgoch would explain how chapels and churches are abandoned. Congregations in all the traditional churches and chapels on Anglesey are declining rapidly.
I would put the average age of attendees in their mid-eighties and this decline is real.
My aunty is in the habit of recording congregation numbers for gossip-sakes. So I can direct you to her if you doubt me.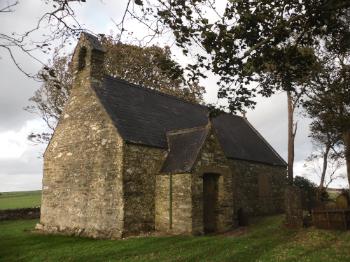 As a rule when the Church in Wales abandons old churches they are deconsecrated but there is a very old graveyard here that raises a question about that.
Most of those interred are now Known Only Unto God. The graveyard is old and the stones of a poor quality and most have shattered.
I do hope that it's the Second Law of Thermodyamics in operation and not vandalism, though I doubt the latter.
The grounds of St Peirio Church are well cared for and here and there you will find flowers commemorating the life of a comparatively recently departed loved one.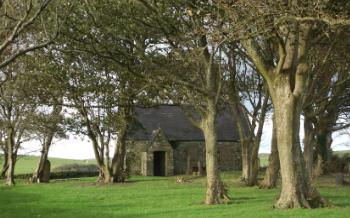 I'm certain that you'll be as moved as I am about this graveyard. The eroded epitaphs on the gravestones remind us more about our eventual passing into oblivion and beyond living memory than anything else in our daily living.
Apart from Rhosgoch, that is.
SAFETY WARNING - BEWARE OF SNEAKY TREE ROOTS
I'm sure that you'll take the greatest of care not to stand any graves as you wander around this isolated, solitary church.
It's not the departed you have to watch out for but the mischievous trees who reach out to trip the unwary.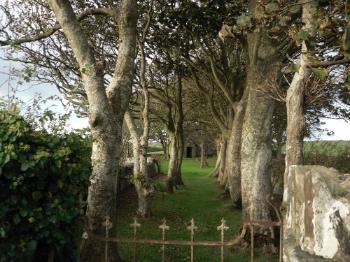 ---
FROM OBLIVION TO RHOSGOCH CENTRAL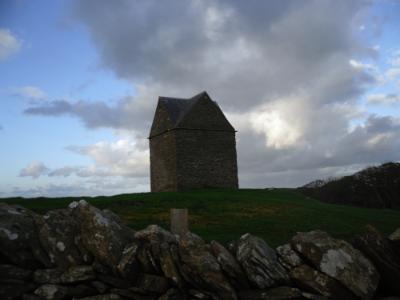 Reluctantly leaving this sad little church behind us we carry on down the road past Bodewryd Farm and its Dovecote renovated by the old Anglesey Borough Council.
The road ahead is clear and I have no other instruction for you other than to drive ahead to Rhosgoch. As ever, I ask that you take your time to enjoy the open countryside.
Passing under the old and dilapidated Llangefni-Amlwch Railway Line you'll drive up a small steep hill to arrive at a junction.
The left turning will take you into AMLWCH and its moody COPPER MOUNTAIN.
TURN RIGHT and this will bring you into and through the hamlet of Rhosgoch. The Ring is on your right and worthy of a visit. Maybe the lovely ladies are still there waiting to reward you with a smile.
At the next junction TURN LEFT by Honeymoon House. Don't ask. This road will take you directly to the main road to Llanerchymedd and thence Llangefni.
In the Llanerchymedd village square turn right and this will eventually bring you to the Trefor crossroads.
Left to Llangefni and Right to Bodedern, thus closing this polygon.
---
BRIEFEST LLANFECHELL-RHOSGOCH ROUTE GUIDE
Drive past the Cefn Glas Pub and the garage and take the left turning.
Follow this road and don't turn off until you drive under a railway bridge. Turn right here for Rhosgoch hamlet.
Take the first left after Rhosgoch and continue until you reach the Llanerchymedd-Amlwch road. Turn right for Llanerchymedd.
In Llanerchymedd turn right in the square and travel through Carmel to Trefor. Here turn left for Llangefni or right for Bodedern.




---
Visit the Bodedern to Llanfechell Country Drive.
Return to Anglesey Rural Drives.
Return from Rhosgoch to HOME PAGE.
Visit Mechell Historical Society page.
---