An Autumn Evening's Amble
Down to Dulas Beach


Last Autumn I returned to Dulas Bay yet again.
I was searching for a certain reassuring mood with which this beautiful area has occasionally rewarded me.
Other beaches and isolated Anglesey locations also draw me in search of a view and ambience that offers a gentle and satisfying end to a day that has, until then, seemed without purpose.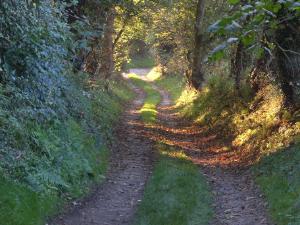 This is a gentle walk to Dulas Beach that is enhanced by adopting a slow, almost ambivalent stride. This pace allows me to spend as much time as I want to gaze at the silent animal and bird life in the small partially wooded fields on either side.
My indulgent step slowly reveals grazing rabbits that were until then camouflaged by their silent stillness and reflection. They become distinct by their growing shadows cast by autumn evening sunshine. None move. Yet, I sense their wary watchfulness.
In early autumn the sun sinks too swiftly to consume all I desire. So I move forward, pleased that I do not disturb my third favourite mammal – cats are my second.
The sheep on my right gauge the risk of explosive assault and dismiss my presence as harmless. They graze on with their behinds to me as a well-intended insult.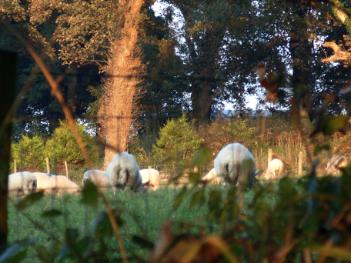 My journey here brought me through Capel Coch and over Mynydd Bodafon down to the coast road opposite the turning for Lligwy Beach.
I might usually tarry a while by the lake on Bodafon hoping to catch sight and companionship of a noble friend and his children with their horses. I drove on toward Lligwy and Dulas knowing that they would be there another time.
The single track down to Lligwy is a nervy drive and I am pleased no-one comes to meet me apart from evening amblers rewarding me with a friendly nod and smile.
I turn left at the junction and drive as far as I can before resting my car at a precarious angle.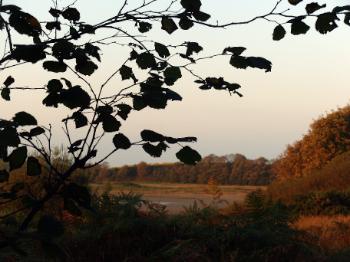 I have my camera with me and point and click in all directions, eager to capture moments on which I can reflect during my dark, cold, rain-soaked mid-Winter despondency.
I catch the reflected light through the trees on my right and snap away as I walk down a track degraded to dried mud and large pebbles.
Downwards I wander, and with each step my hearing becoming more and more refined by the sounds of the muddy estuary of the Afon Goch to my left.
The sun is now touching the hills and all is bathed in a warm, soft copper hue.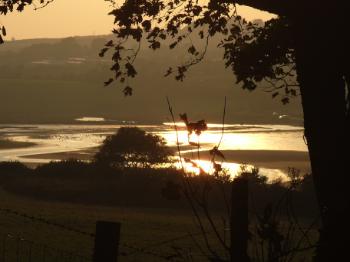 The passage of time is now my mistress.
I pick up my pace to eventually step out of the trees to intrude upon business that would go on regardless of my presence.
No sane person would come to bathe at Dulas Beach, nor would he lay down on fine particluate mud that sucks sweetly at your shoes, eager to draw you in as nutrient.
I feel a sense of guilt as I step out further onto the now muddy tidal lagoon. With each step I disturb or destroy a cosy biological community.
Yet, I am drawn out further and further until common-sense prevails and muddy shoes remind me that I can only ever be a visitor out of his element.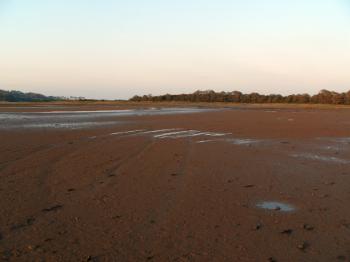 The sky above Dulas Beach fades from the deepening blue to a nurturing soft pink, deepening with every passing moment.
I honestly believe that we are compelled by a genetic imperative to indulge ourselves this way. I'm certain that Freud would point out to a human search for Unity, a reaching back to pre-symbolic comfort and security.
None of this passes through my mind then, only the sound of curlews and the fading light turning the shallow pools dark and fathomless.
My day is thus completed and reluctantly I turn for the track and my car - wondering whether I still possess the skill to turn it around.
I am reassured that all this activity by the components and actors at Dulas Beach is a never-ending rehearsal for the next tomorrow evening.
I must return once again.
As must you ...
Before I guide you onwards to another unique beach, have a look here for a moment. This links you to one of my most favorite pages on the site. This is where you share your favorite Isle of Anglesey experiences with everyone... Anglesey stories, tips, discoveries, must-do's, and so forth! "Anglesey-o-philes" will really enjoy reading about the adventures and explorations of others.
Now, Gentle Reader, may I guide your attention to my page view on DULAS BEACH and how to get here. PLEASE CLICK HERE.
---
HAVE YOU BEEN TO DULAS BEACH?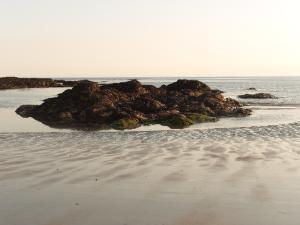 However, before you leave my gentle autumnal amble I really would love to hear from you if you have been down here.
Maybe you enjoyed your visit in a different way.
There again, you might have been looking at me from the other side of Dulas Beach.
Did you wave? Did I wave back?
You can share your experience by CLICKING HERE to go to my CONTACT ME Page.
---
Return from Dulas Beach to my WHY ANGLESEY? page
.
---