ABERFFRAW BEACH

Where Anglesey's Sahara
Meets the Sea
I think of Aberffraw beach not only as one of the best of Anglesey's beaches, but where Anglesey's Sahara meets the sea.
It was somewhere I always wanted to escape to when I'd done something wrong as a child.
In my mind's eye it was a desert striding dune after dune toward the sea. It was full of nomad encampments and plenty of wild rabbits to catch and cook over an open fire.
There have been no reports of camels, though.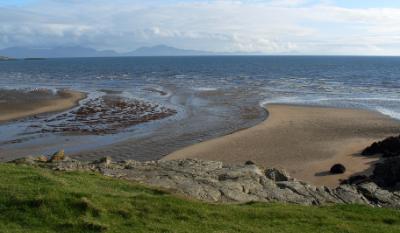 Aberffraw Anglesey
For me, Aberffraw Beach a pretty and pleasant beach ideal for swimming in nice clean water or just for lying on your back and counting seagulls.
There again, if you want to challenge yourself in the surf or catch some fish off the rocks (or not), then it's as good a place as any on Anglesey.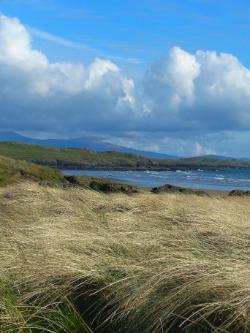 There is nothing wrong in dedicating your holiday to lazing on the beach and making sandcastles with your children.
Hey!  Who needs kids around as an excuse to build sandcastles.  Not Me.
Then there is Anglesey's Glorious Gift to you: The Isle of Anglesey Coastal Path.

Arrive along the coast from Malltraeth to the south or Cable Bay from the north and just rest awhile.
You won't see everything worth seeing on Anglesey in one trip, so make sure you appreciate what you can on each visit.
Sit there nibbling your soggy Sunblest tomato sandwich and plan your next trip.
ABERFFRAW BEACH


It's a half-mile walk to this ideal beach along the sandy river bank from the village and road.
And when you get there, Aberffraw beach is a big, wide curving sandy bay that rewards you with pleasant sandy beach.
Aberffraw beach is embraced by pleasant grassy headlands and backs onto the sand dunes that have finally arrived at the sea.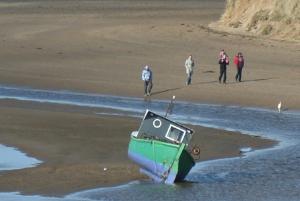 Against the dunes he sand is soft and clean and the tide compacted area stretches safely to leave plenty of room for fun.
On the right hand side of the beach the River Ffraw meets the sea in a long lazy curve below the right headland.
Don't ride your friend's bike in the surf, though.
I did once and got a 'good' telling off. Spoil Sport!
---
Translation Corner Aberffraw means 'Estuary of the River Ffraw'. 'Aber' means Estuary, thought to be derived from the word 'Berw' – boiling or turbulent water when it finally meets the sea. The Welsh name for the beach is Traeth Mawr – 'Big Beach'.


---
IS THIS YOUR FAVOURITE BEACH?
Well? Is this your favourite Anglesey beach?
Maybe you've enjoyed bathing, walking or generally been blown about here?
We'd all love to hear from YOU
If you've got stories or thoughts you'd like to share about this or any other Anglesey beach with other visitors, then please CLICK HERE.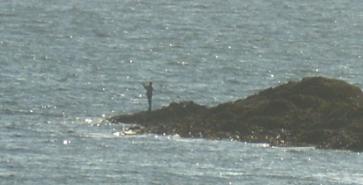 FISHING IN THE ABERFFRAW AREA


Like fishing anywhere, it's either 'Feast or Famine'. While the view can be fabulous it wears after a while when you're cold and fish-less.
Most fishing is done off the rocks (like in the photo above) and the best Marks in this area are at Ty Croes.
This is a bit to the North of St Cwyfan's Church and is easiest to approach from the Cable Bay carpark. Head left and you'll find the best ledges just beyond the old Ministry of Defence sign.
The fishing's good. Come the Season come the mackerel in their hordes. In general, a wide variety of fish is caught from the Ty Croes Mark.
This entire coast round the headland north past the old Army Camp to CABLE BAY and along the coast is excellent for Sea Bass. Plus Dogfish to test your skills.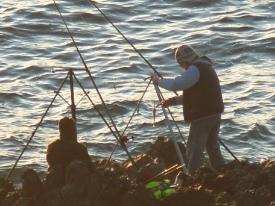 You will need sharp elbows to keep you pitch when the mackerell are heading north.
The ledges on the west coast of Anglesey can get very crowded.
N.B. An accusation frequently made by locals against visiting fishermen is that they leave their old tackle, lines, plastic bags and old news papers everywhere.
Listen! I know that's not you, because I know you take your rubbish to the nearest bin.
Psst! If the masses are along this stretch of coast mixing up lines and pulling each others' ears off you can always try Freshwater Bay below Point Linus Lighthouse for a bit of peace and quiet and some excellent fishing.
This on the very north east corner of Anglesey just off Porth Eilian Beach. Head for Amlwch then Porth Amlwch and keep going, going and going.
You'll end up overlooking Porth Eilian Beach. A road to your right will take you all the way to the lighthouse.
Take Care though, the swell demand common sense about safety.
Geology couldn't care less about you. The ledges will always be there next time you come back. 
For more information about fishing on Anglesey please CLICK HERE
---
SAND DUNE SAFETY WARNING!
SUPERVISE YOUR YOUNG CHILDREN AT ALL TIMES NEAR SAND DUNES
ARRIVE AT ABERFFRAW BEACH UPRIGHT AND LEAVE UPRIGHT! 
---

PETS ON ABERFFRAW BEACH


No major prohibition on dogs, but please keep them on a leash - Unlike Crazy Fido here.
Though not here at Aberffraw Beach, there are Seasonal Prohibitions on dogs on a number of Anglesey beaches.
Always bring a doggie poo-bag with you because the little dears can't always help themselves.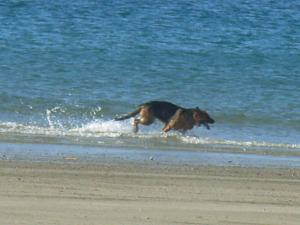 Imagine specific matter oozing from between your tanning and sandy toes.
Imagine a worse scenario; it's your child.
The main concern regarding dogs on Anglesey beaches is a health issue.
Doggie poo can blind for life.
FOR MORE INFORMATION ABOUT DOG RESTRICTIONS ON ANGLESEY BEACHES PLEASE CLICK HERE.

SURFING AT ABERFFRAW


As I wrote above, it's a half mile hike to Aberffraw beach, so it's important to check the weather conditions and tide-state in advance. Otherwise, you'll have to lug the whole lot back to the car feeling a right Charlie or Charlotte.
Received wisdom really is a bit dodgy about surfing on this beach. There again, I suppose it comes down to common-sense and experience.
In general, the consensus is that it's a pretty good beach for surfing. You can be presented with nice 4 to 5ft waves when the tide's high. Excellent for longboarding.
N.B.  But watch out for the river on the right, as it drag you onto the rocks. Don't get so stoked that you put yourself in danger.

OTHER LOCAL BEACHES


If you look at the Ordnance Survey Map 114 for Anglesey you'll notice that in addition to Aberffraw beach, there are two other yellow marked beaches around the headland to the north.
These alleged sandy 'bay-lets' are on either side of the 'Church in the Sea', St Cwyfan, (which you must visit).
North is Porth China and south is Porth Cwyfan
Neither of these beaches qualifies as cute and shingly.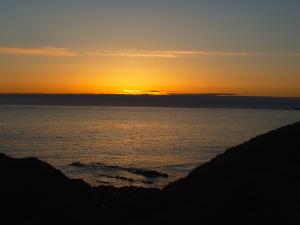 They are rocky and messy reef beaches with plenty of sharp basalt rock eager to gnaw voraciously on flesh and bone.
If you fancy letting the dog have a run across these beaches, then fit said dog with tungsten carbide snowshoes, or he'll do himself an injury.
Same goes for you!
So, it's pointless going there for sun and sand.
Personally, I like to explore and appreciate the incredible variety that Anglesey's geology and ancient coastline reveals.
There again, you can choose to fish off all the low lying cliffs and ledges around of this rocky little bay.



WALKS, SECRET BEACHES AND ROCKY COVES




Most of Anglesey is beautifully soft and undulating countryside that warms you.
However, Mother Nature is ever ready to demonstrate its casual beauty in light and stark contrast.
The Anglesey coast is dotted with many unexpected rocky coves and small secret sandy beaches.
Arrive at Porth Cwyfan and bear left along the beach to gain the Anglesey Coastal Path.

The path is obvious and draws you on to discover little mixed sand/shingle coves and ragged edged ledges worth investigating.
Naturally Taking Plenty of Care.
This path will bring you all the way around the headland south to overlook Aberffraw Beach. This is an absolutely lovely walk, whatever the conditions.
To enjoy a short coastal walk around the headland Please CLICK HERE
---
---

ST CWYFAN'S CHURCH IN THE SEA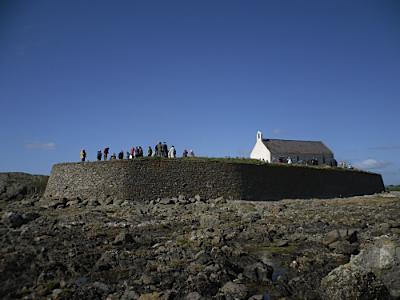 This church used to be part of the mainland; however, over the centuries erosion has left it aloof of the land
There's been a church on this site since the 7th Century; the original being made of wattle and daub.
The one you see today only goes back to the 12th and 13th Centuries. On Anglesey, that's a newcomer.
Stand there in a storm and appreciate the religious dedication of those locals who would cross to the Island on wild winter nights.
For a description of St Cwyfan's Church in the Sea Please Click Here

EATING, CASHPOINTS AND SHOPPING IN THE ABERFFRAW BEACH AREA


Don't feel that you need to bring absolutely everything with you in the car when you come to Anglesey.
Think about your Carbon Footprint. Just bring yourself.
Everything you need for your visit you can buy on Anglesey.
Not only do we have big supermarkets we have plenty of country shops and post offices that will sell you everything, from stamps to snorkels.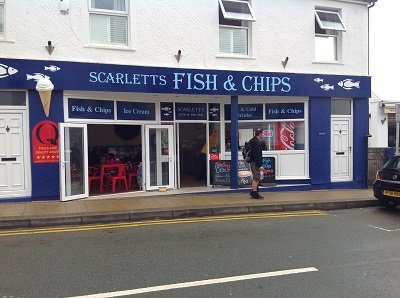 The information below is about the immediate Aberffraw village and beach area.
Between the village shops and - hopefully - an ice-cream van you will probably find everything you need for a fabulous beach family fun day.
For bigger Shopping, Restaurants, Bistros and Shops you'll find that RHOSNEIGR will be happy to address your fickle needs PLEASE CLICK HERE.

NEAREST PETROL & DIESEL


Llangefni:
Travel back north toward the A55 Expressway along the coastal road past Rhosneigr
Drive over the Expressway and turn right at the A5 junction or Drop down onto the A55 Expressway.
Drive left into Llangefni at the second roundabout (don't drop down to the Industrial Estate). Esso Garage on your right.
Carry on into town and find the ASDA superstore which has a petrol station.
Holyhead:
Drive back to the A55 Expressway and turn left for Holyhead. You will encounter a very tall chimney stack on your right.
Take the next slipway of the A55 and drive right over the expressway. Morrisons Petrol Station on your right. Drive down and you'll find the Tesco Petrol Station on your left at the bottom of the road.
These are the obvious sources of petrol or diesel. However, if you are committed to the coastal road then drive south through Malltraeth, Niwbwrch (Newborough) and then to Dwyran, where you will find a petrol station on your left around the corner at the end of the Lon Filltir (Mile Road.

NEAREST SHOPS & SNACKS


Aberffraw:
• The Plas Coch Stores/Post Office in the village square
• Llys Llywelyn Tea Rooms
• The Crown Pub (Y Goron). 
Rhosneigr:
I refer you to my page on Rhosneigr Facilities for more shops, cafes and restaurants. Click Here.

NEAREST ICE-CREAM


Occasionally you will find an ice-cream van by the bridge outside the village. 
Aberffraw village shop is a better bet and you can support our small country shops.
The village of Rhosneigr itself - a few miles away to the north - is an excellent source of ice-creams.


NEAREST BANK CASHPOINT


Aberffraw:
Post Office - Cash Link machine (you pay for the privilege).
Remember, though, many banks have arrangements with all post office counter and you don't have to pay. Ignore the Cash Link Dalek and ask at the counter. 
Bethel Village shop: Cash Link Machine - You Pay for the privilege.
Rhosneigr:
Anglesey Post Office

Remember that you can always draw money across the counter in any post office if your bank has an arrangement with Post Offices Ltd.
Rural post office survive or die because of your custom, so please buy something while you're there.


NEAREST TOILET



NEAREST PARKING


Park in the lay-by by the old bridge in Aberffraw. A half-mile walk to the beach.

GETTING TO ABERFFRAW BEACH


There are two ways you can arrive at the same point:
Route 1:
The easiest is to travel along the A55 Expressway and turn for Rhosneigr at Junction 5. Follow the road through Llanfaelog.
Sweep left at the old church and carry on out into the country past the dip that is Cable Bay beach.
Drive past the turning for the Anglesey Racing Circuit - Trac Mon
Aberffraw is a mile ahead. Drive past the village and over the bridge. Parking is on your right.
Pack you camel and head for Aberffraw beach. Follow the horses hoof-tracks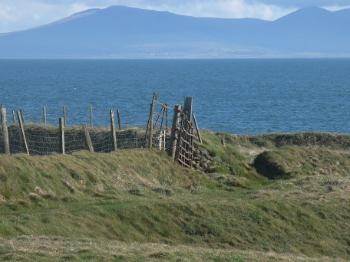 Route 2: 
A more rural journey brings you to Aberffraw Beach from Llangefni (the market town). This is a pretty straight forward route.
• Come off at Junction 4 for Llangefni.
• Don't head into Llangefni but at the roundabout you'll see the road lead up hill. Follow this.
• At the very top of this half-mile hill there is another right turning for Llangefni.
You'll find this by the Tafarn y Rhos Pub.
• 100metres ahead is a turning to your left for Bodorgan before the road descends to Mona. Take this turning.
• After less than ten minutes later you'll arrive in the village of Bodorgan. Drive down and around a ninety-degree right hand bend. 50 metres ahead is a road to your left over the bridge. Take this.
• Follow this road all the way to Llangadwaladr (St Cadwaladr's Church). Major road junction.
• Turn right and drive a quarter mile into the desert to arrive at Aberffraw.
• On this side of the river you'll notice a parking space below an old keystone bridge. Park here and follow the river (by foot) until you arrive at Aberffraw.
---
Contact Anglesey-Hidden-Gem.Com
Get in touch if you've got a thought or an Anglesey experience to share or a question to ask. Maybe you just want to share information or Just Want To Say Hello!

All you need to do is fill in the form below and I'll get in touch with you as soon as I possibly can.
---
---
Visit WESTERN ANGLESEY BEACHES.
Return from Aberffraw Beach to Anglesey Hidden Gem Home Page. 

---
---