RHOSNEIGR VILLAGE
Rounds Off A Perfect Holiday Experience.


Take it from an Anglesey local, this seaside village has changed drastically for the better in the last few years.
It is once again a thriving and bustling busy little seaside village that's awoken from a long slumber.
Rhosneigr now embraces visitors from far and wide to ensure you have a memorable time on and about the beach.
Don't feel that you need to bring absolutely everything with you in the car when you choose to visit Anglesey.

RHOSNEIGR CAFES & RESTAURANTS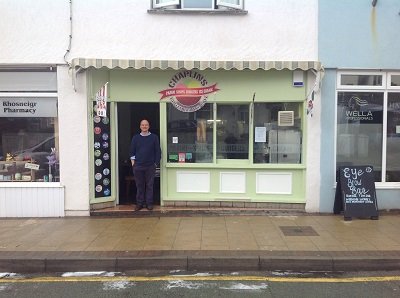 Chaplins: That's John Chaplin at the door. A very amiable and welcoming chap and his café is a lovely place to go for a something to eat.
Some of you may remember Bryn Jones who kept Bee Bee's here many years ago. He used to run Bee Bee's in summer and was a ski instructor during the winter. So we have a different face but The same warm and engaging welcome. 
What's not to enjoy!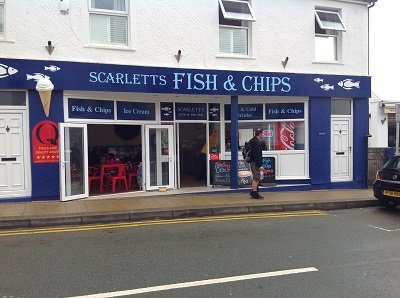 Scarlett's Fish & Chips: The old Bali Hi Chip Shop is no more - for those of you old enough to remember it back to near childhood. 
The Good News! The Name is gone but a superb seaside chip shop remains in spirit at Scarlett's. Chips and ice-cream. Don't mix them.
Do the ultimate test. Step in, smile, order fishcake and chips and a can of Vimto and take them down the road past Sandy's and Chaplins and enjoy them sat looking at the view. Unlike the pier at Beaumaris, you don't get divebombed by seagulls here. Put your rubbish in the bin.
Beat that for a wonderful holiday experience!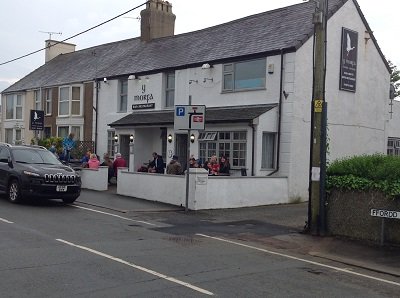 Y Morfa Free House: This must be a great place because as I was taking this picture a family spotted me and shouted and waved in greeting. A Happy family doesn't stay happy until the welcome's good.
I'd welcome a report from visitors to Y Morfa.
I'll have to see if I can persuade my friend to come here for a meal.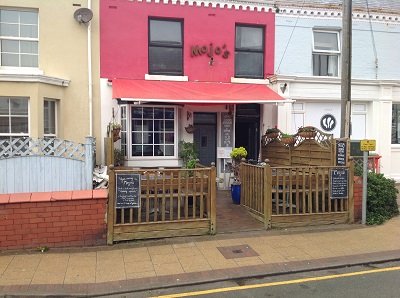 Mojo's Creperie: Great food, lovely staff and great coffee. A lovely place to sit outside to eat and chatter.
The good news about Rhosneigr High Street is that the traffic is always invariably light and traffic noise and pollution is not a problem.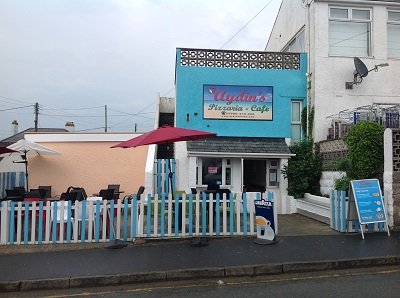 Aydin's Pizzeria & Café is your classic little pizza and snack on the road down to the beach. Why the counter is so high, I don't know.
Still, I've enjoyed a nice pizza and fizzy drink here in the sunshine.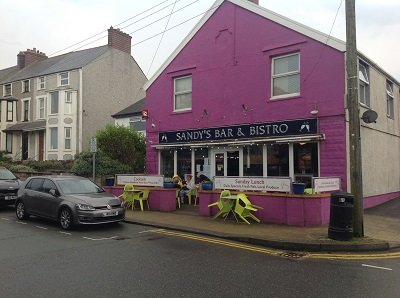 Sandy's Bar & Bistro: This really is a nice atmospheric place to eat. Staff really friendly and helpful. Food excellent.
Need I say more? Enjoy.
---

RHOSNEIGR SHOPS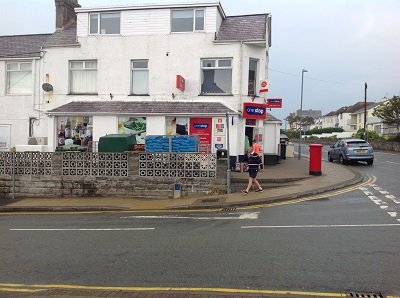 Post Office & One Stop Shop: Right in the village square and the ideal place to carry out your post office business, get cash, buy coal, buy a coffee, pick up your paper, fizzy pop and ... an inflatable alligator.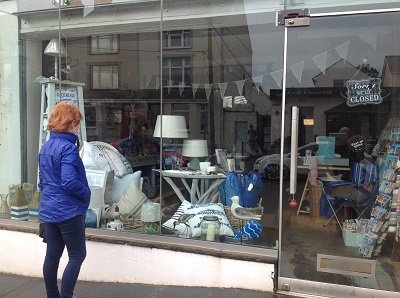 Sullivans Restaurant

- On the Main Street. Feels better than the previous incarnation on this site.

Glan Neigr Pub

– Just off the Main Street. Serves food from 7:00am onwards. Cheap rooms for overnight stays.

Fat Face Shop

- Just on the village square.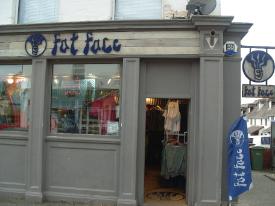 The Funsport Surf Shop - At the very bottom of the beach road. Offers kite-surfing and windsurfing instruction and equipment shop. I have seen serious amounts of money pass hands in the surf shop.
The Sandymount Club: is being rebuilt right now. This club served to draw people further down the high street away from the village square and the cafes beyond.
Look beyond it or you may miss out on the welcome at Sandy's and Chaplins.
THINGS THAT STICK IN YOUR HEART FORVER
For a small seaside village, Rhosneigr really spoils you for choice when it comes to finding places to eat.
When life affords me the luxury of time to pootle, I start my journey on Shank's Pony at Cable Bay and walk all the way to Rhosneigr Village - barefoot in the sea as much as possible - and through the village, purchasing an ice cream by the Fun Sport shop and then head back the car. The view is different and the tanning of my legs is as even as possible.
It's a superb two-hour walk with a lovely caravanserai or two to visit halfway along.

NEAREST PETROL & DIESEL


Gwalchmai:
No longer serving petrol. For quite a while actually, which is a shame. Add to that that the top of the garage blew off last year. Hey ho!
Llangefni:
Travel back north toward the A55 Expressway along the coastal road from the village.
Drive over the Expressway and turn right at the A5 junction or Drop down onto the A55 Expressway.
Drive left into Llangefni at the second roundabout (don't drop down to the Industrial Estate). Esso Garage on your right.
Carry on into town and find the ASDA superstore which has a petrol station.
Holyhead:
Drive back to the A55 Expressway and turn left for Holyhead. You will encounter a very tall chimney stack on your right.
Take the next slipway of the A55 and drive right over the expressway. Morrisons Petrol Station on your right. Drive down and you'll find the Tesco Petrol Station on your left at the bottom of the road.
These are the obvious sources of petrol or diesel. However, if you are committed to the coastal road then drive south through Malltraeth, Niwbwrch (Newborough) and then to Dwyran, where you will find a petrol station on your left around the corner at the end of the Lon Filltir (Mile Road.
Do you have any questions you'd like to ask?
We would love to hear from you.
Maybe you have questions you want to ask in advance of your visit?
Maybe you have special advice - or even warnings?
Please feel free. ASK YOUR QUESTION BY CLICKING HERE.
---

NEAREST PHARMACY


Local Pharmacy just down the main street just past Chaplin's.
---

ICE-CREAMS


Cable Bay car park

. Teas and burgers also sold here. Or walk to Rhosneigr and the shops.
Rhosneigr - Take your pick.






---

BANK/CASHPOINT


Post Office

- You can either use the Cash Dalek or ask for money across the counter. Every post office has an arrangement with most high street banks and you can draw money.

Today local shop

- You pay, if it's working.

Llanfaelog Wayside Shop

- Hole-in-the-Wall.
---

NEAREST TOILETS


Rhosneigr - Trot painfully along the Main Street and follow the sign up to your left for the Car Park and Library.
---

PARKING AT RHOSNEIGR


The roads around the beaches fill up quickly. So, along the Main Street you'll find one placed up and to your left between the newly refurbished Village Hall and Sandy's Bar & Bistro.
There is a small lay-by by the path entrance to Porth Nobla Beach.


PARKING AT PORTH NOBLA


Two choices:
• Cable Bay car park - Just over the brow of the hill. More or less impossible in summer days.
You could try parking on the roadside but, there again, you'll be lucky to find a space unless you get there early.
• The car park on your right half a mile out of the village of Llanfaelog toward Cable Bay.
Do get in touch
Do you have a great story about this to share or a question to ask? Yes? Then please write it in the box below.
What Other Visitors Have Said
Click below to see contributions from other visitors to this page...

A Sunny June Afternoon in Rhosneigr Not rated yet
Hi I have just come back from a wonderful afternoon walking from Rhosneigr to Cable Bay and Back and ending the sojourn with the beautiful Madame X at …
---
Return from Rhosneigr Facilities to RHOSNEIGR BEACH.
---

---